Cooler Master Centurion 590

Date: May 14, 2008
Author(s): William Kelley

When the budget is tight and you have to have a quality free flowing case for that next gaming PC you are building, who are you going to give your money to? Once again, Cooler Master has a new release for under $70 that looks to be jam packed with the features you are looking for.
---
Introduction
Today's gaming PCs are red hot machines with red hot parts inside them. Keeping them cool is never an easy task. When you throw in multiple graphics cards and a Quad-Core CPU, you are really turning up the thermostat. From needing multiple case fans to using large heatsinks, your chassis had better be up to the task, or you will quickly realize what a poor decision you made.
Another major consideration is the ability to use water cooling. With the proliferation of water cooling gear and the fact that it has become quite easy to build and install your own system, case designers are beginning to take a serious note. Not only do we want to fit that water loop, we want it internal as well. Mobility should not have to be sacrificed over cooling choices.
Airflow is the other major aspect of case design that has to be taken seriously. You can have those flashy windows and pretty cathodes blazing away, but if your machine can't keep itself cool, it will show you its own colors which won't be so pretty. Fans need to be properly spaced and directed to where it matters most. A well thought out design will show itself no matter the price bracket.
Closer Look
Straight out of the box, the Centurion 590 is a very attractive case. It forgoes the flashy lights and fancy windows and gives you a no nonsense approach to fan placement. It should be noted that the side panel and top panel can hold 80mm, 92mm, 120mm or even 140mm fans for your pleasure.
I really liked the top panel's ability to house dual fans. Heat rises so the ability to remove it fast is a huge asset for any case.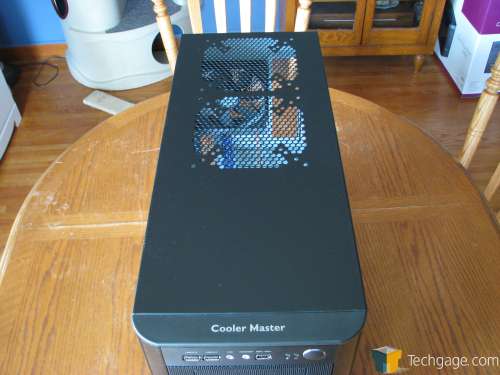 The rear of the case is standard fare with pass through for ½" OD tubing for that external water cooling setup. The 120mm fan comes pre-installed beside the I/O port.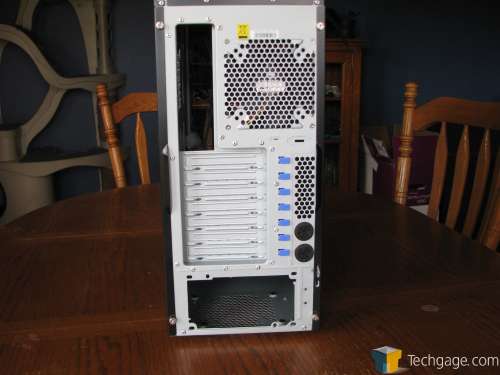 I really like that the side panel comes ready for dual fans. Both are placed very well to cool vital areas of your machine.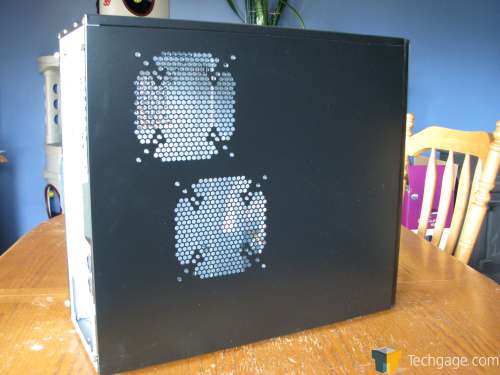 Inside you can see that not only did they place venting in the bottom of the case so you could orient your power supply properly, they also made it possible to place a thin 80mm fan behind the CPU socket, to help pull even more heat out.
With a few well placed holes in the motherboard tray, wire management is a breeze. I was surprised as to how easy it was to hide most of the wiring.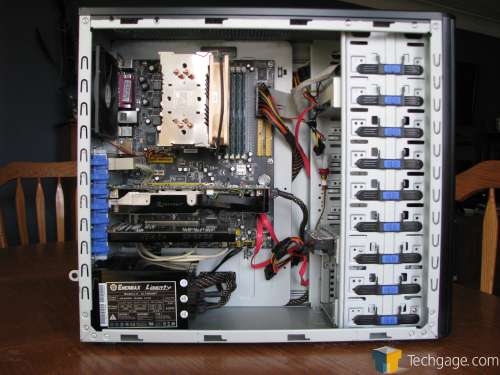 I had to include a shot that shows how the entire front of the case is allowed to breathe and let in fresh air. There is an included blue LED fan on the hard drive rack (which holds 4 drives) that pulls plenty of fresh air into your PC. I also loved the placement of the power switch and peripheral connections.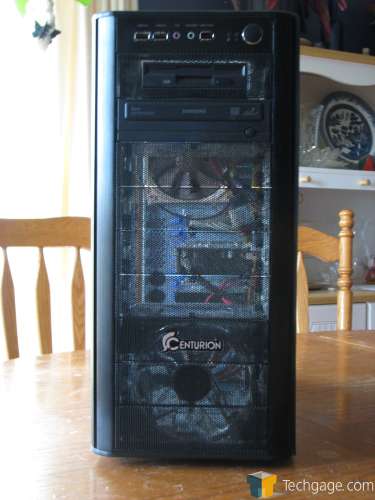 I really want to commend Cooler Master for taking the time to place the vent in the bottom of the case under the power supply. Many cases with a bottom mounted power supply do not do this and you are forced to orient it with that large fan opening up just inviting a wayward screw or cable to drop inside the PSU where it could stop the fan or worse yet, short it out. Not only is it well placed, but there is proper spacing for it to get lots of airflow in while blowing all its heat out.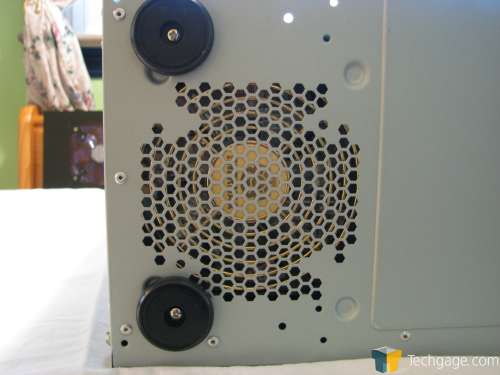 On the next page, we'll take a look at installation, testing and then I'll finish off with my final thoughts.
Installation, Testing, Final Thoughts
First off, here are the specs of this case:
Dimension (W / H / D): (W) 210 x (H) 440 x (D)510 mm
Weight Net Weight: 8.5 kg ; Gross Weight : 9.3 kg
Material Chassis: SECC, Bezel: Metal mesh+ABS
Motherboards: ATX, Micro-ATX
Components: 5.25″ Drive Bay 9 (Exposed; without the use of exposed any 3.5 inch drive bay), 3.5″ Drive Bay 4 (Hidden; from one 4-in-3 device module (included), 1 (Exposed; converted from one 5.25 inch drive bay), I/O Panel USB 2.0×2, IEEE 1394 x1, MIC x1, SPK x1 (supports HD / AC' 97 Audio)
Cooling System: One 120x120x25 mm front fan (blue LED), 1200 rpm, 17 dBA (included), One 120x120x25 mm rear fan (exhaust), 1200 rpm, 17 dBA (included)
Expansion Slots: 7 Optional Component Transparent side panel
Power Supply: Standard ATX PS2/ EPS 12V (Optional)
Important Note: The test specs of my PC changed from my initial photos to what you will see from here on out. Unfortunately for me, I experienced a severe hardware failure after I initially built my test PC. The motherboard I used decided it was tired of life and as it went it took my graphics card out with it. One important fact I need to note is that I had plenty of clearance using a Noctua NU-12P heat sink inside this case and side panel fans installed. You can fit the biggest air cooler in there with all the fans installed for maximum cooling.
Since I decided it was time for a whole new PC for myself, I chose something that would really test the ability of this case to house not only a hot Quad core, but also an internal water cooling loop as well.
My test configuration consists of:
Processor: AMD Phenom 9850BE 2.5GHz
Motherboard: ASUS M3A78-EMH HDMI
Memory: Mushkin PC2-6400 2X2GB
Video: HIS 3450 256MB
Sound: ASUS Xonar D2
Storage: Seagate 7200.11 500GB, Samsung DVD Burner
Power Supply: Enermax Liberty 400W
Chassis: Cooler Master Centurion 590
Etcetera: Windows Vista Ultimate 64-bit

Cooling
Swiftech MCR220 Quiet Power Dual 120mm Radiator
Swiftech APOGEE GT CPU Water block
Swiftech MCP355 Industrial Water Pump
Swiftech MCRES-MICRO reservoir
3/8″ ID Tubing
After measuring everything and building the water cooling system outside the case, I tested it for 24 hours to make sure there were no leaks. After that, installation was a snap.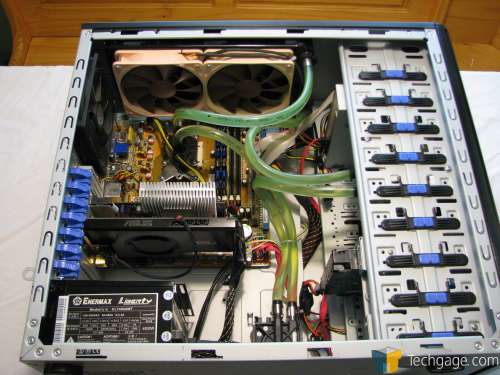 One important note. I was hoping everything would easily line up for the radiator mounting, but due to the limited space up top with the motherboard mounted so close to the top of the case, I had to offset the radiator. I am still very pleased with the install since it only took 2 small pieces of double sided tape and 2 screws to securely fasten the radiator to the case.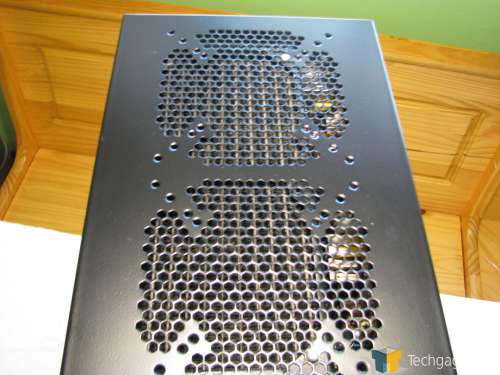 With a quick pull, the front case bezel comes off quickly give you ample room to work. I installed the reservoir inside the empty 5¼ drive area.
A couple of zip ties and some careful wire routing and we're done! As you can see, there is plenty of room inside the case for everything. Even a full size ATX motherboard would have no issues with mounting this cooling solution internally.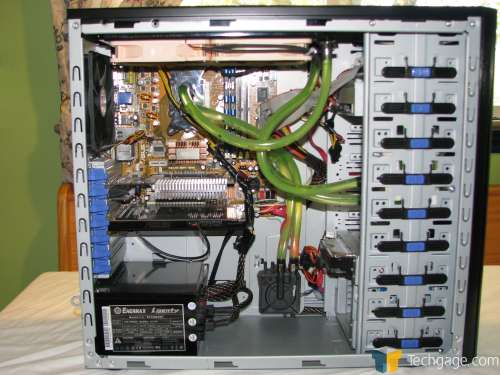 Testing & Final Thoughts
After buttoning everything up, it was time for some quick testing. I use Prime95 version 25.5 to stress all 4 cores equally and I game test my video card to load it up with some heat. Since this motherboard allows CrossfireX with my 3450, I also included the chipset temperatures. CPU and motherboard temperatures are reported using ASUS PC Probe II. The graphics card temperatures are reported by ATI's Catalyst Control Center.
| | | |
| --- | --- | --- |
| Component | Idle | Load |
| CPU | | |
| Motherboard | | |
| GPU | | |
As you can see, the temperatures are very good and if you consider the fact that the chipset and the graphics card are both passively cooled, my reported temperatures are excellent. The excellent airflow characteristics paid off big time.
After spending a few days with this case, I liked it so much it became the new home for my personal PC. Cooler Master has an excellent product in the Centurion 590. When buying a budget case, there always seems to be a major compromise somewhere. I have yet to find one in my testing. In fact, I believe this is one of the best cases I have tested to date. It is the right size, the right weight, the right build quality and it has airflow that is second to none.
Gone are the days we need to spend hundreds of dollars on flashy pre-modified cases. Companies like Cooler Master have taken all the guesswork out of it for us. Their versatile lineup seems carefully crafted to go after every segment of the market and they do it quite well in my opinion. You really have to spend a bit more money to find anything that surpasses the quality found here for so little money. After a quick check online for pricing, I found this case advertised anywhere from $65-80. You really do get a lot for a little money here.
I give this case a solid 9. I was nothing but impressed with it. The one thing that pushed it above the pack is the simplicity and functionality of the power supply mounting design. Being able to properly orient the power supply so easily is a feature ALL cases with a bottom mount design should have. I have yet to see anything that compares to it for the same money. Add a few fans and it will compete head to head with the Antec 900 and NZXT Tempest. It is extremely flexible in its design and it will swallow up whatever you want to install inside.
So there you have it. I really enjoyed working on this review. I have had some really good cases at my disposal and this unit is definitely right up there with them. If you are on a tight budget do not overlook this one. Even if your budget is flexible, you'd be foolish not to give it a second look. Other than the obvious of wanting more included fans, there really are no faults that would cause me to overlook it when recommending a new case to my friends and family. Great job Cooler Master!
Pros
Solid design and build quality
Excellent airflow
Very spacious
Power supply mounting
Cons
Side panels somewhat thin
Paint is easily scratched
Would like to see more fans included
Discuss in our forums!
If you have a comment you wish to make on this review, feel free to head on into our forums! There is no need to register in order to reply to such threads.

Copyright © 2005-2021 Techgage Networks Inc. - All Rights Reserved.