Cooler Master COSMOS S

Date: February 26, 2008
Author(s): William Kelley

In the world of computer cases, it seems that far too many do not stand out from the crowd. Cooler Master has decided to break tradition and create something special. With many features not seen before and full eATX compatibility, how well does the Cosmos S stand out?
---
Introduction
When it comes to selecting a case for that new computer you've finally decided to build, there have never been so many options. Even just a few years ago, all you really had to choose from were a few very high priced custom units, or the bland solid black or white square box. Now, the level of quality in most pre-customized cases is something to behold.
Cooler Master has a good track record for building a solid case for the money. Most everyone knows of the original Stacker with its incredible size and space. They have even made some good in-roads to the budget market with the 690 and 830 series. All around, they have been delivering solid units for a good price.
Today, we look at their new case, the COSMOS S. The original COSMOS was a good case. It was large and had lots of room for exotic cooling, DVD drives, Hard drives and more. The one drawback noted by most was the weight.
It was a steel monster and was quite a handful. The COSMOS S is an all aluminum case weighing only roughly 30lbs empty. That still might sound like a lot, but when you consider the size of this case, it is very modest. Let's see just how well of a job Cooler Master has done with this new breed.
Closer Look
Arriving in the tried and tested colorfully printed box, I was taken back a step when I got to see just how large the box is. I knew this was a full tower case, but all I could say was "WOW!"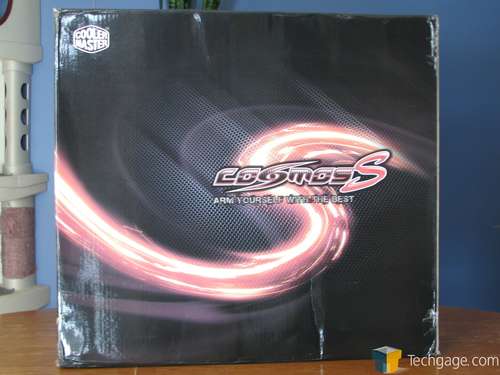 Aside from the usual foam packaging and plastic wrapping, Cooler Master took it up a notch and further wrapped it up with a strong cloth bag.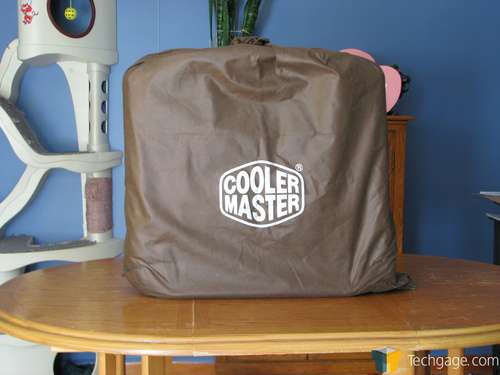 Once unwrapped, we get a good look at what was so carefully packaged. The body of the case is gunmetal grey with the brushed aluminum side panels being black along with the front and top face.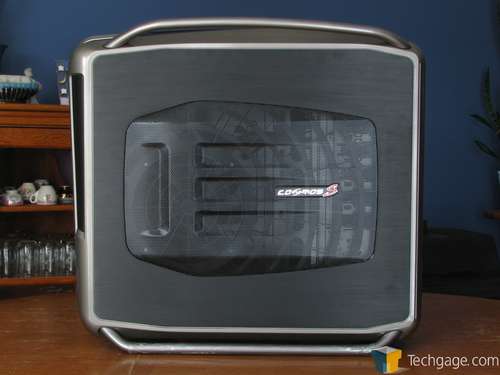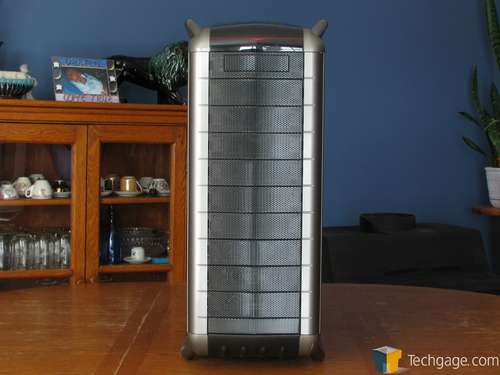 On the next page, we will continue on with our look and then follow-up with our installation thoughts.
Closer Look
Inside, we get a gander at all that room. While there is plenty of room for your current ATX factor PC, there is also that much more space for the eATX, as well.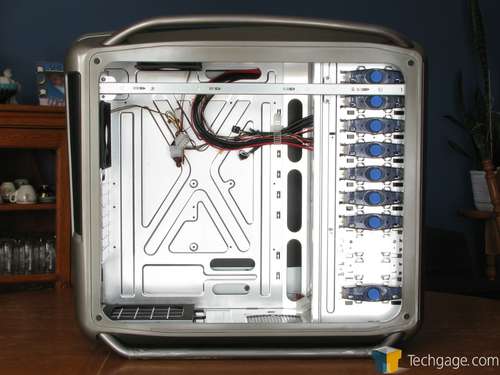 Ventilation will not be any problem considering the entire front uses ventilated slot covers which are very easy to remove. I should also note that inserting a DVD drive is a snap without removing the front panel since the sides are hinged allowing two finger removal of the drive-bay covers.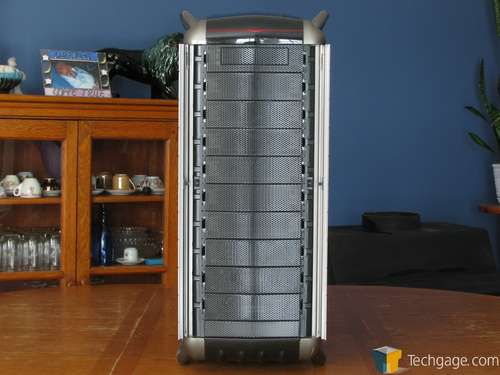 There is a large 140MM ventilated and filtered opening under the power supply so it can draw in fresh air along with a filtered 120MM optional fan on the bottom of the case.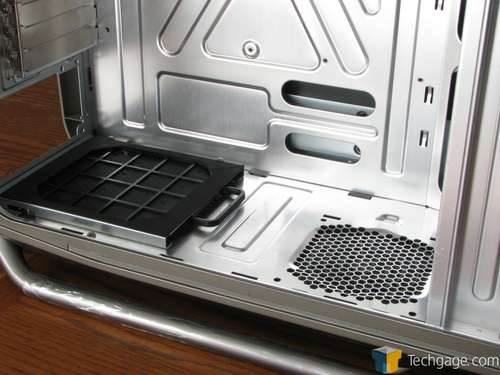 On the top, there is not only room for 3 120MM fans, but they are properly spaced so you could easily mount a triple 120MM water-cooling radiator inside the case.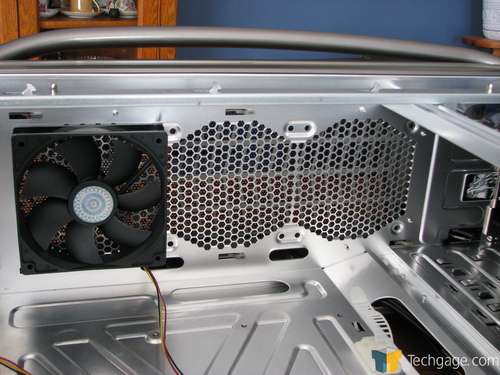 To the rear, there is a single 120MM fan and lots of extra holes for even more cooling potential.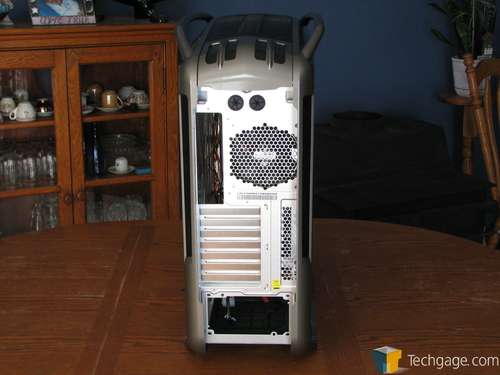 To take it even further, they opened up the side panel and installed a 200MM fan to pull lots and lots of air across your video cards.
It is very safe to assume that your system, no matter how hot or overclocked, will get plenty of airflow. Considering all the cutouts to facilitate running the wiring behind the motherboard area, there is very little to impede the airflow. I really got the feeling that they took the time to lay this case out quite well. Time to install some parts!
Installation and Final Thoughts
Below are the specs of our testing machine today:
CPU: AMD64 5000+ Black Edition
Motherboard: DFI LanParty UT NF590 AM2
Memory: OCZ PC2-6400 SLI Edition
Power Supply: Cooler Master Real Power PRO 1000W
Video: eVGA 7900GS SLI
Sound: ASUS Xonar D2
Hard Drive: Western Digital 500GB
DVD: Samsung 18X Dual Layer DVD Burner
Case: Cooler Master COSMOS S
Installation was very straight forward and quite nice considering all the free space. It was surprised when I first looked in at the system at just how small a full form factor ATX system looked.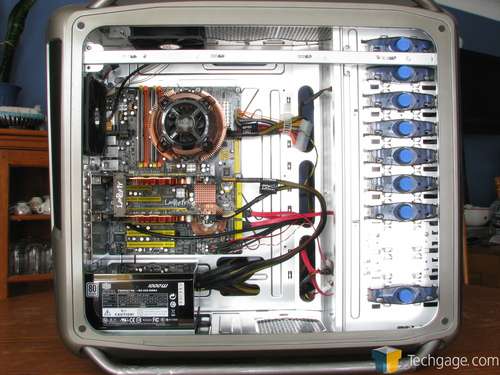 As you can see, most of the wiring is easily routed through the slots in the case through the back making it very nice to control cable management. They included A LOT of wire clips and zip ties, and there was even a 12″ 8-pin CPU power cable extension if needed.
At first glance, the hard drive cage which allows three DVD bays to hold 4 hard drives was a nice touch. They even put a fan on the front of the cage to draw cool air over your drives. I have so say I was somewhat disappointed with the flimsiness of the cage and it was somewhat difficult to reinstall after removing it to install the drives into it. Once it was reinstalled, it was solid. For the most part, the benefits far exceeded the faults.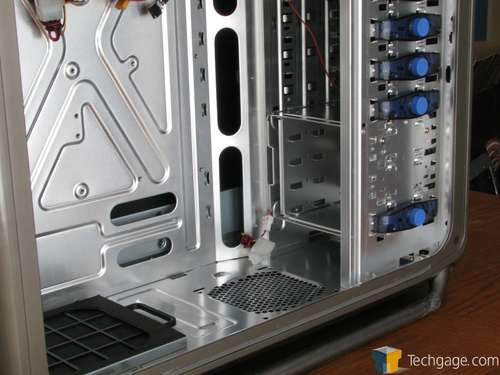 Once assembled and ready to go, it was time to power up the system. One of the features of this case is the biometric power button. There is no mechanical push button on this case. It uses a sensor that all you need to do to activate it is place your finger over it. It glows red once you power up the system as do the labels for the 4 external USB, single Firewire, E-SATA and sound ports. I wasn't too crazy about the flush sliding door which was somewhat hard to get moving, but once you do it is easy enough to slide back and forth.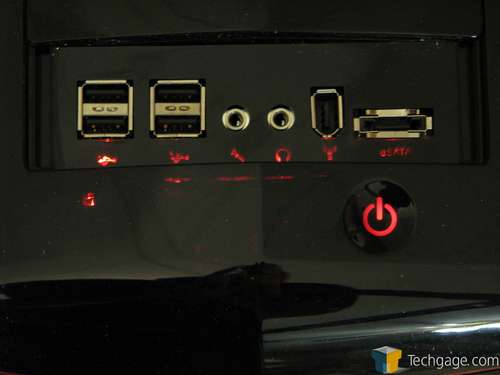 Testing and Final Thoughts
Testing a case is really more of an exercise of determining sound levels and air flow. I have been running this configuration inside the Antec 900 case so I feel I have a good base level of both to go by. I personally prefer quiet over anything else in my computer and I feel that today's enthusiasts are demanding better cooling with less noise. Cooler Master was able to deliver on both fronts with the COSMOS S.
| | | |
| --- | --- | --- |
| Temperatures | Antec 900 | COSMOS S |
| CPU Idle | | |
| CPU Load | | |
Noise levels were near silent for both PC's. The Antec case fans were all run at their lowest speeds while the COSMOS fans, which are non-adjustable, were run their stock speeds. I also liked the fact that the COSMOS allowed the power supply's fan to face down and draw fresh air through the bottom of the case instead of warm air from inside. I was honestly expecting to hear more noise from the COSMOS considering the amount of mesh used. The fans selected were quite capable and well chosen. It would have been nice to see more fans included however since there was only 1 case pre-mounted to the top and a single front and rear fan.
For me, silence is all important. I am willing to accept higher temperatures, less style and less functionality as long as my computer is a quiet as possible. I not only use PC for gaming, I also enjoy listening to music and I do most of my work on it as well. The droning of multiple fans just turns me right off. On that note, I do score the COSMOS quite high. When set up and used out of the box with the included fans, it met all my expectations. There is also room for upgrading and further customizing. Job well done here.
I am also an avid enthusiast and overclocker. Again, airflow and size play a huge role in selecting a case when these factors are taken into consideration. Cooler Master did well to address out needs here. Having the ability to internally mount a triple radiation is quite a feature. There are even holes in the rear with runner grommets for another external radiator. I also very much liked the bottom intakes, especially with the filters. Another job well done.
Finally, overall size and weight are the final deciding factors. If you are planning to stuff this case into a desk or some other smaller area, forget about it. It is just plain massive. Considering it is a full tower conforming to the eATX standard, this shouldn't surprise you. But it is something you need to consider. Building it with an all aluminum chassis did keep the weight down. 30lbs empty is quite impressive for a case this size.
Pros
Open and airy
Well-thought-out cable control measures
Ability to fit any cooling solution
Lightweight Aluminum Construction
Priced very competitively
Cons
Brushed aluminum side panels hard to keep clean
Hard drive cage somewhat flimsy and not easy to install
Would like to see more fans included
Might be too big for some
I must say, I did enjoy using this case. I have always loved to customize my own and am just getting used to buying pre-modded cases. If you are in the market for a full tower, you must take a second look at the COSMOS S. It has some very impressive features and it is sure to please your ears too. I would also consider it a very stylish alternative to the normal square box full towers that so many companies seem to push out in droves. A solid two thumbs up is what this case deserves on all fronts.
Discuss in our forums!
If you have a comment you wish to make on this review, feel free to head on into our forums! There is no need to register in order to reply to such threads.

Copyright © 2005-2021 Techgage Networks Inc. - All Rights Reserved.