Cooler Master HAF 922 Mid-Tower

Date: May 12, 2009
Author(s): William Kelley

When Cooler Master released their HAF 932 full-tower last fall, it was well-received for its overall design, build quality, impressive cooling-ability and, to some, aesthetics. With the success of that case, CM has followed-up with a mid-tower version that follows many similar design cues, but happens to look even better, and costs less.
---
Introduction
I can honestly say that I am usually not a big fan of sequels. More often than not, the story line was played out by the original and we are forced to stretch the imagination to keep from tuning out the new and improved version. Whether it is a movie, TV show, car, or whatever "new and improved" item we are looking at, the sense of déjà-vu can easily overshadow the excitement of a new release.
Cooler Master built quite possibly one of the most flexible cases I have ever reviewed when they unleashed the HAF 932 on the world. While the styling was a love or hate it affair, no one could deny the well thought-out layout and design. It was a true full package in that the size, cooling efficiency, layout, and the included goodies made for one hell of a deal… and an even better house for your PC.
Here we are, 6 short months later, getting ready to debut the HAF 922. The next generation "High Air Flow (HAF)" has some really big shoes to fill.
This time around, we are not dealing with a full-tower that is E-ATX compatible. The 922 is a true mid-tower and only accepts ATX and mATX systems. We are also not dealing with the massive size that was the original 932. And finally, we are not dealing with a large price tag, as rumor has it that the 922 will arrive around $120US retail.
Closer look
Once out of the well-packaged shipping box, there is no mistaking the pedigree of the HAF 922. Cooler Master has done an excellent job of shrinking down the larger model and went even further to make it much easier on the eye this time around. The front panel still sports the all mesh design and a large 230mm red LED fan. There are five bays for your 5 ¼ devices as well.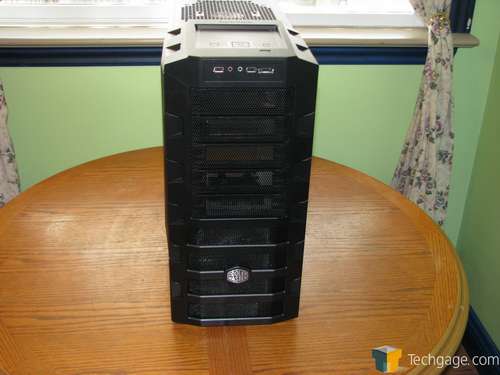 The I/O panel is located on the top of the front section. We are given two USB ports as well as an E-SATA and headphone/microphone jacks. Above the I/O area we have the power, reset and LED controls. Nestled in an angled tray they are easy to reach and even easier to use. The LED on/off feature is a novel touch. There are lots of people that like the ability to turn down the lights when possible. We also see the huge exhaust area. The supplied 230mm fan is a quiet power house that can be replaced with dual 120mm fans should you so desire.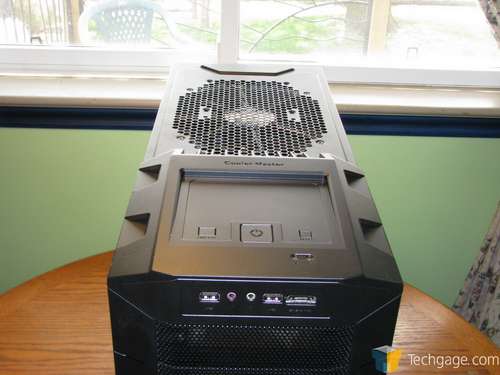 The left side panel that accesses the belly of your beast sports a large mesh design. While there are no included fans for the side, you do have the option of running up to two 120mm fans or a single 230mm fan. I really like the way the steel is bumped out to give you some extra room between the fans and those extra large heat sinks, should you choose to have both living inside your PC at the same time. Like the original, we get the "HAF" logo ghosted into the finish.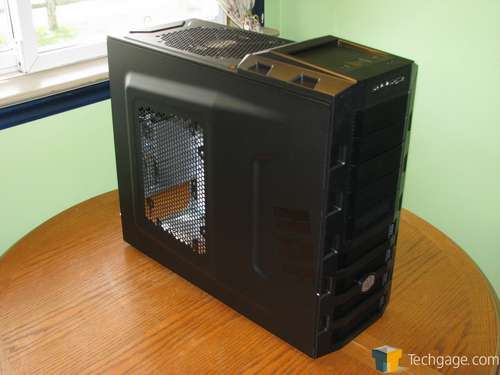 The left side panel is somewhat unremarkable at first glance. They have made the wise decision to mirror the right panel in the design which really does complete the overall package and look.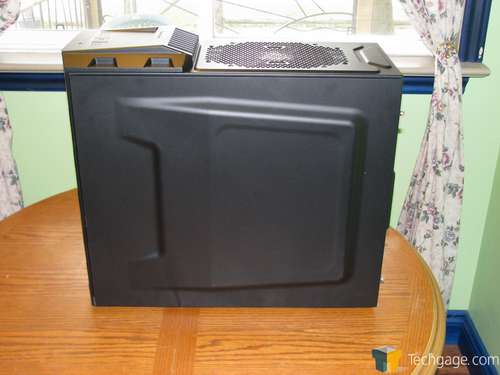 Traveling to the back, we see a somewhat standard but effective layout. The exhaust fan is a 120mm unit with the provision of swapping down to a 92mm or even an 80mm should you choose. Right above the fan you get two large grommeted holes to allow the pass through of large water cooling lines. The PCI slot area is standard fare with the PSU being mounted on the bottom. There is also a PCI slot pass through cut into the panel above the normal PCI slot area allowing for further flexibility.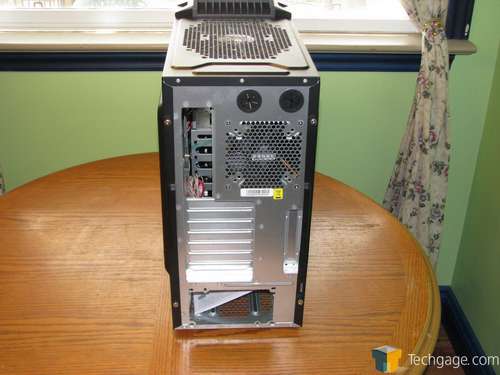 With the side panel off, we see the trademark paper motherboard tray liner. The layout is very logical and there are large holes for passing wires through the backside of the motherboard tray. For a mid ATX chassis, we are given a tremendous amount of room for the largest graphics cards, heat sinks and whatever else you want to fit.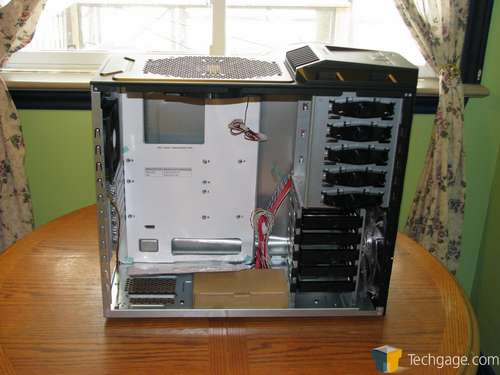 Up to 5 hard drives are able to be mounted internally behind the front 230mm intake fan. The tool-less design is very simple and effective. A push of the tab and the locking arm pivots out allowing us to simply slip the hard drive caddy out. Installing your drive into the caddy is a simple tool-less affair as well. I also like the large open spaces cut into the steel housing allowing for really good airflow around and through this area.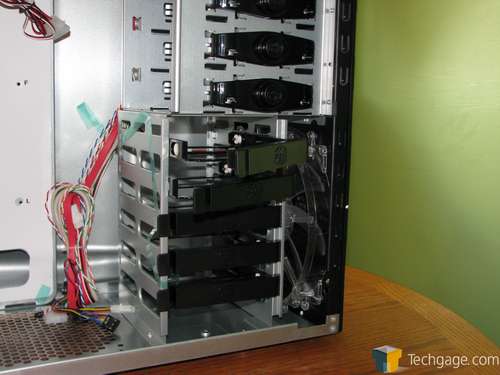 Five simple but effective push-lock holders will quickly and firmly grab hold of your CD/DVD drives. Reaching behind the front panel, you can unclip the mesh covers to make room to slide in your drives. The bottom 5 ¼ area is also setup to accept an external 3 ½ device should you so choose.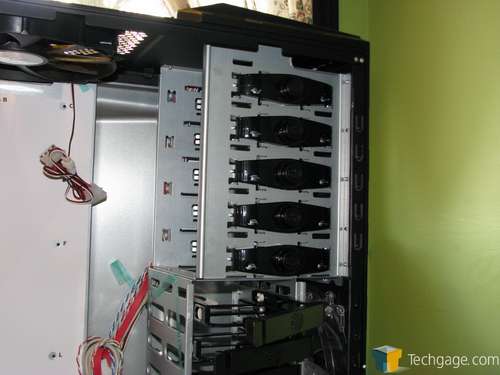 Another signature feature is the large opening in the motherboard tray behind the CPU area facilitating the installation of heat sinks. Many of today's larger CPU coolers require back plates to be installed behind the motherboard, which then requires us to remove the motherboard from the case. So, this simple feature really saves some time when performing this task.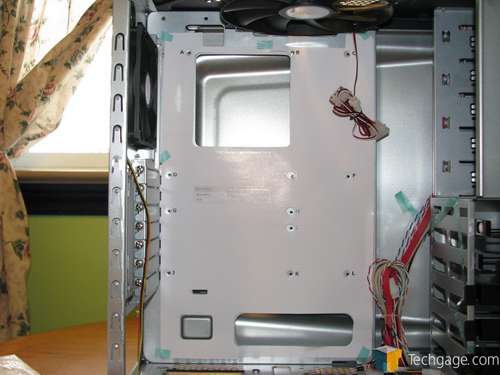 Down on the bottom we get the opportunity to install a 140mm/120mm fan if we so choose. The power supply is also given the option to breathe in fresh air from underneath. You can theoretically mount your PSU in either orientation, but the best choice would obviously to allow it to pull cold air through the bottom. There are two padded raised areas to prevent any scratching of the power supply's finish.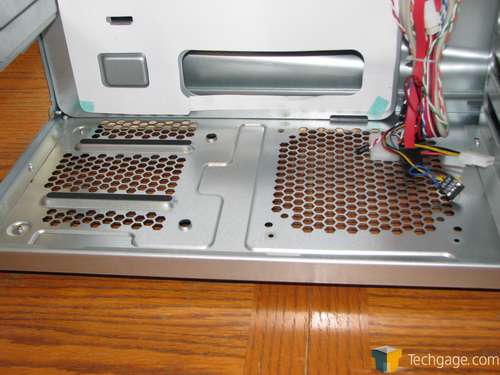 Looking up top from the inside, we see the huge exhaust fan. It is so large, that they needed to recess it into the motherboard tray for it to fit. As I mentioned earlier, we are given the option of replacing this fan with dual 120mm fans. While this does open up the option to internally mount a dual 120mm water cooling radiator, we are not given much room to use anything but very thin radiators without interfering with the motherboard. This is not really a problem considering the fact you could easily mount the radiator on the outside and run the tubing through the backside.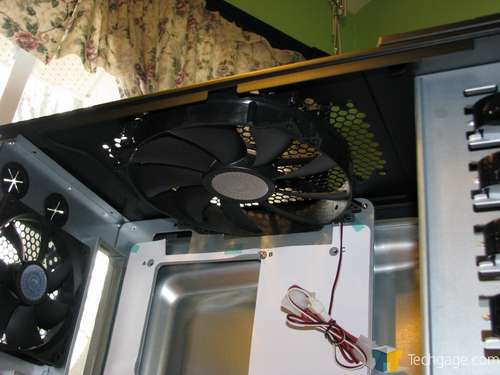 The rear PCI area is no-nonsense and also tool-less. I much prefer the use of thumbscrews as chosen instead of plastic locking tabs. You get a better look at the integrated pass-through above these slots. It doesn't seem like a big deal until you need to run anything through the inside to the outside.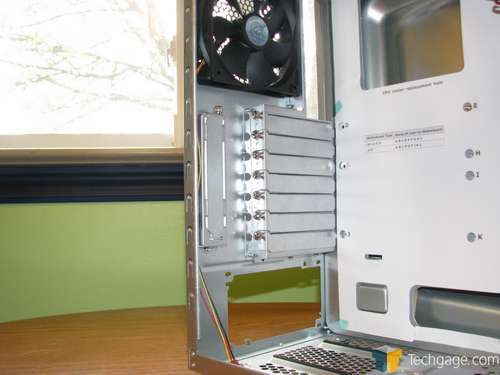 We are not treated to a large assortment of extras this time around. You do get a full complement of motherboard standoffs and screws plus a bunch of other various screws. There is a removable locking tab as well as a small handful of zip ties, and also a few adapter rails to fit that 3 ½ device into the 5 ¼ bay. Top it off with an owner's manual and you get a rather expected bunch of bits.
With that huge look at the chassis out of the way, let's move right into both testing and my final thoughts.
Testing, Final Thoughts
For my testing I used a new program called OCCT 3.0. Not only does this simple program push the CPU to the brink of a meltdown through the use of LINPACK testing for Intel processors, it also turns up the juice on your GPU. It automatically maintains graphs of temperatures throughout your testing. I highly recommend you try it out on your own for your testing needs. I always run all my tests 3 times and take an average just to weed out any erroneous results. My ambient temperature is kept at a near constant 68°F (20°C) year round as my test bed PC is in my basement. There are no fans or heat vents in the area of the test platform.
I use a static overclock and settings for all my testing. Stock testing is done with all settings in the motherboards BIOS to Auto. Overclocked testing is done by turning the CPU multiplier to 11x and manually setting the Vcore to 1.275v as well as enabling line load option. This results in a processor frequency of 3.67GHz with 1.25v Vcore as reported by CPU-Z in Windows. The video card is by nature of being fanless does not over clock enough to change the results so it remains at stock speeds through all testing. This is by no means the absolute maximum clocks, they are just meant to add extra stress to the components to simulate a potential overclock obtainable by most people.
Our system for testing is as follows:
The build process was very straight-forward. I cannot stress the fact that there was more than enough room for my oversized hands no matter where I was trying to work. I tend to mount the Zipjang cooler to the motherboard before the installation since it is nearly impossible to push in the mounting clips. This can make securing the motherboard tricky. I also was able to plug in the 8-pin EPX power connection without much fuss as well.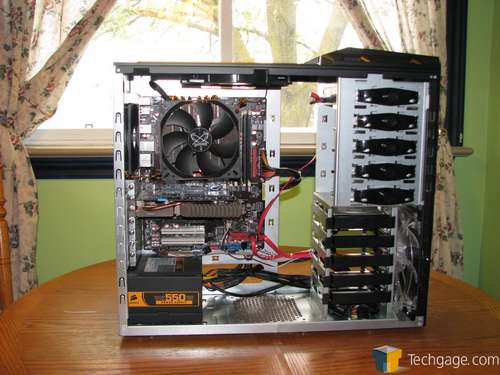 As for running the wiring, we are treated to a large array of stamped step outs that allow you to simply slip a zip tie through them for securing duties. I am somewhat of a fanatic when it comes to running wires considering a sloppy job can dramatically affect the cooling performance of the chassis. I was able to quickly secure everything down out of the way and there was plenty of room for all the extra power supply wiring to be tucked into under the hard drive area. I spend minutes doing what you see here, so just imaging what can be accomplished if you devoted only a few more.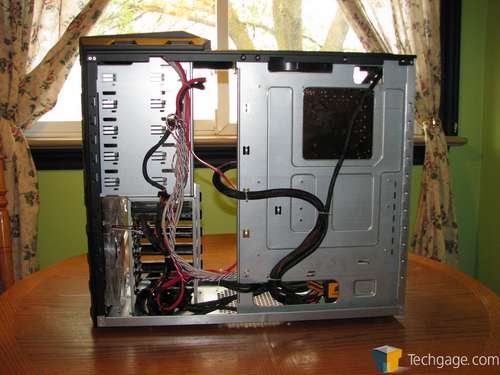 A quick flick of the power button and everything silently came to life. It was so silent I actually caught myself checking the power plug to be certain it was actually pushed into the wall. I am also a huge fan of silence when it comes to my computer and I can attest that you will be hard pressed to find another chassis to be any quieter. After a quick check to make sure that all fans were running full speed (which they were) it was time to fire up OCCT.
The final results were all very good. I was even more impressed with the fact the fan-less video card was kept under 70°C throughout the testing even with no side panel fans installed. There is no denying that airflow here is top notch.
Final thoughts
Mid-tower cases have seemingly always had to sacrifice in one area to make up for others. If you got one with good airflow, then it often lacked in space. If space was good it would then have issues with wiring. If those two areas were good then you just couldn't fit that oversized heat sink and the side panel fan. There was no way to please all of our desires.
The HAF922 has broken all these rules. We not only get our cake as well as being allowed to eat it too. Cooler Master wisely chose the route of making the chassis wider than the norm which gives it the abilities to swallow it all up. For such a small footprint we are treated with a virtual chasm to work in. There is over 13″ of space between the rear of the case and the hard drive area allowing for the biggest video cards known to man to comfortably fit inside.
Another major strong-point that has become a hallmark is the quiet and massively effective cooling being built into all their cases. Sporting "just" three fans, we are treated to an ample supply of airflow that will make the task of stopping the meltdown of your parts simple. It never ceases to amaze me just how quietly they can run the fans yet still not affect performance in the least.
When looking for flaws, I found that most were a matter of personal taste. I would have liked to have been able to internally mount my water cooling. I also found some of the edges were a bit sharp although you would have to be putting your fingers where they really didn't belong to find them. I also prefer a painted interior while conceding that this does affect the cost of production. While there is little adoption, I would have also liked to see E-ATX compatibility considering there is ample room and airflow to accommodate it.
All in all, this is a great chassis. My rating is a strong 8 out of 10. Don't let this deceive you in your thought process of buying it, however. This is a solid choice with little competition at the reported price point. The main thing stopping it from scoring anything higher was the somewhat limited flexibility for other forms of cooling. You would be hard pressed to find a better air cooling based chassis in the mid-tower category on the current market.
Pros
Awesome airflow.
Spacious interior.
Good basic included hardware.
Effective tool-less design.
Price
Cons
Not much room for internal water-cooling.
Should be E-ATX ready.
Discuss this article in our forums!
Have a comment you wish to make on this article? Recommendations? Criticism? Feel free to head over to our related thread and put your words to our virtual paper! There is no requirement to register in order to respond to these threads, but it sure doesn't hurt!

Copyright © 2005-2021 Techgage Networks Inc. - All Rights Reserved.