Cooler Master Storm Scout Mid-Tower

Date: April 10, 2009
Author(s): William Kelley

Cooler Master impressed us greatly with their first "Storm" chassis, the Sniper, and we're happy to report that their follow-up, the mid-tower Scout, is yet another winner. Like the Sniper, the Scout has features directly targeted towards LAN gamers, has great cooling abilities, runs quiet, and is set to be priced at an affordable $120 USD.
---
Introduction
With the release of Cooler Master's CM Storm Sniper mid-tower, the war was officially declared against the gaming world. Months and months of planning helped Cooler Master carry out their mission to infiltrate the LAN world, and in bringing us their latest weapon of mass destruction, the CM Storm lineup is filling out their ranks and sending in plenty of reinforcements.
Today we take a look at the second release by this upstart, the Scout. Built with the same military standards as the Sniper, the Scout is aimed squarely at the LAN gamer. With its rugged good looks and reinforced carrying handle, there is no mistaking the mission planned. Throw in a heavy dose of "Storm Tactics" into the design and this new breed of soldier is ready for battle.
To quote CM Storm: "Today, CM Storm is celebrating the deployment of the Scout true gaming chassis, created in close cooperation with the world's leading professional gaming teams and eSports organizers, including Kode5, Team Fnatic and mousesports. Like all gear developed in the CM Storm Labs, the Scout has been heavily injected with Storm Tactics to ensure complete Strength, Security, and Control to the discerning gamer.
Developed with elite engineering skills, and reinforced by the highest grade materials, your Storm gear will perform and deliver with unfailing reliability, letting you focus on your game and worry less about your hardware."
So let's tear open the box and make sure Cooler Master's claims are true and that the "CM Storm Scout is the True Ultimate LAN Gaming Case"!
Closer Look
Once the chassis out of the box and stripped of the protective plastic layers, we get our first look. In the front, CM Storm has chosen to use extensive grilling and have also placed foam filtering material behind it all. The front panel is easily removed with a simple pull, so cleaning it will also be a snap.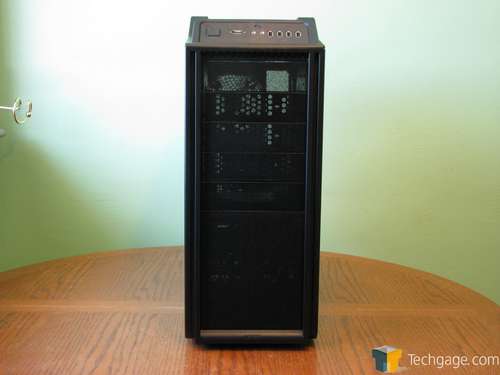 Moving to the side exposes the tinted windowed cover panel. I really like the effect of using a custom molded design instead of the cookie cutter square. The plastic is heavy and the panel feels solid.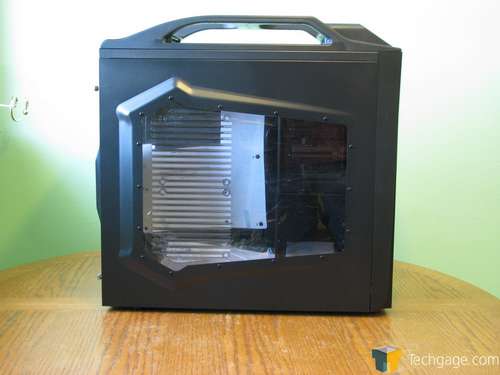 Flipping this panel to expose the backside gives you a better view of the optional dual 120mm fan mounting capabilities. This is an excellent feature that is sure to please those who require maximum air flow. There are no fans included in the package.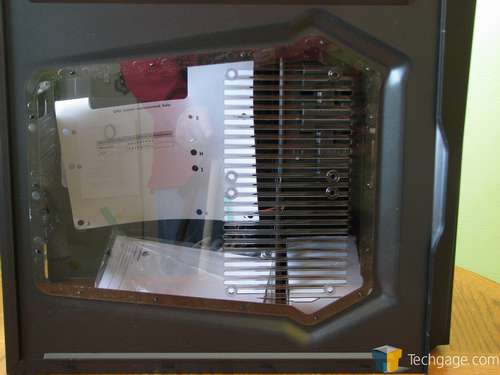 Looking at the rear exposes the business end of the Scout. There is a single 120mm exhaust fan included here. The "Storm Guard" feature is implemented as a part of this chassis, which allows you to secure your peripherals while at a LAN party. The bottom PCI slot is dedicated to this function and could be moved up or down should you choose. All exposed steel is painted black to give it that stealthy feel. There are no provisions for water cooling.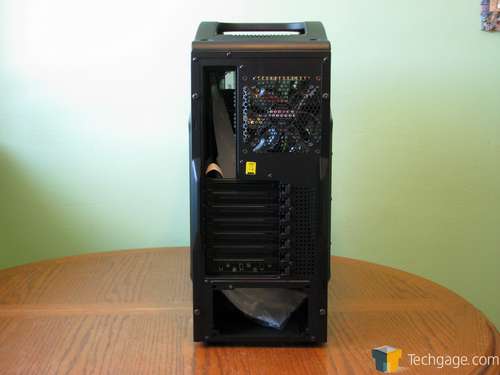 When looking at the opposite side panel, there is little to see. The same stamped design used on the windowed panel is carried out here. This is a nice feature since it does help give you some more room behind the motherboard tray for wiring.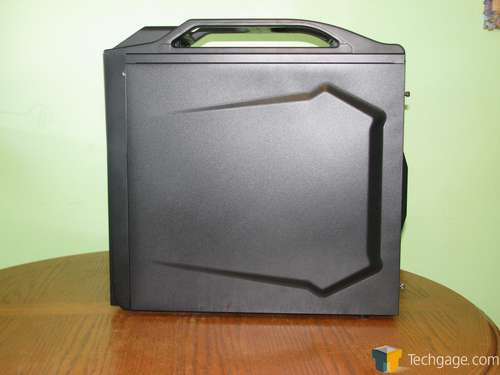 The front I/O panel is located on the roof of the chassis above the front panel. The power button and reset buttons are to the left. Moving to the right you see the HDD LED and power LED above the e-SATA port. Next up is the power button for the LED's on the fans with the microphone/headphone jacks below. Finally, you get 4 USB ports for all your needs.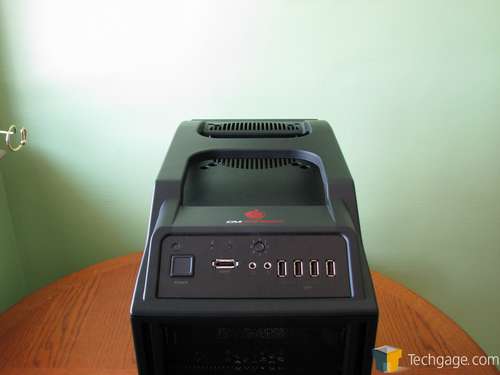 Looking at the molded top panel from the rear you see the fan opening for the top mounted exhaust fan. You can use either a 120mm or the included 140mm fan here. Also note the heavy molded carry handle. CM Storm has done an excellent job making this handle feel almost bullet proof. I was able to shake the case very hard and the handle exhibited no flex at all. You will have no worries using the handle for safe repositioning of your PC.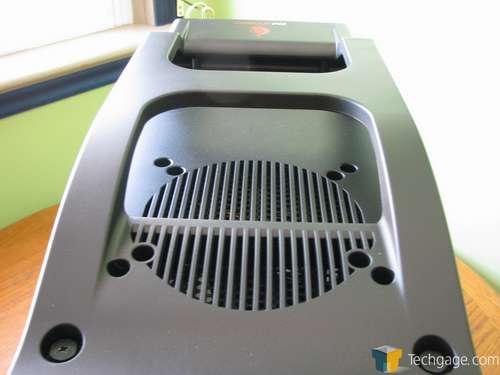 Once inside, we get a look at the new tool-less mounting design used in the Scout. They have departed from the push button that has been used on many of Cooler Master's previous releases. These locks have a solid feel and firmly hold the drive in place. Unlike many locks used by most companies, once you lock your drive in place there is no movement at all. These are the first I have personally used that made me feel like the drive was absolutely not going to move.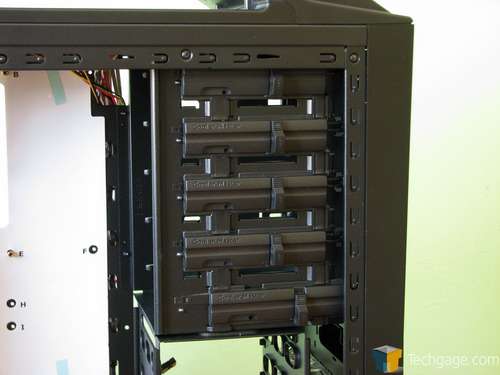 As for HDD mounting, the designers have chosen the tried and true mounting rail method for installing your drives. All it takes to slide your drives in is to place the guides on and push them in until you hear a click. Again, the mounting felt very firm and secure.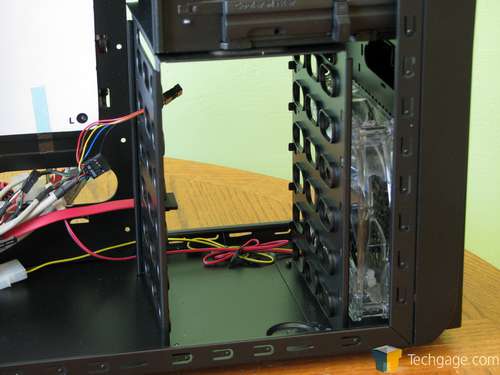 The power supply mounting area is also treated to the same mesh style grill used on the front of the case to allow you to mount your power supply's cooling fan facing down allowing it to draw fresh air inside.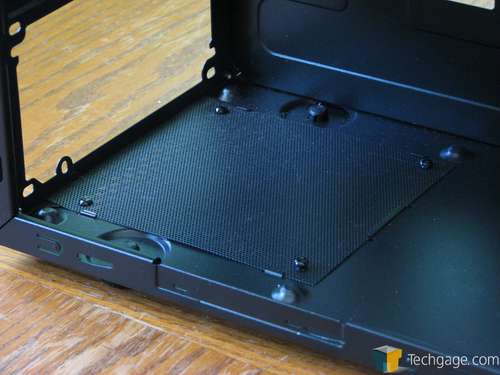 The top mounted exhaust fan is a non-LED 140mm unit. It can be swapped out with a smaller 120mm fan if you so desire.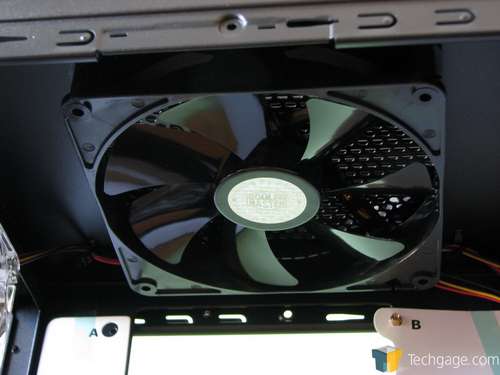 Looking at the motherboard area we see that Cooler Master has chosen to include the same removable paper mounting guide that we saw with the Sniper. While not necessary, it is a nice touch to help the novice builder. Another feature that is becoming a trade mark is the extra large open area behind the CPU allowing easy access to install heat sinks. Also note the rear mounted exhaust fan which sports red LEDs.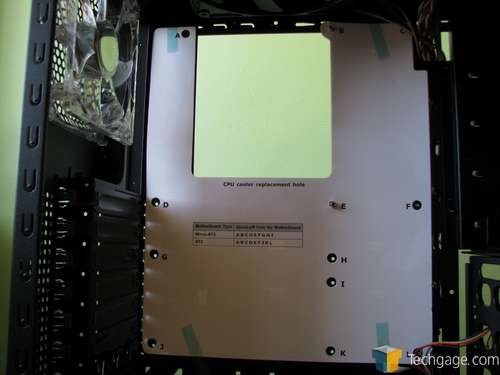 You get an installation guide and a pile of hardware to allow you to install your hardware effortlessly. I really like the included rails that will allow you to mount a 1.8″ and 2.5″ drive into one of the 3.5″ drive bays.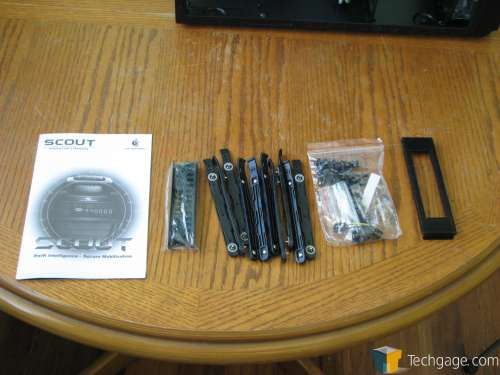 The rails that allow you to mount your hard drives just pop right onto your drive with no tools needed.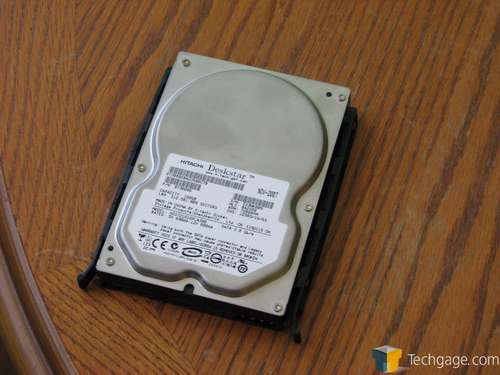 Here is a closer look at the rails that will adapt the smaller drives for installation. I used a laptop 2.5″ drive for my demonstration but you can use any 2.5″ drive. This is a great feature with the rising popularity of SSD drives.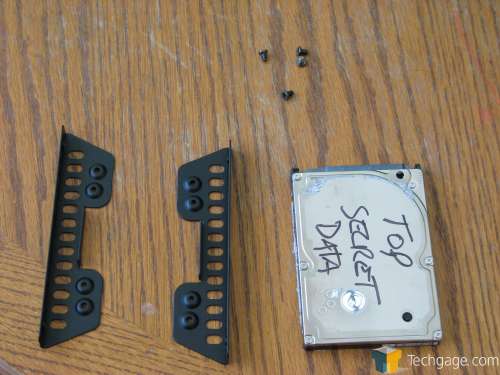 Once you screw the rails to your drive, all you have to do next is use the included 3.5″ rails and slide the whole assembly home.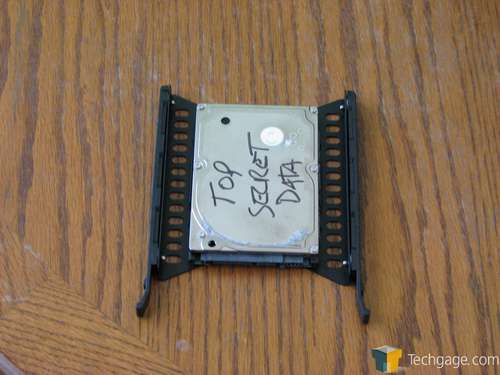 With that exhaustive look out of the way, let's move right into installation and testing.
Installation and Testing
For my testing I used a new program called OCCT 3.0. Not only does this simple program push the CPU to the brink of a meltdown through the use of LINPACK testing for Intel processors, it also turns up the juice on your GPU. It automatically maintains graphs of temperatures throughout your testing. I highly recommend you try it out on your own for your testing needs. I always run all my tests 3 times and take an average just to weed out any erroneous results. My ambient temperature is kept at a near constant 68°F (20°C) year round as my test bed PC is in my basement. There are no fans or heat vents in the area of the test platform.
I use a static overclock and settings for all my testing. Stock testing is done with all settings in the motherboards BIOS to Auto. Overclocked testing is done by turning the CPU multiplier to 11x and manually setting the Vcore to 1.275v as well as enabling line load option. This results in a processor frequency of 3.67GHz with 1.25v Vcore as reported by CPU-Z in Windows. The video card is by nature of being fanless does not over clock enough to change the results so it remains at stock speeds through all testing. This is by no means the absolute maximum clocks, they are just meant to add extra stress to the components to simulate a potential overclock obtainable by most people.
Our system for testing is as follows:
As I expected, the build here was very straight-forward. There are lots of notches on the backside of the motherboard tray for attaching zip ties, so you can easily secure many cables. There is less room than I prefer behind the tray for this purpose, however. The CPU power cable has to be run inside the motherboard area as there is no provision for running it behind the tray. Cable management is a bit of a challenge, but there is room to tuck everything away as long as you take your time.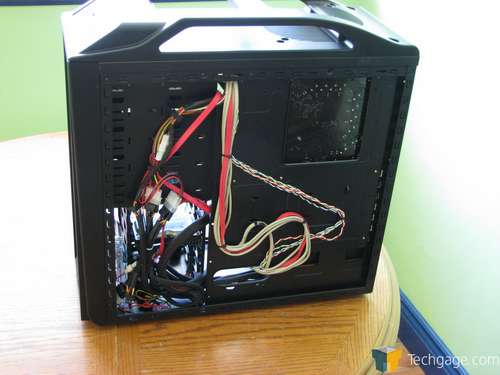 After everything is installed and buttoned up it's time to sit back and enjoy the fruit of your labor. While I use a relatively short graphics card for my testing you don't have to worry since there is a full 10.5″ between the backside of the case and the backside of the HDD cage. You can also see just how nice everything looks with the fully painted interior. I for one am very partial to a nice black interior. For a chassis with such a small footprint you sure get a lot of room to play with.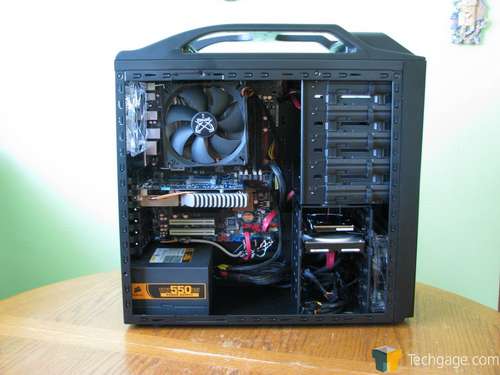 After running all my tests here are the results:
We see by the results that the cooling capabilities of the Scout are right up there with some of the best. I was very satisfied especially considering the choice of nearly-silent fans by Cooler Master. I had the test subject within 3′ of me during all testing and I caught myself 3 times looking down at it making sure it was even running. Definitely a very stealthy design, especially when you turn off the LED's.
Final Thoughts
There is one aspect of the Scout that I feel really needs strong emphasis. This case is squarely aimed at the LAN gaming crowd. In some respects I feel there were certain sacrifices made and in other areas there were features that were enhanced to satisfy the demands of such a use. It is hard to build a mobile full size PC. There are many factors to take into account and for certain you need a solid chassis as a foundation. In that aspect we have our first A+.
Merely describing it as rigid just doesn't get across the solid feel. The carrying handle is exceptionally strong as is the entire chassis. I violently shook the fully built PC and even sat right on top of it with my slender 210lb frame. I did not hear the slightest creak or feel the tiniest bit of movement.
Cooling capacity also scores a nice solid A+. The fans are very well placed and do an exceptional job of getting all the hot air out. The absolute lack of noise made me very happy since the typical location of a PC in a LAN is within a few feet of your ears. I have tested most of the high flow designs out there by various companies such as the NZXT Tempest, the Antec 900 and even the CM HAF 932. To my pleasant surprise the Scout could easily hang with the big boys in raw cooling potential. I consider this a great achievement for such a small chassis.
There has not been a firm MSRP set for the US market, but based off of European shoppes, the case will retail for around $120 USD (€90). For that price tag I have a hard time thinking of any other contender with the same features and build quality. Adding in the fully painted interior makes it even more of a bargain.
The only real character flaws I can find are the small size which makes it somewhat harder to work on when doing your build, and also makes for a lack of space for water cooling. You will have to spend a few extra minutes when running cables, and getting everything buttoned up takes slightly more effort than a full-tower. It is hard to call this a problem since the smaller size does lend itself very well to the intended use of this chassis. As for water cooling, that is not something that is a major concern for someone that routinely transports their PC since you have a whole new set of potential issues running this type of cooling on the go.
The CM Storm line has another worthy soldier to add to their line-up. Without a doubt this is the best-suited chassis I have ever come across for LAN gaming. With the security features of "Storm Guard" and the rugged construction you, would really have to work at it to do any damage to your prized PC. As for my overall subjective rating, I feel that I have another top notch 9 out of 10 on the desk in front of me. While possibly not to everyone's taste, if you are a LAN gamer I cannot think of a better case for your needs. Be certain you give this chassis a hard look before your next mobile build. You will not be disappointed.
Pros
Top quality build materials and workmanship.
Fully painted interior.
Very quiet and effective fans.
Super strong carrying handle.
Cons
Smaller size can be a bit of a challenge during your build.
No real provision for water cooling.

Discuss this article in our forums!
Have a comment you wish to make on this article? Recommendations? Criticism? Feel free to head over to our related thread and put your words to our virtual paper! There is no requirement to register in order to respond to these threads, but it sure doesn't hurt!
Copyright © 2005-2021 Techgage Networks Inc. - All Rights Reserved.