Cooler Master Storm Sniper Mid-Tower

Date: April 8, 2009
Author(s): William Kelley

Cooler Master is well-known for their creation of high-quality products, but things are taken to the next level with their new CM Storm brand. Their first product here is the mid-tower Sniper, and what a chassis this is! In addition to offering features specific to LAN gamers, the overall design, cooling ability and aesthetics make it well worth checking out.
---
Introduction
Cooler Master is a company on a mission. Having been around for decades, they are showing the results of hard work and even harder listening. With each new release, I am just that much more impressed with the level of quality offered in their cases for the price of admission. It is obvious to me that they have done their homework and dotted every 'i' and crossed every 't' in a relentless pursuit to satisfy the consumer.
Flush with their recent success in the PC gaming aftermarket, Cooler Master has unleashed a new name upon the masses, CM Storm. This new lineup is geared directly towards the LAN crowd and it takes their favorite genre, the war game, to a new level. They have even built a dedicated new web site to the CM Storm name.
To complete their mission they have unveiled the use of "Storm Tactics". These tactics focus on three things: Strength, Security and Control. Strength is achieved by using high grade materials. Security is accomplished with a new way to secure your peripherals while at a LAN-party. Control is giving you absolute power over the operation of your hardware. With military precision they have set out to rule the market. These chassis' are not just meant to house your PC; they are designed to turn it into a weapon.
Closer Look
Here, we get our first look at the front of the Sniper. Liberal use of airflow enhancing materials is evident everywhere. All of the 5 1/4 bay covers are mesh screened as is the large 140mm front intake fan. There is no doubt you will get a lot of air through here.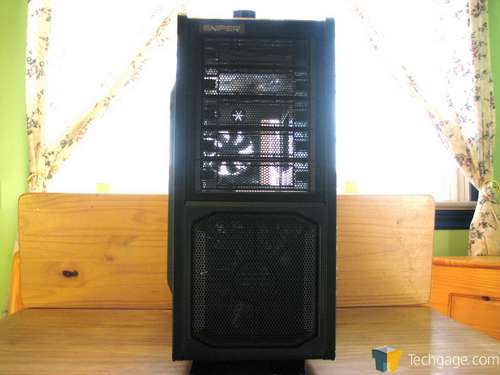 The side panel is also nearly entirely opened up by the use of the same mesh paneling as the front of the case. The grid work behind the mesh also allows for the mounting of side panel fans with the included screws. I much prefer this design over a simple window since you get very effective added cooling capabilities whether using fans or not.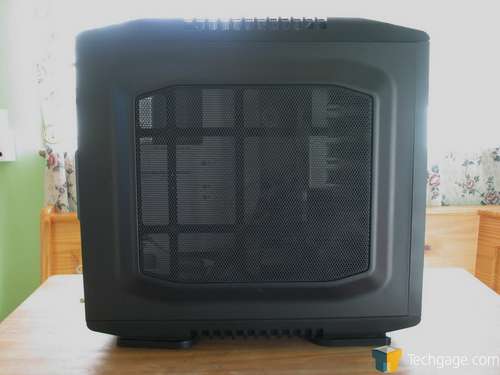 The opposite side panel is also formed in the same design for symmetry as well. There is nothing much here to look at other than the CM Storm logo.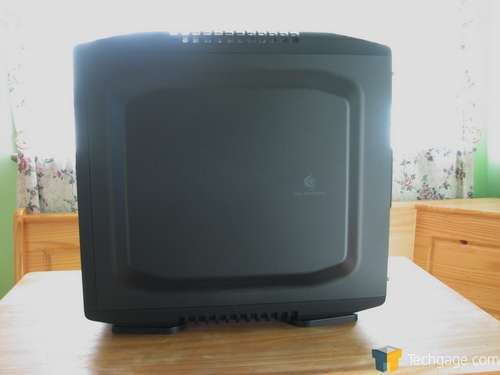 Looking closer at the rear panel you see a pretty much standard layout with the addition of large rubber grommets for water cooling lines to pass through. Take notice of the large 140mm exhaust fan with capability to install a smaller fan if you should desire. Also note the "Storm Guard" cutout that is perpendicular to the PCI slot covers. There are even two pre-punched holes down by the power supply if you prefer to run your water-lines in that area.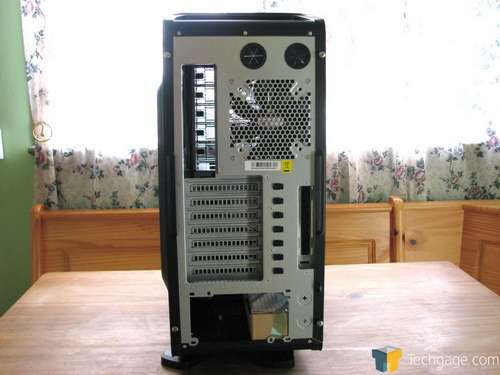 A close up of the "Storm Guard" shows us how this feature is implemented. What you have to do to safely secure everything is wind the cables of your peripherals through the slots in plate. This will make it extremely difficult for someone to just walk by and snatch up your stuff without making a lot of fuss. I feel this is a great idea and uses space that is almost never utilized.
On the bottom we see the large swiveling feet that lock in a 45 and 90 degree angle. Even when folded in the storage position, the case felt sold and firm footed. Also take note of the amount of venting here as well. Nearly the entire bottom is vented.
The front I/O panel is located up top. The layout is simple and very effective. We are given four USB, a single FireWire, e-SATA and headphone/microphone jacks. The large knob is a fan controller and inside the knob is a push-button controller for fan LED's. The power and reset buttons are on the left.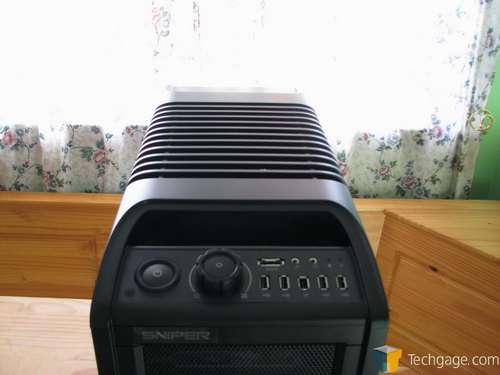 Inside we see the wide open layout design. Space is aplenty for routing all of your cabling. I would have preferred to see it painted black like the exterior. A nice added touch though, is the removable label for the motherboard tray showing you exactly where to install the standoffs. This is a great feature to help the novice builder get it right the first time.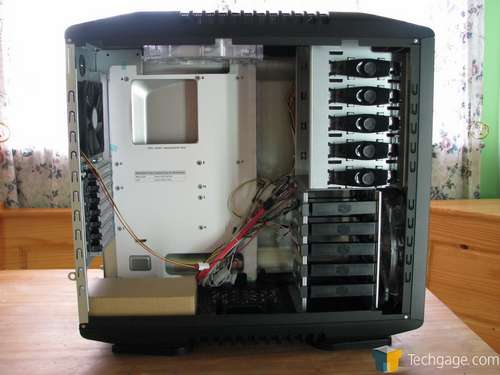 Taking a closer look at the motherboard area we see the large cutout behind the CPU is that allows for easy access for changing CPU coolers. The tool-less PCI latches are easy to use and very effective. You can also see the "Storm Guard" and the thumbscrew holding it securely in place.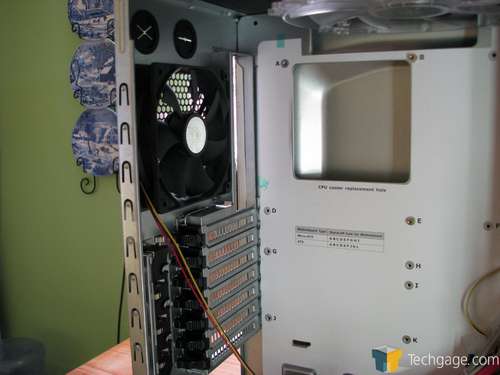 Using the same design as the HAF 932, the hard drive trays are also tool-less and very easy to use. A simple push of the latch to the right allows you to slide the hard drive caddy out for servicing. We also see the large 200mm front intake fan which sports red LEDs. This fan is controlled by the built-in fan controller.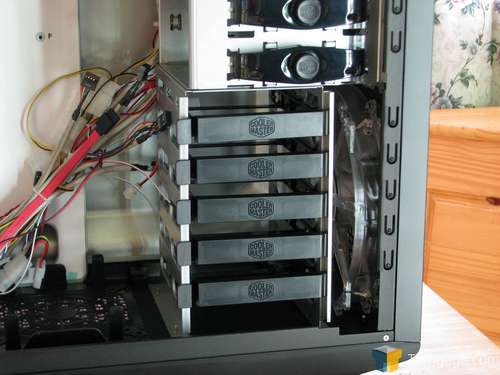 Installing a DVD drive has never been easier thanks to the use of push button locks. Pop off the front panel mesh cover and slide your drive in. The locks are very effective and hold the drive very firmly. There is an opening should you wish to go the extra mile and place a screw in to fully secure your drive, but in my opinion this is not needed.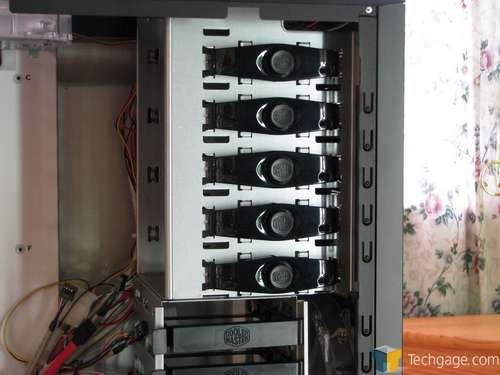 At the bottom we see the ample venting given to the power supply. If your power supply has a 120mm/140mm intake fan it will breathe very nicely. Also included is a plastic tool-less bracket for an optional 120mm fan. This is another example of a great design and no wasted space.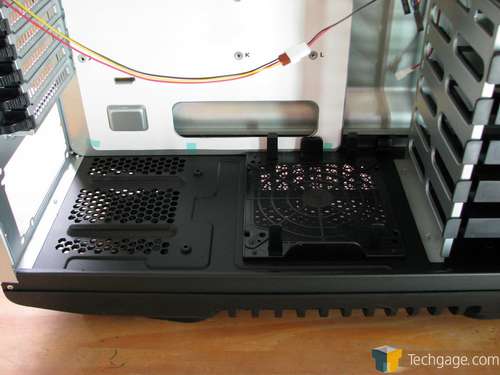 The top mounted 200mm exhaust fan is also controlled by the built-in fan controller and sports red LEDs. There are mountings for dual 120mm fans up top which gives you the option to install up to a 240mm water-cooling radiator internally.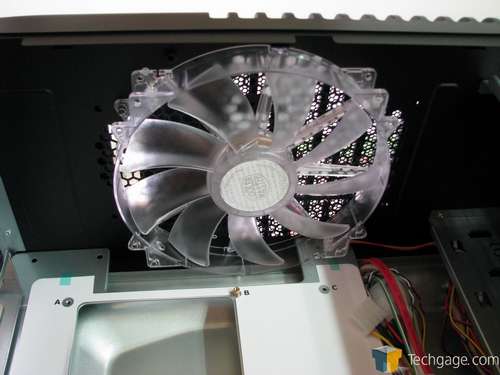 Underneath the black plastic ABS top panel we see the exhaust fans exit area. I really like the way they molded the panel to direct the airflow evenly. Fan air noise is reduced when it is given a path the flow through. This is another simple yet effective design touch.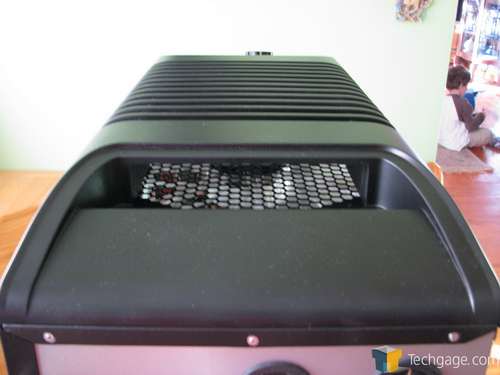 The included hardware is simple, but everything is included you'll need to get up and running. You get brackets to allow the installation of a 3 1/2 drive into a 5 1/4 drive bay. A bag of screws and standoffs covers all possibilities. There are some stick-on rubber case feet as well as a few more grommets should you desire to use the pre-punched holes down by the power supply for water-lines.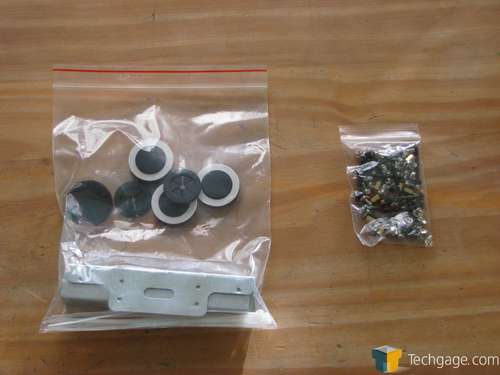 About the only thing missing is a 8-pin EPX power cable extension since bottom mounted power supplies can have trouble with the length of that cable. Otherwise, this is a very well-rounded package. So, let's put some hardware in and put it to the test.
Installation and Testing
For my testing I used a new program called OCCT 3.0. Not only does this simple program push the CPU to the brink of a meltdown through the use of LINPACK testing for Intel processors, it also turns up the juice on your GPU. It automatically maintains graphs of temperatures throughout your testing. I highly recommend you try it out on your own for your testing needs. I always run all my tests 3 times and take an average just to weed out any erroneous results. My ambient temperature is kept at a near constant 68°F (20°C) year round as my test bed PC is in my basement. There are no fans or heat vents in the area of the test platform.
I use a static overclock and settings for all my testing. Stock testing is done with all settings in the motherboards BIOS to Auto. Overclocked testing is done by turning the CPU multiplier to 11x and manually setting the Vcore to 1.275v as well as enabling line load option. This results in a processor frequency of 3.67GHz with 1.25v Vcore as reported by CPU-Z in Windows. The video card is by nature of being fanless does not over clock enough to change the results so it remains at stock speeds through all testing. This is by no means the absolute maximum clocks, they are just meant to add extra stress to the components to simulate a potential overclock obtainable by most people.
Our system for testing is as follows:
The Sniper is a very easy case to work with. The install was smooth and went off without a hitch. All the sharp edges are rolled over so there were no finger-biters (phew). After a mere ten minutes, everything was installed and ready for cable routing.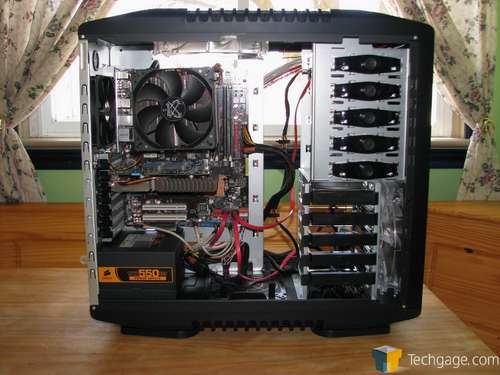 We are given lots of room behind the motherboard tray to route wires and there are a few punched in cable tie holders as well. With a dozen or so zip ties I was able to effectively secure all my wiring and maintain a neat appearance. For those that are fanatical about wire maintenance, there may not be enough hiding areas for those extra wires.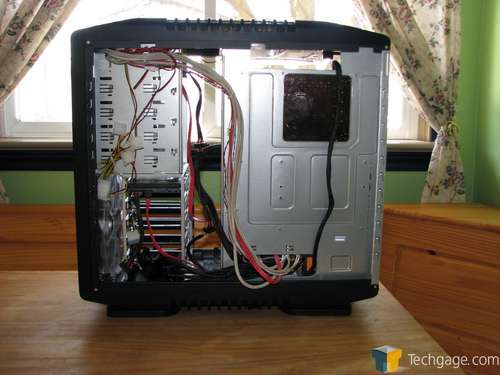 This is where I found the first real flaw in the design. For some strange reason, they have chosen to use a 2-pin plug for the fan wiring that connects to the built in fan controller. Seeing as how there are almost no aftermarket fans come this way and that there is no included 2-pin to 3-pin adapters, I am puzzled as to why this was done. Without modifying your fan plugs there is no way to attach aftermarket fans to the fan controller.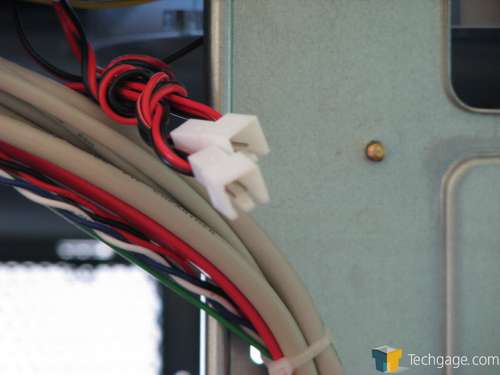 I ran all tests with the fan controller in the minimum and maximum positions. While you may find an area in between that will suit your personal taste I thought my method would show you just how effective the controller is.
As you can see above, the fan controller is definitely effective. At the Stealth setting, the noise levels were dropped to a level that was about as quiet as could be for air cooling. There are 2 extra connectors to allow the attachment of more fans to the controller, but they are limited by the 2-pin plugs.
Final Thoughts
Overall, this is a fine case. The build quality is excellent and the paint finish is fantastic. Couple in the new design features, and you have a knockout of a case. I really liked the "Storm Guard" feature. While I have never been to a LAN, I can imagine it is somewhat nerve-racking to walk away from your PC knowing your expensive keyboard, mouse and webcam are not secured in any way. It would not be impossible to defeat this feature, but it would sure make a potential thief think twice before messing with your stuff.
Airflow is fast becoming a Cooler Master trademark as well. There is mesh and venting everywhere. I, for one, cannot stand the noise of fans. I want my PC as silent as possible. I also demand that cooling capacity is not adversely affected when silencing my personal rig. With all the options you have for various cooling configurations then, only your imagination will limit the capabilities of the Sniper. The added ability to turn LEDs on and off with the push of a button is also a great idea. This is a feature that should have been utilized a long time ago.
There is no denying the powerful military theme that the CM Storm line is using. These products are designed for war and the rigorous demands that such use will place on hardware. The nail has been hit squarely on the head and the result is an amazing chassis. Bringing this beat to a LAN will show everyone you mean business and when it is time to get down and dirty you will definitely have the edge on sneaking up on your enemies in stealth mode.
When all said and done, I'm going to award CM's Storm Sniper a well-deserved 9 out of 10. Had it not been for the 2-pin fan controller plug, this would almost be a perfect chassis. Despite that issue though, everything else about the case warrants it an Editor's Choice award as well.
Very few products I have had in front of me deserve such high marks. Coming in at $179.99US (Newegg.com) there is little else in the market that packs so much punch. In fact, I do not believe there is any other current chassis that offers as many features for that money.
Simply stated, I could only find the one single flaw in this entire package. I can whole-heartedly state that I am looking forward to testing future products from the CM Storm lineup. If they maintain the same attention to detail as they have with the Sniper, they will most certainly take the LAN world by storm!
Pros
Solid build quality.
Full-featured design.
Built-in FAN/LED controllers.
Tool-less design.
"Storm Guard" safety.
Tremendous airflow.
Cons
2-pin plugs on the fan controller.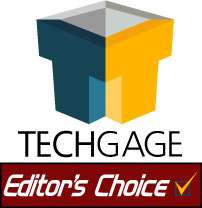 Cooler Master Storm Sniper Mid-Tower Chassis
Discuss this article in our forums!
Have a comment you wish to make on this article? Recommendations? Criticism? Feel free to head over to our related thread and put your words to our virtual paper! There is no requirement to register in order to respond to these threads, but it sure doesn't hurt!
Copyright © 2005-2021 Techgage Networks Inc. - All Rights Reserved.