Coolmax CXI 400W PSU

Date: September 14, 2005
Author(s): Rob Williams

Coolmax have been around for awhile, but have recently become more popular in the PSU market. Not too long ago, they released their CXI line of power supplies, which follow the new ATX 2.0 standard. Their higher models are even built for SLi use, in 500 and 600 wattages. Today, we are taking a look at their 400W version, so let's see just how good it is!
---
Introduction
We are long overdue for another PSU review… the last one we had was back in May. Even though PSU's are not the most interesting thing to read a review on, we all require clean, smooth power to our PC's. I am taking a look today at the Coolmax CXI 400W model, which is a pure black color… perfect if you have a dark colored case.
Before we get into the heart of the review, here is a quick bio about Coolmax!
Coolmax Technology, Inc. is a rapidly growing company that was founded in the year 1992. Our initial task of providing cooling solutions for electrical and industrial applications using AC and DC voltage fans is our solid foundation. Our commitment to excellence in both products and service had earned for us the reputation as a leading thermal solutions provider in the industry. We strive to work hard, hand in hand with our clients, from the biggest to the smallest. They rely on our company's ability to provide quick and professional responses to inquiries and production demands. Our factories are located in China and are ISO9000 and 14001 certified, all our products are UL, TUV, CEL, CE approved. Coolmax is dedicated to providing the best cooling solutions engineered for a high-tech world while maintaining long-term customer relationships.
Packaging & Features
The CXI comes in a white colored box, which just barely fits all the contents in. All required information is listed on the box, including the available connectors and power ratings. After opening the tightly packed box, we reveal the PSU and the extras.
Included in the extras are a power cable, 8-Pin to 4-Pin adapter, a manual and a few plastic odds and ends to help keep cords and wires neat inside your case.
There is nothing amazing looking about this PSU, but it still looks good. At the back of the unit, we can see that they have incorporated a honeycomb shaped pattern, to allow for better airflow. They have even included a switch that allows you to control the fan speed, low, medium and high.
Of course, the fan it is controlling is the massive 120mm that will be situated below the PSU once it's installed. The fan will suck air in from your computer, and blow it out through the back. The huge fan is protected (or your fingers protected) by the gold colored guard. Overall, the PSU looks great. It's simple, but it works.
Close Look
Here is the official list of specs included with the PSU:
Support the latest Intel ATX 12V V2.0 spec.
Support PCI Express
Serial ATA ready
3 Speed Fan Control Switch
120mm fan design, long life, and fastest cooling time
High quality gold-coated fan guard
Cable-tube on main power cables for better cable routing and neatness
Over voltage protection, short circuit protection on all output levels
All DC output wires have 450mm length
MTBF > 100,000 hours @ 25°C
SLI Ready (Only available on 500W & 600W)

The supply comes ready with all of the connections you'll need. It includes 6x basic 4-Pin Molex, a 24-Pin Mobo connector which can be altered to become a 20-Pin, 2x SATA, 1x 4-Pin P4 connector, 2x 4-Pin Floppy and 1x 6-Pin PCI-E. If you purchase the 500w or 600w version of this PSU, you will get 2x of the 6-Pin PCI-E connectors.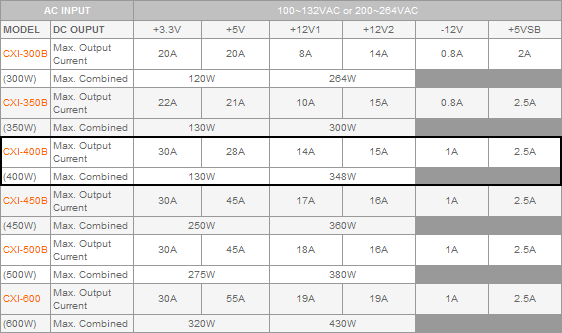 Above is the table overview of all the available wattages in the CXI line. The one we are reviewing today is outlined in black, and as we can see, it's sufficient for most systems out there today. If you have a lot more going on in your computer, including an SLi setup, you will want beefier wattage just to play it safe.
I tried opening the PSU to get pictures of the inside, however there seemed to be something in the way. I didn't want to risk breaking anything. Therefore, no pictures of the insides, sadly. At any rate, let's jump right into testing!
Stress Testing
To test the PSU, I used a collection of programs to help achieve the ultimate load on the unit. After a fresh bootup, I loaded Motherboard Monitor which we are using to capture the Rail highs and lows readouts.
Here is the system that the PSU is being tested in:
I first started off with PC Mark 2005 Professional Edition. Running the full suite, it tests all of the system components, and gives us a good start to testing. Once that was finished, I loaded up Half-Life 2 and loaded a few maps, including Canals. I played the game for around 30 minutes. During work on a review, I usually find any excuse to stop and game ;)
After finishing the gaming, I then started a 32 Million test in Super Pi. With that running, I then opened Prime95, and started the Blend mode. Then, I loaded up HD Tune and let it do a full scan of the primary HDD. With all three of these programs running, I started up Aquamark and had it running on a loop. Before you ask, Yes, Aquamark loaded really really slow :)
All four tests were continuously run for an hour. This could be considered a bit much, but it should push the Rails to their limits.
Conclusion
I'm really impressed with this power supply. 400w proved ample power for the tested system easily. The largest fluctuation we had, was on the +12v Rail, which still performed extremely well. Overall, the results from stress testing are fantastic.
We have a winner here! I'm glad I had the opportunity to review this PSU, because now I can add another trusted company to the list. The PSU comes with more than enough connectors, looks good, and is quiet. The included 120mm fan does a great job of cooling and is extremely quiet at the same time, so we win both ways here. The last kicker is the awesome price.
If you are looking for a new PSU to feed your system, you can add this one to your list of ones to consider. We have been lucky with the products we've reviewed here at Techgage lately, because once again we are awarding another product a well deserved 9/10 and an Editors Choice award. Thanks to Coolmax for providing us the sample for review!
If you have anything you'd like to say about the review, comments and questions are welcomed in our RELATED THREAD. Registration is not necessary, but we welcome you to if you wish to stick around!

Copyright © 2005-2019 Techgage Networks Inc. - All Rights Reserved.