Corsair Dark Core Pro Gaming Mouse Review

Date: April 7, 2020
Author(s): Rob Williams

Following-up on the original Dark Core released in 2018, Corsair has just released the next iteration, coming to us again in two variants: Dark Core Pro, and Dark Core Pro SE. Whether you simply want a full-featured ultra-high performance wireless gaming mouse, or one that specifically supports Qi wireless charging, Corsair has got you covered.
---
Corsair Dark Core Pro Gaming Mouse Review
A little over two years ago, we took a look at a trio of products that were launched by Corsair at CES 2018. Those included the MM1000 Qi charging mousepad, the K63 TKL wireless keyboard, and also the Dark Core – a full-featured gaming mouse that didn't just support wireless, but even wireless charging (via the aforementioned Qi).
Fast-forward to now, and Corsair follows-up on the original Dark Core with two new models: Dark Core Pro, and Dark Core Pro SE. It's the former that we're taking a look at here today, although the primary difference between the two is that the SE once again includes the Qi wireless charging.
Compared to the original Dark Core, the updated design is similar, but not too similar. The original included a bit of a unique design in the thumbrest, where the sniper button was situated in the middle of the back and forward. This updated design forgoes that, and instead returns to a more traditional design of having only back and forward buttons located there.
Before we dive too far in, this updated Dark Core Pro/SE includes an 18,000 DPI sensor, made possible by PixArt's PAW3392 (which allows for DPI increments of 1), and all told, there are eight programmable buttons to take advantage of. In addition to the left and right mouse buttons, the back / forward is found in the usual spot, while two additional buttons are found on the left side of the left-click button. The other programmable buttons are the scroll wheel and profile switcher button. Under the primary left/right mouse buttons are Omron switches, which are rated for 50,000,000 clicks.
Unlike the Dark Core of old, this updated model features Corsair's latest SLIPSTREAM wireless technology, which delivers ultra-low latency, but still quality battery-life. Corsair says this mouse is capable of delivering 16 hours of life with standard lighting, or 36 hours with the lighting off. If you're chronically bad at remembering to charge a peripheral overnight, the ability to turn off the RGB to extend the life is helpful.

It's also worth noting that if you're in a pinch, and don't have the USB connector with you, the Dark Core Pro also works over Bluetooth. That's a last-resort where gaming is concerned, however, since Bluetooth inherently has quite a bit of latency.
On the topic of RGB, there are nine zones available on the new Dark Core; the company takes care of all the important bits here: scroll wheel, mouse back, and accents on the right and left. While some Corsair mice feature a zone in the front, this Pro takes after the original Dark Core and forgoes that.
It might not seem like too big of a deal, but we think the fact that Corsair included a USB-C connector on this mouse was a great move. The other end of the included cable plugs into a normal USB-A port, so don't fret if your PC doesn't happen to have USB-C yet. The fact it's USB-C means you don't need to think about how you plug the cable in. It's as easy as plugging in one of those audio jacks that's becoming rarer by the day.
Testing Corsair's Dark Core Pro
In my review of the original Dark Core, I concluded that it was a good mouse overall, but was prone to the occasional issue, either with mouse skipping, or the mouse not working while wired (randomly, and not often). Sadly, I ended up knocking the original Dark Core off of my desk, effectively ruling it out as an ideal go-to, so I was happy to see Corsair send along this follow-up, which sports a familiar feel.
A key selling-point of Corsair's SLIPSTREAM wireless tech is that it's faster than anything we've been used to. The company says that it operates at 2,000Hz poll rate, which is double what most gaming mice will tout. Corsair must go out of the usual HID (Human Interface Device) spec for this to happen, because while the company has talked about 0.5ms latencies in the past (using a double data packet approch), there was no option for 2,000Hz in iCUE. Now, there is.
To test the claims of 2,000Hz, we hit up this website, and spun our cursor around. Sure enough – the mouse polls are well above 1,000Hz, although it's closer to 1,900Hz in our tests than 2,000Hz, but this is normal variance because of the capture method.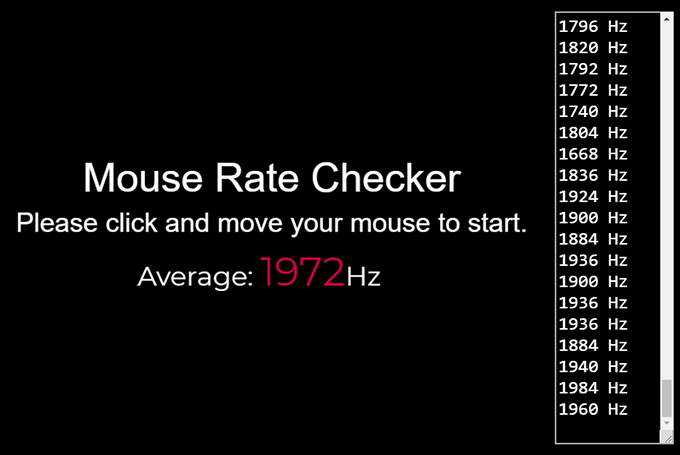 How much will you benefit for this increased poll rate? We want to be quick to say that it will make no difference at all, but we've been proven wrong on certain things before. Most people are hard pushed to tell the difference between 500 Hz and 1000 Hz, but there are scenarios (and certain gamers) that can pick up on it. The increased poll rate also puts an extra burden on the CPU as well, and this might lead to inconsistent polling (think frame times compared to frame rate in FPS), and is not something that can be easily tested. In any case, Techgage doesn't exactly have the most elite gamers on its team, so we'll leave the final verdict of the benefits up to pro players.

As mentioned earlier, the Dark Core Pro/SE uses USB-C to connect via wired, and to charge the mouse. If you have the SE version, you can also use Qi wireless, assuming you have a compatible charger – such as Corsair's MM1000 mousepad.

Like some other Corsair mice, this one includes a second option for the right-side grip. By default, the mouse has a bit of a thumb rest on the right side, but that does not make it ambidextrous. I found it more comfortable to use the alternative, which makes the right side completely flush. As with most things here, personal taste will dictate which one you'll stick with.



I've been using the Dark Core Pro for a couple of months now, and have primarily used it in the first-person shooter Destiny 2, as well as the classic MMORPG Lineage II. In both games, the mouse performed beautifully, which goes as far as to include the macro use. We've talked a lot about iCUE and macros in the past, so there really isn't too much to say here, but like every other Corsair peripheral, creating advanced macros is pretty easy with this mouse once you get over the initial learning-curve.

It's notable also that this mouse includes onboard memory, so you can copy profiles straight to the mouse, and continue using the available macros without iCUE running. By default, the button directly under the scroll wheel can act as a profile switcher, but if you'll only ever use a single profile, you could repurpose this button for another function – including a macro. If you do use more than one profile, you can customize the color of each, so that you will know which profile is active when iCUE is unavailable.
Final Thoughts
The Dark Core Pro has been in the making for a little while, as we received our original sample around the CES time-frame. Corsair then decided to hold off on release to give it some extra polish, and fortunately, we were provided a replacement, to make sure our experience matches what you will at retail.
Overall, I've been really happy with the Dark Core Pro over the few months I've been using it. Especially on the macro and reliability front, it's been top-notch. For MMOs, it can really improve your effectiveness even if the game has macro support built-in already (external macro software is always going to be more robust, or perhaps quicker).
The Dark Core Pro is one of the sharpest looking mice on the market, at least to me. It has a nice dark aesthetic, as its name implies, although it can be made flashy with the RGB. The texture on the palmrest and thumbrest is nice to the touch, and on the durability front, nothing stands out in a bad way. Even the scroll wheel has a satisfying click.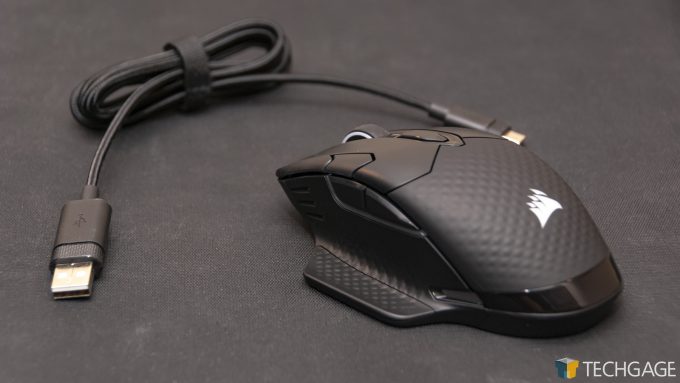 The Dark Core Pro is heavier than most mice I've used, so if you prefer the lightest of mice, this one is not be for you. Whereas a simpler mouse like the Harpoon is 85g, this bulkier mouse is 142g. That said, at least for this gamer, it's been a comfortable mouse to use, and weight hasn't felt like an issue. The buttons added to the left click area is a great thing to see return, as well. That also goes for the hardware profile support. iCUE uses more resources than a lot of people like, so it's nice to be able to store profiles right on the mouse itself, and then forego iCUE until further customization needs to be done.
The regular Dark Core Pro is selling for $79.99 USD, whereas the SE model featuring Qi wireless charging commands ten dollars more.
Overall, I like this mouse quite a bit, and have adopted it as my primary for now, until something else pulls me away. I have also been using the SCIMITAR RGB Elite that I took a look at a few months ago, depending on how heavy into my MMO I feel like getting.
Pros
Great build quality, with satisfying clicks (even the scroll wheel).
Supports 2.4GHz and Bluetooth wireless.
Solid battery-life despite (but all-out, you'll want daily overnight charges).
Customizable RGB solution with eight zones (but none at the front).
Macro support is comprehensive, reliable.
USB-C means less fuss when plugging in to charge.
Cons
Weightier than most mice.
Updating firmware can be a little flaky at times.
No dedicated Sniper button with this iteration (but you can repurpose another button if you wish).
Copyright © 2005-2020 Techgage Networks Inc. - All Rights Reserved.