A Worthy Addition To The Living Room? Corsair K83 Wireless Keyboard Review

Date: June 13, 2019
Author(s): Tom Roeder

The HTPC ecosystem is always growing and evolving. We have smart TVs, streaming boxes, and compact PCs. Controlling these types of devices with a standard remote can be painful. Fortunately, Corsair has a solution in the form of the K83 Wireless Entertainment Keyboard, a 2.4GHz and Bluetooth option that bundles in a lot of functionality.
---
A Worthy Addition To The Living Room? Corsair K83 Wireless Entertainment Keyboard Review
The concept of the HTPC (Home Theater PC) isn't a new by any means. My first foray into this realm was back in the Windows XP days, using Windows Media Center with a clumsy mini-tower stuffed behind my TV stand. Things have gotten much better since then, with devices sporting Android TV, Roku, and other media software.
I've always felt that peripheral development had always been lagging behind everything else. I've spent several hundreds of dollars chasing this over the years, and rarely being satisfied with the options available. Many of these devices would answer one challenge, but fall flat on others; there was never one device that could tick every box for me.
Corsair has thrown its hat into the ring, with the K83 Wireless Entertainment Keyboard. The company has a well-established reputation of developing high-quality gaming keyboards and mice, and it has an extensive offering at that. The K83 promises to deliver a solution to not only control your media devices, but also living-room gaming, which is certainly an ambitious project.
The K83 is a Bluetooth keyboard, but can also work via its own wireless dongle over USB type-A. It connects with a 1ms poll-rate over 2.4GHz, and has an integrated rechargeable Lithium battery, while accomplishing all of this in a 480g package.
A Visual Tour
The Corsair K83 Wireless Entertainment Keyboard has very minimal styling, just sleek and modern. The main bezel is a dark charcoal grey with a brushed finish, black keys and trackpad, except for the WASD keys which are a lighter grey. The whole keyboard is backlit, just a nice soft white – no RGB here.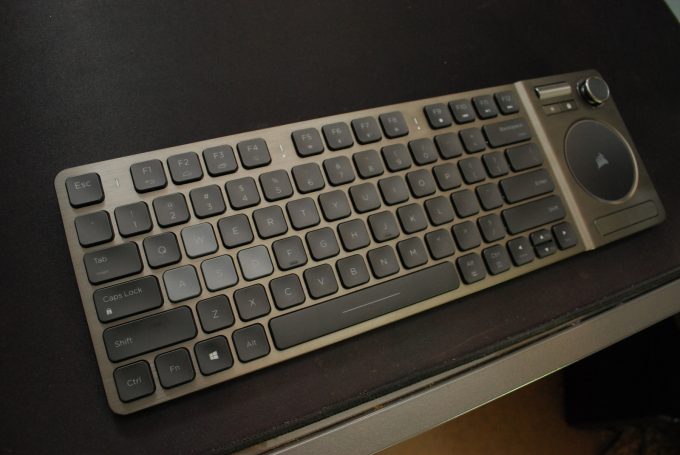 There is a volume control in the upper right hand corner which consists of a dark grey knurled roller, very consistent with other Corsair offerings. Also in the upper right hand corner is a joystick with click buttons, giving you gamepad controls, as well as quick menu browsing.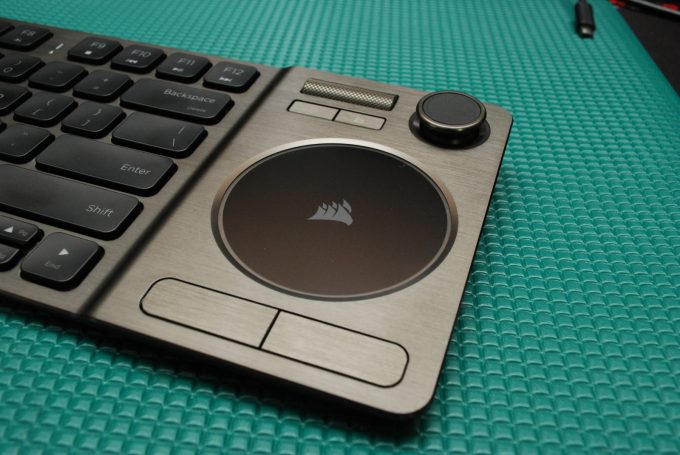 On the far right there is a touchpad with the Corsair logo in the middle, which you can configure in Windows 10 with four-finger gesture support. The touchpad measures 2.375 inches across, or just over 60mm, and left and right-click buttons just south of that.
The top row of keys are function and multimedia control, and Android control keys. On the top-end of the plank we find a micro-USB connector for charging, a power button, and a long tactile button for a left mouse click. A larger right mouse click button is located on the bottom of the board.
Usage and Final Thoughts
The fit and finish of the K83 Keyboard is of the same quality you would come to expect from a reputable maker that has been in the market for a while like Corsair. The styling is sleek and modern, suitable for blending in with other living room entertainment gear.
The K83 is very well put together, no creaking or squeaking when I give the board a torsional twist. There is a little give when I twist, but it's not much.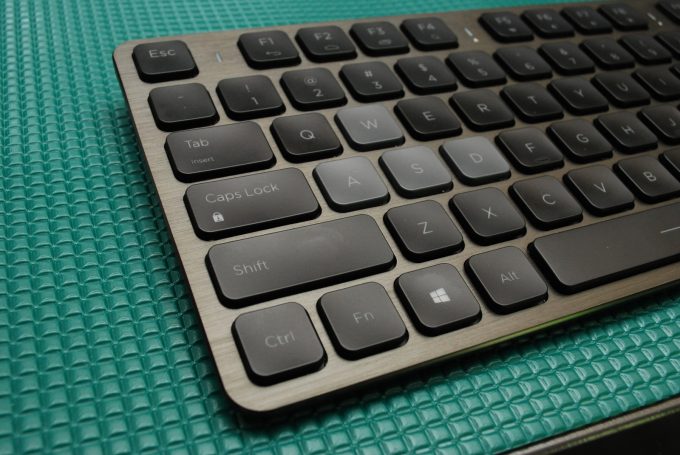 The keyboard is right at 15-inches long and just under 5-inches wide, which is a great size for resting on your lap. The top bezel is aluminum, but doesn't really have that cold feel, thanks to the brushed coating. I personally think that the roller-style volume knob is the best way to control volume, and the K83 doesn't disappoint. I love the roller.
The keys themselves offer a very high-end laptop experience. They remind me a lot of the older MacBook Pro chiclet keyboards (circa 2012) with just the right amount of travel, and linear feel across the board. With the K83 on a desk, there is no perceivable bounce or flex, even for me, as I am somewhat heavy-handed when I type.
I only tested this keyboard on Windows 10, as the only streaming devices I have are Roku, and tragically, Roku doesn't offer ANY other input device. Please get with it, Roku!
Using the keyboard in Windows 10 is very consistent with other Corsair keyboards thanks to the iCUE companion software.
Battery life is extremely good, spec'd at 18 hours at low brightness or 40 hours without backlighting, and I found my own testing to be consistent with these claims. Wireless range is very good as well, I was able to take the K83 all over my living room without issue, being on the dedicated 2.4GHz wireless dongle, or Bluetooth.
The touchpad is extremely good, is very responsive, and having multitouch gestures makes this keyboard worthy of accomplishing more than just navigating menus, it really is a full-featured keyboard.
In closing, this is an excellent buy at $99 USD, and is certainly on par with or exceeds offers similar to it from other manufacturers. The Corsair K83 Wireless Entertainment Keyboard has earned a permanent spot in my living room!
Pros
Lightweight.
Plug-and-play.
Great battery.
Touchpad is excellent.
Cons
Copyright © 2005-2021 Techgage Networks Inc. - All Rights Reserved.