Corsair NIGHTSWORD RGB & M55 RGB PRO Gaming Mice Review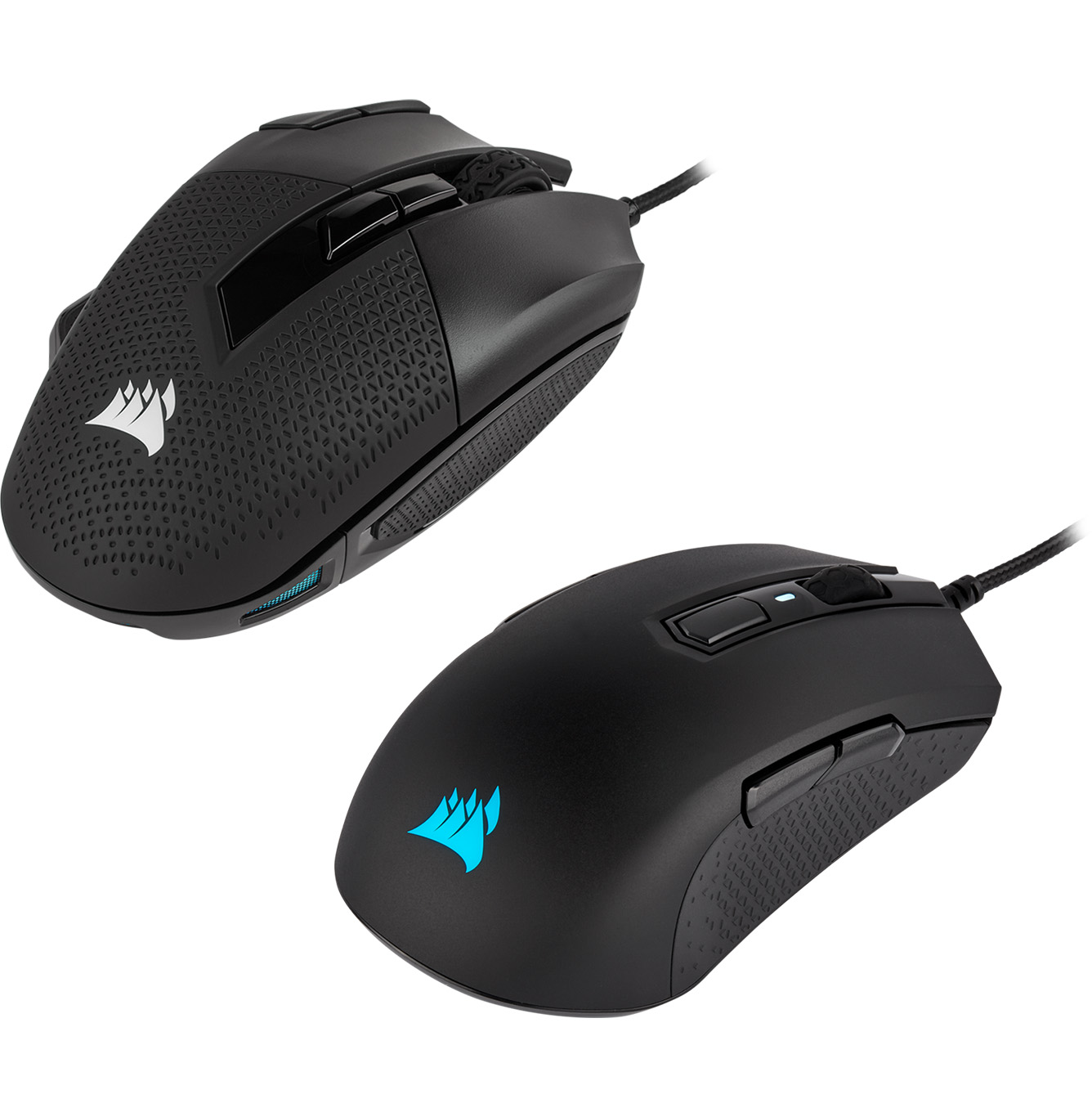 Date: August 29, 2019
Author(s): Rob Williams

We're taking a look at two of Corsair's most recently released mice: The NIGHTSWORD RGB has a unique weight system, and the M55 RGB PRO caters to those who either prefer an ambidextrous design. Let's check them out.
---
Corsair NIGHTSWORD RGB & M55 RGB PRO Gaming Mice
At Computex in June, Corsair released two new gaming mice, each one catering to a different type of gamer. The NIGHTSWORD RGB (~$80 USD) is arguably the more interesting of the two, since it includes a sophisticated weight system that the driver itself manages. The second offering is the M55 RGB PRO (~$40 USD), an ambidextrous design with a simple aesthetic but packed feature set.
I've been using both of these mice heavily since receiving them at their release, with the NIGHTSWORD RGB being the go-to for my own PC, and the M55 RGB PRO being used on various test rigs. In particular, the M55 helped us through all of our recent Navi and SUPER game testing. I've put quite a bit of time into each, but NIGHTSWORD definitely had more "hands-on" use, since my own PC doubles as both a work and gaming rig.
NIGHTSWORD RGB
Like many other Corsair products, NIGHTSWORD RGB's name is written in capital letters so that it stands out of the crowd. Fortunately, the mouse brings interesting features to the table that can do the talking better than a shouted model name, such as the aforementioned adjustable weight system.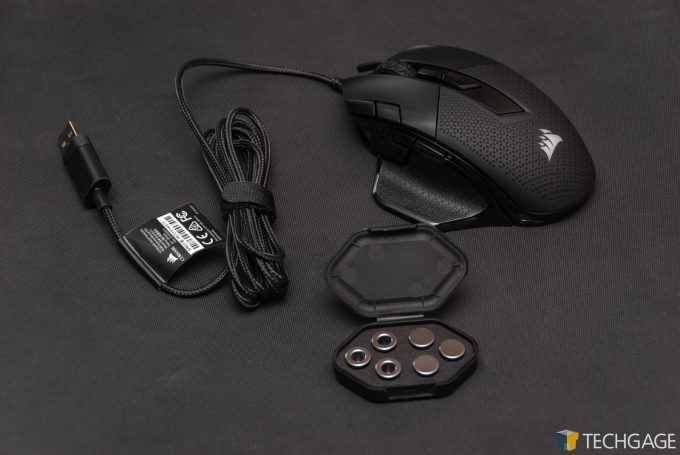 Depending on how serious of a gamer you are, weights may seem either really useful, or superfluous. Personally, I notice a difference when I move around weights, but only to a very subtle degree, and I certainly couldn't attest to it improving my gaming performance. The only way a mouse could truly improve my own gaming performance would be to cheat on my behalf, so more astute eSports-types will be a better gauge of how weight configuration can impact performance.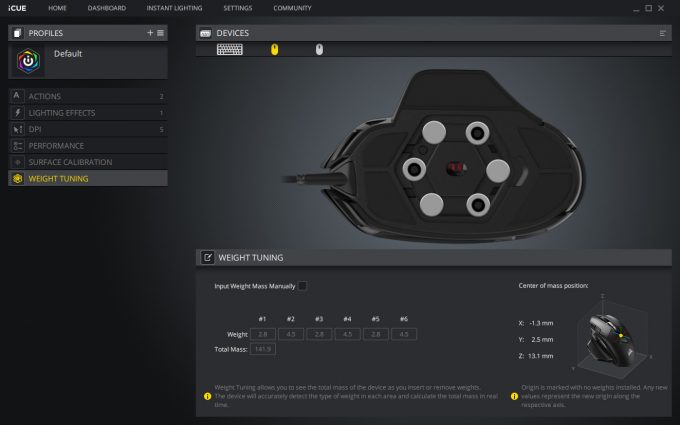 What makes the feature on this mouse really interesting, though, is the fact that the driver is aware of how you arrange the weights. Corsair includes six weights of two sizes, and iCUE can detect each of them to automatically adjust the mouse's center of gravity, ensuring predictable control. Again, I can't attest that this feature has helped me in any real way, but the technology behind it is intriguing.
While the NIGHTSWORD's face and thumb rest appear to give breathable holes, the intent of the design is pure grip "inspired by pro sports equipment". While a more airy design could be useful, it's rarely done to great effect. Instead, far improved grip is going to be important during crucial gaming moments, so unless you live in a sweaty environment, this is probably the ideal design choice. In my testing, grip has felt great, although these little indents are prone to collecting minuscule dirt particles. Don't be surprised if you'll be grabbing an old toothbrush for the occasional cleanup.
Carried over from the rubberized grippy mouse face is the equally grippy mouse wheel. This wheel is a bit wider than most, and it's satisfying to use overall. One of the NIGHTSWORD's four RGB zones is located underneath the wheel, behind little "windows" that crowd the front. These same lit-up areas are found under the palm area.
The NIGHTSWORD offers a lot of functionality by way of buttons. In addition to the usual back and forward buttons above the thumb rest, a "sniper" button is found right below that, while two more are found at the front of the left mouse click. As has become fortunately common, any of these buttons can be reconfigured many different ways.
Pixart's PMW3391 sensor is packed into this mouse, offering up to 18,000 DPI in 1 DPI increments, 400 IPS motion-detection, and up to 50G acceleration. For the layman, none of this may matter too much, but for the pro-gamer, performance is everything. I'm just happy that the software allows me to use 801 DPI considering 800 DPI can feel so slow in comparison.
M55 RGB PRO
As mentioned before, the M55 RGB Pro is quite a bit simpler than the NIGHTSWORD, and it also costs just half as much, at $39.99 USD. An immediate draw to the mouse for some will be its ambidextrous design, making it suitable for both left- and right-handed users. Beyond that, it's designed for all sorts of grip styles, as well, such as "claw" or "fingertip".
The M55 RGB PRO uses the ambidextrous design to its advantage by placing two sets of buttons on either side. On the left, you could use your usual Forward / Back combination, while on the right, you could use the buttons for macros or other quick shortcuts. This mouse happens to be a lot lighter than the NIGHTSWORD, at 86g vs. 116g, but a weightier feel is part of that rodent's appeal.
The M55 peaks at 12,400 DPI, utilizing Pixart's PMW3327 optical sensor. Scaled down from the four zones on the NIGHTSWORD is one zone on the M55. The M55's product page states that there is two zones, but there definitely isn't. Even the iCUE software only shows a single zone to change, versus the four of the NIGHTSWORD. An odd detail. Unfortunately, the zone on this mouse happens to be the logo that you'll never see while playing. If you want a more satisfying RGB experience, you will have to upgrade.
Like the NIGHTSWORD and the rest of Corsair's current portfolio, the M55 can be adjusted many different ways in the iCUE software. That extends as far as allowing you to remap one of the buttons to help switch profiles quickly. You could even do that with the DPI button if you never care about manipulating it during gameplay.
Final Thoughts
After using both of these mice for a couple of months, I have to say both of them have overall left a good taste in my mouth (not literally, of course). I unfortunately tend to run into an issue every time I review a new peripheral, but this time is an exception. I haven't had any firmware oddities or other bugs to speak of. Across a good amount of hands-on use, neither of these mice have ever given me a problem, with an exception.
A couple of times, the M55 RGB PRO didn't work for me after a reboot. USB issues on PCs are not uncommon, but I've only had this issue recently with this particular mouse. On my own PC, the NIGHTSWORD has been flawless, but on both an AMD AM4 and Intel Z390 machine, I've had an issue where the M55 simply wouldn't be powered on after a reboot. Simply unplugging and replugging the mouse fixed it in every case, but, that doesn't make it less annoying. If you've had issues like this, with any vendor's mice, please leave a comment.
Getting back to the conclusion, it's impossible to say that these mice are going to improve your game or anything hyperbolic like that. But finding a mouse that best suits you is at least going to make your overall experience that much better. For me, that solution would not be the M55 RGB PRO (~$40 USD), but that's not to say it's not a good mouse. To me, the ambidextrous design isn't as satisfying as the contoured NIGHTSWORD RGB (~$80 USD) is. Of course, left-handed people are automatically ruled out of the NIGHTSWORD option, which is unfortunate.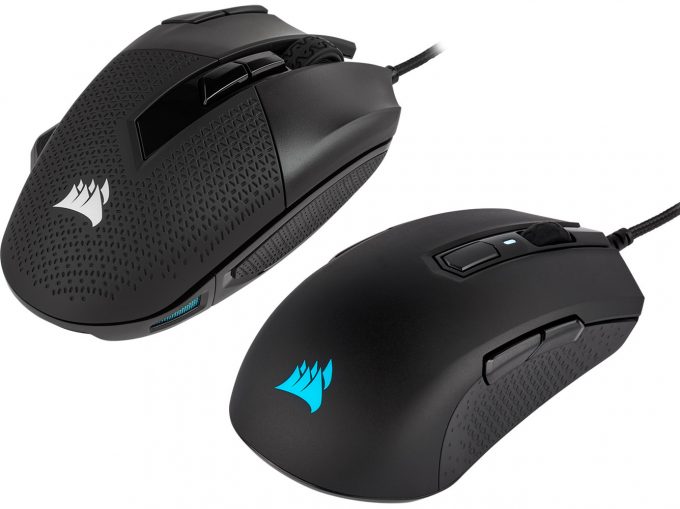 Both of these mice offer plenty of control in Corsair's iCUE software. I'd be willing to bet that many people who have good gaming mice don't venture into these settings too often, but you may be surprised how little tweaks can improve your experience overall. That's especially true if you have excess buttons like both of these mice have, which you can use for additional basic functions. You could even remap one for Cut and Paste if you wanted. With this flexibility, a gaming mouse can be useful to any task, not just for getting that perfect snipe.
Overall, both mice have impressed me for their own reasons, and I wouldn't hesitate to recommend either. Just be aware of the potential M55 issue mentioned above in case you run into it yourself.
As of the time this review was published, the M55 is on sale at Amazon for a mere $28 USD, which I'd say is a hell of a deal if you need an additional or replacement mouse and don't want to overspend. 
Copyright © 2005-2019 Techgage Networks Inc. - All Rights Reserved.