Corsair SCIMITAR RGB Elite MMO/MOBA Gaming Mouse Review

Date: February 25, 2020
Author(s): Rob Williams

With macro keyboards easy to come by, the draw of a mouse like Corsair's SCIMITAR might not pull you in as much as it otherwise would. If you play MMOs and MOBAs, however, you'll understand why having even more functionality at your finger tips is never a bad thing. Let's check out Corsair's latest take on the SCIMITAR, with the RGB ELITE.
---
Introduction
Thanks to the fact that the gaming mouse market is bursting at its seams with selection, finding the "right" one can be challenging. The same competition that fuels the massive selection of mice has also led to the development of unique and niche-bound models. Corsair's SCIMITAR validates that final point, as it's laser-focused on the MOBA and MMO crowed.
The standout feature of the SCIMITAR RGB ELITE is the array of twelve buttons nestled into the thumb rest. Most game genres would reveal this array to be overkill, but MOBAs and MMOs are quite different. Even if you already have macros configured on your keyboard, having so many quick actions available on your opposite hand is sure to be beneficial.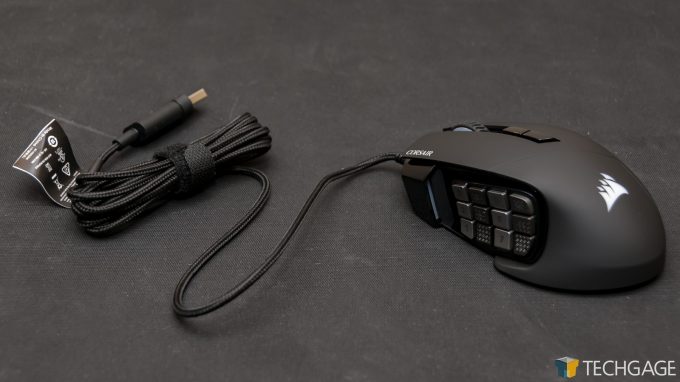 The original SCIMITAR released in 2016, and the series added a PRO model the very next year. The primary upgrade to this new ELITE model is with its move to a better PixArt 3391 sensor, bumping its DPI sensitivity to 18,000 (configurable in increments of 1). As before, the mouse includes a tool for sliding the side buttons ahead or back, depending on what's more comfortable to you.
Twelve buttons in the thumb rest should prove sufficient for pretty much anyone, but it's important to note that this array replaces traditional back and forward buttons entirely. Since each one of the mouse's buttons are customizable, you can restore the back/forward functionality to any one of these buttons pretty easily.
The SCIMITAR also includes profile and DPI switch buttons under the scroll wheel, which again can be reconfigured based on your preference. If you wanted to use this mouse for first-person shooters, you could reconfigure one of these buttons to act as the sniper button, which would apply a predefined low DPI value to make sniper aiming much easier.
On the durability front, the SCIMITAR is well-built, and feels sturdy despite being fairly light. The side buttons appear to be metal, but are actually plastic, with the second and fourth row being textured to make it easier to place your fingers correctly. Since this is a competitive gaming mouse, it's probably no surprise that Corsair has stuck to wired for this iteration.
Software
Configuring a mouse isn't usually too difficult, but the SCIMITAR's huge number of buttons almost makes it feel like you're configuring a keyboard. Figuring out how to get a button to do what you want isn't difficult, either, but it's sure to be tedious, simply because there is so much to consider.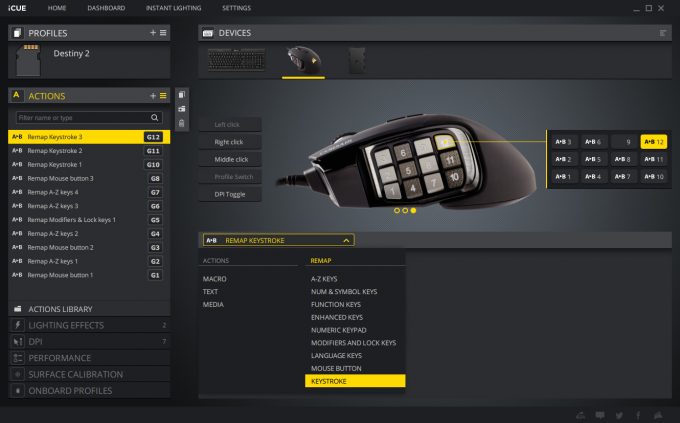 As is standard fare in iCUE, many options can be sifted through once a profile is chosen. By default, the SCIMITAR has no functionality assigned to its side buttons (not even back / forward), so the first thing you will likely want to do is add a remap for restoring basic functionality to the default profile. From there, you could create a new profile for each game you play, pour your favorite drink, and get to configuring.
The SCIMITAR supports three on-board profiles, so when you're creating a new game configuration, you'll want to make sure you choose to make it either a software or hardware profile. With a hardware profile, you'll always have the configuration available, even without iCUE running. With software, it means iCUE can auto-detect when a game is running, and auto-apply the correct profile.
The distinction of software vs hardware is an important one to note, because there doesn't seem to be a way to convert one to another. The hardware profiles are meant to be used without iCUE, so if you have iCUE open, it's going to ignore you if you try to set a hardware profile. If you do try to select a hardware profile, clicking outside of the software will automatically restore the previously-used software profile.
I'd like to see some improvements in this area here. If you want to convert a hardware profile to a software one, or vice versa, there doesn't seem to be a way to do it. If you export a profile, and then import it later, you do not get the option to choose between software and hardware – so, it's important to make the right choice first, or else you may be tediously redoing your configurations.
Final Thoughts
While it's not touted for FPS play, I originally configured the SCIMITAR for use with Destiny 2. I wanted to see if the extra buttons would give me any advantage in PvP, where my hands sometimes have to stretch a bit too far for what I need to do (eg: sliding). In an MMO I play on and off, Lineage II, I have the mouse set up to utilize certain skills quicker, and more conveniently.
I've been using the SCIMITAR RGB ELITE for only a week now, but I can already feel like it'd become a valuable tool for even FPS gaming. The key thing, though, is being willing to use a mouse with an unusual design, and without typical positioning for the forward and back buttons. You have to be committed to this design, but thankfully, the fact that the mouse can use different profiles means the buttons can have more ordinary functions during normal use.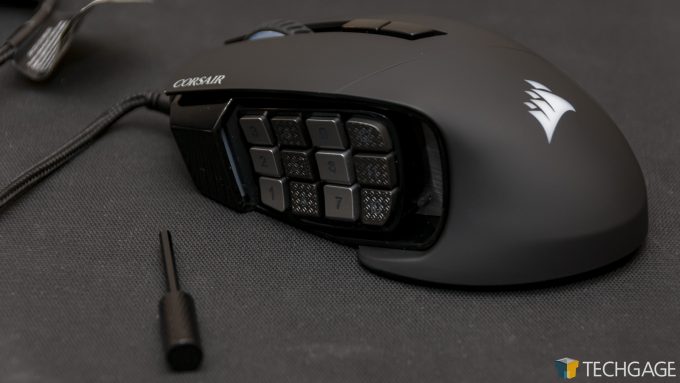 In a game like Destiny 2, the move from a traditional style mouse to this one is a dramatic one. I had to play a bit of PvE before I jumped into PvP, because no muscle memory of a new mouse can get you killed quick. With twelve buttons, and possibly multiple games, you will have a lot to remember.
In MMOs and MOBAs, remembering what each button does might be a bit easier than FPSes, since you likely have a routine in your head and can thoughtfully choose the best order of commands based on that. In first-person shooters, it's not as though there are buffs to worry about. Each command is generally quite different from the other.
With my experience, I can say that MMO and MOBA gamers will instantly cling to this mouse, but it is definitely a bit unusual for FPS. That said, I've continued to use the mouse for everything Destiny 2, and have improved, even in PvP. One thing I learned while tweaking this mouse is that there's probably no such thing as perfecting your profile on the first go. As you use the mouse, you may begin to realize that some functions would be better tied to other buttons. Originally, I had my melee attack attached to button 1, but I ended up changing it to 4, as my thumb effectively sits on it by default.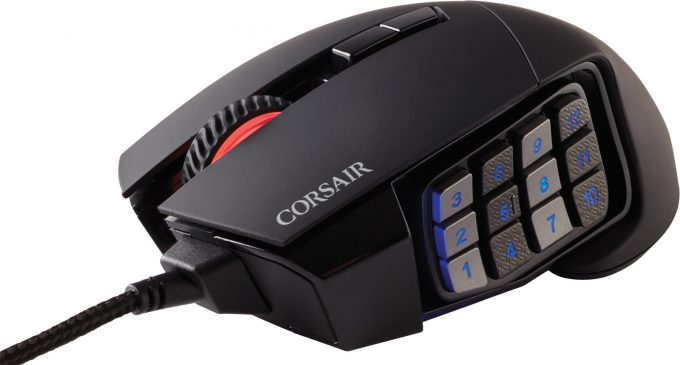 Twelve buttons is overkill for a game like Destiny 2, so I keep some buttons configured, and use the ones furthest back as quick shortcuts to various menus in the game (eg: Roster, Quests). I use 4 for melee, 5 for grenade, 1 for my class ability, and 6 for my super. If you were to use this mouse for this same game, you'd probably configure it differently. The nice thing is that the mouse is crazy configurable, so it will ultimately suit anyone who doesn't mind the different design.
The more I use the SCIMITAR, the more I wish the buttons were designed a little bit differently. Having all twelve buttons smooshed together makes it easy to hit the wrong one by accident. It'd make for a more complex design, but I wish each row as independently movable, so that users can space them out according to what's ideal for them. The option of interchangeable button surfaces would be a neat addition, also.
Pros
Offers a ton of functionality at your thumb tip.
Well-built, durable design.
Easy to configure each button with any function.
Can store three profiles to the mouse itself, for use without iCUE.
Scroll wheel is easy to use, and not susceptible to accidental presses.
Cons
Between $5-10 more expensive than its predecessor.
The twelve buttons are rather small, and really close to one another.
Managing hardware and software profiles in iCUE could be easier.
Copyright © 2005-2020 Techgage Networks Inc. - All Rights Reserved.