Corsair's Virtuoso RGB Wireless SE – Bridging the Gulf Between Wireless and Wired

Date: December 25, 2019
Author(s): Tom Roeder

When you're in intense gameplay, the last thing you want to worry about is your connection dropping, or getting tangled up in wires. Can you have your cake and eat it too? Corsair is further asserting its presence in the gaming realm with its new Virtuoso RGB Wireless SE. Can this gaming headset deliver it all?
---
Corsair Virtuoso RGB Wireless SE Review
Who among us hate wires in our digital lives?  I know I certainly do, and over the years, there have been great leaps in technology that have allowed more peripherals to finally cross the chasm of convenience versus performance.  In the past, consumers were almost always giving up performance/quality in the name of convenience, but over the years this gap has become quite narrow for a lot of technology.
Headphones and headsets are certainly no exception.  Many gamers will insist on a separate USB mic along with wired headphones, just so that they don't miss any of the action in their gaming sessions.  For years, I would have agreed that this really was the way to go, as wireless technology just wasn't there yet.
As time has passed, however, Bluetooth has become much better and more stable, but other technologies have been racing forward as well, claiming to give you the best of both worlds:  world-class audio fidelity along with rock solid reliability. That includes the 2.4GHz technology found in today's review subject, the Corsair Virtuoso RGB Wireless SE gaming headset.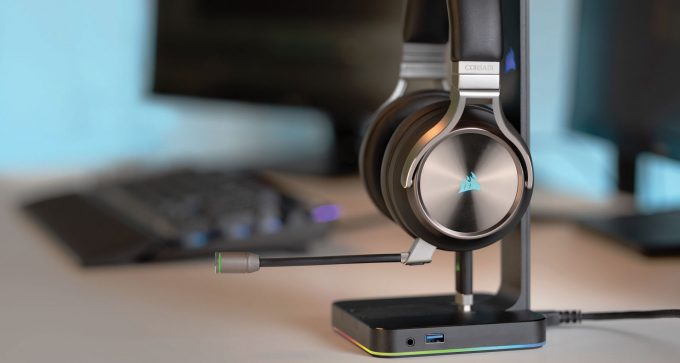 Technical Specifications:
Headphones Frequency Response: 20Hz – 40,000Hz
Impedance: 32 Ohms @ 2.5kHz Sensitivity: 109 dB (± 3 dB)
Drivers: Custom 50mm neodymium, matched pairs
Microphone Type: Omni-directional Impedance: 2.0k Ohms Frequency Response: 100Hz – 10,000Hz Sensitivity: -42 dB (± 2 dB)
Wireless Type: CORSAIR SLIPSTREAM WIRELESS 2.4Ghz Connector: USB Type A Range: Up to 60 feet (12m)
Battery Life: Up to 20 hours
USB Charging Cable: 1.5m 3.5mm
Stereo Cable: 1.5m
Dimensions: 70mm x 100mm x 195mm / 6.69" x 3.94" x 7.68"
Product Weight w/o cable and accessories: 360 g / 0.79lb
Warranty: Two Years
MSRP:  $209 USD
A Visual Tour
This Virtuoso Wireless RBG SE headset is aimed directly at the gamer market, but unlike a lot of gamer gear out there, its styling has taken a more refined approach, looking far more mature than some of the competition out there.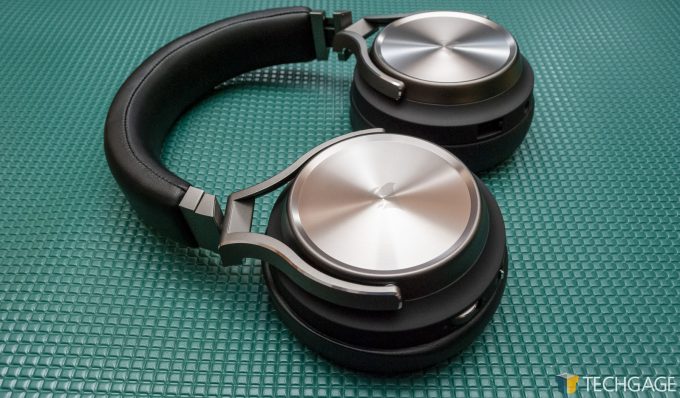 The headset has large spun aluminum housing covers on the backs of the ear cups with the Corsair logo in the center, which is where we find the RGB lighting, configurable in the iCUE software. The large ear cups are connected to the headband via aluminum control arms which have a rotational pivot, up to 180 degrees where they meet the headband, and about 15 degrees of pivot where it connects to the ear cups.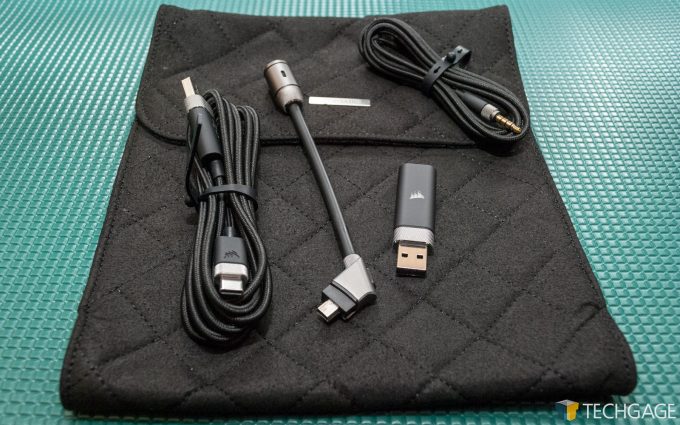 The inside of the ear cups features memory foam wrapped in a synthetic leather, and at over 9.5 centimeters across, they easily fit over the ear.  The audio drivers themselves are covered in a soft mesh material, similar to other premium headsets.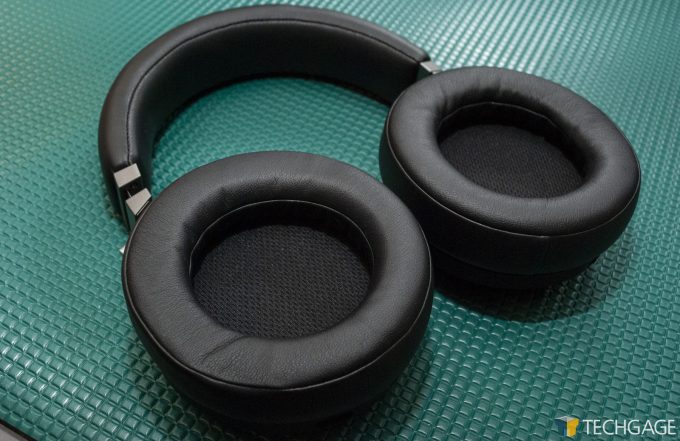 The headband is wrapped in a synthetic leather, with generous padding on all sides.  The headband provides a wide range of adjustment, and stays in place thanks to fairly stiff detents.  I have quite a large head, and the Virtuoso RBG Wireless had plenty of adjustment range left, a welcome change from other headsets I have owned in the past.  As you can see, the fit and finish and attention to detail is top-notch.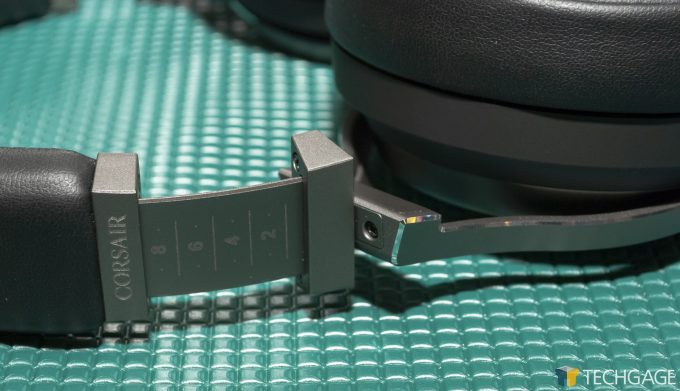 On the cans themselves we find controls on the right side, and IO on the left.  On the right, we have a power switch and a volume control wheel. For IO, we find a miniUSB connector for the boom-mic, a 3.5mm stereo connector, and USB Type-C port for charging.
Usage and Final Thoughts
I've said it before, and I'll say it again: reviewing audio devices is very tricky because expectations and quality perception is largely subjective.  Initial impressions for the audio quality is that these are very much tuned for video games and movies, and less so for music. Having said that, these are based on my personal tastes; your mileage may very.
The audio is well-balanced, with decent lows, but flatter highs, and most of the focus being on the mids. During gaming this is less noticeable, but for certain types of music, it does leave something to be desired. However, this headset is gaming-focused, and for that the audio overall is quite good.
Thanks to iCUE software, you have a nice EQ that allows you to adjust the audio more to your liking, with a few presets for you to choose from as well.  Along with the EQ, you can also setup custom lighting for the Corsair logos on the sides of the cans. You can set static colors, alternating colors, as well as patterns like rain, rainbows, etc.  iCUE also allows you to set a timer for the Sleep Mode, enable the battery gauge in the taskbar, update the firmware of your device, among other things.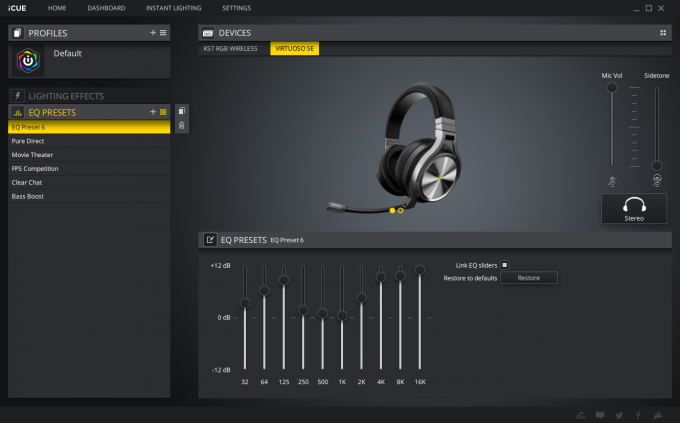 The headphones are comfortable, and have a nice weight balance.  The microphone being easily detachable is really nice. I like having a dedicated mute button on the boom itself, along with a visual indicator, letting you know you are on mute.  That's an especially nice tool if you are on a teleconference for business, or in-game.
I did notice after wearing for an extended time my ears warming up a little, but no more or less than any other headset that I've worn.  I didn't notice any head or ear fatigue, Corsair did a great job with the comfort of these Virtuoso RGB Wireless SEs.
It also did a great job with the wireless. SLIPSTREAM is the company's latest wireless peripheral interface that uses the 2.4GHz band to provide a better and more stable connection than Bluetooth, and the difference in stability is obvious. One of its key features is effective sub-millisecond response time, achieved by doubling the data packets. It does use a little bit more power than plain Bluetooth, but you end up with a more reliable connection.
Battery life for me with these cans was on par with the spec, which is about 20 hours on Bluetooth, and a little less when using the 2.4GHz.  The range when on Bluetooth is about 20 feet or so depending on your surroundings, but far better when using the included 2.4GHz dongle.  And of course, you can always plug in your 3.5mm 3-pole connection for headset use and charge your battery at the same time if needed.
Overall, Corsair's Virtuoso headset is a quality offering, with great wireless performance and rich sound for gaming and movies. The fact that it doesn't look like a gamer headset is another huge plus. The non-SE variant can be had at Amazon for $159 USD (as of the time of writing), while this SE version commands a greater premium to land at $209 USD.
Pros
Great range with the 2.4GHz SLIPSTREAM.
Very comfortable.
Fit and finish/build quality is supreme.
Excellent mic.
Cons
Sound quality is geared more for gaming and movies, which makes them a little less versatile than other headsets.  But again, these are gaming focused, so it's barely a con.
Copyright © 2005-2020 Techgage Networks Inc. - All Rights Reserved.