Corsair at CES 2007

Date: January 19, 2007
Author(s): Rob Williams

Corsair doesn't normally announce many products all at once, but at their suite during CES they had some interesting flash products on display, in addition to their killer PC2-10000 kit.
---
Before CES even kicked off, news broke about Corsairs latest high-end memory kit, the 2GB TWIN2X2048-10000C5DF. It simpler terms, that amounts to a kit that runs at 656.5MHz, or DDR2-1313. It seems unlikely that we will ever see a DDR2 kit use CL6 by default, as even this high-speed kit is capable of retaining 5-5-5-18 timings. As we move to these higher frequencies though, more voltage is becoming a must. In this case, you will need 2.5v. Cooling is also on Corsairs priority list, so their PC2-10000 kit will automatically ship with their DOMINATOR ram cooler.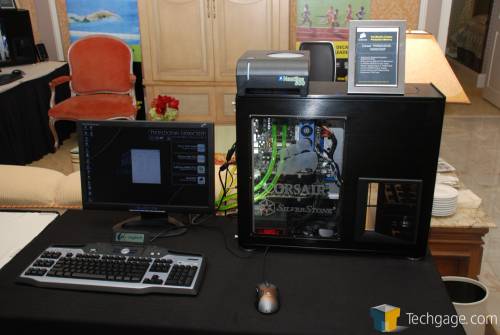 Being the proud parents that they are, Corsair showcased their entire DOMINATOR line-up in a case, with modules ranging from PC2-6400 up to the new PC2-10000.
Flash memory is not usually as 'drool worthy' when compared to their modules, but Corsair had a few very interesting products on display here. What you can see in the photo below are the new TurboFlash thumb drives which are to be used with Vista. If you are not familiar with Vista ReadyBoost, it's essentially a technology that uses a capable thumb drive to read and write small data bits to help speed up the overall use of the PC.
I was not -that- familiar with this technology up to this point, but after discussing things with Corsair we discovered it's not an enthusiasts solution. This is a technology designed for use with older computers, especially those with low system memory. We were told that on the older systems, the TurboFlash drive should be equal density to the amount of ram in your rig. So, if you have an older computer with 512MB of ram, you should use a 512MB flash drive. The highest density TurboFlash that Corsair plans to release is 1GB, so it goes to show that anyone with 2GB of ram for their Vista rig should not worry about making use of ReadyBoost.
In the picture below, you will see a variety of new flash drives. First is the Voyager we've come to know and love. Not long ago, Corsair released a 16GB model, but it's not meant to be a performance drive, which is why they slapped my hand when I tried to touch it. The red Voyager you see is the GT model which uses different memory chips to retain good speeds at higher densities. Currently, these max out at 8GB.
Note the ProLock drive in the corner. This is a high-security flash drive that requires a six (I believe) digit password before it can be executed. Sounds simple, but this is a great way to protect your imporntant documents. Once you unplug the drive, it will automatically lock itself again. As well, if you push in the password, you have about 10 seconds to plug it into the computer before it locks itself again.
The drive doesn't make use of hardware encryption, but Corsair assured us that it would be one hard egg to crack. The drive is designed to -only- work with use of the password. That way, even if the drive is dismantled and re-arranged, you should not be able to see the data without the password. At that point though, it would be broke.
Despite the completely original name, the G-Spot… err G-Force thumb drive is a hardcore solution for those who live the wild life. It consists of two parts that screw into each other to make it completely air tight. The chassis is made of strong metal (I'd assume aluminum) so that even dropping from a high height should not hurt your data.
Corsair mentioned to us the benefits of kayakers and other sportsmen who spend a lot of time outside. When sealed, it's air tight, so even underwater our data should prove safe. If a rugged drive like this intrigues you, you will be happy to know that it won't cost that much more than their Voyager line-up.
As a whole, I was impressed with what Corsair had on display. I am not usually that enthused over thumb drives, but the models found there were quite interesting. Especially the ProLock. Thanks to Corsair for taking the time to show us around and for putting up with my twisted sense of humor.
Discuss in our forums!
If you have a comment you wish to make on this review, feel free to head on into our forums! There is no need to register in order to reply to such threads.
Copyright © 2005-2021 Techgage Networks Inc. - All Rights Reserved.