Corsair H50 Self-Contained Liquid CPU Cooler

Date: August 24, 2009
Author(s): William Kelley

It has been a little while since Corsair last released a CPU cooler, so they're hoping to successfully win everyone over with their all-in-one H50. Based on Asetek solutions, Corsair spent many months tweaking the H50 before they considered it complete, so let's find out if their hard work paid off in the end.
---
Introduction
With Quad-Core processors on the verge of becoming the standard choice for consumers, the subject of heat-removal has become more critical than ever. Some of the latest CPU's are capable of pushing the heat output to over 130W – even without overclocking – making this an even more important consideration. All of this results in over-sized coolers, which are sometimes noisy and quite often won't fit inside that new chassis you have your eyes set upon.
Of all the current available solutions, water-cooling has the best potential to overcome these obstacles, since it has the uncanny ability to absorb high heat loads without the heat soak associated with air cooling. Unfortunately, not everyone has the time or desire to build their own custom setup (and they may not want to take the risk). Then there's the cost…
But thanks to enthusiast companies like Asetek and CoolIT, we finally have some affordable all-inclusive all-in-one water-cooling kits. Being able to equal, and sometimes beat, the performance of the top guns of the air-cooled world has boosted sales of this type of cooler by a fair amount. The days of inexpensive kits being all show and no go are long gone, giving way to many more choices when shopping for coolers.
Corsair has been long known for producing quality memory kits, power supplies and storage devices, but they've never quite set their name in stone where cooling is concerned. They hope to change this with their "Hydro Series" H50. With a simple design incorporating the pump into the water block and an easily-mounted radiator/fan combination, it looks like the company has done its research. How well did that research pay off? Let's take a closer look and see.
Closer Look
Out of the package and onto the table, we get our first up-close and personal look of the H50. Regardless of which platform you run, Corsair has gone ahead to include all the necessary mounts for all current socket-types. The company has also included a fan with a 4-wire PWM connector to allow the motherboard full control over its speed, if you wish to take that route.
The radiator itself is somewhat on the small size, being able to only hold a single 120mm fan, but the company has clearly gone the route of optimizing for an internal setup.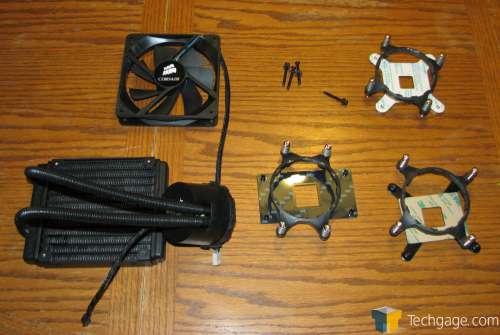 The included fan is somewhat standard-issue as far as 120mm fans are concerned. The seven-blade design is a good compromise between performance and noise. Running at its top-rated speed of 1700RPM gave us a decibel rating of just under 45dB, with the meter held 1′ away. Take note that Corsair recommends you install the fan in the intake position to draw cool air over the radiator, rather than sucking hot air out.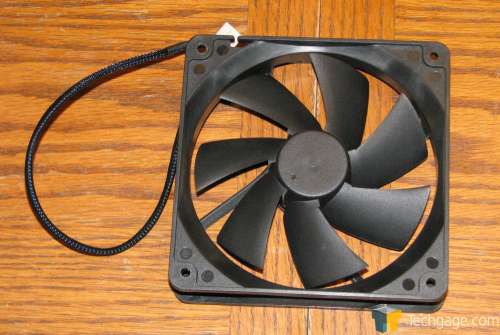 The CPU mating area comes pre-applied with thermal compound, so after testing, I removed all of it in order to give a look at the finish of the surface. It was smooth to the touch, but not polished. But all in all, the finish was more than acceptable.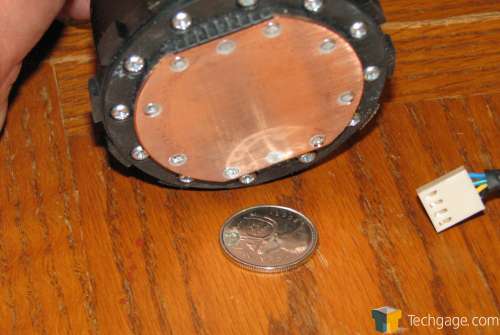 The build quality of the H50 is very good, and even the plastic bits feel solid to the touch. Corsair has taken their usual care to deliver us a quality product that definitely looks the part. Now, with that look out of the way, let's get it installed into our test machine and see if it can perform as well as it looks.
Installation & Testing
To assure that our results are as accurate as possible, all of our CPU cooler testing is performed under highly-controlled conditions. Our test chassis is kept in a near-steady 20°C ambient environment, with readings taken before and after testing with a standard room thermometer. After we boot up our machine, we allow Windows to settle itself down for 10 minutes, to stabilize processes that might be running in the background. Once Windows is completely idle, we record the current CPU temperature as that in our results.
BIOS settings are verified prior to each run, and to help with quick switching of our various profiles, we make use of the motherboard's ability to store multiple configurations. We primarily use two for our testing here – stock speed, of 3.0GHz, and also a maximum over clock, of 3.95GHz. Stock settings were achieved by using "Load Optimum Default", and storing those as our stock profile. The maximum over clock was obtained after extensive testing and tweaking to insure it was stable. The CPU's vCore was raised to 1.400v, and the Northbridge was raised to 1.30v. The RAM is run unlinked to run at factory speeds and voltages.
For our monitoring and temperature reporting, we use Everest Ultimate Edition 5, from Lavalys. It allows us to grab the results from each one of the cores, and the CPU as a whole, so we believe it to be indispensable to our toolkit. To help push our Intel Core 2 Extreme QX9650 to its breaking-point, we use LinX. The reason is simple: it utilizes LINPACK. After much testing with various "stress testers" in the past, we've found that running a multi-threaded tool that supports LINPACK, like LinX, pushes both AMD and Intel CPUs like no other. This results in higher temperatures than others (like Prime95) can muster, and also greater power consumption.
Because our test machine is equipped with 4GB of RAM, we set LinX to use 3072MB, and then set the test to run 5 times over, which takes about 15 minutes total. With the help of Everest, the CPU's various temperatures are recorded throughout all of the testing, and also for a minute after the test ends. The maximum recorded temperature found in the results file is labeled as "Max" in our results.
Without further ado, here is a breakdown of our test machine:
Installing an all-in-one liquid-cooled CPU cooler requires a little more time to install over a typical air cooler, but it doesn't require much more effort. The steps are as follows:
1) Install the proper backplate and hold down loosely to your motherboard. You need to be sure to keep it loose, as to make it easy to install the pump/CPU water block assembly.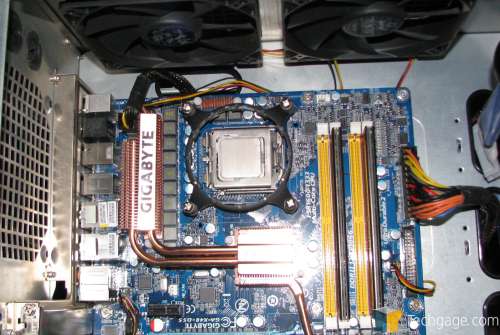 2) Mount the radiator to the back of your chassis, making sure to orient the fan to pull cool air from the outside in. Note that you might have to uninstall a 120mm fan from your chassis before doing this, if one came pre-installed.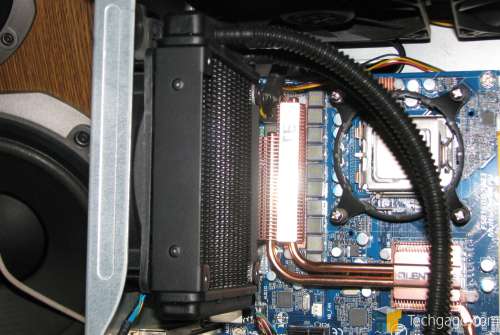 3) Insert the pump assembly into the bracket and give it a slight turn to lock it in. Then, plug the fan into the CPU PWM power connector and the pump into an available 3-pin motherboard fan power connector.
The results of our testing are as follows:
As you can see, the H50 performed very well in comparison to the high-end Cooler Master V8 air cooler, as it maintained a 2°C advantage when pushed to the limits of our test bed. Noise levels are also close to 5dB lower with the H50, making Corsair's cooler a win/win.
Because Corsair's recommendation of having the fan suck in air from the outside into the PC seemed a bit odd, I did an extra experiment… turn the fan around. Surprisingly, the temperature difference was negligible. Why they recommend the solution they do, I'm unsure, but if you do take their suggestion, it's important that the rest of your chassis' airflow scheme compliments it, or else you may wind up with heat build-up in the middle of your PC.
Final Thoughts
Overall, Corsair's H50 is a definite winner in my book. Coming in at $80 USD (Buy.com), it is priced squarely to compete with high-end air solutions. Price vs. performance is solid, and there is little doubt that Corsair has achieved the goals they set out to accomplish when they released this product.
The installation was effortless, and can be carried out in under five minutes with a simple Phillips head screwdriver. The mounting bracket is easy to secure to the backplate, while the fan/radiator assembly is light and easy to handle and manipulate. Even a true novice will have no worries on this install.
The fit and finish is also up to the high standard we've come to expect from Corsair. The surface finish of the CPU mating area is quite good, as is the construction and feel of the rest of the unit. The tubing is flexible and has the right balance between being overly stiff or easy to crimp. Even the paint finish is done well, and does not come off with repeated installs.
Noise levels are kept at or below the competition, coming in at 45dB at full song. To put that into proper perspective, the Cooler Master V8 was a fair bit louder at just over 50dB at full tilt. Cooling performance at these sound levels is excellent, and can only get better should you mod your H50 with either more powerful, or additional fans.
As it is, the H50 is an excellent piece, and I'm pleased to award it a 9 out of 10 on our Techgage scale. There were no real downsides to this product, and it performed at and above my expectations. At the current retail price, it is one of the better choices in keeping your CPU nice and cool. Add to this Corsair's legendary customer service and support, and you are going to be hard-pressed to find a better value.
I should note that this article is the first of a series of cooling reviews to be posted in the near-future. We recently revamped our entire cooling methodology, and we expect future content to be more robust, especially once we get many more coolers tested to add to our charts. Be sure to check back often to look for all future additions to our cooling content. Xigmatek recently sent us a few of their coolers to check out, and Zalman with two of theirs as well. We'll be putting these through their paces soon, so stay tuned.
Pros
Liquid-cooling priced right.
Quality workmanship.
24-month warranty.
Great performance without the noise.
Cons
A stronger fan would enhance the performance.

Discuss this article in our forums!
Have a comment you wish to make on this article? Recommendations? Criticism? Feel free to head over to our related thread and put your words to our virtual paper! There is no requirement to register in order to respond to these threads, but it sure doesn't hurt!
Copyright © 2005-2019 Techgage Networks Inc. - All Rights Reserved.