Corsair HS1 USB Gaming Headset

Date: October 4, 2010
Author(s): Jamie Fletcher

For PC enthusiasts, the name Corsair is a familiar one. The company has long been producing many products to help us fill out our PC builds, including chassis, PSUs, SSDs and of course, memory. Recently, the company has launched yet another new category of product – audio – and the first product to grace it is the HS1 gaming headset.
---
Introduction
Corsair has been slowly expanding its product range over the years. No more the simple memory company, it's expanded into power supplies, water-cooling, cases, solid-state drives and USB flash memory. It may not come as a surprise, but a new item to the list will be audio, or in this case a USB headset.
Like many other companies, Corsair is really building up its brand name by tailoring towards gamers and pro-consumers. Thankfully, it's going by the quality rather than quantity strategy… one only needs to look at its H50/70 water-coolers, 800D case and rock-solid power supplies.
Coming up, we'll be taking a look at Corsair's latest and first release into the audio segment of the gaming market with its HS1 USB Headset. At around $100, it sits in with a tough crowd, such as the Logitech G35 and Sennheiser PC330. The HS1 is a circumaural or over-ear headset with a closed-back design for passive noise cancelling.
The HS1 is also USB-based and thus uses its own drivers. For some this may be a problem since it will bypass your current soundcard and any CPU offloading and audio enhancements it may provide, but if you have a decent soundcard, you'd probably have a decent set of headphones already. The HS1 uses stereo 50mm drivers rather than the more common 40mm and yes, those extra 10mm really makes a difference to sound quality.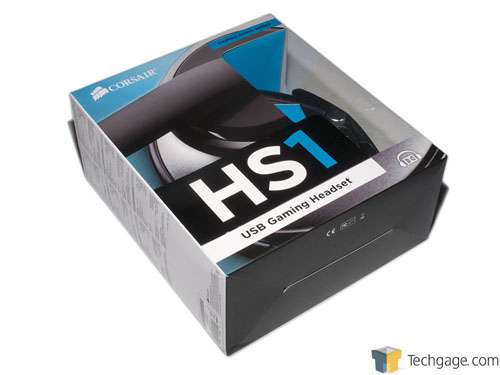 The HS1 also brings something rather unique to this price-range by using memory foam for the support pads. This evens out the pressure of the rather large 50mm drivers as well as conforming to your head shape with the headband also well padded. The pads are fabric backed rather than the more common pleather which has a habit of peeling and causing you to sweat.
The pads are also replaceable with spares being made available on the Corsair website at a later date with an estimated price of $10. The boom type microphone is of the noise cancelling variety and easily rotates out of the way.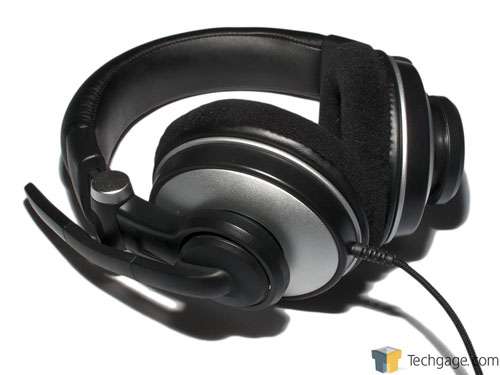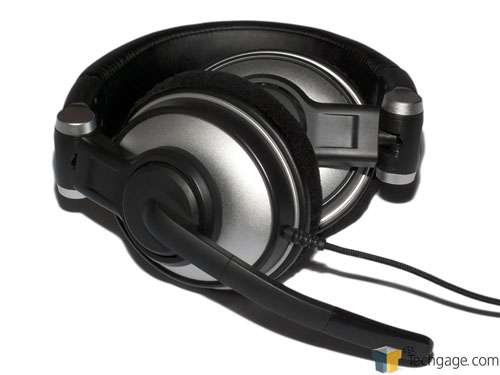 The in-line volume control is of a simple nature, providing large buttons for volume and a small central button for microphone mute. For added convenience, the lights around the volume control change from blue for mic active, to red for mute. After a fair bit of use, you may notice it running rather warm.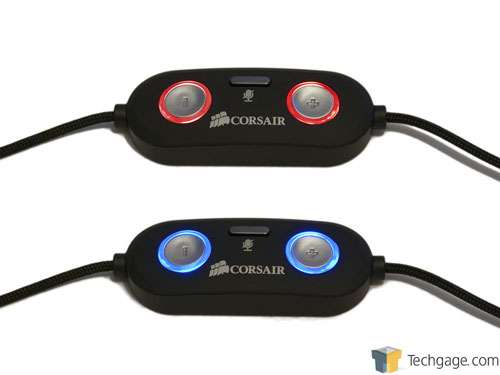 The headset can partially collapse to reduce its foot-print for easier storage. These are not the prettiest things in the world, but they more than make up for it when it comes to audio quality as we shall find out with our subjective testing.
Testing; Software
Plugging the HS1 straight into an available USB port will result in Windows automatically installing default drivers and you'll being up and going straight away – albeit with poor audio quality. In order to get the best out of them, you'll need to install the drivers on the provided CD. Once installed, you will be told to reboot. If you cannot hear anything through them, you'll have to make sure you change the default audio output under Control Panel – Sound and set the Corsair HS1 USB Headset as the default speakers.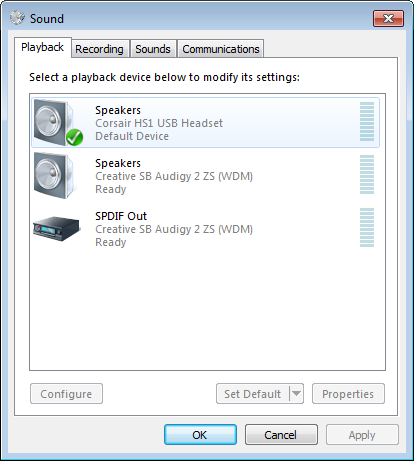 Once you are up and running, a new icon will appear in your toolbar whereupon you can access the various audio processing options like Dolby Headphone and the 10-bar Equalizer.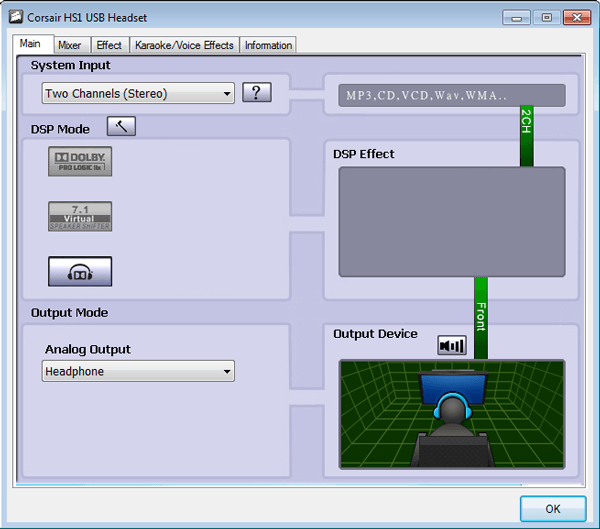 Normally, I find most surround sound 'effects' available on stereo headphones to be superfluous, they distort the sound, adding various reverb and delays, all to ill-effect, destroying audio quality without changing the sound-scape. The Dolby Headphone mode that can be enabled within the driver control panel actually does some interesting things through subtle frequency distortion to shift the sound-scape from the typical 'in-head' experience to just in front of you. The feature is HRTF-based or Head Related Transfer Function, meaning that the effect is based upon a pre-configured head and canal shape, and since not everyone is the same, some people will not be able to notice the change.
Since the feature actually changes the sound, there are some distortions as a result. The most noticeable will be a drop in volume and various subtle sounds within the midrange and a fair bit of the treble can be lost, but the overall effect does change the sound-scape, reducing fatigue. Some of this distortion can be corrected with the 10-band equalizer, but your mileage will vary.
With the Dolby Headphone mode enabled, a few other options can be enabled. Under stereo input, 7.1 virtual speaker and Dolby Pro Logic IIx can be enabled. The Pro Logic IIx up-mixes stereo and 5.1 to 7.1, though to be honest, with limited impact as it causes a massive drop in volume without changing the sound-scape much.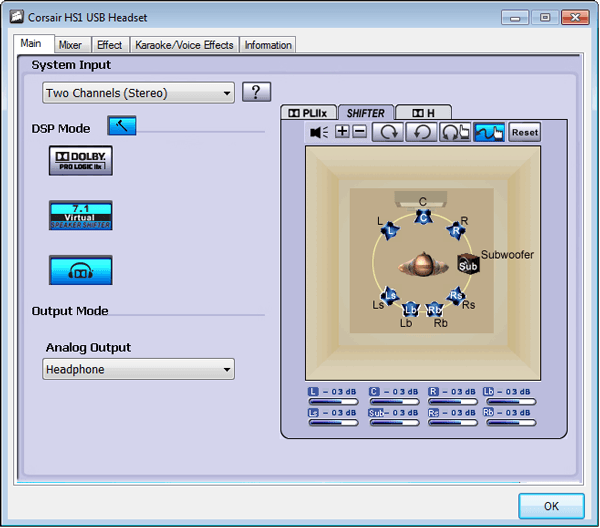 The 7.1 Virtual Speaker option is available with all input options from 2 channel stereo to 7.1, although it is best used in conjunction with the 7.1 input mode. This allows you to change the position of both you and the speakers within a virtual environment, shifting focus more to the rear or front, as well as sub-woofer volume control. This can be best noticed with 5.1 music or movies with the appropriate encoding.
Due to the stereo nature of the headphones, emulating real 7.1 is hardly going to work, but it can do a convincing job with center, left, right and side channels, but the rear channels are completely lost. Again, due to the HRTF, your own personal perception may differ.
Nearly all the Dolby options will have some impact on volume and audio accuracy, so it's best to experiment yourself and find the mode you prefer. As far as volume is concerned, you'll be glad to know that the headphones are capable of some rather high volumes even with the effects enabled, due in part to the closed-back design, so be careful, start low and work your way up as you need it.
For me, running these at 10% volume was more than enough. Microphone volume defaults to 0 for some reason rather than the more common 50%, so if you plan to use the mic, bump up the volume first. The noise cancelling feature works very well, even in this high-speed fan riddled environment of mine, but it can convert some of this fan noise into a background hiss that may annoy some on the other end.
Final Thoughts
According to Corsair, the HS1 headset has a balanced audio curve. A lot of other headsets out there use what's referred to as a 'double hump' audio curve, where the bass and treble are artificially enhanced to provide a greater impact on the user, but the side effect is that it can cause serious fatigue and distort the original sound.
Many people still do the same manually with an equalizer, I did many years ago too, but this often results in a loss of fidelity in the midrange and subtle sounds get drowned out with booming bass and piercing treble. This balanced sound curve on the HS1 does result in a perceived loss of bass if you are used to the more boomy type from other headphones, but your ears do adjust to the loss and will probably thank you for it.
One problem I personally noticed is the midrange is quite cold or harsh, and lacks some warmth that can be found with some Sennheisers, even with EQ adjustments it can't be tamed. But this is a common trait and not something you should be too concerned with, as again, this is all subjective.
With regard to the equalizer, it does provide a broad frequency range, with a large emphasis on bass, as it starts at 30Hz leading to 60, 120 and 250, so if you prefer the more boomy type of bass, you can use the EQ to regain some. 12 presets are available, but use very aggressive adjustments, so it's best to dial in more subtle values. Custom preset saving is provided with a very simple interface. Set the values, enter a name in the box below the custom drop-down list, then press the plus, and to remove, press minus… simple as that.
Audio testing was conducted through a variety of music, ranging from Steve Vai, Static X, Holst's Planets and some Johnny Cash for good measure. Games included Dead Rising 2, Borderlands and Mass Effect 2. I did experiment with the various Dolby settings as well as using unprocessed audio. For the most part, the Dolby Headphone setting did help push the audio sound-scape forward, which helped a lot in-game, but rear positional was easily mistaken for side.
With 7.1 enabled and Dolby disabled, I was confronted with the usual in-head center audio, something I'm quite used to. During frantic moments of ballistic onslaught, the rampant screams of zombies and helpless escorts in Dead Rising 2, audio remained clean, even with the typical sounds of a casino in the background.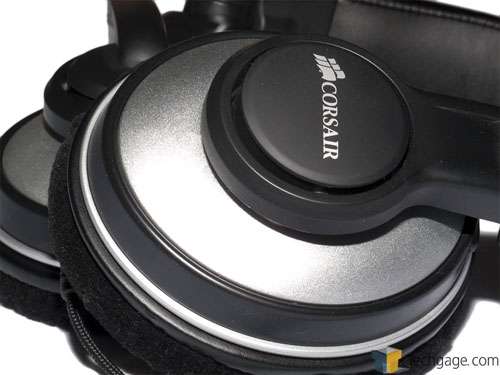 When listening to music, I still prefer no post-processing in order to fully grasp detail, while the Dolby settings helped reduce auditory fatigue, it does remove some of the subtle sounds like the various background shuffles of an orchestra or fingers resting on the strings of a guitar. The closed-back design also performs well and blocks out a lot of background noise, but can result in sweat building up around your ears, which is mostly absorbed by the felt pads. Even after 3-4 hours use, the headset remained comfortable and you forget it's there during intense gaming.
Corsair's first entry into the world of audio is very impressive, despite the headset being USB based. What it may lack in form it certainly makes up in function. A fair bit of work must of gone into the drivers as well since the Dolby Headphone effect does add an extra dimension to the sound without compromising too much on audio quality.
The only problem I noticed is a slight clicking sound when changing audio options, but this is very subtle and not going to influence playback. The promotional video about these headphones also hinted towards further audio developments, and if they are anything like the HS1's, we're going to be in for a treat. If you have $100 to spend on a headset, I would without question recommend these, and for that, they receive our Editor's Choice award.
What's next for Corsair, keyboards and Mice? We shall see.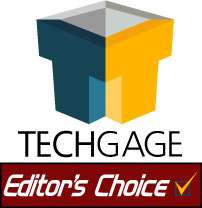 Corsair HS1 USB Gaming Headset
Discuss this article in our forums!
Have a comment you wish to make on this article? Recommendations? Criticism? Feel free to head over to our related thread and put your words to our virtual paper! There is no requirement to register in order to respond to these threads, but it sure doesn't hurt!
Copyright © 2005-2019 Techgage Networks Inc. - All Rights Reserved.