Corsair Obsidian 550D Mid-Tower Quiet Chassis Review
Date: June 15, 2012
Author(s): Ryan Perry

Corsair's Obsidian line of cases have long been regarded as being some of the best for their aesthetic design, effective cooling, and overall potential. The 550D changes the formula up a little bit, though, putting a huge focus on quiet computing. Let's check it out and see how it compares to its direct competitors.
---
Introduction
I like my cases like I like my women – well built, quiet and priced right. Uh, wait… well this is embarrassing, but a great segue none the less!
Corsair is at it again with the launch of the Obsidian 550D mid-tower case, the little brother of the 650D and monstrous 800D. The previous models have both won critical praise from the tech world, but the 550D takes a detour on the performance highway and shifts gears towards quiet computing. Since this will be Corsair's first foray into this market, it'll be interesting to see if the 550D is a worthy addition to a prestigious line up tailor-made for high thermal performance.
The 550D comes in at the lowest price point of the three available models, but a quick look at the exterior lets you know that this is still a Corsair product through and through. Made of steel with an aluminum front cover, this case can hold micro-ATX and ATX motherboards as well as some aggressive cooling solutions that aren't normally associated with "quiet" cases.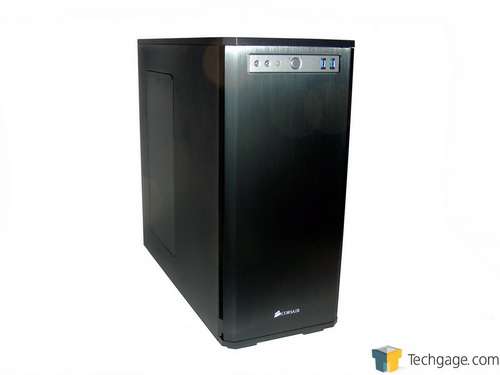 As with most reviews, we start with the front panel and the I/O area in particular. From left to right on the silver aluminum plate are the 3.5mm microphone and headphone jacks, reset button, hard drive activity LED, illuminated power button and two well-spaced USB 3.0 ports that connect internally, which now seems to be the norm on most high-end cases.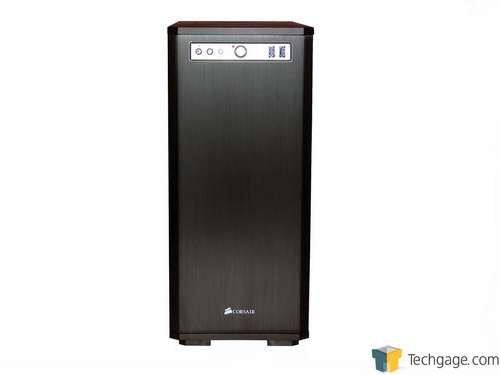 The front of the 550D may seem plain, but looks are deceiving as the solid front panel can swing open from either side or removed all together to reveal four 5.25″ drive bays. The interior of the door is covered with sound dampening foam to help keep system noise to a minimum. Below the drive bays is a foam-lined, removable cover that gives access to two 120mm intake fans hiding behind a removable plastic filter that's held in place with flexible magnetic strips.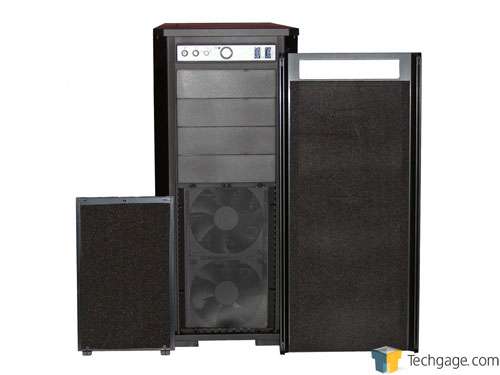 Over on the left side panel is another removable cover with a similar filter to keep dust out of the case. A filter in this location seems to be something that many manufacturers overlook so it's nice to know that as much dust as possible will remain outside if up to two optional 120/140mm fans or a single 200mm fan are installed in this location. To further help with noise each fan can be mounted using the included rubber dampeners that will absorb vibrations.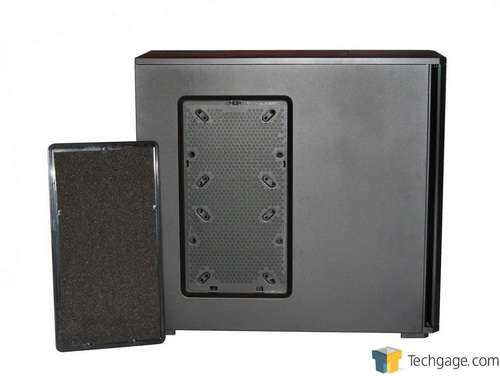 Around back at the very top are the release buttons for each side panel, the motherboard I/O opening below and a 120mm exhaust fan that is also mounted with rubber dampeners. This fan can be swapped out in favour of a 140mm fan and the dampeners can be moved to those mounting points as well. Finishing things off are 8 vented PCI slot covers held in place from the inside with thumbscrews, four grommet-lined pass-through holes for external water cooling and the power supply opening at the bottom.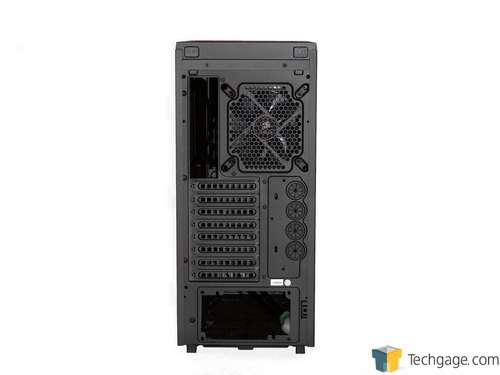 Hidden under the power supply opening is a long, removable filter that covers the ventilation area for power supply itself an optional bottom mounted fan, which we'll look at shortly.
Seeing how the right panel is completely solid we'll move up to the top where yet another removable cover gives way to another filter. This cover, like the rest, is also covered with sound dampening foam. Up to two optional 120/140mm fans can be installed in this location complete with rubber dampeners – enthusiasts know what this means. That's right, I'm talking about support for most radiators measuring up to 240mm including Corsair's own H100.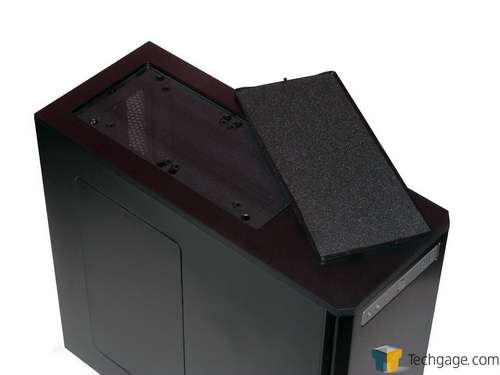 With the case flipped up we see the four rubber-padded feet and the filter mentioned earlier.
Like the rest of the Obsidian series the 550D has a minimalist exterior, but if it's anything like its big brothers, there's tons of fun still waiting for us.
Interior
Before we dive into the meaty bits, let's look at an overall shot with the panels removed. One feature that Corsair has carried over from the Carbide series of cases is a recessed motherboard mounting area that moves the motherboard away from the left side panel so that taller tower coolers can be used without running into clearance issues, especially if fans are installed on the left side panel. The rest of the motherboard tray features grommet-lined cable management holes down the side and in front of the power supply, a large cutout around the CPU area and a smaller hole in the top left for the 12v power connection.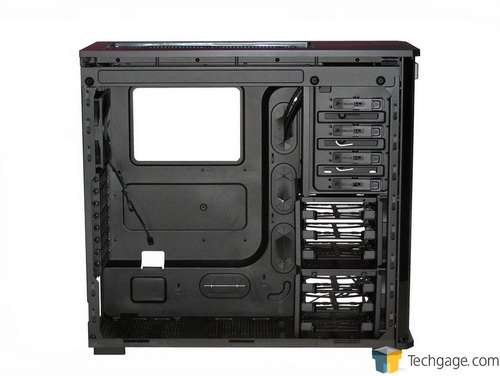 Speaking of panels, both side panels have been given the same treatment as the rest and sport sound dampening foam to help keep system noise trapped inside the case.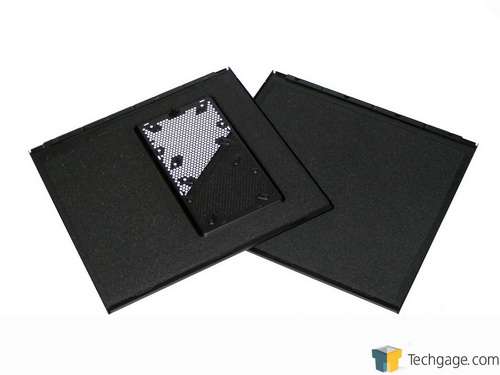 Starting off at the lower front there are six plastic trays that can hold 2.5/3.5″ drives. Smaller drives are secured through the bottom of the tray with the included hardware while larger ones require no tools to install.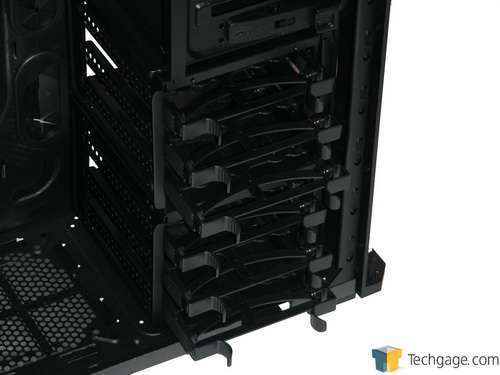 The drive trays sit in two removable drive cages held in place by thumbscrews. This allows users the flexibility to configure their system exactly how they want, whether they need tons of storage or unobstructed airflow from the front intake fans.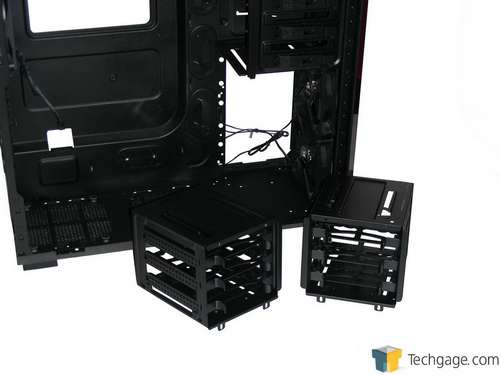 The top of the front interior is taken up by the 5.25″ drive bays. To keep the drives secure, Corsair has chosen its tried and true push latch locking mechanism, which allows for tool-free installation and removal.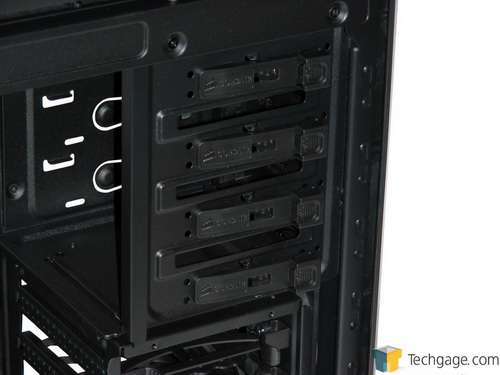 Moving to the floor of the case shows four rubber-topped risers that will support the power supply unit. There's been enough room left for larger, higher wattage power supplies, but at the expense of the optional 120/140mm fan that can be installed in front.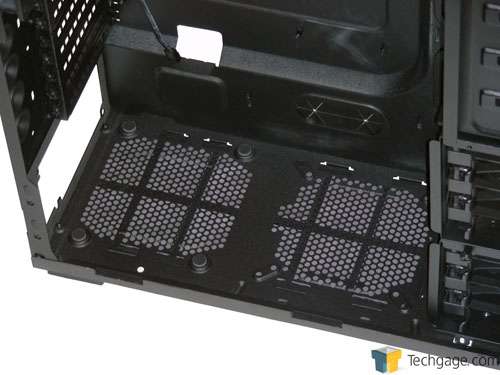 The back of the motherboard tray shows off another great feature that comes about thanks to the recessed motherboard area, a channel that runs along the bottom and up the left side. This is a great place to tuck cables and allows for a good amount of clearance so there shouldn't be any issues putting the panel back on.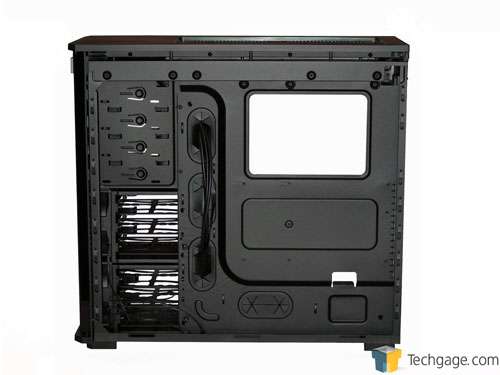 When it comes to bits and pieces, Corsair has included everything needed to build a system. There are screws to hold the motherboard and various drives, fans and radiators in place, extra motherboard standoffs, zip ties, stick on cable ties, a USB 3.0 to 2.0 converter and a brief manual. Even four extra hinges for the front panel have been included, which is a nice touch for those who are rough with their toys.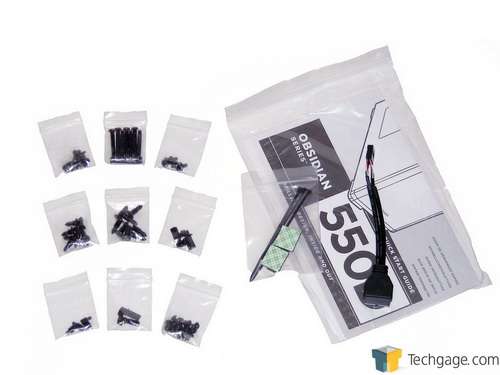 Having played with a case from each product line with the exception of the new Vengeance series, I'm looking forward to slapping some gear into an Obsidian series case again, so let's get started.
Installation & Testing
I was pressed for time from the start, but installation in the 550D went just as smoothly as with past Corsair cases. More and more companies are getting the interior design down to a science and this was no exception.
Each component installed flawlessly with no clearance or alignment issues and all cables were long enough to reach the connections including the front panel audio cable, which need to go to the far bottom of our test motherboard. Normally I would show what didn't go right or something out of the ordinary but this build was straight forward, easy and clean from start to finish with no surprises so here's an overall shot of all the gear installed.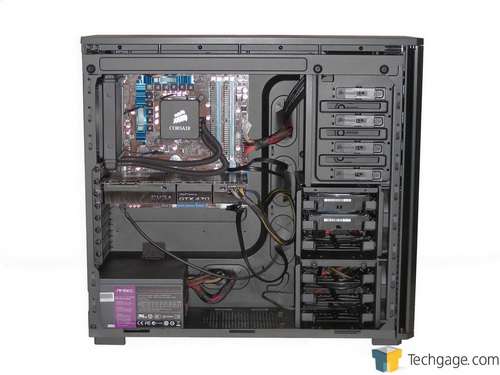 As always, the back of the motherboard is usually a mess when I build a system, but there were no clearance issues here either when it came time to put the panel on. Keep in mind that there is a small amount of space lost due to the foam lining on the panel, but this is offset by the channel that runs along the bottom and up the side of where the motherboard mounts thanks to the recessed mounting area.
Testing
All of our testing is performed in a near steady 20°C ambient environment with readings taken before and after with a standard room thermometer. AIDA64 Extreme Engineer is used for monitoring and recording all system temperatures throughout the testing process.
Windows is allowed to sit idle for 10 minutes after startup to ensure all services are loaded before recording the idle CPU and GPU temperatures. CPU load temperatures are generated by performing a 20 minute run of OCCT LINPACK using 90% of the available memory, while GPU load temperatures are generated by OCCT's built in test, also for 20 minutes.
Stock CPU settings were obtained by setting the AI Tweaker option with the BIOS to Auto and the maximum stable overclock frequency of 4.0GHz was obtained after extensive testing to ensure stability. The final clocks for the GPU are 760MHz on the core and 1000MHz QDR (4000MHz relative) for the memory with the voltage increased to 1.087V using MSI's Afterburner overclocking utility. As with the CPU overclock, testing was done prior to ensure full stability.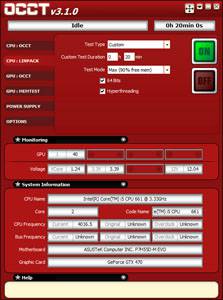 The components used for testing are:
Processor

Intel Core i5-661 – Dual-Core (3.33GHz)

Motherboard

ASUS P7H55D-M EVO mATX – H55-based

Memory

Corsair Dominator 2x2GB DDR3-1600 7-8-7-20-2T

Graphics

EVGA GeForce GTX 470

Audio

On-Board Audio

Storage

Western Digital 2TB Green

Power Supply

Antec TP-750 Blue

Chassis

Cooler Master Cosmos II
Cooler Master HAF 932 Advanced
Corsair Carbide 400R
Corsair Obsidian 550D
Corsair Obsidian 650D
Corsair SE White 600T
NZXT H2
NZXT Switch 810
NZXT Tempest 410 Elite
Silverstone Raven RV03
Thermaltake Chaser MK-1
Thermaltake Level 10 GT

CPU Cooling

Corsair H60 (Exhaust Configuration)

Et cetera

Windows 7 Ultimate 64-bit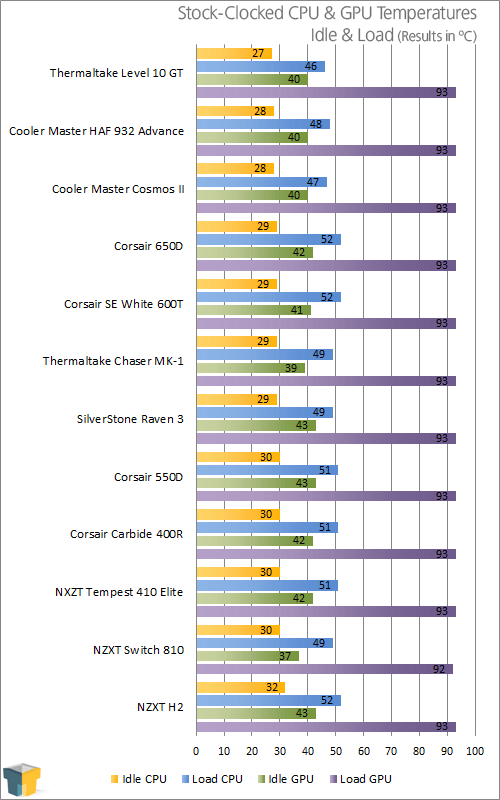 It's always nice to compare the temperature results to our reigning champ, the Level 10 GT, but the two cases are geared towards very different markets. With that said the 550D performed very well, staying within the manufacturer's thermal limits, but as is expected it fell well short of Thermaltake's behemoth.
When compared to other quiet cases in our database the 550D held up well, coming in second only to the NZXT H2 and trading punches with Antec's SOLO II not shown on our graph.
After thinking about the stock cooling configuration of the H2 and SOLO II, I started to wonder why the 550D performed the way it did with more fans included out of the box, so I decided to run our overclocked tests with the front door removed and was pleasantly surprised. CPU temperatures dropped 2 degrees to 63 while overclocked under full load and GPU temperatures stayed constant at 93 thanks to the leaf blower of a fan on our test GTX 470. Power users be warned, if you have a hot system you'll probably want to tuck the door away for safe keeping.
From a noise perspective this is one seriously quiet case when run with the stock cooling configuration. Given the cooling potential of the 550D, it could end up being a jet engine but for those looking for the out of the box experience, you can expect to check a few times to see if the fans are running.
Moving on…
Final Thoughts
It's no surprise that Corsair is in the business of making high quality gear. Enthusiasts have an almost rabid loyalty to the company, whether it's memory, coolers, cases or what have you, and I'd say it's well-founded.
There's no denying that Corsair has come up with a winning formula with the 550D although I think someone forgot to carry the 1 when doing the math regarding ventilation around the front door.
Enthusiasts should be happy throwing down ~$140, but for the average user looking for a quiet case without all of the cooling flexibility, it could be a bit much. The NZXT H2 sells for around $100, performed a little bit better in our tests, but can't support aggressive cooling solutions – so it's a trade off. Personally, there's no contest based on my own needs, which includes support for a 240mm radiator. This offsets the cost for me.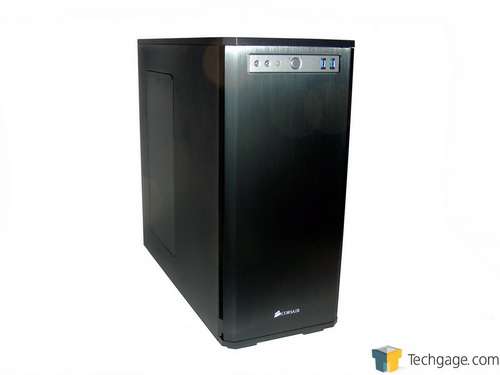 From features to performance to noise to price, the 550D has it all and is certainly worthy of the Obsidian name along with an Editor's Choice award.
Pros
Tons of room for high-end components.
Lots of cooling potential and flexibility.
Minimalist exterior that could double as a workstation by day.
Dead silent.
Cons
Restrictive ventilation around the door drives up temperatures.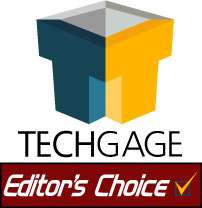 Discuss this article in our forums!
Have a comment you wish to make on this article? Recommendations? Criticism? Feel free to head over to our related thread and put your words to our virtual paper! There is no requirement to register in order to respond to these threads, but it sure doesn't hurt!
Copyright © 2005-2021 Techgage Networks Inc. - All Rights Reserved.