COUGAR 500K Gaming Keyboard Review

Date: May 6, 2015
Author(s): Jamie Fletcher

While the PC peripheral market has been obsessed with mechanical keyboards the last couple of years, not everyone has the budget nor desire for such devices. Rubber-dome may be a dirty word when it comes to high-end peripherals, but they are still relevant and a proven key switch type. COUGAR's budget orientated 500K shows what a classic mix of rubber and a burning passion for games can produce.
---
COUGAR 500K Gaming Keyboard Review
Continuing our exploration of COUGAR peripherals, we have the 500K gaming keyboard under review. It shares a great deal of similarities with a previously reviewed 700K keyboard, be it has two differences. First and foremost is the lack of an aluminum faceplate. The second, and most important, is switching all the keys to silicon-rubber membranes, or rubber domes if you will.
Membrane keyboards have taken a bit of a backseat in recent years as mechanical keyboards flooded the market, eventually leading to a price crash. Despite there being a huge choice available of various CHERRY MX flavors, most of the keyboards remained the same – re-badged OEM boards. Gaming-centric keyboards, such as those with dedicated macro keys, backlighting, n-key rollover and such, were not as plentiful. Recently, things have changed and there are a number of proper mechanical gaming keyboards.
Mechanicals are great, and I do enjoy using them, but they are not for everyone. There is still a cost element, even with an influx of non-CHERRY keys making their way on to the market (thanks in part to the patent expiring and Chinese manufacturers taking over production). Exotic key types like Topre are largely cost prohibitive too. So when you want to make a cheaper gaming keyboard, we still fall back on the tried and true membrane switches.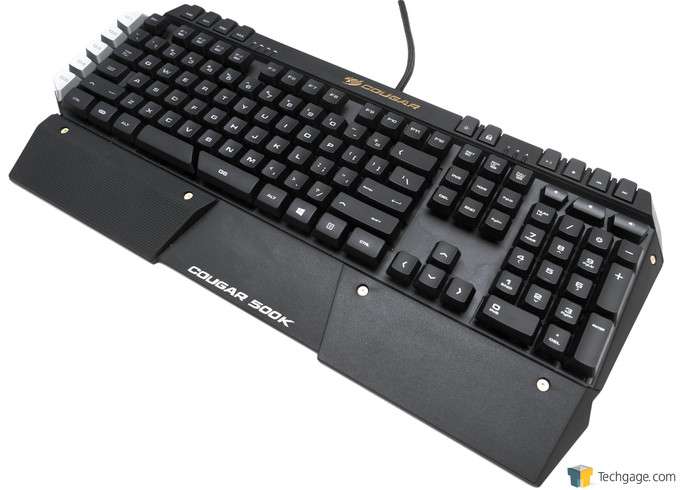 Membrane switches aren't cool, they can't withstand 70 billion presses, they don't have that smooth gliding action, they don't click, they don't wake your neighbor up in the middle of the night, and they don't make you coffee in the morning. But they work, and that's the most important thing.
As said previously, the COUGAR 500K is almost the same the 700K, so if you have read reviews on that, things will look rather familiar. To cover our bases though, here's a quick rundown of features, as well as some pretty pictures.
The 500K is a full sized keyboard with numpad, media keys and dedicated macro and profiles keys. The wrist rest is detachable, complete with a magnetically attached rubber pad to prop up your palm. This rest can be transferred to the right side if you wish.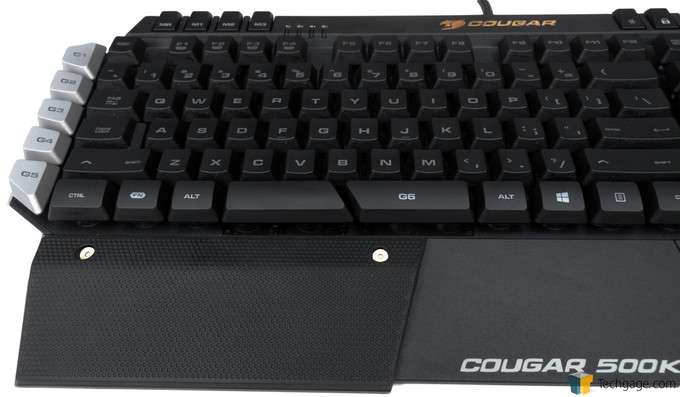 It sports the usual assortment of features such as 1000Hz poll rate, n-key rollover for anti-ghosting, dual USB connectors (one to connect to the PC and the other as a pass-through), 6 gaming buttons configurable as macros, and the removal of the left-side Windows key (replaced with a function modifier).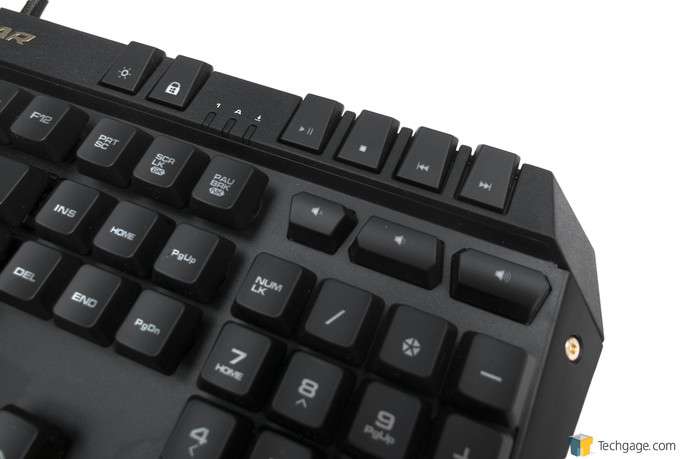 The media keys are exactly the same as those of the 700K (even the 700K used membrane switches for these keys). Controls include the usual volume up and down, mute, play/pause, stop, previous and next track.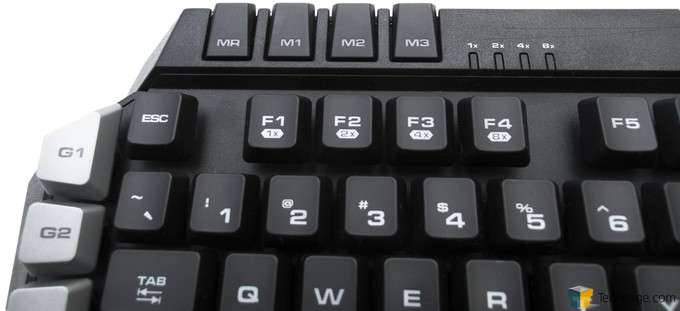 The same 1x, 2x, 4x and 8x keys are available too, acting as turbo key modifiers. These work by rapidly sending down/up commands for whatever key may be pressed. The purpose is largely for when you need to hammer keys under various circumstances, such as with QTEs (Quick Time Events). In practice, the turbo function is more likely to interfere with normal gameplay, especially games which makes use of double-taps for dodge/roll.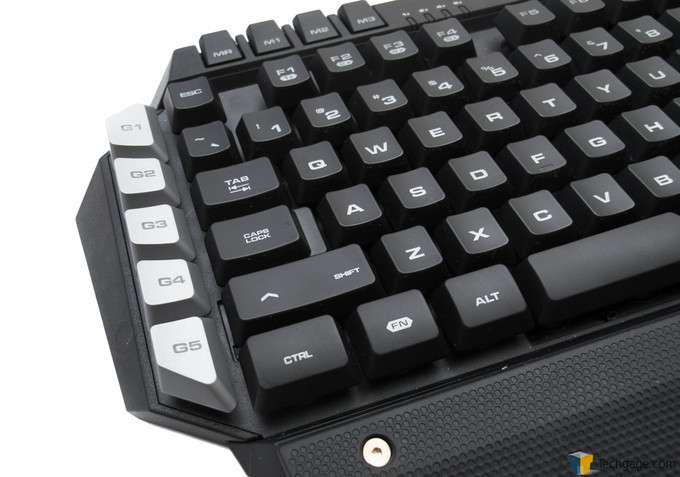 On the left side is a column of 5 G-keys, or gaming keys. These are fully programmable keys that can be assigned to games/applications to perform text-streams, launch apps, or even perform more complex actions with timing. The 6th gaming key, however, is in a very controversial area, resulting a split space bar.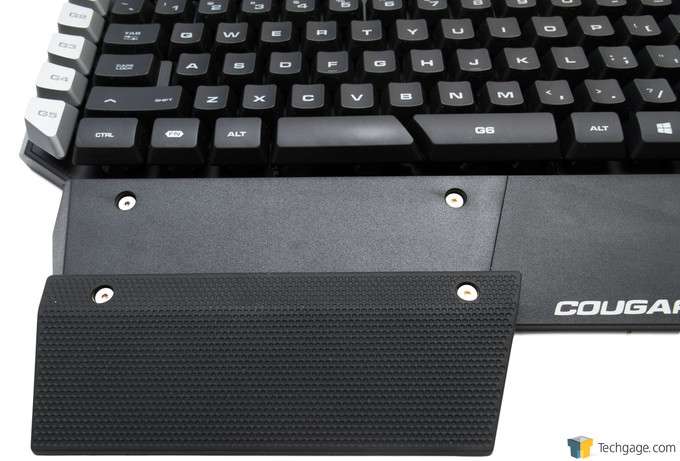 If there was any major point of contention with this keyboard, much like with the 700K, this is going to be it. The split space bar, half space, half G-key, will likely make or break this keyboard. While having easy access to an often useful macro key, it's also a nightmare if you are not used to the layout.
Since using both the 700K and now 500K, my thumb has largely adapted to the position, and it's now rare for me to hit the G6 key by accident. However, this did take a couple months, and the first two weeks were rather… painful. If the space bar held a two-thirds position, this wouldn't be such an issue. The fact the key is split exactly in half, does cause issue, at least initially.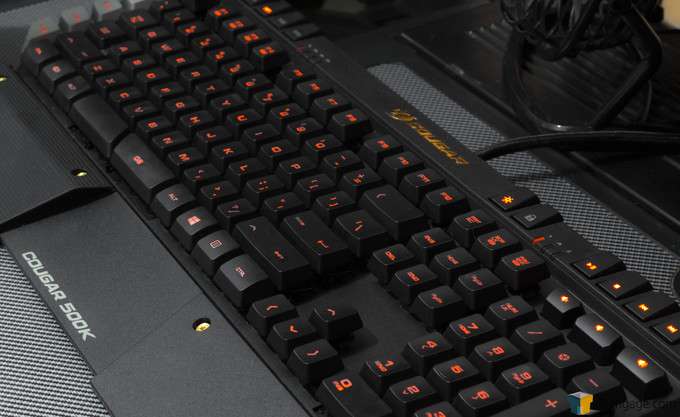 With the space bar out of the way, there is one thing that I still enjoy about this keyboard – the backlighting. Most companies go with cool blue, but I must admit, I've grown rather bored of it. So when COUGAR chose orange as its default color, I was pleasantly surprised. While it's not a configurable RGB backlight, the soft orange glow certainly reduces eye strain when things get dark. Blinding blue LEDs are not something I enjoy late at night.
Software
COUGAR has created a mostly intuitive user experience with the software, called UIX. Some of the game profile switches could be a little more streamlined, although the current system makes sense. It makes use of a unified software interface, so all COUGAR peripherals can be managed from the the same suite.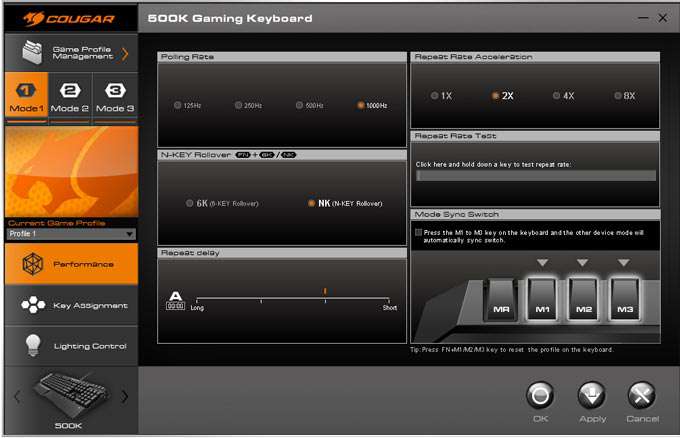 The performance tab handles the main setup for the keyboard regarding type-rate, the type acceleration (turbo), both of which are independent of each other. You can also turn the N-Key roller off if you wish, although it's probably faster just to use the FN key and press SCROLL-LOCK or PAUSE/BREAK rather than use UIX. You can also enable a check-box to synchronize the profile keys so that switching profiles with your mouse will switch the keyboard as well.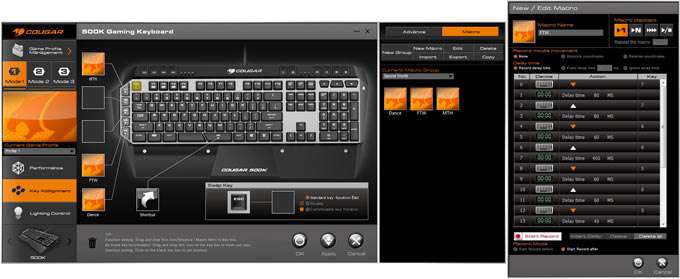 Most of the features that people will be interested in are under the key assignment tab. It's worth mentioning that every single key can be reassigned, not just the dedicated G-keys. This also means, if you feel inclined, you can disable the CAPS LOCK.
Macros can be recorded with and without delays. You can even save mouse movements, too. Unfortunately, you can not readjust the order or have fine control over the macro after it's recorded, so if you make a mistake, you'll have to record it again. Delays can still be edited and/or inserted freely.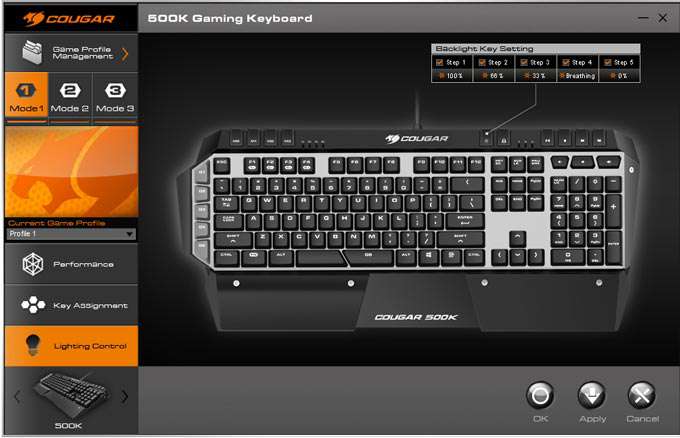 Backlight control is very limited compared to the 700K, since you can only disable individual lighting modes. You can't adjust the brightness manually, have crazy sleep-mode patterns, or anything like that. To be honest that, all you really want from a backlight is to have it on or off (or change color, but that's not available on this model).
Testing and Final Thoughts
Much of what I experienced with the 700K still applies to the 500K. The split space bar is really the biggest issue that people will need to overcome, especially if you have larger hands with a thumb that tends to rest further to the right of the key. In all honesty, there is nothing stopping you from programming the key to be another space bar, forgoing it as an easy access modifier key or macro.
The replacement of the left-side Windows key with that of a FN or function key will likely leave many gamers happy (despite most gaming keyboards, including this one, having a Win-key lock). Full media keys for volume and track selection means you don't need to tab out when fullscreen. Even the soft orange glow of the backlight is something that I didn't realize how much I liked until I had to switch to a blinding blue backlight with another keyboard.
The software still has its quirks, but as I have said with other COUGAR reviews, it's one of the better solutions going. It may not be perfect, but it does the job.
The left-side G1-G5 keys still require some getting used to. I still hit G5 with my pinky when trying to use CTRL or SHIFT, much the same with G1 and ESC, but to a lesser extent. The top and bottom G-keys have had their corners cut off to help mitigate accidental presses, but they still happen.
The turbo function is a bit of a software gimmick unfortunately. While there are still cases where it would be useful, the problem is that you can't turn it off for certain keys, and there are too many problems that can arise from leaving it enabled – from constant rolling with double taps, stuttered walking, even rapid typos when typing.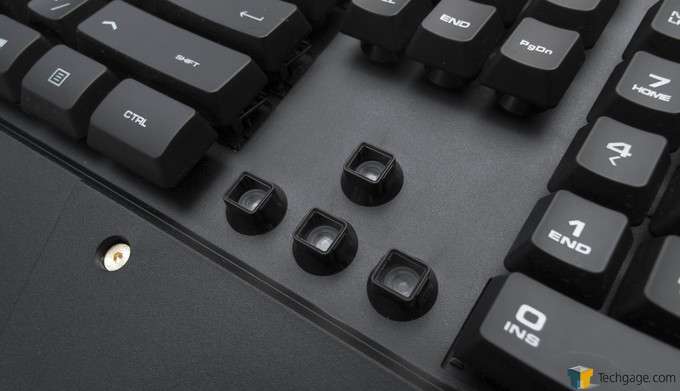 Typing with the 500K is much like any other membrane switch. Each key has a slight wobble, actuation has that little thump in it with a spongy bottoming out. It's very hard to be articulate with the details, but rest assured, there is nothing wrong with the keys. If you have been using mechanicals for a while like I have, it does take a little getting used to when switching back, namely that of finger fatigue with writing as the keys are slightly firmer. Double tapping keys is still quite easy and doesn't suffer from being locked down like with Blue and Brown MX mechanical switches.
One thing that I almost forgot to mention is that all the keys float above the backplate, rather than recessed into it. As a result, the keys are so much easier to clean, since you don't need to pull all the key-caps off to get into all the groves to pull out any lodged breakfast from three weeks ago.
The biggest draw for this keyboard will come with the price. While retaining many of the features of the 700K, it forgoes the mechanical switches and faceplate and drops the price in half. This puts it in a similar price bracket as low-end mechanicals, but you get a whole lot more as a result.
If you want a lot of features and customization, and can put up with the split spacebar, the 500K is a decent keyboard. Most people don't need mechanical keyboards, so you don't need to feel like you are missing out by going rubber-dome. In all, COUGAR did a good job with the 500K, it's just the software could still do with a little more TLC.
Pros
Versatile hardware
Good software stack
Provides most of the features of the 700K at half the price
Cons
Split spacebar will take a while to get used to
Software could still use some polish
Copyright © 2005-2021 Techgage Networks Inc. - All Rights Reserved.