Crucial Ballistix 1GB Kit PC4000

Date: July 11, 2005
Author(s): Rob Williams

In the world of fast performance memory, Crucial sometimes get's overlooked. We are taking a look at their PC4000 Ballistix, which we hope will prove overclocker friendly, as were the PC3200's. Let's check them out!
---
Introduction
Last month, we took a look at the Ballistix PC3200 512MB * 2 kit. Those modules proved easily overclockable, even to DDR540 (270MHz) speeds. Not only were they stable, they may have still had more pushing power, if it had not of been my CPU bottlenecking it.
We are now going to take a look at some PC4000 modules, to see how they stack up against the PC3200. I'm very interested to see if they overclock as well as the previous modules, which could mean some insane speeds. Firstly, some Crucial and Ballistix backstory.
About Crucial
The Crucial story starts with Micron Technology, Inc., one of the largest dynamic random access memory (DRAM) manufacturers in the world and the only one based in the U.S. Headquartered in Boise, Idaho, Micron manufactures DRAM chips and assembles them into high-quality memory modules for sale to original equipment manufacturers ("OEMs") worldwide.
In 1996, Micron responded to a growing demand for high-quality memory upgrades among end users who wanted the best possible performance from their systems. Micron launched Crucial Technology in November of that year, and for the first time, end users had the opportunity to buy directly from the manufacturer the same memory modules bought by the world's major OEMs for original installation in their systems.
About Ballistix
The Ballistix line is specifically built for performance enthusiasts who want to push the performance envelope without worrying about data loss or corruption, mysterious intermittent errors and display problems, or worse — the dreaded BSOD! The Ballistix line of high-performance memory modules features advanced speed grades, low latencies, and integrated aluminum heat spreaders.
Overclocking
In the review, we will use the PC3200 modules as comparison. We will run both sets at the same speeds while benchmarking, then will benchmark the PC4000 itself when the PC3200 can't reach certain speeds. Here is the system stock specs:
Processor

AMD

64 3200+ S939 Venice @ 2.00GHz

Motherboard

Power Supply

Memory

512MB * 2

Crucial

Ballistix PC4000 (2.5-4-4-10)

Hard Disks

Sound Card

AC'97 7.1 Built-In

Video Card

BFG

6800 GT OC 256MB

Beta 80.40 Drivers

Etcetera

Windows XP Professional with SP2
While the PC3200 modules have stock 2-2-2-6 timings, the PC4000 have been bumped up to 3-4-4-8. For this price range, these timings are on par with other performance modules out there. As we can see in the pictures, Crucial uses black PCB and gold heat spreaders.
Before we get into some benchmarking, I have a few points to mention. As already mentioned in the PC3200 review, the DFI Ultra-D is a fussy motherboard when it comes to memory modules. Way too much tweaking had to be done to get rid of the errors in MemTest with the PC3200 modules, and I was unable to completely rid errors with this set.
Even with the errors in MemTest, which didn't amount to many anyway; All the settings I benchmarked with proved completely stable during use. If you own a DFI LanParty Ultra-D motherboard and use Ballistix memory, please e-mail me and let me know if you have experienced any weird problems, or errors in MemTest. You can also post about it in the related review thread.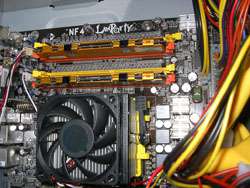 All that being said, here is a quick chart of all the tested configurations with the PC4000:
2-2-2-6 @ 2.5v – 200MHz (DDR400)
1.5-2-2-6 @ 2.5v – 200MHz (DDR400)
2-2-2-6 @ 2.8v – 218MHz (DDR436)
1.5-2-2-6 @ 2.8v – 218MHz (DDR436)
3-4-4-8 @ 2.8v – 250MHz (DDR500) (Stock)
2.5-3-3-6 @ 2.8v – 270MHz (DDR540)
3-3-3-8 @ 3.0v – 300MHz (DDR600)
Let's get right into the benchmarking.
Sandra, Everest
One of the best features of the Ultra-D motherboard, is the great overclocking headroom in the BIOS. Since the motherboard gives you complete control over memory timings, it makes things easy in testing the modules. Recently, there has been a new Oskar Wu beta BIOS released, that adds the 233MHz (7/6) and 250MHz (5/4) dividers. For the DDR600 speeds, I used the 7/6 divider.
To find each stable configuration, I ran test #5 in MemTest to see quickly if I could get an error. If the configuration passed ok, then I proceeded to go through 2 full tests. If it gets through those two tests fine, then I proceed into Windows test benchmark using EVEREST and SANDRA. For game benchmarks, I used the stock, medium overclock and maximum overclock settings.
To start out, I'm testing the memory using EVEREST Ultimate Edition, and SiSoft SANDRA 2005.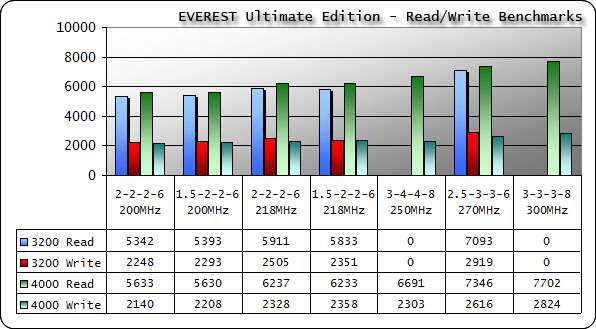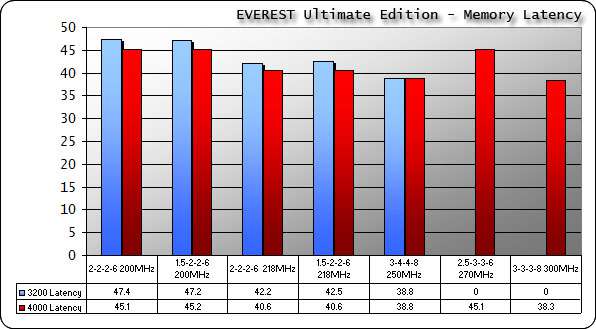 Looking at the EVEREST readings. We can see that at PC3200 speeds, the PC4000 easily outperformed the PC3200 modules. It seems that the PC4000 proved faster in the Read and Latency tests, but fell short in the Write tests. At DDRO600 speeds, we see a huge read speed of 7,702MB/s.
Looking at the SANDRA readings now. Once again, at PC3200 speeds, the PC4000 modules performed better. We almost hit 7500 Int with the DDR600 settings!
3D Mark, FarCry, Doom
Now to the graphical tests. We are first taking a look at 3D Mark 2001, since it's still pretty CPU/Memory reliant. We also are running through Half-Life 2, Doom III and Far Cry. Doom and Half-Life were run at 640*480, while Far Cry was run at 800*600. All three games are at the lowest detail possible.
It's not a surprise, but we can see once again, that the PC4000 performed better than the PC3200 at the exact same speeds. At the max overclock of DDR600 though, the 27,084 score sets a new record for my system.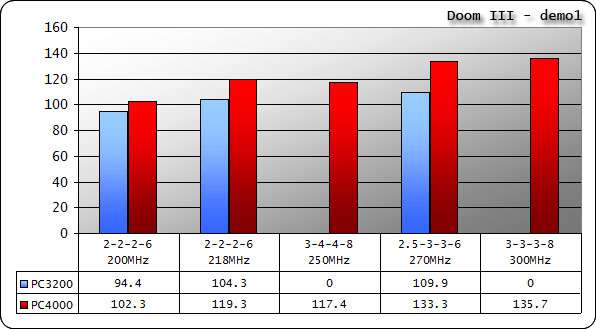 The PC4000 performs amazingly here. In the PC3200 review, running them at DDR540 slowed down Far Cry in the benchmark, but not here. In Doom III, oddly enough, the PC4000 performs significantly better throughout the tests.
Finally, in Half-Life 2, the different speeds hardly made a difference to the frame rate. I admit, I don't believe these scores, but they are what the Half-Life 2 benchmark spit out. The same FPS between 2.0GHz and 2.8GHz seems unlikely.
Final Thoughts
While reviewing the PC3200 Ballistix modules, Crucial definitely earned my respect. Until reviewing those.. I would have never likely considered Crucial when buying performance memory. Even with the minor MemTest issues I encountered, this memory would take most of anything I threw at it.
The absolute only gripe I have, are the MemTest errors. Even when I run stock settings and various voltages, I will get errors. I blame the board more than I do the modules, because it's fussier than kids and vegetables, when it comes to memory.. in my opinion. Seeing that I get errors with two separate sets, and after trying 12+ BIOS versions, I settle on blaming the board. In the near future, I will test out the modules in another Socket 939 motherboard and see how MemTest plays out.
Even with the errors though, as mentioned, all the settings I tested, seemed rock stable. I didn't once crash due to the modules, and they performed through all the tests seamlessly. Without a doubt, you need active cooling, even with stock voltages. I hate to bring my ghetto memory cooling mod back into this, but it works so well, that I swear by it.
Before the mod, you couldn't touch the modules for more than a second without burning yourself. With the fans, they are only slightly warm. If your case has better airflow than mine, I'm sure it would even be better.
Once again, for quick reference, here are all the stable settings I have used:
2-2-2-6 @ 2.5v – 200MHz (DDR400)
1.5-2-2-6 @ 2.5v – 200MHz (DDR400)
2-2-2-6 @ 2.8v – 218MHz (DDR436)
1.5-2-2-6 @ 2.8v – 218MHz (DDR436)
3-4-4-8 @ 2.8v – 250MHz (DDR500) (Stock)
2.5-3-3-6 @ 2.8v – 270MHz (DDR540)
3-3-3-8 @ 3.0v – 300MHz (DDR600)
All of these settings, except the last, are easily done. The last required the latest BIOS version, so that I could use the 233MHz (7/6) divider. Without that divider, my CPU would have been a bottleneck, not making those speeds possible.
In comparison to the PC3200, would I recommend choosing the PC4000? I would definitely recommend the PC4000, if your motherboard can handle it. The funny thing is, that the PC4000 costs the exact same as the PC3200's, so you may as well buy the PC4000. Even if your motherboard can't utilize the PC4000 speeds, you can still run them at PC3200, and leave leeway for later, if you upgrade.
Since the 512MB modules cost around $30+ less than the direct competitors, they are a great value. Without a doubt, definitely check out Ballistix for your new system or upgrade. I'd like to thank Crucial for sending us the memory to review and making this review possible!
If anyone out there runs the DFI Ultra-D and uses Ballistix memory, please let me know how they work for you, and if MemTest gives you any errors! I'd love to know your overclocks as well! If you have any further questions that you want answered about the Ballistix, please feel free to shoot me an e-mail at rob dot williams at techgage dot com, or post a comment in our related forum thread, where registration is not required (Please fill in a name though!).

Copyright © 2005-2020 Techgage Networks Inc. - All Rights Reserved.