Dell UltraSharp 3007WFP-HC Wide-Screen

Date: November 8, 2007
Author(s): Rob Williams

The word "Awesome" is used to describe many things, but when it comes to displays, only a 30″ LCD fits. Why? They offer a 2560×1600 resolution for superb gaming and workflow. Dell's 3007WFP-HC is also the least expensive model available on the market, but how does it perform?
---
Introduction
One great thing about our fast-paced technological world is that we are finding a continuous stream of products with superb specs wrapped into a small package. Today, it doesn't take much effort to build a robust machine that fits into a small box right beside your TV, and by now it's certainly not that impressive to watch movies on your cell phone. But, even though our computers continue to get smaller and more feature-packed, our monitors head in the opposite direction and continue to get larger.
Who really needs a large monitor, such as Dell's 30″ WFP3007-HC? Well, if you have to ask that question, then it's not you! Up until a few years ago, I used a 17″ CRT monitor full-time, and the move up to a 20″ 1680×1050 was like night and day. The extra desktop space was nothing short of amazing, not only for gaming and video, but enhanced workflow as well. At this point in time, though, 20″ LCDs are what 14″ CRTs used to be… "tiny".
When 24″ monitors were first released, they were snatched up by enthusiasts all over, and for good reason. They are the perfect size for most people, not too big and far from being too small. Add to the fact that the 1920×1200 resolution offers a total of 2.3 million pixels (compared to 1.31 million on a 1280×1024 display), then what's not to love? This is not to say that 24″ monitors are for everyone, but chances are good if you use one for a few hours, you will have a rough time going back to something smaller.
Once 24″ monitors began to feel like the "ultimate" display-size, Dell went ahead and released their 30″ 3007WFP, and then followed-up with a high-gamut HC version late last year. The same question as before arose once again, "Who needs such a large monitor?" Well, to answer the question, no one really needs one, but wow, they are nice to have!
Closer Look
Before taking the plunge with a 30″ monitor, there are a few things you should know. Moving up to such a large monitor is a different experience than one even a 24″ monitor will offer. One of the biggest differences you will notice right away are mouse sensitivities. Because there is so much ground to cover, you might need to increase sensitivity/DPI in order to find the perfect comfort zone.
Take into consideration that a 30″ monitor has 78% more pixels than a 24″ monitor, so using a monitor that much larger could almost be considered a small workout. Luckily though in this case, the pros outweigh most of the cons, simply because 2560×1600 is a great resolution regardless of your needs, whether it be gaming or to improve your workflow. Being able to cascade Photoshop, Word, Notepad, a calculator, Firefox, a chat client and more is a great thing.
If 30″ is tempting you because of your gaming addiction, then just be warned that such large resolutions are not for weak computers. I've personally found that a single GeForce 8800GTX card is more than sufficient for most of today's games, although there are a few titles that require an even beefier GPU setup (such as Crysis). So, if your goal is to run games at 2560×1600, I highly recommend a high-end video card.
Though there are many companies that now offer 30″ displays, Dell was one of the first. Does that make them the best? It all depends on what you are looking for. If it's a bright, feature-rich display, then no. I will get into this more shortly.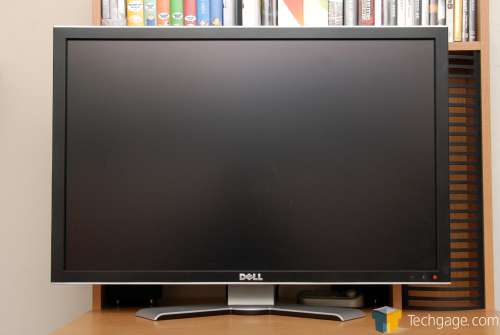 Apologies in advance for these photos, as they were taken after I had the monitor set up for a while. The original photos were lost due to a memory card issue. That aside, in the below picture you can see just how large this beast is on my small desk. It really is a piece that demands attention.
Let's move forward as we take a look around the monitor and touch on our initial thoughts.
Closer Look
One problem I've seen with many large monitors (including Samsung's 275T is that they don't allow you to raise them up to a comfortable level. If you back yourself up away from the monitor a good five feet, then it's not such a problem. But if you sit three feet away like I do (and this is not entirely healthy, I'm sure), then it becomes more of a burden.
Luckily for our 3007WFP-HC though, Dell allows it to be raised so high that a CD could almost fit underneath it.
From a side view, you are able to see the tilt factor, which is very nice on this model. Also on this side are the card readers and dual USB connectors. This is about as much connectivity as you will receive with this monitor though.
Here is an angle view from the back, which looks almost as good as the front. It's not near as impressive as Dell's own 2707WFP, but perhaps we will see a similar 30″ model in the future.
You might be surprised to know that there is no on-screen menu with this monitor, because there is no need. Instead, we have three simple buttons, -, + and power. The – and + buttons adjust the brightness and nothing more. There's two reasons for the lack of a menu. First is the fact that there is no VGA connector… DVI only. So, there will not be any problems with alignment and hopefully color. The second reason is that there is absolutely no connectivity on this monitor, so there is nothing to configure.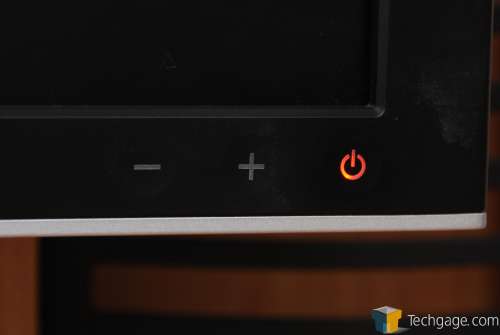 No Component, no HDMI, no S-Video, no Composite… nothing. Given that the 3007WFP-HC retails for well over $1,000, one would expect that there would be at least HDMI or Component, but they are not here, and I cannot wrap my head around it. To me, this model is a minimalists 30″ monitor. So if extra functionality is what sells you, then this is not the monitor for you.
When high color gamuts come into the picture, it normally means that the display is not going to be as bright as a comparative model. This is not always the case though. Dell offers two 24″ models, one HC and one non-HC, and the HC model happens to be the brighter of the two. That's not the case with our 3007WFP-HC, however.
While the original 3007WFP had a luminance of 400 cd/m2, our HC model scales back to 300 cd/m2. I've never used an original 3007WFP, so I cannot speak first-hand on the differences, but it's clear to me that the 300 cd/m2 will not be for everyone.
Another side-effect of the brightness, paired with the enhanced color accuracy, is that there are a few things that will appear different on your screen. For example, take this hyperlink. On most monitors, it's blue color is easily distinguishable. However, on the 3007WFP-HC, both the regular text and that URL color are so close, it could almost be overlooked.
Yet another issue I found was with regards to backlight bleeding. As you can see in the below picture, there are two primary areas where it's most noticeable, and whether or not this will be seen on all monitors, I'm unsure. The picture was taken with a half-second exposure in order to enhance the trouble areas, so the picture below shows it harsher than it actually is.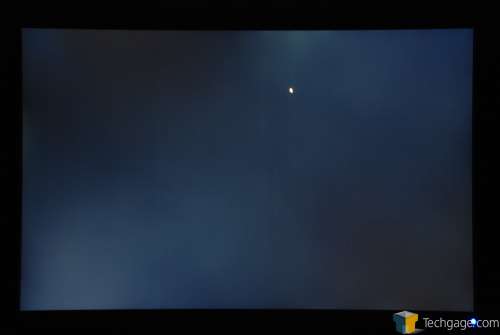 While the bottom-left corner looks to be the worst of the two, I never noticed it during use, and it's likely to be due to the fact that from a normal standpoint (or sitpoint?), you will be looking down at that section and not up towards it, so it's not noticeable. But because the top area was above my head during normal use, I did notice whenever the screen went completely black, such as in a game. All CCFL backlit displays have some degree of backlight bleeding, but I haven't used another monitor where I noticed it this easily.
The severity of the bleeding is on a per person basis. To me, it doesn't bother me that much, and because I couldn't spot it on non-black screens, it's not a huge deal. You might feel differently however, so you can take this for what you will. I could have done without the top backlight bleeding either way though, since it is in an inconvenient location.
All of those gripes aside, the 3007WFP-HC offers great picture quality in both movies and in gaming. In fact, gaming is what I took full advantage of most of the time, because once you try the 2560×1600 resolution, it's hard to look away. It doesn't matter what game it is… it will look utterly fantastic on this screen. The lower brightness doesn't make much of a difference in games, oddly enough. I found all games to be easy on my eyes, despite being only a few feet from the screen.
Final Thoughts
Dell first released this monitor last year, so there is no surprise that others have followed in their tracks and released monitors in hopes of overtaking them at the top. However, the 3007WFP-HC was released about a year ago, less than a year after the original, so I'm beginning to think it's time we see an upgrade.
What should be included in such an upgrade would be a brighter screen (if possible at this size, while keeping the HC moniker), far more connectivity, an on-screen menu and… how about the styling of the 2707WFP? If a new model offered all of this, then it would be a win/win as long as the quality was reasonable.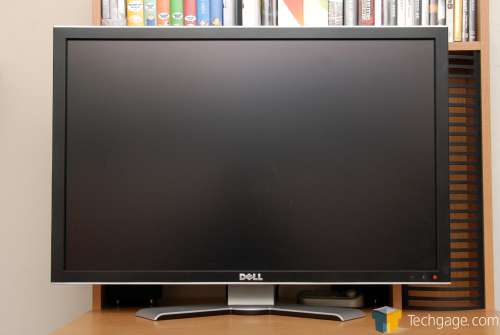 One 30″ display that catches my eye is Gateway's latest offering, which I first spoke about at DigitalLife a few months ago. Gateway's offering includes a far brighter screen, every connector you should need, an exceptional hardware-based upscaler, HD PIP and a well-designed OSD. I'm awaiting a review sample of one of these monitors, so I cannot highly recommended them at this point, but from what I saw in person a few months ago, Gateway is going to be the company that Dell, and others, are going to have to catch back up to.
But luckily for Dell, Gateway's latest monitor costs $300 more than their highest offering, and $600 more than the non-HC model. I am not sure when a price dropped happened, but it must've been recently, because I notice now that Dell's 3007WFP-HC now retails for $1,161 on their website. That's less then their 2707WFP.
One year ago when the 3007WFP-HC was first released, I might have been far more impressed, but right now I cannot say that I am overwhelmed. It's a thing of beauty with it's great resolution and styling, but I'm personally waiting to see what Dell has up their sleeves with regards to an update. I was originally going to award this monitor a 7 out of 10, but because of their recent $250 price drop, it makes it a far more attractive option for those looking to pick up a 30″ model.
Pros
Huge monitor, huge desktop space
Great monitor for gaming, easy on the eyes
Easy to set up
Photographers and color enthusiasts will appreciate high gamut
Price beats the competition
Cons
Brightness is a bit lacking, could be due to high gamut
No extra connectivity… no HDMI, no Component…
Backlight bleeding noticeable on our sample
Discuss in our forums!
If you have a comment you wish to make on this review, feel free to head on into our forums! There is no need to register in order to reply to such threads.

Copyright © 2005-2021 Techgage Networks Inc. - All Rights Reserved.