DFI LanParty UT Ultra-D
Date: July 4, 2005
Author(s): Rob Williams

DFI knows that hardcore gamers are interested in a motherboard with huge overclockability and modding potential. We are taking a look at the UT Ultra-D NF4, which promises just that.
---
Introduction
A few years ago, if you were to ask me which motherboard I was buying for my next system, I would have likely replied with MSI or ASUS.. of course. Well since that time, the motherboard market has only gotten larger and gives consumers much more variety. DFI knew that to increase their customer base, they had to create motherboards that have feature sets that their competitors don't.
Going back to 2003, DFI releases their first LanParty motherboard, which was designed to cater to the enthusiast. LanParty motherboards promise great performance, awesome overclocking potential and other features aimed towards gamers. Ever since then.. LanParty boards have grown immensly in popularity. Before we jump into more details, here is a quick bio for DFI and the LanParty series.
About DFI (Diamond Flower International)
DFI is one of the world's largest and most trustable motherboard and graphics card manufacturers with seniority. DFI also has been taking all expertise into the field of Applied Computing Platforms including KS Series of interactive PCs that has brought DFI further recognition as a leader in the IT Industry rather than a follower. Solid experience in total Innovative Solution sets DFI's ACP products outstanding from the others.
About LanParty Series
The cutting-edge DFI high-end series LANPartyUT is dedicated to the LAN party & case mod culture, which has been a phenomenon among global PC users. Every model of LANPARTY series has sported the most groundbreaking concepts and technologies and thus has made its performance and design just irresistible.
To make LAN gamers fashion leaders and bring more fun for them, DFI designs the UV sensitive accessories and the stylish black PCB and creates LANPARTY series. With UV Sensitive Illuminated System, LANPartyUT glows under the UV cold cathode light, and thus put LANPARTY owners in the spotlight by catching everyone's eye during LAN parties.
This review is not going to be as in-depth as others out there. The boards been out for a few months already, and there is no need for another huge review. Being the first motherboard review on the site, we'll start out slow, and hopefully it will turn out a smooth read.
Packaging and Contents
Since this board is touted as a Enthusiasts/Gamers motherboard, it has all the latest 'candy' in terms of features. The chipset it uses is the popular nForce 4 Ultra, which adds support for PCI-Express and the Socket 939 processors. Even though the "Ultra" NF4 is meant for Single GPU solutions, it is possible to have the board operate with SLi (Scalable Link Interface), if you choose to do so. This chipset also supports DDR in Dual Channel mode up to DDR400, but of course you can use faster DDR1 memory if you like.
DFI chose to use the Phoenix AwardBIOS for the board. They also added a feature called the 'CMOS Reloaded', which we will get into shortly. Depending on when you bought your Ultra-D, you may need to update the included BIOS in order to add the proper support for the Venice and San Diego core. This was fixed with version 310 BIOS, so you will want to make sure you have it.
Without getting into the extreme specifics, here are the basic specs and an official picture of the board. You can click to enlarge the image if you like.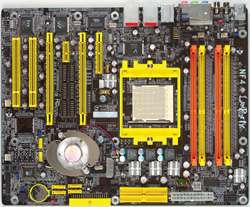 CPU Support

AMD Socket 939 – 64/64 FX/Sempron

Chipset

NVIDIA nForce 4 Ultra

FSB

2000MT/s HyperTransport interface

Memory

Four 184-pin DDR SDRAM DIMM sockets
Supports dual channel (128-bit wide) memory interface
Supports up to 4GB system memory
Supports DDR266, DDR333 and DDR400 DDR SDRAM DIMM

BIOS

Award BIOS w/ CMOS Reloaded

Sound

Realtek AC'97 8 Channel

LAN

Dual Gigabit LAN – Vitesse VSC8201 Gigabit Phy and Marvell 88E8001 Gigabit PCI

Expansion Slots

(2) PCI-E 16x, (1) PCI-E 4x, (1) PCI-E 1x, (2) PCI

IDE

(2) IDE 133, (4) S-ATA II

Etcetera

(1) IEEE 1394. (6) USB 2.0
For the complete specification table, you can visit the Official Site.
Packaging & Contents
As usual, DFI did a great job on the box art. It's obvious which type of motherboard this is geared towards. He even has an unmarked Bawls sitting on his desk! Opening the box, we unveil all the tightly packed cables and other necessities.
In the third above picture, we can see all the included contents. Notice the yellow plastic sleeved IDE cables. a definite nice touch. The S-ATA cables also match that scheme. They even included a floppy IDE with the plastic sleeving, in case you need your floppy drive hooked up. Also in the picture is a S-ATA power connector, rear case shield, audio add-on, extra jumpers and finally some documentation.
Click on any image that you want to see a full version of. Let's now take a closer look at the board.
Board Layout
We can see how everything is laid out from the picture below. I certainly have no major complaints about the layout. They have left sufficient space around the socket area, so you should have no issues hooking up your large heatsink and cooler, or waterblock. Mounting a CPU cooler could not be any easier, either. My stock Venice heatsink sits in very comfortably.
At the furthest side of the board, you can see the IDE and S-ATA connections. Both IDE connections are facing upwards, while the floppy IDE faces towards the front of your case. I'm sure they did this due to the fact that if you are using a floppy drive, it will only be a few inches from the area, so plugging it in is made easier.
For the DIMM slots on the board, the yellow are 1 & 3 and the orange are 2 & 4. If you are using two sticks of memory and want Dual Channel mode, you must use 2 & 4. The positioning of the DIMM slots may allow you for better cooling, it did for me. The DIMM slots are also spaced enough from the socket, so you should have no issues installing any heatsink, unless it's massive.
Taking another look by the S-ATA connectors, we see that they have chosen a great looking chipset heatsink and fan. Installing any PCI-Express video card, especially top end NVIDIA cards, will hover the card directly above the chipset fan. The BFG 6800 GT actually stretches past the fan, so you will want to make sure it's properly seated and that nothing else is going to get in the way and become a problem.
Beside the chipset is the BIOS chip and two power buttons. This is another feature that makes this board perfect for modders. Rather than having to short something to get the computer to boot, you can just push a button to turn the computer on and off. The button beside the power, is of course the reset. This allows for you to use the motherboard without a case, a plus if you plan to use huge cooling on your board, such as LN2, Dry Ice or some other insane cooling method.
Looking now at the expansion slots, we can see the promised (2) PCI-E 16x. Since this board is not initially meant for SLi support, you can mod the motherboard to enable it. This is done by moving jumpers around and modifying the chipset. This is not approved by NVIDIA, and they are apparently making sure future drivers will prevent this from happening. If you are interested in SLi and don't mind a little simple modding, you'll have to search Google.
The board still obviously gives you Dual PCI-E support, else it would not have two. So if you are interested in having two PCI-E based GPU's for multi-monitor support, it will work fine. However, if you want SLi, it will *not* work unless you perform the modifications.
Layout Cont.
In addition to the slots, we have (1) 1x PCI-E and a (1) 4x PCI-E. None of these have any use yet, to my knowledge, but will play some roles in the future. Two classic PCI slots are also included, for your sound card or any other PCI based hardware. PCI isn't likely to die off for awhile, as even high end products still thrive on it. Even the AGEIA PhysX future add-in card will be PCI based.
The first picture on this page shows the board without the add-on sound card. The Ultra-D comes complete with (6) USB 2.0 ports and a IEEE 1394 firewire. The board supports an addition of more USB and Firewire ports as well, in case you have a case that has front ports you want to use. For PS/2 Keyboard and mouse users, the ports are there for you.
There are a total of (5) 3-Pin Fan connectors, although ones being used already by the chipset fan. They are placed quite nicely, so installing fans shouldn't be difficult. Near the CPU Socket there is one that's meant for your CPU fan of course, and above that, you could mount a fan above your memory and use that connector right beside it. The other two are at the bottom of the board, easily allowing you to hook up fans for your harddrives or for anything else.
You may have also noticed the variety of power connections around the board. For this board, there is a master 24-Pin power connector. You do not need a 24-Pin PSU, but it's recommended. You could either use a 20-Pin to 24-Pin adapter, or just plug in your 20-Pin as is, leaving the top four empty. However, if you have the cash for a solid 24-Pin, I'd recommend you get one for complete stability.
Directly beside that though, is the 4-Pin power connector, which most motherboards now have. In addition to these two though, there is also a small 4-pin connector and a larger 4-pin molex connector. For the small one, you can easily use the floppy connecter off your PSU.. it's the same. Once you have everything in your system installed, you should have a spare molex connector that you can plug in. The motherboard will run without these two extras, but DFI recommends them for stability and performance.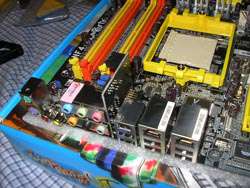 That about covers it for the layout. In the end, I have no serious problems at all. If anything, I would have liked to see the CMOS reset pins to be positioned nearer the bottom of the board near the BIOS chip. Resetting the CMOS was troublesome where it's positioned now, but if you have a mid-sized case or larger, you may be better off.
BIOS
One of the reasons this board is so popular, is because of the feature packed BIOS. All these shots are from the 310 BIOS version. Sorry in advance for the bad quality snapshots.. it's my cameras fault, not the photographers ;)
DFI chose the Pheonix Award BIOS for the Ultra-D, so most people will already be quite used to the navigation. The main screen view is much like all others, except for the addition of the CMOS Reloaded, which I will mention in a few paragraphs. When people say that this BIOS has a lot of options, it certainly is not an understatement. Firstly, in the Advanced Settings area, you are able to play with all the basics. Boot Priority and Boot Devices is one you will want to check out. If you have multiple OS's (Operating Systems), you can choose which drive you want to boot from. This may be especially good if you do not have a proper boot chooser program installed.
It will even allow you to boot from a USB device if you choose to do so. A micro linux version may be fun to play around with. Or, if you do not have a floppy, you could boot something from it, like MemTest. I have yet to try this, but I see no problems in that working.
Under the Integrated Peripherals section, you can handle everything related to your peripherals, obviously. Here you can and should enable USB Keyboard Support, so that it will work in outside of an OS, IE: Choosing which OS to boot into. You can configure many other USB related options as well. You can even edit your RAID, if you have one.
Heading into the Genie BIOS Settings, will open up numerous tweaking options. Here, you can control your FSB, Multipliers, Dividers, Frequencys, Memory Timings and much more. Every setting that enthusiasts should have are here, and many that enthusiasts will never even touch. Voltages can be controlled as well. For the Memory voltages, it maxes out at 3.2V, but if you need more, there is a volt mod floating around.
BIOS Cont.
If you love to overclock, this motherboard will not disappoint. Looking through all the options, it's obvious that they encourage it. In the memory options, as seen in the picture below, you can change anything. From CAS to TRCD, TRAS, TRP and even other more uncommon values. It really is amazing, the amount of control it gives you. The BIOS also has MemTest built-in, so after changing values, you can reboot to see usually immediately, if the overclock had adverse affects.
This board also has the 'CMOS Reloaded' functionality added to it. This allows you four 'banks', that allow you to save various configurations. For instance, you could use the first bank as a default setup, the second as your overclocked configuration, and the others for whatever else you want. This is great it you like to only have an overclocked system for when you gaming, because you can load from the banks quick. It's definitely a great feature to have handy.
There has been a new BIOS version release, dated July 2nd, that can be downloaded from TechPowerup. Even though this version is still BETA, I am loving it. Click the photo below to see why.
Yes, it's actually possible to run your divider higher than 1:1! In the screenshot on the right, you can see that while EVEREST is detecting the memory as PC2700, the SANDRA score is a very healthy 7480/7398. In reality, The memory is overclocked to 315MHz (DDR630, PC5000) speeds. As CPU-Z states, we are using a FSB of 270MHz with a 10 multiplier. What it can't tell us, is that we are using the 233MHz 7/6 divider. Note that this is only applicable to revE CPUs, including Venice and San Diego. I am unsure why this is, but maybe it has something to do with the improved memory controller in these revisions. Because of this update though, my CPU is no longer the bottleneck, and I can easily run 2.7GHz and have increased the memory from 270Mhz to 312.5MHz. That's what I call a healthy gain!
Benchmarks
As mentioned in the intro, this is not a hardcore in-depth review, so we won't get too deep into benchmarking, but we will hit the bases. The system will be run completely un-overclocked, and then with a max overclock. Here are the system specs:
Stock: Venice 3200+ @ 2.0GHz, DFI Ultra-D, Crucial Ballistix PC4000 @ 200MHz 2-2-2-6, BFG 6800 GT OC 370/1000, WD 160GB 7200RPM
Overclocked: Venice 3200+ @ 2.7GHz, DFI Ultra-D, Crucial Ballistix PC4000 @ 315MHz 3-4-4-10, BFG 6800 GT OC 370/1000, WD 160GB 7200RPM
For the benchmarks, I chose to use some of the most common ones, without getting too far into detail. I personally love using EVEREST for the memory benchmarking, and SANDRA for the CPU Multi-Media test. For a quick CPU benchmark, I used Super Pi 1.4 mod.
To test the system all around, I used 3D Mark 2001, using default settings. Doom III was run at 640*480 with minimal detail, Far Cry at 800*600 with minimal detail and finally, Half-Life 2 at 640*480 with minimal detail. dBPowerAmp was used to convert a 43.3MB .WAV file to .MP3 (Lame).
Stock

Overclock

EVEREST Memory Read

5632 MB/s

7616 MB/s

EVEREST Memory Write

2114 MB/s

2729 MB/s

EVEREST Memory Latency

45.2ns

39.3ns

Super Pi: 1Million

42.062 seconds

32.172 seconds

SANDRA Multi-Media

Integer 19167 it/s
Floating-Point 20616it/s

Integer 25778 it/s
Floating-Point 27711it/s

3D Mark '01

22667 Marks

26354 Marks

Doom III

85.4 FPS

107.4 FPS

Far Cry

126.41 FPS

143.92 FPS

Half-Life 2

59 FPS

59.7 FPS

Wav to MP3 (43.3MB)

13 seconds

10 seconds
The benches have come out fantastic. Further reason to love the 702 BIOS update, is the fact that the max Memory Read went from the previous max of 7300MB/s to 7616MB/s. That extra push to the memory didn't really affect the Write or Latency though.
Overall, as you can see from the before and after benchmarking specs, the Ultra-D certainly won't hold you back on your overclock.
Conclusion
Even though I have used a fair amount of DFI boards in the past, the Ultra-D is the first one that I have personally owned. I was a previous MSI die-hard, but seeing all the buzz about this board made me want one. I've been using the board for over a month now, and overall.. I love it.
I have definitely had my share of issues with the board as well though. The Ultra-D is known as a fussy board when it comes to memory, and I have found that to be absolutely true. I have tried three different sets of memory in the board over the month, and it's been somewhat fussy with each set. The original set was a standard value ram, Samsung DDR400. This would cause the entire computer to spontaniously reboot. It wouldn't matter what you were doing, but the problem was heightened when playing games.
The other two sets of memory have both been Crucial Ballistix PC3200 and PC4000, both 2 * 512MB. As mentioned in our PC3200 review, the memory would return an error free MemTest only if we used a lower than specific voltage. So, instead of using the recommended 2.8v, we stuck with 2.6 at stock timings.
With the current set, PC4000, MemTest will still return errors, even at stock speeds.. even with lowered Voltages. Since I have had issues with both sets of Ballistix, I don't believe that it's a memory issue, but rather a board glitch. I have used both versions, 2 and 3 of oskar wu's BIOS, neither of which rid the errors. Since Ballistix memory doesn't really fit into either of those BIOS catagories, that could be why. Crucial has told me that they have had zero issues with the Ballsitix and Ultra-D in their labs.. so it's odd that I am. In the future though, I may be surprised, if it's due to a PSU issue (Ultra X-Finity 600W). So at this time, I can't totally blame it on the motherboard.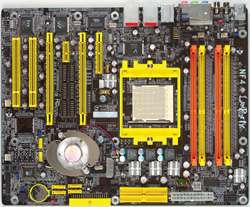 Other minor issues have been defunked BIOS flashes. Flashing, and a reboot would sometimes cause a black screen on boot. The only way to combat this, was to clear the CMOS, which fixed everything. This problem shouldn't really happen, as the BIOS is reset prior to flashing. I have had this problem with not just the Oskar Wu BIOS', but the official as well. The only last gripe I have, is the placement of the CMOS pins. Depending again on how large your case is.. I found it to be a huge pain in the ass to clear it. I had to always disconnect my harddrives in order to reach it. As mentioned earlier, I would have highly prefer this to be placed around the BIOS chip, or close to it, as nothing is usually in the way there. Of course, placing it down there may have not been technically possible on this board.
Even with these problems though, I still love the Ultra-D. The tweaking capabilities are endless, and performance is awesome, the layout is great and the board just looks attractve. With all the features packed into it, if you are an enthusiast or hardcore gamer, this is a definite recommended board. I can't discredit the board because of issues I have had, especially memory related, because I have been completely unable to find anyone else with the problem, meaning it's likely just me.
For those of you out there who are interested in an Ultra-D, but don't want to give up your high end AGP card, an AGP version of the board was released a few weeks ago. If you are building a system from scratch though, there would be no real reason to get an AGP based Ultra-D.
This is the first motherboard review we've had on Techgage, so if you have any questions/comments about it, please feel free to shoot me an e-mail at rob [dot] williams [at] techgage [dot] com. In the future, as more boards are reviewed, the reviews will be more refined and in-depth. Of course, any general comments or flames about the review can also be left in our related forum thread.

Copyright © 2005-2020 Techgage Networks Inc. - All Rights Reserved.