DiRT Showdown Review – Destruction Derby Meets DiRT

Date: July 25, 2012
Author(s): Rob Williams

Take all you know about the DiRT series and throw it out the window, because Showdown is a unique specimen in this on-going series. The focus on destruction is huge, and with 13 different race types, there'll be many opportunities to twist metal. Great graphics, fluid control and lots of variety. What more could you want?
---
Introduction, Premise & Graphics
For racing fans, the DiRT series has proven to be one of the best for the genre, serving Colin McRae's legacy very well. Each of the series' titles so far have offered top-notch graphics, fluid control, realistic environments and most importantly, have been fun.
The best thing about DiRT might be the fact that it helps fill the void in a genre where few quality titles exist, much like Codemasters' other popular series, F1. Combined together, ambitious racers get their choice of Formula 1 and rally – but what about those times when you just want to let loose and not take things too seriously? The answer should be obvious based on the title of this review: DiRT: Showdown.
To best understand what Showdown is all about, combine DiRT 3 and 20 tons of twisted metal in your head. Sure – accidents happened in previous DiRT games, and your car could get wrote-off, but Showdown takes things to the next level. It's the ultimate destruction derby where the only thing that matters is that you reach the finish line first.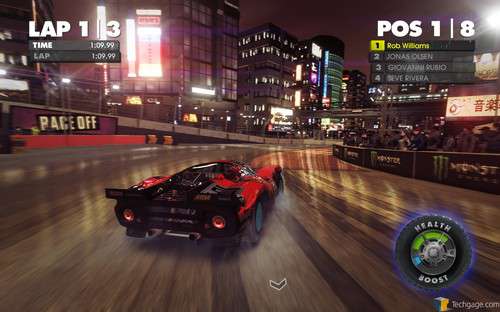 Making it feel more like a first-person shooter on paper than a racer, Showdown includes a staggering 13 race modes to choose from, three of which are exclusive to multi-player. We of course have our standard races, along with elimination and domination, but have things like 8-ball and arena tracks added to the mix, along with others focused on tricks. To say that there's variety in Showdown is a gross understatement.
That variety carries over to the location list… as long as you don't mind sticking mostly to the US. There, we have San Francisco, Los Angeles, Nevada, Baja, Miami, Michigan and Colorado. Bringing us to the opposite side of the globe in Japan, we have Yokohoma and Tokyo, and returning from DiRT 3, we head over to London for Battersea. We're battling extreme heat, frigid temperatures and terrential rain – this is DiRT after all.
Like the other games in the series, Showdown's story is non-existent – you're a determined racer, and you want to be #1. Want to race against others for the love of a certain girl? Race because it's the only way you can afford medical school? Beat your fierce rival in front of everyone? Then your imagination has a lot of work ahead of it.
It's impossible to not compare DiRT: Showdown to DiRT 3 because both games are similar in so many regards. The game engine, for starters, is identical. The car models look great, and the control feels similar between the two titles. Even the menu system is familiar, though it's been tweaked (no more Triforce knock-off in Showdown). The audio, excellent once again, and graphics? Where racers are concerned, there's none better.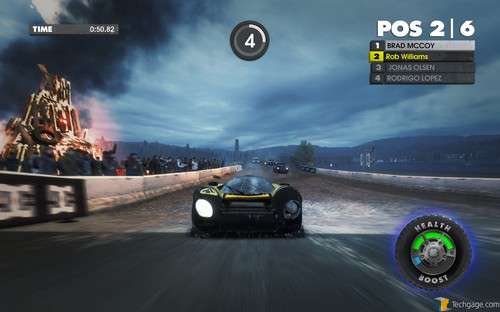 For benchmarkers, the DiRT series has been the go-to choice ever since the original, as the games have been some of the select few that have actually pushed our current-gen hardware. The developers are clearly interested in utilizing the power our PCs offer, and proved it with DiRT 2 by being one of the first to support DirectX 11. In Showdown, a Global Illumination option has been added for enhanced lighting, but unfortunately we found the differences to be minimal at best, while the GPU performance impact could be as much as 50%.
To help keep the blood pumping, Showdown features a large soundtrack spanning a multitude of genres, with the de facto rock and electronic genres making a big prescence. And because it's oh so important nowadays, you can also expect to hear some dubstep.
Dirty, indeed.
Modes, Vehicles & Final Thoughts
Showdown's main mode is "Tour", consisting of close to 90 individual events based around 10 different types. Outside of the "Hooligan" events, which are for style and skill, every mode has a big emphasis on destruction. Feel bad about spinning that fellow racer around? Don't… that's the point. The only thing that matters is that you cross the line first, and if you need to make some enemies along the way, so be it. Aggression is king.
Alright – let's be honest; that sort of attitude is great offline, but can be a huge frustration online. In any online racing game, it'd be some sort of a miracle to not encounter others who love for one reason or another to slam into you, rendering your race over. The difference with Showdown is that this is a mechanic, so it's hard to fault others for being aggressive.
For this reason, racing online in this game might not be for everyone. It's just a wee bit frustrating to be doing quite well on a track and right before the finish line, get a light pat on the back that spins you out. Like-wise, on a figure-eight track, it's disheartening to be side-swiped, causing you to lose a couple of seconds, or a handful.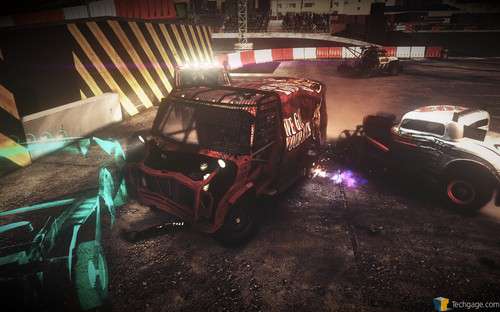 On the upside, there are many other modes where luck doesn't feel like the deciding factor. Rampage, for example, pits all players in an arena against each other. Mangle the opponents and score the highest number of points to win. In a spin-off event, Knock Out, the goal is to both battle and knock the opponents off of the top platform.
Multi-player houses three exclusive events; Smash & Grab, where a player must pick up loot and hold onto it for the longest period of time; Transporter, a capture-the-flag mode and Speed Skirmish, a time-based where players must pass through a certain number of checkpoints before the opposition.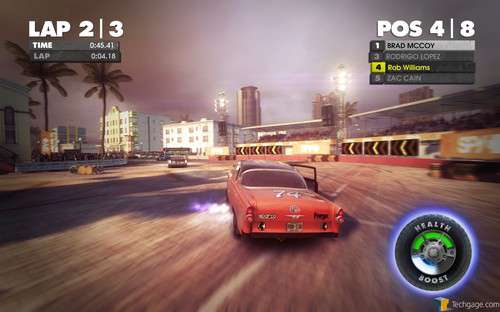 Both online and off, there exists enough variety to keep you interested for quite some time. For those who want to chill out and just drive around, the Joyride mode is worth checking out. Taking place in both Battersea and Yokohama, your goal is to accomplish 75 simple missions (Gymkhana-style) in each area and also find all of the hidden packages; 60 in Yokohama and 40 in Battersea. For the most part, completing all of Joyride 100% isn't terribly difficult, but it is a good distraction from the other game modes.
Both Trick Rush and Smash Hunter are great non-race modes in the DiRT Tour to help you take a load off, as they focus on skill, not violence. Trick Rush is similar to Gymkhana from DiRT 3, where you must perform a variety of tricks to score the most points. Tricks can include performing donuts, drifting underneath scaffolding or transport trucks and catching big air. Smash Hunter laces colored blocks around a track which you must drive through in order. If you do this faster than your opponent, you win. Similar to the Joyride mode mentioned above, neither Trick Rush or Smash Hunter are that difficult, but both are fun.
Whereas DiRT 3 has a full cast of licensed cars, most vehicles in Showdown are fictional, with the exceptions dedicated to the trick and skill modes. Being the type of game that this is, there's not much glamour here; most vehicles have been torn apart, boarded up where needed, and painted in interesting designs. Vehicles consist of rally cars, muscle cars, sports cars, trucks and vans. Each vehicle has about 8 different skins to choose from. In the first shot on this page, you can see an AMD-themed skin on one of the vans.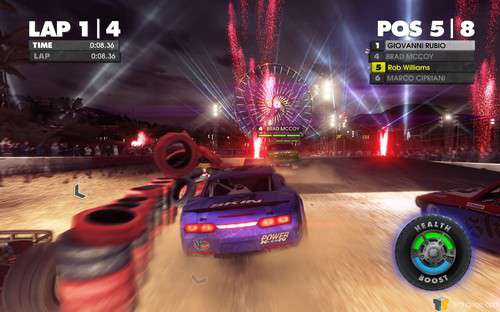 Let's wrap things up, shall we?
Final Thoughts
DiRT: Showdown is without question, fun as hell. It's that simple. While most racers (including me) prefer the racing we get in a game like DiRT 3, Showdown is a great distraction. It allows us to burn through common but fun locations, smashing and obliterating our opposition. There's just something about total destruction that can put a grin on someone's face.
The game does have its downsides, though, some of which will turn people away from the game. The physics seen here aren't as realistic as they are in DiRT 3, likely done to enhance the experience. While the game looks realistic enough, the altered physics make the game feel more like an arcade racer. While the Gymkhana-type events in DiRT 3 are genuinely challenging, they're a relative breeze in Showdown.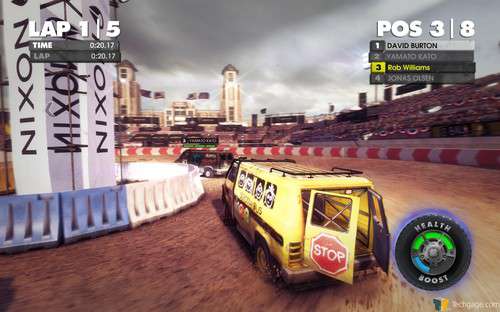 The races themselves can be quite challenging, but sometimes it gets old when getting side-swiped during an 8-ball track or getting spun out right before the finish line in a Race Off. But, complaining about something like this is a bit nonsensical given the type of game that this is. Incidents like that will happen; it's all part of the destruction.
One thing that bothers me, though, is that the game seems to suffer a bit from rubberbanding. There have been times where I've driven a track perfectly, and have been so far ahead of #2 that I couldn't even see him. But then, out of nowhere, I'll rub up against a side or crash outright, and that same #2 becomes #1 in mere seconds. Once again, this made the game feel more like an arcade racer, similar to most Need for Speeds.
But overall, if you're just looking for a good time with a racer that has great graphics and audio, unique events and a whole lotta destruction, DiRT: Showdown is well-worth considering. Just don't expect much depth, seriousness or a challenge on par with DiRT 3.
Pros
Graphics and audio are fantastic.
Modest but nice selection of vehicles for the three main race modes.
Good variety between race types.
Lots of gametime to be had, across the SP events and MP.
Cons
Physics aren't what we'd expect from a DiRT game.
More non-US locations would have been welcomed.
Some events seem a little too easy.
Added Global Illumination graphics option has minimal impact in-game, maximum impact on GPU performance.
Discuss this article in our forums!
Have a comment you wish to make on this article? Recommendations? Criticism? Feel free to head over to our related thread and put your words to our virtual paper! There is no requirement to register in order to respond to these threads, but it sure doesn't hurt!
Extra Screenshots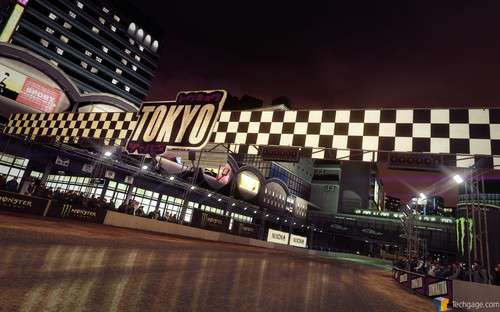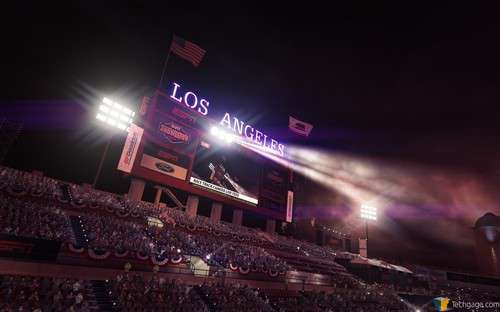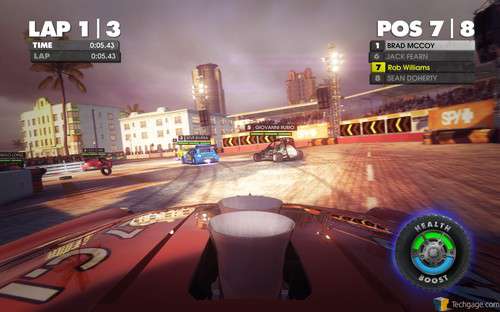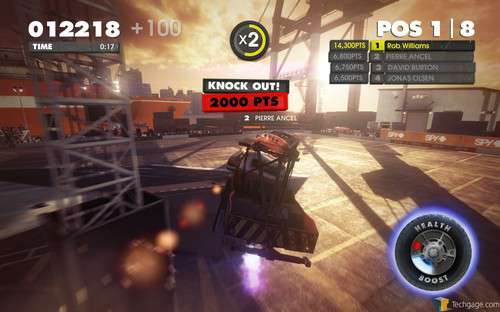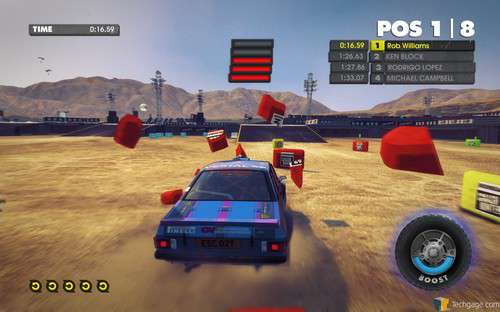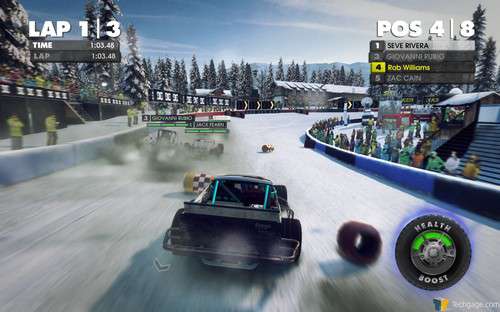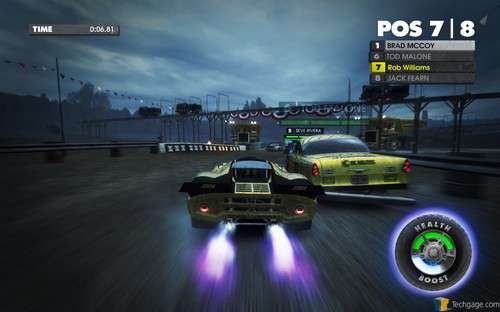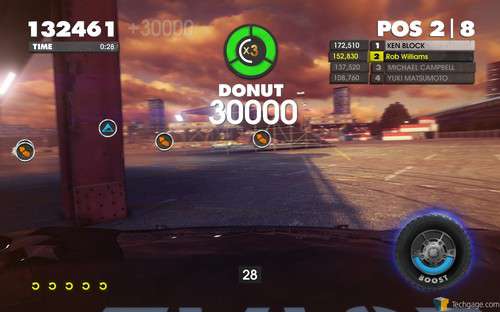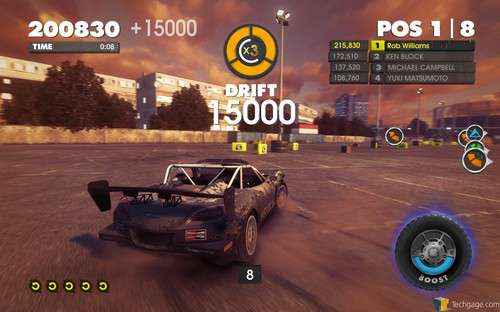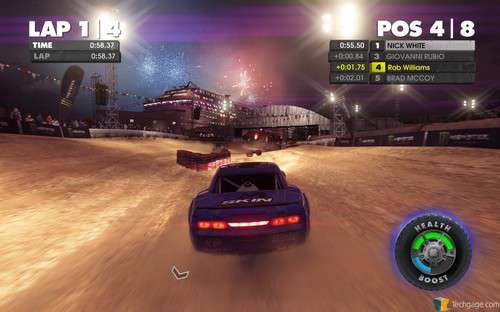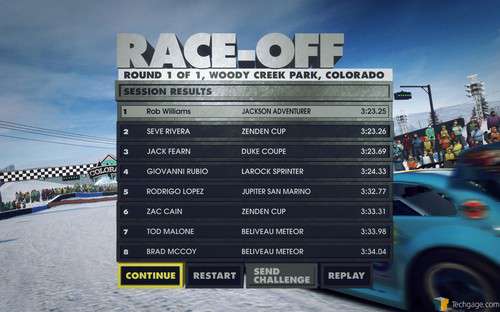 Copyright © 2005-2020 Techgage Networks Inc. - All Rights Reserved.