Do-It-Yourself Cloud Storage: WD My Cloud 2TB Review
Date: October 2, 2013
Author(s): Greg King

WD poses this question: Why store your sensitive data online, when the storage space is limited, and the security out of your control? Its answer: WD My Cloud, a NAS-like device that enables you to create a personal cloud in your home, quickly and easily. Say hello to huge storage (2~4TB) and no recurring subscription fees.
---
Introduction
We humans, are creatures of pattern.  Of repetition.  Most of us follow the same routine day in and day out, deviating a little when time or money allows.  I know in my own life, most days I wake up, go to work and come home.  While not unlike most everybody else with careers, my life can become monotonous at times.  I am a creature of pattern.
Take, for example, my writing at Techgage over the past couple of years, which has centered on storage.  I am a big proponent of backing up your data; I back my personal data up on a pair of NAS boxes, one I purchased and the other, one I held onto after a review. I backup and share data on one, and back that up to the other.  However, even without the redundancy of a second device, backing up one's data to a single drive is far better than nothing at all.
For years, it was easy enough to plug in a USB drive, copy all of the files I wanted to back up to it, and then set it back on the shelf.  After a while I created a couple of batch scripts that I scheduled to kick off every 12 hours.  Through this, I was ensuring that if my machine ever crashed, I would be, at the worst, 12 hours back on daily data changes.  As drive capacities increased and streaming options grew, it made sense to look into acquiring a NAS box as creating shares within Windows can be prickly at times.  Beyond that, it would require that my machine be powered on 24/7.  With mid to upper end hardware, this can add up come time for the electric bill.  A NAS made sense as well, due to the growing number of networked machines on my home network.  Phones, laptops, desktops, streamers… it was all made simpler when there was a single centralized location for files that I wanted to share across multiple devices.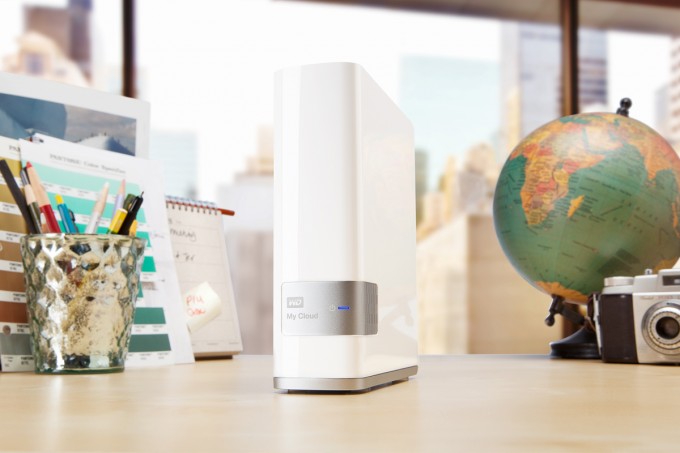 All that being said, there are already products that allow the sharing of data beyond your personal firewall.  Where I used to email myself files, as long as they were under 5-10MB in size, I now use Dropbox and Google Drive.  Even then, I have been limited to roughly 4GB of storage without having to pay an additional monthly fee.  To be fair, I pay under three dollars a month for 35GB of space with Google, which isn't expensive, but it's still a recurring cost that I sort of have to account for. 
When we were approached by WD about a new cloud-focused product, we were interested.  Long known for its reliable hard drives, the company has expanded out to external storage as including its own drives in enclosures just made sense.  It seemed only a matter of time until the company embraced the trends of shared storage and jumped upon the "Cloud".  This brings us to the WD My Cloud.
Built within an enclosure that looks very similar to a My Book, the My Cloud we have for evaluation is a 2TB unit.  Standing only 6 ¾" the My Cloud should fit on most desks or shelves without issue.  With only a small LED on the front of the unit, and ventilation slits all along the top, back and bottom, it's a rather unassuming little drive.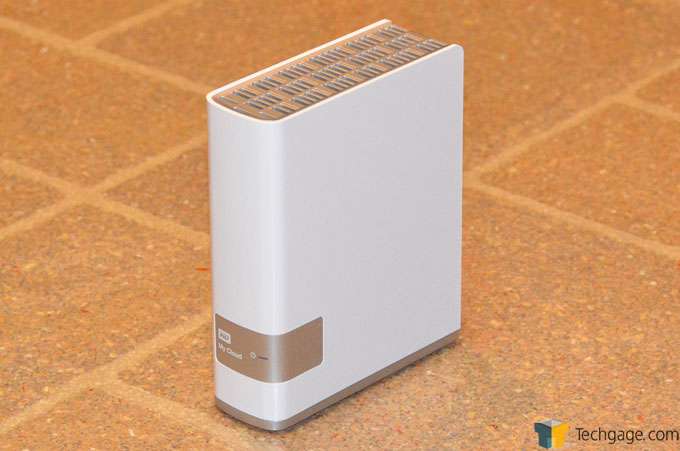 Around to the back of the unit, we see the one external feature that differentiates it from the My Book line of external hard drives, a gigabit network port.  Above it is a single USB 3.0 port and below, a power port and Kensington lock.  That's it.  There really isn't anything more to the My Cloud as a device.  The magic sits within the software.
Rounding out the hardware, the WD My Cloud ships with an Ethernet cable and external power supply.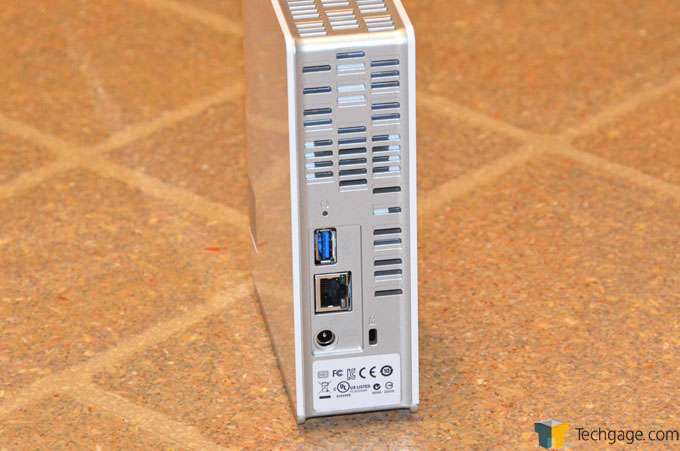 For those that like to know, here is the WD spec sheet for the My Cloud.
Dual-Core Processor
Gigabit Ethernet
USB 3.0 expansion port
PC/Mac Compatible
DLNA 1.5 and UPnP verified
Free Mobile Apps
Free Desktop File Management App
Web-Based Setup UI
Control Dashboard
iTunes Server Support
Automatic Device Discovery
128-bit EAS Encryption for Cloud
On the next page, we'll dive in with a look at the setup process and the My Cloud's dashboard.
Setup & Dashboard
Setting up the device is a straight forward affair.  When you first power the My Cloud up and connect it to your network, you browse to http://wdmycloud on a Windows box and http://wdmycloud.local on a Mac.  Once there, you are asked to create an account and share your "personal cloud" with others by entering in their email address.  I chose not to do this and simply set it up with a single account.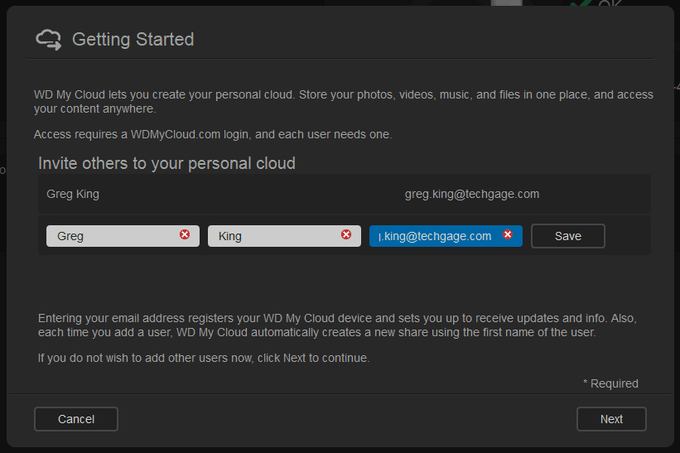 The next option is to let the unit update itself when newer code becomes available.  I don't personally like this feature but for most, a set it and forget it type approach will work best.  On this page are links to FAQ sections concerning uploading content, backups, and mobile apps.  Once "Finish" is clicked, the setup of My Cloud is complete.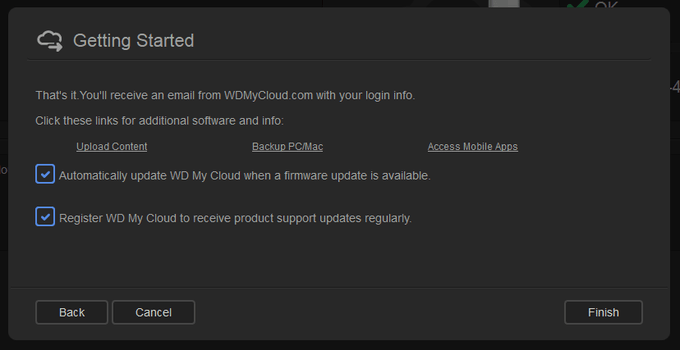 After setup, or subsequently after logging in, we come to the dashboard, which is a Web-based control panel for the My Cloud.  From here, all options for the various uses the device allows for can be found.  The home panel, which loads first by default, will show the available space, current status, firmware version, connected devices, users, shares and whether or not a content scan is taking place.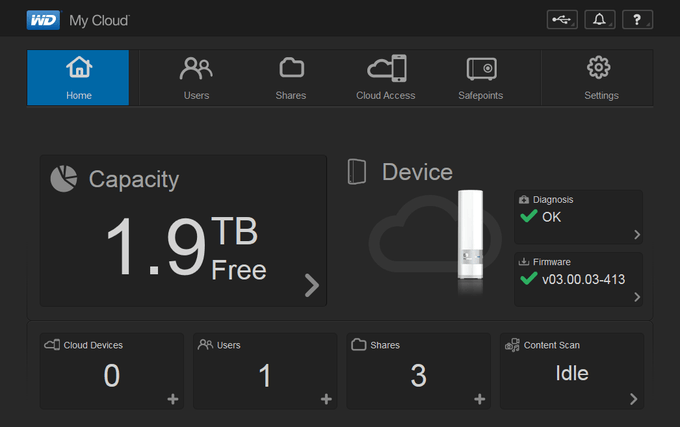 Each of the areas found on the home screen can be expanded.  For example, if one wants to check the capacity of their My Cloud, simply clicking the arrow in the lower right-hand corner of the capacity pane will give us a more granular breakdown.  I assume that the My Cloud software determines the type of data being stored by extension type, showing us how much data is consumed by videos, music, photos, and everything else.  The below snapshot was taken when the unit was first powered up, so obviously there isn't much in the shares.  The 40GB found in "other" must be for system files and black usable system space.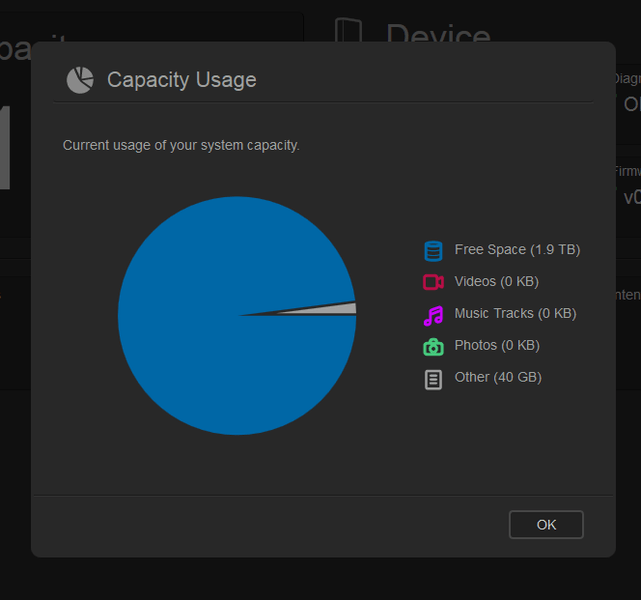 The Users tab is where one handles permissions: who can access each of the shares that reside on the My Cloud.  You can grant read, write, or both to users at a per share level.
Speaking of shares, by default, there are three.  They are public, SmartWare and TimeMachine.  Others can be added and the defaults can be deleted.
On the Cloud Access tab, this is where one would grant access to others through the My Cloud mobile apps.  This can be used to share files, collaborate or simply browse your own files while on the road.  As with the setup page, there are links for basic FAQs.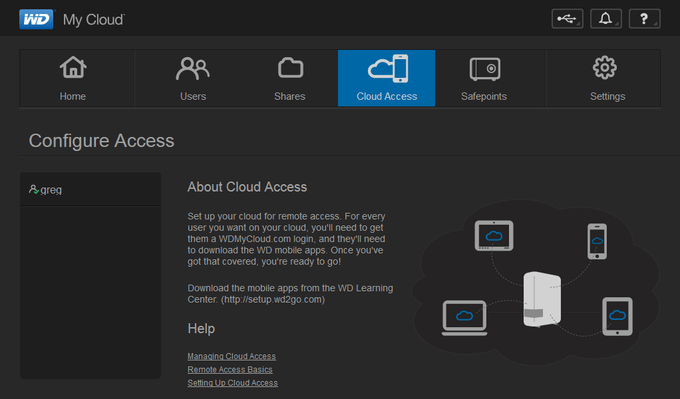 The "Safepoints" tab allows the snapshotting of data on the My Cloud unit to either a connected USB device or a compatible one on the network.  For testing, we used a simple USB drive and did not address a network backup.  Recovering from a safepoint allows the restoration of not only your data, but also your configuration as well.  This is something that I would personally recommend.  The My Cloud is still just a single drive after all.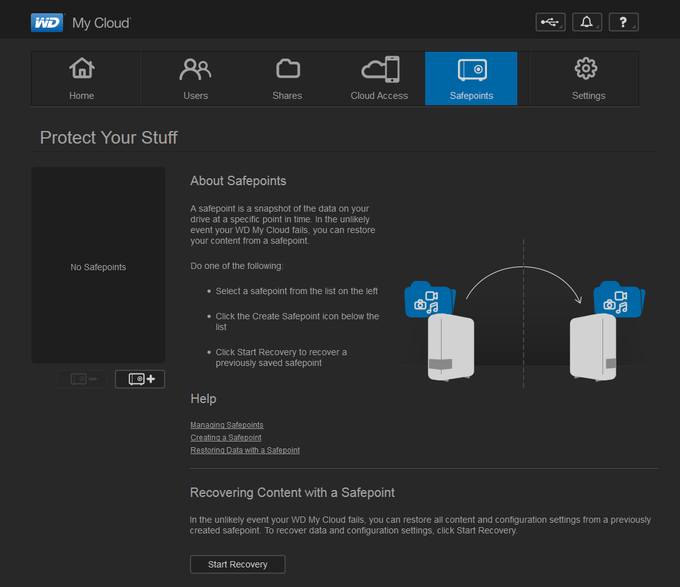 The settings tab is a deep section with many options.  You can give the device a hostname, find the serial number, change the language and time zone and even point it to an NTP server of your choosing.  You can also turn on cloud access, set the drive to sleep and enable Mac TimeMachine.
On the network tab, you can view the IP address of the My Cloud device and assign a static one if that's how you roll.  What about SSH and FTP?  They can be enabled on the unit as well.  If you don't intend to use the My Cloud as a private cloud option, you can simply use the My Cloud to stream media… which is my favorite use of a home network!  With built-in DLNA and iTunes server functionality, you can use the device to stream music and videos all across your network.  I was honestly nervous about this ability as it's a single drive, but streaming a high quality 1080p Blu-ray rip of The Avengers was done without a single hiccup or instance of buffering.
Also available for the user is the ability to run a diagnostic test (SMART among other low-level health checks), reset to defaults, shutdown/reboot, adjust notification emails and manage updates.  Pretty simple, but all the basics that make up what one would need is there.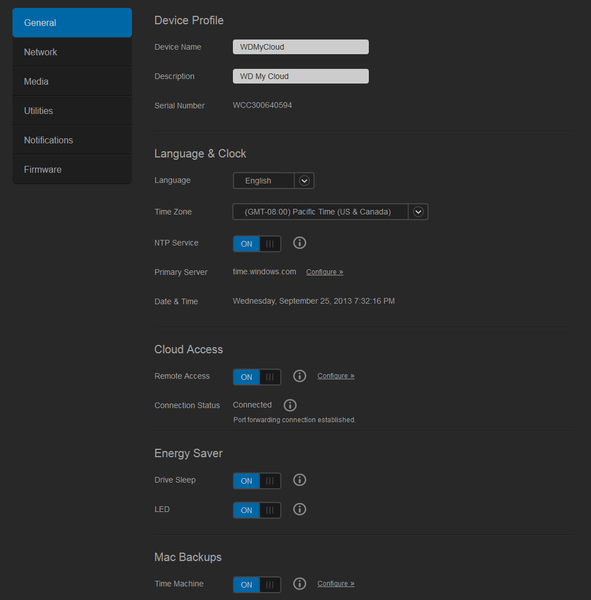 With a look at the dashboard out of the way, we'll now take a look at the mobile app and then wrap up with some final thoughts.
Mobility & Final Thoughts
The mobile apps that WD has developed are fairly deep in what they allow you to do.  Once connected, you are given a list of your My Cloud devices.  In my particular case, I have only one, which I named "KINGCLOUD".  Clever.  I have an iPhone, so the Android version of the app might look a little different.
Once loaded up, you have the ability, from your phone, to browse each of the shares that you have setup.  As the "greg" account as full access over all shares, I could browse, download and upload to and from these at will.  For this review, I created a share called "Techgage" and all future testing will be with data that resides in that share.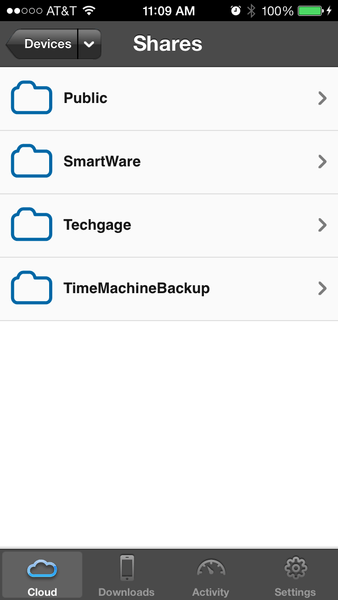 One nice thing about the mobile app is that you can dictate when and how it syncs data to your phone.  If you have a limited data plan, you can limit traffic to Wi-Fi only.  You can protect the app with a passcode and you can even access a help page.  One last thing to mention is the cache size.  Here you can set your cache, anywhere from 1GB up to 32GB.  In the case of my phone, I only have a 32GB device and much of it is already consumed by music and photos, so there is only so much I can set the cache to.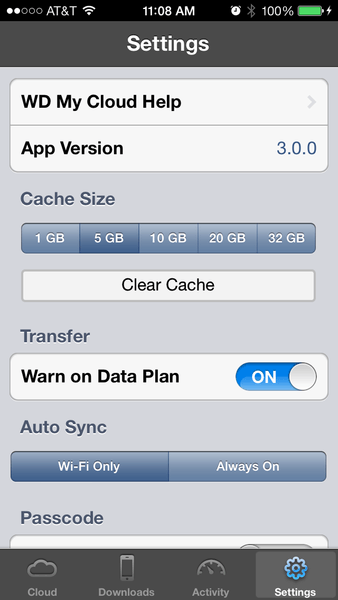 As we can see, I have a few files in the "Techgage" share.  Some of them cannot be played on my iPhone – .mkv for example – but it's there for testing on other machines.  For sharing with folks that have a mobile device like me, it's nice to be able to have 24/7 access, Internet outages be damned, to documents that might be needed on the go.  It's even nicer not having to email them to myself and then searching for said email.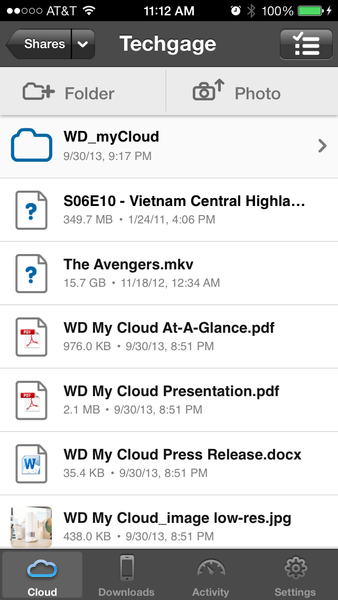 You can also check recent activity, which will tell you what you have downloaded or uploaded.  Nothing too special here, but it is nice to have.
Finally, here is a 20MB video, streamed from the My Cloud unit to my phone.  When this was happening, I was at work, so all traffic was traversing the Internet.  After a short, 5-6 second buffering period, the video played without issue.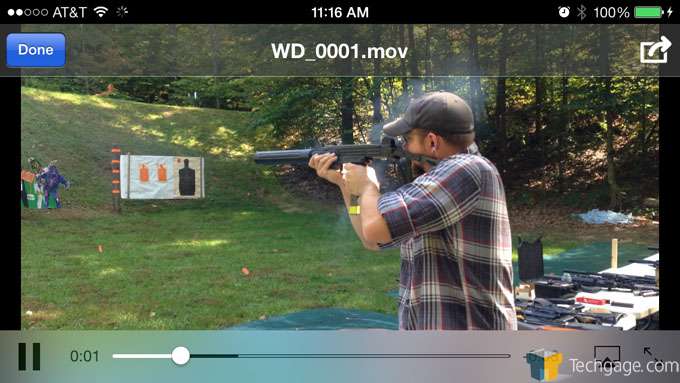 Final Thoughts
When we were approached by WD to review the My Cloud, the product sounded exciting.  It's always exciting to work with new gear, especially when a company is venturing out into somewhat uncharted territories.  In using the My Cloud, I ran into no issues that I would consider to be show-stoppers.  Since this is a new product, the sites I had access to were still classified as beta, but I imagine that when the product ships, the online pieces will remain the same, only without the beta moniker.  The ability to check in and access files via a smart phone is slick as well – this can certainly be done on other products, as mobile apps are all the rage these days, but WD has something that most other companies lack: Broad consumer trust.
While I am what I would consider to be a power user, I see the benefits in certain devices over others; most consumers are not like this.  WD is a household name for many, and for those people a device like the My Cloud makes a lot of sense.  The ability to share media across a network, not even outside your firewall, but within, is an awesome feature that I love to see in network devices.  UPnP and DLNA are awesome protocols that truly add to a home theater experience, large or small.  Beyond that, the ability to link with Dropbox, SkyDrive and Google Drive is a powerful tool as well and can be leveraged by those that already have those services. The inclusion of that support allows you some additional redundancy if you wish to duplicate some data on your My Cloud up to one of those services.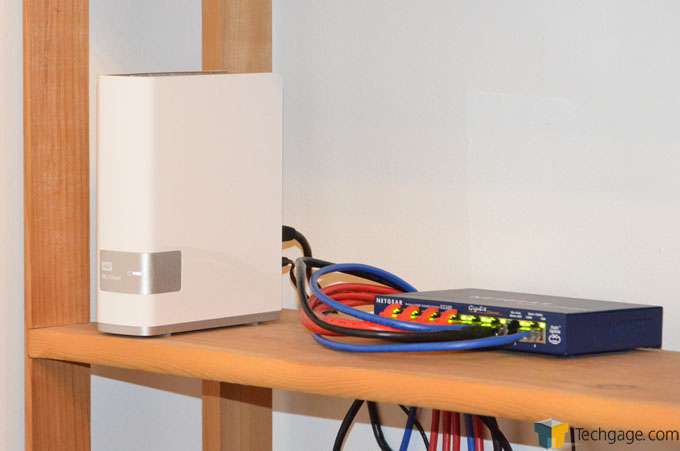 Setup of the WD My Cloud took less than 10 minutes, from unboxing to accessing the dashboard.  While I didn't measure boot up time, I am putting it at under 90 seconds based on when I power the device on until my router issues an IP address.  It's compact, mostly stylish, and simple to use.  The My Cloud will come in three different capacities, 2T, 3TB and 4TB, priced at $149, $179, and $249 respectively.  It should be mentioned that the 4TB My Cloud will not be available until November.
WD could have a winner on its hands.  Regardless of reception, it's a well-designed, well implemented device that is running some intuitive and easy-to-use software.  I think that those users who don't need the almost endless features of a more established NAS product would do themselves a great disservice by not taking a look at the My Cloud.  It works well, is very affordable and can be accessed anywhere there is a connection to the Internet.  In fact, as we speak, my wife is in Europe with her Grandmother, uploading photographs that she has taken with her phone to the My Cloud.  See… anywhere with a connection to the Internet!  These are the random, daily use cases that makes the My Cloud such an appealing product.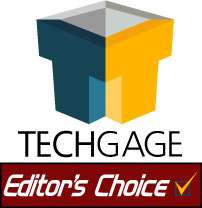 WD My Cloud 2TB
Copyright © 2005-2019 Techgage Networks Inc. - All Rights Reserved.