Elgato Turbo.264
Date: July 11, 2007
Author(s): Matt Serrano

Encoding video is not normally ones idea of fun, but Elgato promises to take out some of the pain for Mac users by making the process up to 4x faster, with their Turbo.264. Does it live up to it's claims, and more importantly, is it worth your $100?
---
Introduction
Video encoding is a boring process. Let's face it, if getting the media you want on your computer isn't a hassle, encoding it is. The last thing anyone wants to do is waste time waiting for a video to finish encoding, and depending on the machine doing the work, it can take hours leaving the rest of the computer useless.
Dedicating an entire system is out of the question, because it can be noisy, suck up power and still take hours to get your videos in the format you want. Thankfully if you're using a Mac, Elgato is trying to offer a solution that can speed up the process. Probably best known for their EyeTV lineup of TV tuners and recorders, the company's is offering a product called the Turbo.264, a dongle that serves as a hardware-based H.264 encoder specifically designed for the iPod and Apple TV. Not only that, but they promise the increased speeds can be up to four times faster (on Intel Macs).
The other big promise is leaving system resources virtually untouched. Ideally you would be able to start encoding a video and still be able to use your system with no performance hit. This would also make the Turbo useful for older boxes that don't have the power to crunch though huge video files in a timely manor, like a G4 or even a higher end G5. Intel machines (with the exception of the older, lower end Mac mini) all have faster dual core processors, so it would be possible to offload the work to one core, with the cost of half the machine's CPU power.
Closer Look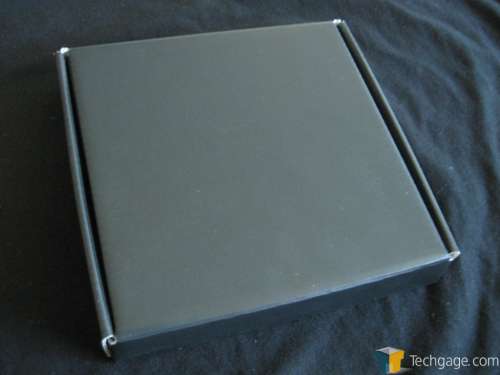 The box arrives in a minuscule package clearly inspired by Apple's packaging of the iPod and Apple TV; black background, shiny text and all. Once the box is opened, the Turbo.264 encoder is in plain view with extras stored away.
Underneath its compartment, we have the CD with Elgato's software, quick start guide, and a USB extension. Strangely enough, no manual was included. Truth be told, Elgato didn't have to include a manual, but more information could have been mentioned inside the box. There is documentation on the company's website and a readme folder that resides on the CD, but I would have liked something laid in front of me instead of having to do some digging. The concept is easy enough that most people should be able to realize that you just have to plug it in and use the included software, but I half expected something to break along the way.
Installing the application is the same process that must be done with most OS X software. When the CD was inserted, I dragged the program's icon to the Applications folder's alias. When all of the related files were copied over, the program's assistant came up.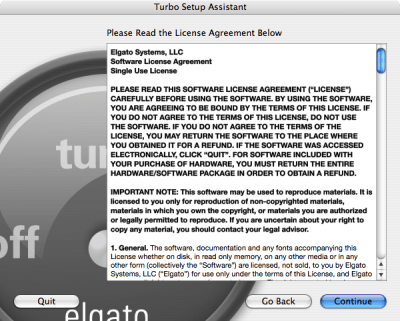 I was taken step-by-step, only having to agree to the software's EULA and enter my contact information. Once that was completed, I was prompted to update and restart the application (I also had to unplug and plug in the encoder, most likely to ensure that the encoder was recognized).
The actual front-end that accompanies the Turbo is rather simplistic. To sum it up, it's a big drag and drop window where video files go in and muxed H.264 files come out. Simple, right? You could compare the front-end to a Windows GUI application called 3GP Converter. But along those lines, the truth is if you want to take advantage of the increased encoding speeds you'd be better off using other software like iMovie or QuickTime Pro, because there are no options to speak of here. In fact, the only options that are available are choosing the directory to save exported movies and enabling or disabling the automatic check for updates.
This leads to one of the Turbo's biggest faults. Any software that doesn't use QuickTime (the encoder / decoder, independent of Apple's QuickTime Player) to export video cannot work with the Turbo.264, like Handbrake and iSquint / VisualHub. You're essentially forced to use their software with their presents if you want to see any improvements. There is simply no way to do any editing without paying for QuickTime Pro, Final Cut Pro or iLife (if you don't have iMovie).
Going even further, there is also no way to add subtitles, so you're out of luck with content in different languages. Finally, no filters like resizing, de-noising or de-interlacing can be used, and you cannot crop video. Even if you have more than one audio stream, the software will pick the first one. It goes without saying power users will definitely find the Turbo to be a frustrating experience, but others could find the software to be blatantly simple.
Testing, Final Thoughts
Even though the dongle was smaller than I expected, the width still blocked the other USB port on the test system. Elgato resolved this issue by including the USB extension in the package, so it's not a con, but something to be aware of. One thing that's worth noting is the Turbo stayed cool the entire time it was used.
I had a minor issue for a moment when I got everything working. As foolish as this may sound, I had no idea if the encoder was actually working. Unlike Windows, OS X doesn't notify you of any new hardware and there was about the same level of response from Elgato's own software. The only clue I had was the gauge in the Turbo.264 application that read on when the Turbo was attached (at the time, I thought this was a static image). I had to go to Elgato's website to make sure everything was working the way it was supposed to.
There are profiles available for the iPod, Apple TV, and Sony's PSP, without the ability to add your own. This is a pretty big oversight, but it may be irrelevant considering one of them should suffice most Mac users. Still, a general "QuickTime" profile could have been added.
AVI to iPod
| | |
| --- | --- |
| Encoding Method | Time Elapsed |
| Turbo.264 Attached | 12:37 |
| QuickTime Standard Encoding | 28:33 |
The Turbo did an excellent job with the first test video. With the test system, a 1.83GHz Intel Core Duo Macbook with 1.25GB of RAM, the encoder managed to re-encode an entire 176MB AVI to an iPod compatible H.264 file in 12:37 compared to the time of 28:33 that was achieved with QuickTime Pro. While that was a hefty speed increase, unfortunately, that's where the praises end. Even though the same file was converted much faster when the Turbo was utilized, the end result looked much worse compared to the QuickTime encoded file. The problem with the quality was probably because Elgato offers no way to select the bitrate of the encoding.
Finally, since I had the EyeTV software installed, I tried using the one-click export feature to compress 27 minute EyeTV video file to an iPod compatible format that could be imported into iTunes.
EyeTV to iPod
| | |
| --- | --- |
| Encoding Method | Time Elapsed |
| Turbo.264 Attached | 27:36 |
| Standard EyeTV Export | 1:29:27 |
In this test, the Turbo was able to encode the video just under 110% faster than the standard encoding time. This test is different from the other two because the two files have the same visual quality, since the same software was used.
Copying DVDs is certainly a gray area and I would never condone copying or selling them illegally. Setting aside national laws, I am taking into consideration the fact that the internet is made up of a global community, so I believe the discussion should be allowed. However, I will not go into detail about the entire process.
DVD to Apple TV
| | |
| --- | --- |
| Encoding Method | Time Elapsed |
| Turbo.264 | 4:39 |
| Handbrake | 18:10 |
I decided to take a 5 and a half minute long chapter of a DVD and encode it optimized for the Apple TV. Since there are arguably far better solutions for compressing DVDs than using QuickTime, I ran Handbrake's Apple TV profile with its default settings. The times were much better than Handbrake with one caveat: the final MP4 file was in French.
Like I mentioned earlier in the review, there are no options in Elgato's software, so the only work around is to decrypt the DVD using stream processing to only copy one audio stream, or demux the movie and mux it with the audio stream you want. Unlike iLounge, I didn't encounter any interlacing issues with the Apple TV profile, but I'm unaware if the problem was fixed in a software update.
Besides the ones mentioned, my last gripe was (in my opinion) a serious limitation with the encoder. Even though an Apple TV preset is offered and the Apple TV can in fact play HD video, the Turbo.264 can only encode with resolutions up to 800×600. Obviously because of the resolution and increased file size, high definition video is the most time consuming to encode, and if you're dealing with HD Elgato's product is unfortunately useless.
Final Thoughts
Without a doubt, the Turbo exceeded my expectations. It didn't quite live up to Elgato's claim of "up to four times faster" in my tests, but it was able to convert every file I threw at it much faster than every other program I've used on OS X.
With a company that caters to Macs exclusively, I would never expect Windows compatibility. That's not a bad thing considering there are other products very similar to this one that have been on the market. The provided integration with Apple products keeps the entire experience as tight and easy to use as it can be. Being able to drag a file and have it load into iTunes ready to play is a welcome change from what a lot of us, myself included, are use too.
Regrettably, the hurdles that users are required to jump through are annoying. I wouldn't give the software much merit over "traditional" means, so unless you're converting files that are already resized, cropped and subbed how you want them, you're going to half to open the program and cross your fingers.
If there's one saving quality of this product, it is definitely the ability to speed up EyeTV exports. I was already using an EyeTV 250 to record home movies, and all I had to do was plug it in and press the export button. The EyeTV software had always been slow in my opinion, so instantly being able to speed things up was nice, and it worked perfectly as advertised.
Beyond that, I think most Mac users would be better off using the hardware in their machines to at least have encoding options available, that is, except for Power PC owners. For the most part, the times should stay the same across different machines, and the encoder should be able to do a much better job than a G4 slower compared to a beefed up Intel machine. It goes without saying (but I'll say it anyway) the slower the machine, the better the investment for this product will be.
Pros
Small footprint
Fast encodes
Keeps system resources free while doing most of the dirty work.
Solid one-click EyeTV support
Excellent value for the speed that can be achieved.
Cons
No encoding options are offered.
Programs must be able to export using QuickTime.
The quality was occasionally worse than other encoding tools.
Cannot encode in HD. 780 support would have been welcomed.
Discuss in our forums!
If you have a comment you wish to make on this review, feel free to head on into our forums! There is no need to register in order to reply to such threads.

Copyright © 2005-2020 Techgage Networks Inc. - All Rights Reserved.