Enermax Aurora
Date: December 28, 2006
Author(s): Matt Serrano

If you are looking for a sleek keyboard, then the Enermax Aurora may be for you. It's built with aluminum for a strong frame and uses the same technology behind laptop keyboards for ultra-quiet and smooth operation.
---
Sometimes it's easy to overlook some of the simplest devices you find yourself using every day. When most enthusiasts think about upgrading their setups, a keyboard is usually one of the last accessories that come to mind.
Many hardcore PC gamers are used to "gaming" keyboards, like the Logitech G15 or the Saitek Eclipse series, which offer more than most traditional keyboards. Some users who don't need extra features like an LCD display or backlighting may find themselves looking at other alternatives, but might not want to deal with the cheap $10 keyboard at for sale at their local brick-and-motor store. The Aurora just might be the keyboard for them.
Closer Look
Too many keyboards can leave people with buttons and software they didn't need. Thankfully for some, the Aurora is a welcome break from the norm. This keyboard is barebones, and has a (what once was) standard 104-key layout. Let's just say minimalists shouldn't have much to complain about here.
The Aurora comes in simple packaging, which shows off the left-hand-side of the keyboard on the front, and labeling its features on the backside. The bottom-right corner also pictures the two colors that are available: black and silver.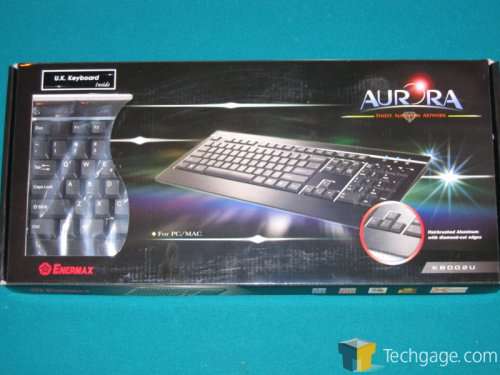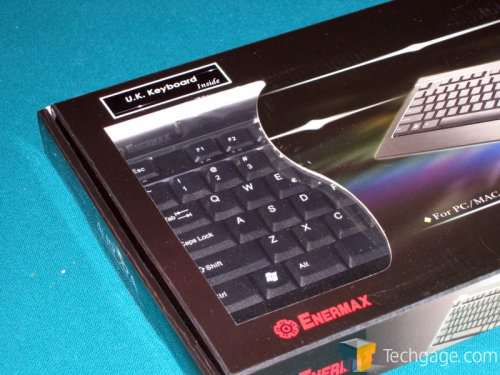 Opening the packaging, you have the keyboard itself and a cloth Enermax included to wipe off smudges.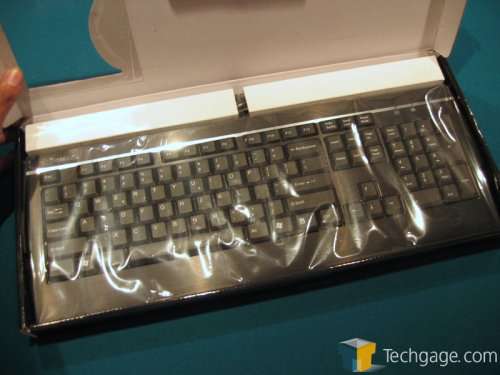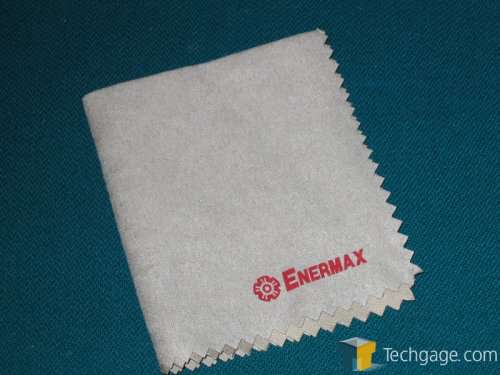 Unlike most keyboards, Enermax chose to use an aluminum shell to house the unit, which is the main (if only) selling point for the Aurora. This seems provides a solid construction and more durability. It's probably safe to say most people aren't going to be tossing their keyboards around, so it should last quite a while.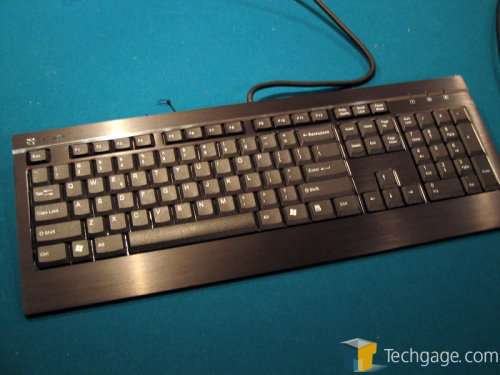 Another feature that sets this keyboard apart is the notebook style keys. The Aurora uses what Enermax calls scissor technology, which is what you would see in notebook keyboards. Scissor-switch keyboards usually provide better tactile feedback when compared to the keys on (cheaper) membrane keyboards, and the Aurora is no exception. Once I finally got used to the form-factor, typing was just as easy, if not easier than a regular desktop keyboard. It also has a full keyboard layout (including the num pad and two row midsection above the arrow keys), which many other notebook-style keyboards don't offer.
Across the edges, you'll find the USB ports and audio in/out ports. At the end of the USB cord that attaches to the computer, a line in and line out cable can connect to a computer's soundcard. This is very useful for gamers who use headsets while gaming or people conference frequently over the internet. Unfortunately, the USB hub is only USB 1.1 speed (although all of the other keyboards I've come across only offer this as well).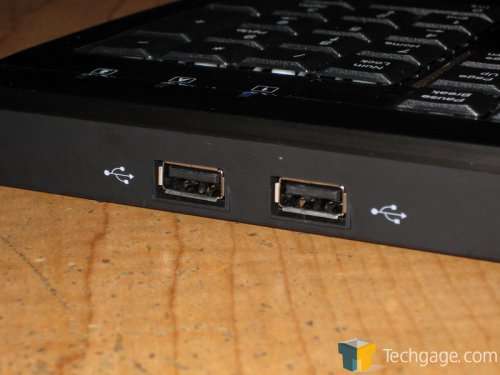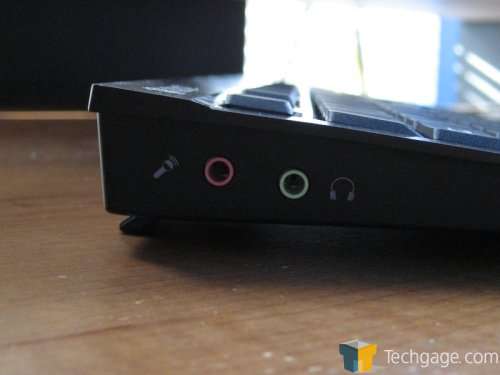 Usage and Final Thoughts
I'll admit the Aurora's slim design and low profile took some getting used to. It took me about three days to get comfortable with the layout coming from a Saitek Eclipse. Nevertheless, after using it, the Aurora proved to be less painful to use during long hours at my desk, and typing with it is close to silent.

Despite the fact that a cleaning cloth was included, I've never had to wipe it down. It doesn't attract finger prints as much as something like the Logitech diNovo Edge, which leads me to believe that Enermax chose to include it to try to justify both the product's class and price.
Not having to install software to take full advantage of it is a huge bonus for me, but there are some things I'd like to see from it. The lack of multimedia buttons may be a con to others, but the price tag may scare some potential customers away. This keyboard can be found for around $60, which might be more than what most would be willing to pay for an aluminum keyboard. You're strictly paying for the cosmetics with this product.
The casing and scissor keys (rated a 10 million key strokes) means this keyboard should last a while, but oddly enough, Enermax only offers a 1-year warranty (compared to the 3-year warranty on the Logitech diNovo Edge). This probably won't bother most people, especially considering the Edge is in a different price range.
I don't have a single issue with this keyboard worth complaining about. Overall, it's solid and attractive albeit simple, but the style is subjective. If you the appearance, and don't mind spending the premium, it's something I wouldn't hesitate recommending.
Discuss in our forums!
If you have a comment you wish to make on this review, feel free to head on into our forums! There is no need to register in order to reply to such threads.

Copyright © 2005-2020 Techgage Networks Inc. - All Rights Reserved.