Evercool Nighthawk VGA Cooler VC-F117

Date: September 7, 2005
Author(s): Rob Williams

There comes a time, when a stock video card cooler just doesn't cut it. To get lower temps or better overclocks, you need specially designed coolers to help you achieve what you need. Evercools Nighthawk VGA Cooler, like all others, promise to offer superb cooling, for a great price. Let's dive right in.
---
Introduction
There comes a time, when a stock video card cooler just doesn't cut it. To get lower temps or better overclocks, you need specially designed coolers to help you achieve what you need. Evercools Nighthawk VGA Cooler, like all others, promise to offer superb cooling, for a great price. Let's dive right in.
If you are a true enthusiast, you love overclocking your GPU for the absolute maximum performance. It doesn't matter if the card was $100 or $500, they shalt be overclocked! All too often, the stock coolers don't provide the best possible cooling solution. This is especially common on midstream video cards. They do the job, but if you want to overclock, they can sometimes hold you back. Or it could be that you just outright dislike the looks of your current cooler, but want a better looking replacement.
The cooler we are looking at today is by Evercool, who are based in Taiwan. They are one of the top manufacturers of PC Thermal solutions there. We were impressed by their relatively simple Hard Drive Cooler, which we took a look at last month. Their Nighthawk VGA cooler though, is quite reminescent of the Logisys Copper Cooler we looked at, back in March. That one has very similar design and did a great job of cooling, so we should expect the same from the Nighthawk.
About Evercool
EVERCOOL is headquartered in Taiwan and has its own factory located in Guang Dong China. This means that you can count on availability, as EVERCOOL warehouse is full of components and ready to ship goods, at all times. Our China factory occupy approximate 30,000 meters, there are around 1000 employees. Our production line produces about 2.5 million pieces per month at present, which are manufactured in accordance with the approvals of ISO 9001, therefore you can be guaranteed your special request will be completed in the shortest amount of time. Growing numbers of happy customers such as Hewlett Packard, Acer, FIC. ….etc. can weigh our success and growth. It is rely on our steady quality, fast delivery and reasonable price.
Closer Look
The cooler is made of copper, and uses the popular 'ripple' design for good heat dissipation. Even though the cooler looks like something that would take off in flight, it actually points straight ahead and does not install on an angle. For those who enjoy extra lighting in their PC's, you will be happy to know that the fan emits a red LED. The color goes great with the card we will be using for installation.
This set also includes 8 copper heatsinks, for use on the memory chips on your card. On the back of them, is standard 3M tape that you tear off. Surprisingly, there is no thermal properties left behind from the tape, but rather a certain 'stickiness' that allows you to secure the heatink on. The fan is clear and is rated at 3500±10% RPM, with a rated air flow of 18 CFM. Here is a chart grabbed from the Evercool site:
| | |
| --- | --- |
| Overall Dimension: | 135x100x35 mm |
| Heatsink Dimension: | 108×82.5×26 mm |
| Fan Size: | 60x60x10 mm |
| Heatsink Material: | Copper |
| Rated Voltage: | 12 V |
| Bearing Type: | Ever Lubricate bearing type (Long life bearing) |
| Speed: | 3500±10% RPM |
| Max Air flow: | 18 CFM |
| Noise : | 20 < dBA |
| Weight : | 288 g |
On the official page for the cooler, they are pretty cryptic as to which video cards it is compatable with. "Works with all kinds of ATi and NVIDIA Cards", but I can assure you that it is not compatable with the 7800GT. It may be compatable with the 6800GT, but it didn't look like the holes aligned.
To help us out with the review today, my friend Pete came to the rescue with his MSI 6600GT. This is a great midstream card, by a fanastic company. Not too many people consider MSI when buying video cards, and I personally haven't tried any of their high-end, but I know from experience that their midstream selection is great. His card in particular, uses red PCB, which is why the red LED from the fan really adds to the look of the card.
Of course, looks don't matter if the performance stinks. Let's get this thing installed and then do some tests.
Installation
In my opinion, there are two difficult parts during this procedure. First, it can be a massive pain taking off the stock cooler, due to crazy mechanisms that companies put in place. Second, it can be a massive pain installing the new cooler! Ok, I did just say that the entire procedure can be a pain, but I have high hopes for this one.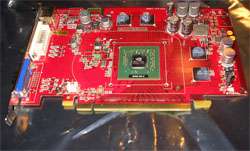 The instructions that came with the packaging were quick and to the point. This is fine, since it does only take a few steps to install, and most people will not even benefit from reading the instructions in the first place. After the stock cooler was removed, we choked on the dust that jumped at our faces. We then cleaned off the residue on the memory chips and also replaced the thermal paste on the GPU with a fresh coating of the supplied stuff.
Usually when using custom coolers, I never pay much attention to the thermal solution they supply, because I have come to trust Arctic Silver so much. I was surprised though, when I seen the included paste very much resemble AC5, at least to the look. So, we used what was supplied to us, rather than using the AC5.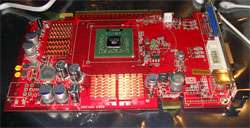 Now came the time to install the heatsinks, four to be exact. As I mentioned, these don't seem to have any heat dissapation properties, except that they are copper, which will help to an extent. I would have liked to have seen thermal tape on the back of them, but in the case with a smaller card, it may not make that much of a difference. We will see.
One thing to mention about the heatsinks, is that they don't seem to secure themselves perfectly to the chips. Possibly the glue on the back just is not strong enough. After around 20 minutes of them just sitting on the chips, they could easily be taken back off without any effort. So, if you do happen to bump them during installation of the cooler, you will have to move them back into place.
Now we come to the best part of installing a GPU cooler. Cursing and swearing! First, Pete and me matched up the holes and figured out where we would align the cooler. After we did this, we screwed the mounting screws into the cooler, and then Pete aligned it up while I mounted the included bracket in the back. While we were both trying to hold it into place, we secured the screws into the back and tightened them up. We were now good to go!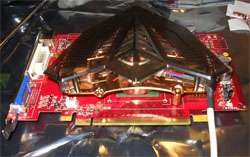 If you have ever installed a similar cooler, or any GPU cooler for that matter, you know that it can be a little testing to do it solo because we only have two hands. This is nobodies fault really, just that the bracket is hard to secure while you are still trying to align the holes. We were happy to see the finished product though, and it looks great!
Performance
Now to the best part of the entire process, and the primary reason we are writing this review. Before we had installed the new cooler, we first found the maximum overclock of the 6600GT. The default clocks on the card are 500MHz to the core, and 1000MHz on the memory. To find the most stable overclock, we allowed Coolbits to detect the optimal frequencies, which ended up being 559MHz/1.12MHz.
After we installed the Nighthawk, we let Coolbits do it's thing again, but it didn't move too far. It gave us 2 extra MHz on the core, for a total of 561MHz/1.12. To catch our GPU temps, we used one of the most handy tools available, RivaTuner. To really stress the card to acheive high temps, we did a few custom runs through the Ravenholm level in Half-Life 2. Our results follow: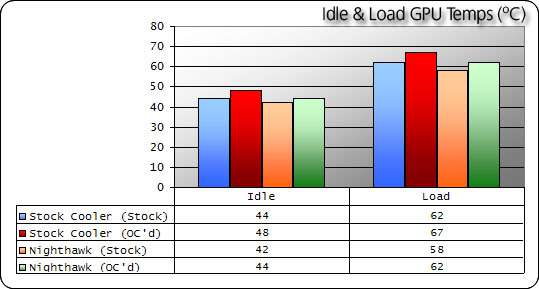 While we see the cooler didn't make a massive difference, it definitely made a good one. The Nighthawk shaved 5ºC off the load OC temps, for a respectible 62ºC. Overall, the results are what we expected.
Conclusions
It's easily seen that the Nighthawk VGA cooler does what it promises, to do a better job at cooling your GPU than the stock cooler. In the process, it looks much better than stock by a long shot. If you have a window in your case, it will be doing it's job to help your PC look cool, especially with the added red LED.
Overall, we give the Nighthawk VGA cooler an 8 out of a possible 10. So far on the site, we have taken a look at two great cooling products from Evercool, and we have another ready for the near future, so stay tuned for that. Thanks to Evercool for the review sample, and also again to Pete for use of his 6600GT!
Have something to say about the review? Have further questions that we forgot to mention? Please feel free to post a question or comment in our related review thread, where you do not have to register in order to post. Please however, replace the unregistered name with your own!

Copyright © 2005-2020 Techgage Networks Inc. - All Rights Reserved.