Evercool VC-RHC GPU Cooler
Date: May 18, 2006
Author(s): Rob Williams

Evercool is back with another graphics card cooler, and we have high hopes for this one. It looks almost like a toy, but the design could prove very smart. One immediate bonus of the cooler is that it only retails for $20, but let's see if it's worth it.
---
Introduction
EVERCOOL is a company that has been selling some quality products for a while, but since they are from Taiwan, they are still relatively unknown on these shores. Previously, we have taken a look at one of their other GPU coolers, which proved to be a quality product but fell short of being outstanding. Last fall, I also took a look at one of their hard-drive coolers which I still use to this day.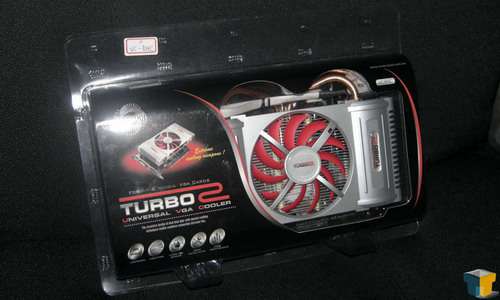 I recently received the VC-RHC at my door, and it immediately caught my eye. I didn't like the looks of the cooler at all, and it reminded me of a toy. Actually, it somewhat reminds me of what a Transformers GPU cooler would look like if one existed. Either way, I was very interested in seeing it's performance, because it does have a unique design.
Features
The exclusive design of dual heat pipe with special welding techniques enable seamless connection between fins.
The heat pipe can help to increase the thermal conductive efficiency.
All in one design with easy & quick installation. Compatible with all High-end VGA card in the market now.
By using 8cm silent & high air flow fan to help reduce the temperature more quickly.
The special fin design with fan, not only for cooling down the high temperature of VGA die, also for the other components.
The Unique silver and brief design transpire out the high quality. It is your best choice to using in High-end VGA card.
The VC-RHC arrived in a large plastic casing. The edges of the case were melted shut, so I had to cut the package open with a box cutter in order to get the cooler out. I would really wish companies stop sending products like this, because it's a pain in the rear to open them. If you need a knife to open it, that's a problem.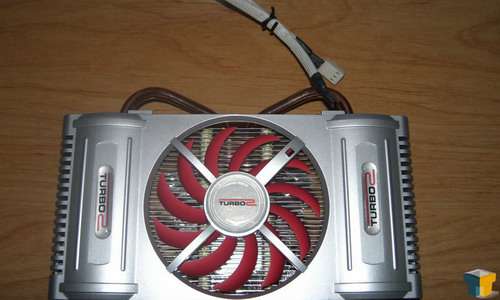 Either way, after I got the cooler out, I noticed there were not many other contents. The additional's included thermal paste, screws, clips and spring nuts. Perfect time of the year for such a nut also.
After pulling the cooler out of the package and had a closer look, I started to not mind the 'toyish' look of it as much. Closely inspecting the design, I could see that there is a lot of potential in this. The plastic casing on top helps direct airflow, so that the air will hit the entire surface of the card. It has small slits on each end to allow the warm airflow to escape.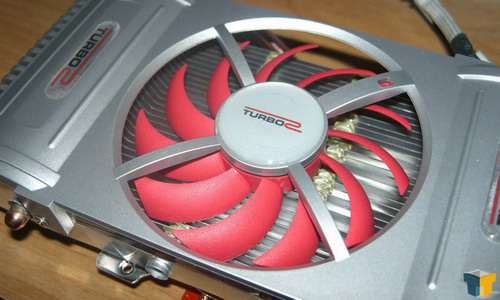 Directly in the center of the cooler is an 80mm sharp-bladed fan. This is a heatpipe cooler, so it utilizes two pipes to dissipate heat onto the array of aluminum fins to help get the heat out of there quicker. Basically, the heat starts from the core, works its way up the pipes and then flows along the fins, to where it finally exit the cooler. This is a pretty keen design, but tests will tell whether or not it is the best out there.
One thing that immediately didn't like was the lack of any memory heatsinks. However, due to the design of the cooler, it allows sufficient airflow over the chips, and the fan pushes air over them. So it's not so much of a problem immediately. It will depend on whether or not the card will be stable or not without the memory chips. We will soon see whether we run into that problem or not.
Overall, despite the VC-RHC looking like a toy, I like the design that EVERCOOL utilized.
Installation
For this cooler, I am going to test it using my BFG 6800GT. This is a perfect choice, because this card is unbelievably horrible for having high temps. On a stock cooler, the card would hit 80°C for a joke. Some people have reported their cards even hitting 100°C.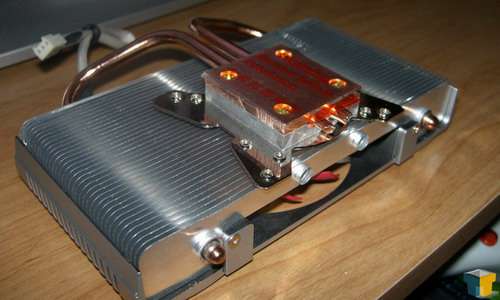 Here are the cards that the VC-RHC is compatible with, but other cards may also be compatible.
Compatibility

ATI
RADEON 9000/9000 PRO
RADEON 9200/9200 PRO
RADEON 9500/9500
RADEON 9600/9600 SE/9600PRO/9600XT
RADEON 9700/9700 PRO/9800 PRO/9800XT
RX300/600/800
ATI Radeon X1300 Series
ATI Radeon X1600 Series
ATI Radeon X1800 Series

Nvidia
GeForce 4 MX 420/400/460
GeForce 4 MX 440 SE/440 8X
GeForce FX 5200/5500/5600/5700
GeForce 4Ti 4200/4200 8X
GeForce 4Ti 4400/4600/4800
GeForce FX 5600 ULTRA/5700 ULTRA
GeForce FX 5900/5900 XT
GeForce FX 5950 ULTRA
GeForce FX 6600/6600GT
GeForce 6800/6800GT
GeForce 7800/7800GT
The first step was to remove the Accelero X1 cooler from the card, which I have been using for the past few months. I cleaned up the thermal paste and applied some of the stuff that came with this cooler. I quickly found out though, that the thermal paste they included is messy, and is very difficult to get an even coat on the core. I scrapped using their thermal paste due to it being far more of a chore than it should be, so I stuck with the tried and proven Arctic Silver 5.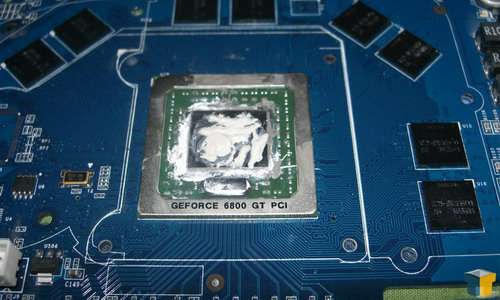 At first, I was unsure that the cooler was going to fit my card, because none of the holes aligned that well. After being confused for a while, I decided to read the instructions, which clearly told me the proper holes to use. I had figured since most coolers require four mounts, that this would also. I was wrong. You only need two mounts if you are using this cooler on the 6800GT, or the 'D' method. The instructions are clearly laid out on their website as well, as you can see here.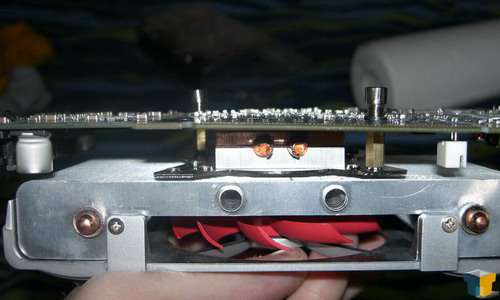 After I had the proper mounts in, I still ran into a problem. The holes would not perfectly align to the holes, so the screw would 'scrape' when trying to push them both in that the same time. No matter what I tried, the cooler would not easily sit atop the proper screw holes. So, what I had to do was first put a single hole over one mount, and use a spring nut to fasten it into place. Then the other hole went in more easily, but not -that- easily.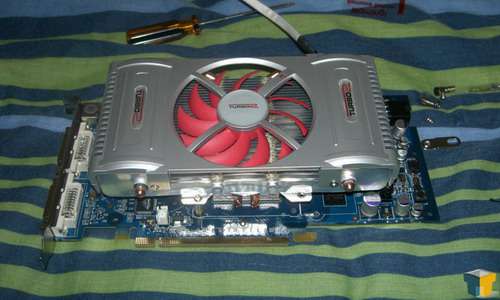 Finally, installation is done after screwing in the last spring nut. The cooler was secure to the card with no swivel action happening at all. The installation could have gone better, but I was happy to finally see it in place.
Testing, Conclusion
To stress test this video card that I love to hate, I ran a few benchmarks. First, I ran 3D Mark 2001 in a loop of 10 times. Afterwards, I ran a loop of 3D Mark 06 10 times also. The temps were recorded using Lavalys Everest 2.8. That program allows you to log all of your system temps to an html file, which gives you the results in a clean manner.
Test System
CPU: Pentium D 820 @ 2.8GHz
Motherboard: ASUS P5WD2-E Premium w/ 401 BIOS
Memory: Corsair 2GB 6400PRO
Video: BFG 6800GT OC 256MB PCI-E
Sound: Realtek HD Audio
Storage: WD 200GB 7200 8MB
Odds and Ends: D-Link WiFi PCI Card
Etcetera: Windows XP Professional SP2, Windows x64 Professional SP1, NVIDIA 81.98 Drivers
Normally, a comparison to a stock cooler would be appropriate, but that has since been destroyed and burned out of spite. So, I will be comparing the VC-RHC to the recently reviewed Arctic Cooling Accelero X1, both using Arctic Silver 5 thermal paste. Testing was a challenge because it was a very warm day and the room temp hovered between 80°F and 85°F. During testing with the Accelero, the room temp was 80°F and the VC-RHC was tested with a room temp of 81°F.
Compared to the AC Accelero, the VC-RHC kept right up, despite having an extra degree in the rooms temp. The idle temp proved far better, and the averages were very close. The maximum temp was 2°C higher, which could have been helped by the extra room temp.
The VC-RHC proves again to have a much lower idle temp than the Accelero… an entire 8°C lower! All around, the VC-RHC proved better than the Accelero in terms of ambient temp.
Conclusion
When I first received this cooler, I wasn't expecting much. My opinions on the cooler turned around though, after the testing concluded. It kept up to the Accelero X1, and even surpassed it in the ambient temp tests. The ambient results are likely aided by the 'cool' way that the VC-RHC dissipates heat, which proved to be a good one.
One huge bonus of this cooler is that it only costs $19.99US at most e-tailers, which is $10 less on average to the Accelero. I am still not a huge fan of the look of the cooler, but I am quite pleased with it's performance. One thing I worried about were the lack of the memory heatsinks. I ran a loop of 3D Mark 05 for 6 hours with the VC-RHC and had -no- problems whatsoever. So the design of the cooler makes up for the lack of the memory heatsinks.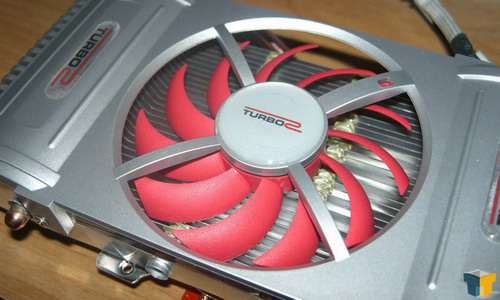 I do wish the installation was easier on the nerves though. It took me near an hour to get the cooler installed, and I still wasn't happy about having to 'force' the cooler into place. Hopefully this is not the case with all video cards. After a quick Google search for other reviews, I didn't notice anyone mention this problem.
Overall, this is a good cooler, but it has many problems that hold back from a great score. I am awarding the VC-RHC a 7 out of 10.
Pros
Great performance
Quiet
Supports many cards
Cons
Problematic installation
Messy thermal paste
Discuss in our forums
If you wish to discuss this review, please feel free to jump into our related thread. You do not need to register in order to post in our content threads, but please choose a nickname.

Copyright © 2005-2020 Techgage Networks Inc. - All Rights Reserved.