EVGA TORQ X10 Gaming Mouse – A Big Contender In a Big Market

Date: August 18, 2014
Author(s): Tom Roeder

At this point, it's hard to believe that EVGA was once known only for its graphics cards. Today, the company also produces motherboards, power supplies, cases, and even some accessories. Oh – and peripherals, such as the TORQ X10 gaming mouse, which we've given a good test over the past month. Read on to learn how it fared.
---
Introduction
EVGA has a well-earned and established reputation in the gaming community as being a company that produces quality video cards, power supplies, motherboards, cases, and so on. Today we are looking at the company's first peripheral – the X10 TORQ Gaming Mouse. Here at Techgage, we have reviewed many gaming mice – from the moderately priced entry level basic mice, to the top-of-the-line, go-to-hell ultimate mice at the top of the realm.
Mice are almost like cars – some people are Corvette people, some like Mustangs, or Porsches, or whatever. People all like different models, for different reasons, and mice are no different. Some people like a basic mouse with clean lines and minimal styling; others want a mouse that looks like something Agent Mulder would have found deep in the photo archive at X-Files HQ. So, how has EVGA's first mouse fared against my gauntlet of testing? Follow me, let's have a look!
There are two models of the EVGA TORQ X10 mouse available – carbon fiber, or non-carbon fiber. The unit they sent us for review is the non-carbon fiber model. The only difference between the two mice is the appearance. The carbon fiber model sports real carbon fiber, not just some graphics printed on it. Obviously this has nothing to do with functionality, and is purely eye candy. Having said that, it is some damn fine eye candy.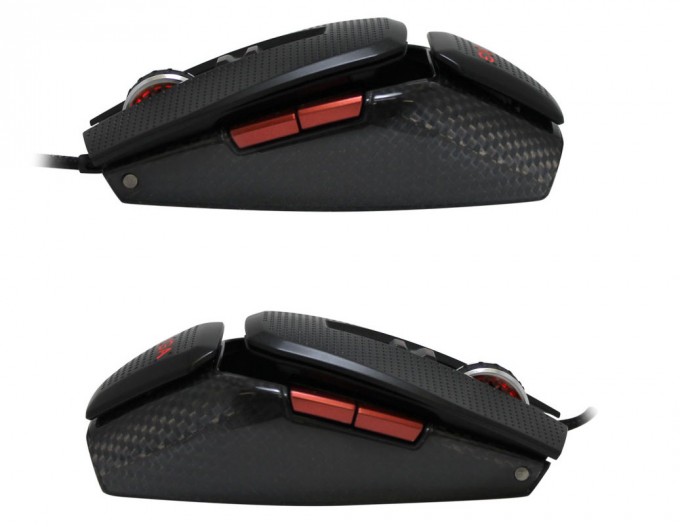 In a market that is already quite saturated with options, EVGA has certainly put forth the effort (as they needed to) to make some waves in this already hard to crack market. The specs of the mouse are what you would expect from a cream of the crop gaming mouse. When it comes to the maximum DPI of this mouse, other mice we have reviewed in the past have touted a max DPI of 12,000, such as Logitech's G502 Proteus Core (reviewed previously). Anyone who has used a mouse with 12,000 DPI sensitivity, such as myself, will tell you a number that high is really just gratuitous – having said that, the EVGA TORQ X10's sensor, the Avago 9800, with its max DPI of 8200, is really quite the industry standard of top shelf gaming mice.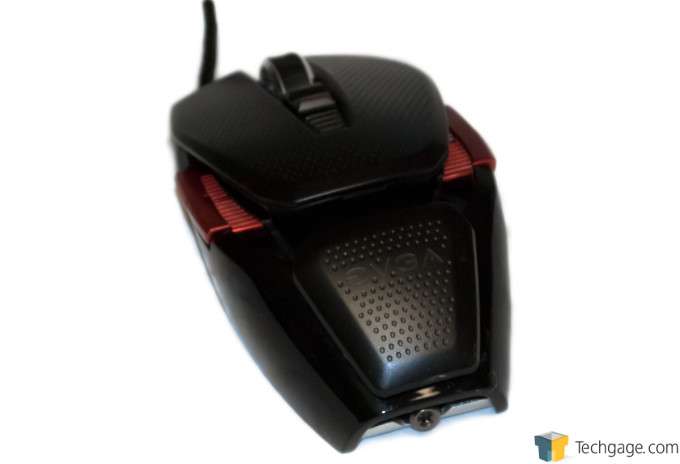 The TORQ X10 mouse features many other industry standard features of top shelf gaming mice; the main switches are the amazing Omrons, which brag a remarkable 20 million click lifespan. I don't think anyone out there has fingers that could last 20 million clicks, although I know that some of you out there are putting that one to the test!
The mouse is an ambidextrous design with 9 programmable buttons, this includes the left and right mouse clicks. I did find the X10 to be a little light in this department when comparing other gaming mice. Whether or not this is an issue for you will simply be a matter of preference. Some people find more than one or two programmable buttons excessive and unnecessary. For my personal use, one or two buttons to program, with the exception of the usual 4 (left, right, forward, back) is plenty for me. So I personally did not take issue with this.
The max polling/report rate for this mouse is 1000 Hz, once again quite consistent with top shelf offerings. Also featured is, of course, LED lighting – what gaming mouse would be complete without it? The colors offered are red, green, blue, yellow, orange, pink, and purple. There are two lighting zones on this mouse, and you can actually have two different colors illuminated at the same time in the two zones – that did impress me a bit. The bottom surface features low friction PTFE (Teflon) feet. I found these to offer a very nice feel when moving the mouse around on my 3M mouse pad.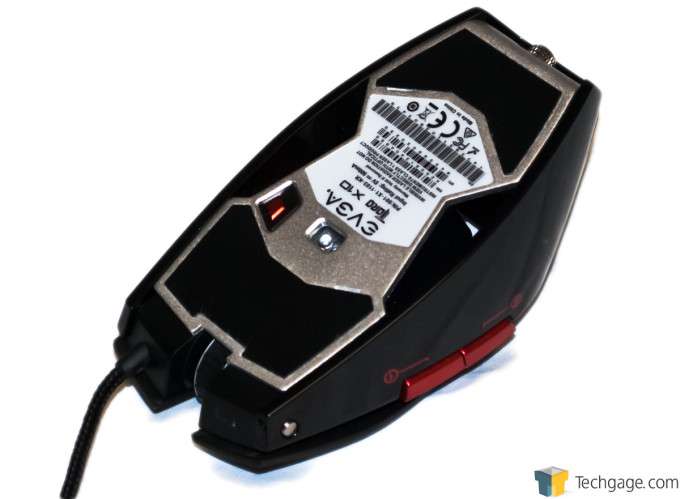 The weight system that this mouse features, can bring the total weight of the mouse from 121 grams, up to 134 grams. I found that the mouse felt nice with the maximum weight installed, so that is where I left it. The weight system here is not as customizable as some others that we have reviewed. Some mice offer various locations on the underside of the mouse where you can place weight – front, back, and sides. This mouse offers one cavity to install weights into. This is not an issue for me, as having a weight system that is as elaborate as the one on the Logitech G502 for example, is a little overkill for me. I like to add weight to improve the feel of the mouse, where that weight goes really doesn't matter to me, but some enthusiasts may feel differently.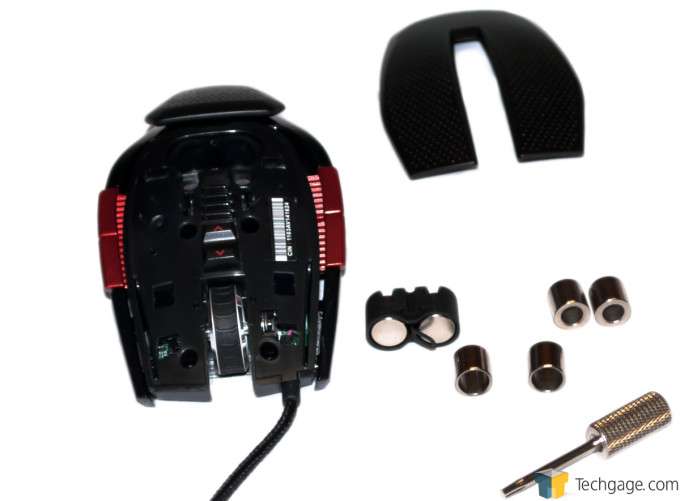 I did take issue with how you access the weight cavity in the mouse. Clumsy is a word, quite annoying is the phrase I will choose to describe how to access the weight cavity. Even when following the instructions verbatim, I still found the task quite frustrating – especially when you look at other mice on the market and how simple it is to access the weight cavities on those. When I was installing the weights, I found it quite difficult to lift the top cover, and then I found it even more difficult to correctly install the cover. If the top cover is not installed correctly, which is VERY easily done, the main buttons cease to click correctly – not a happy camper, was I. That being said, I cannot chastise this mouse too harshly for that, seeing as how this really is something that you might do once or twice in the life of ownership of the mouse. If you are someone who wants to change your weight amount/distribution often, I do recommend that you look at other available gaming mice.
The cord of the mouse is 6 feet long, braided, and all the wire in that cord is silver plated. This gives you fantastic durability and signal conductivity, something that we don't see on a lot of other mice.
The mouse has 512KB of onboard storage, allowing you to program and store up to 5 different profiles.
EVGA has put a lot of effort into the appearance of this mouse, as you can see from the photos. At the front of the mouse you see the textured surface of the left and right buttons. I found this texture to be as pleasing to the touch as it is to the eye. And even after hours of continuous use playing Half-Life 2 (oh come on, you know you still play that amazing classic) I found that it my finger tips had no noticeable discomfort at all.
Looking at the front of this mouse, you will quickly notice an asymmetry that southpaws will certainly like – this mouse is completely designed to be ambidextrous. And with the programmable buttons, all you left handers in the crowd stand up and pump your (left) fist in the air!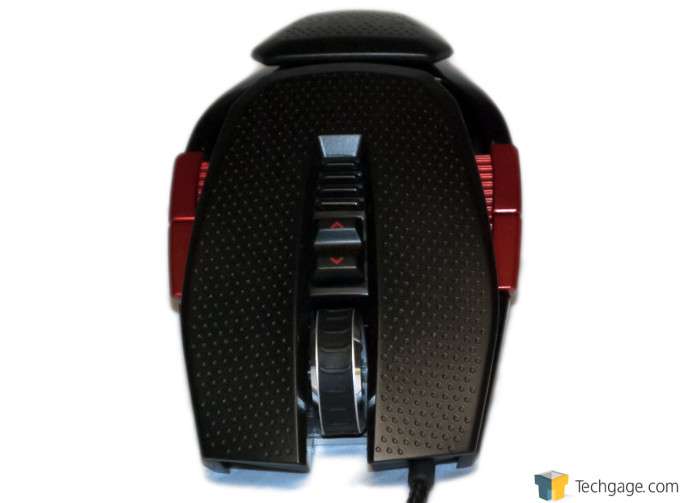 The scroll wheel – this is a point of contention for me when it comes to mice. Some people could not care less about the feel of the scroll wheel, but I do. I can normally decide within a few seconds if I like the way a mouse feels, simply by rolling the scroll wheel. I found this scroll wheel to be the best feeling scroll wheel I have ever felt on a mouse. It has a polished metal/beveled edge, with a very nice textured rubber center. The breakaway torque is delightfully low, and the feel of the detents is quite nice – light enough to where they are completely silent, but just coarse enough to let you know they are there.
One feature that this mouse has is an adjustable height system. This is accomplished by adjusting a small Torx screw at the back end of the mouse with the included tool. This adjustment can really change the way the mouse feels in your hand, and tailor it to give you the best fit possible.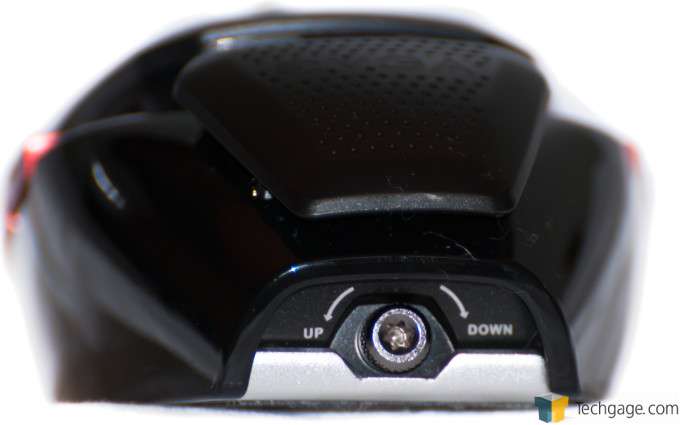 The two side buttons normally assigned as "forward" and "back" are programmable. They are almost a deep copper and are located in a comfortable spot for your thumb to access them easily. One annoyance I found with this was really in the ambidextrous design – every now and then I need to pick my mouse up and move it back to the center of my pad; not something that I do often, but from time to time this is something that I do. I noticed that when I would pick up the mouse, it was very easy to accidently hit the "back" and "forward" buttons on the right hand side of the mouse. Not a big deal, but I thought it was worth mentioning.
Software
The software for the mouse, appropriately dubbed "unleash", is very pleasing to the eye – modern, clean lines with pleasing color contrasts. I wish the software was as intuitive as it was nice looking. The only snags I came across with the software were button assignments – it was more difficult than it should be. Once again, I cannot fault the mouse too harshly here as this is something that you might do a couple of times.
If you end up using the software a lot, I would imagine that it would become easier to use. Me having used it only a couple of times, I felt it lacked a certain intuitiveness that other models have had.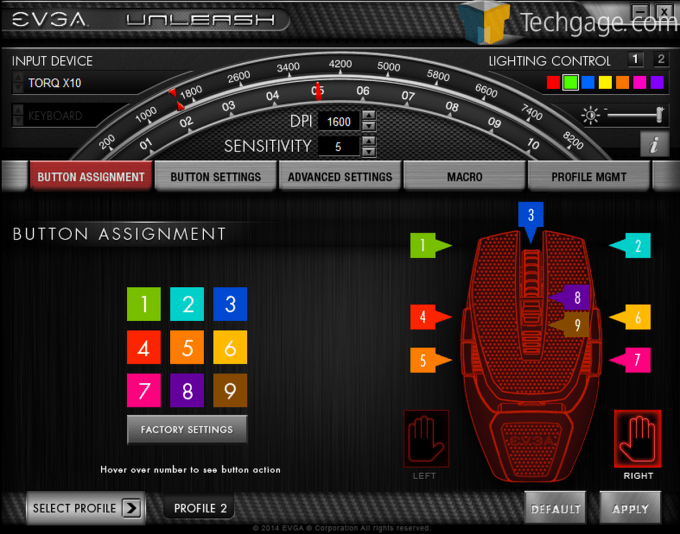 The first shot is the first screen where you find the button assignments, and whether or not you want the mouse to be left or right handed; it comes right handed by default. At the top of all the screens you will see the adjustment for the DPI sensitivity and lighting control, something that I thought was a nice feature.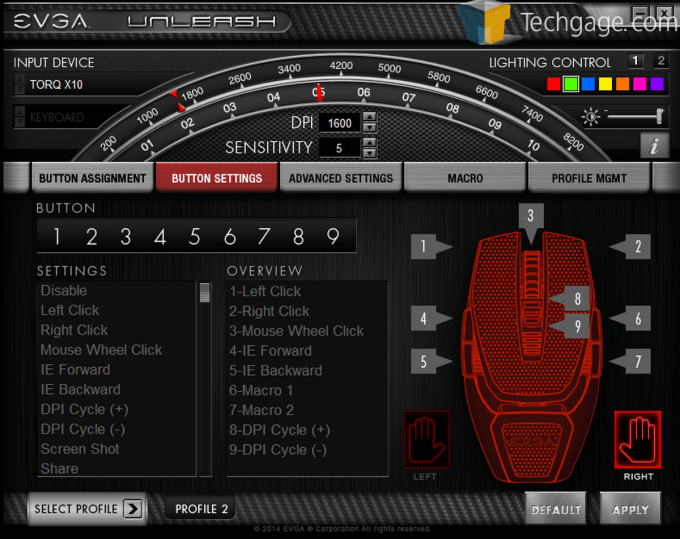 Here under the Advanced Settings you will find a little more precise control of the DPI setting (including X/Y adjustment), operating speeds, and lighting. Under the LED settings, there is a feature called "Breathing" – this is exactly what it sounds like. The lights of the mouse pulse softly, off and on, like the mouse is breathing. Let's face it, this is a novelty, but it is one uber cool one at that!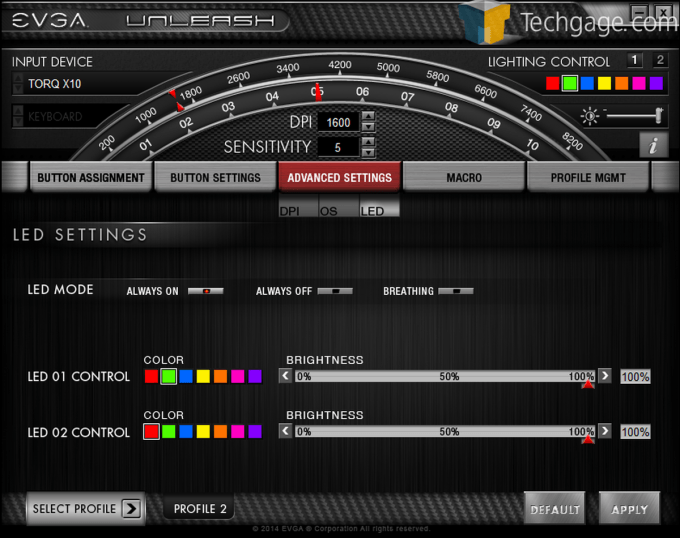 The macro screen is where you can record any multi-key macros that you might want. Here for my use, I programmed in some HTML coding that is a bit laborious to type out – saved me a lot of time!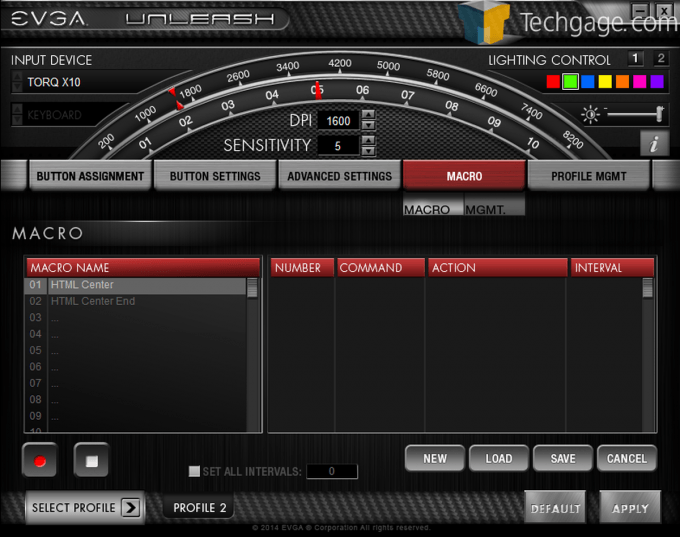 Here under Profile Management, you can manage your profiles. Here is an area where the EVGA TORQ X10 Mouse really shines – you can choose where you want to store your profiles. This would be quite useful if you were going to a LAN party or somewhere where you wouldn't have your rig with you, you can bring the mouse, download the "Unleash" software, plug your mouse in and have your profiles right there!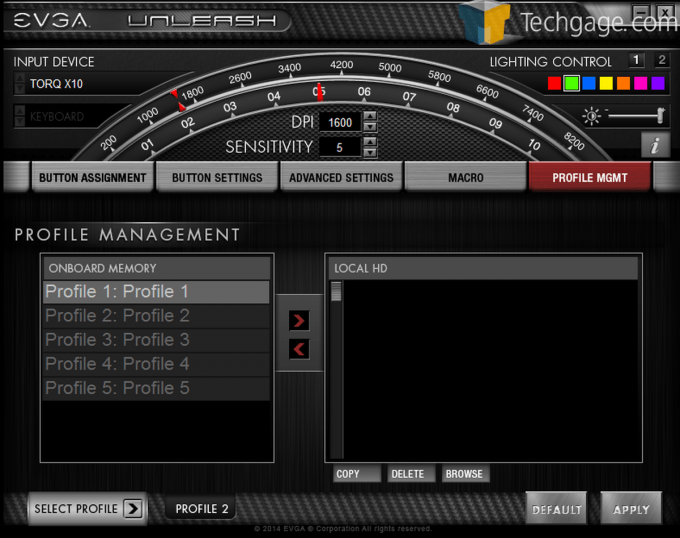 On the next page, we cover testing, as well as our final thoughts.
Testing and Final Thoughts
I used this mouse for almost one month solid, every single day. I used it for everything from writing and HTML coding this review (enter the programmable multi-key macros) to playing Battlefield 4, Half-Life 2, and just casual web surfing. This mouse quickly became a natural extension of my hand – like it was custom made just for me. The ergonomics leave nothing to be desired – whether you have small hands with long fingers, short fingers with a big hand, the TORQ X10 is so customizable that these things just don't matter anymore.
As with many gaming mice, the cord on this mouse is so light and easy moving, it quickly makes you forget that you are using a corded mouse, with the one exception – you don't have to change batteries, ever!
The surface where your hand resides is a textured plastic, not rubber. I personally do not care for rubber on a mouse. It tends to hold in heat, and also seems to be a dirt magnet that is not easily cleaned. The plastic surfaces of the mouse kept my hand cool, the texture made it very pleasing to operate.
The sides of the mouse, which would be carbon fiber, if this was the carbon fiber model, are shiny plastic. I think that I would have preferred the textured plastic be carried through the whole body of the mouse, but I can see why they did not. The shiny portions really give the mouse a fantastic contrast, and the black with the deep copper colored buttons gives the mouse a seriously hot look.
As far as build quality, this thing feels absolutely top notch. You would have never guessed that it was EVGA's first mouse offering. EVGA must have really done its homework on the design and manufacture of this mouse, as it is a seriously impressive tool. No plastic creaking or squeaking, no unfinished edges, and all of the buttons feel fantastic.
The only real qualm I have with this mouse as a whole, really is the software component, and even that complaint is a minor one. The software is not as fluid and easy to use as it could be – I could not simply pick it up and master it quickly like I could with others. But this being the company's first venture into peripherals, I cannot be too critical of that one aspect.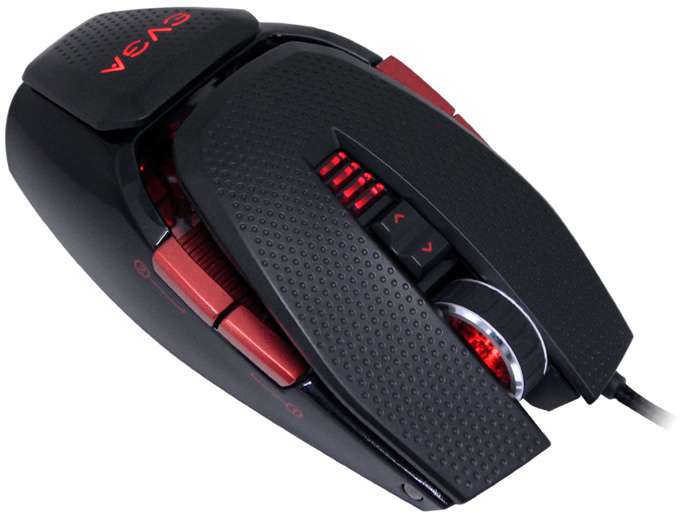 Bottom line is this – EVGA has never made a mouse before. If you were to buy this mouse, which by the way is very competitively priced at $69.99 and $99.99 for the carbon fiber model, without knowing anything about EVGA, you would be very satisfied with your purchase. You would think by this one offering alone that EVGA was a veteran mouse manufacturer and had been going since mice were still using trac-balls.
With the top shelf components and design, there is no reason what so ever to not give this mouse a serious thought if you are in the market for one. Even if you are not a gamer and have no plans on programming buttons, just plug this thing in and use it, you will not be disappointed, especially at this price point.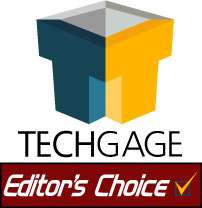 EVGA TORQ X10 Gaming Mouse
Copyright © 2005-2022 Techgage Networks Inc. - All Rights Reserved.