F1 Race Stars Review

Date: December 14, 2012
Author(s): Rob Williams

With its F1 and DiRT games, Codemasters has established itself as being one of the better developers out there where racing titles are concerned. But while those games feature realistic environments, vehicles and driving mechanics, F1 Race Stars throws all that out the window to offer a colorful and very interesting kart racer. Let's check it out.
---
F1 Race Stars Review
As a fan of both kart racing video games and Formula 1, it felt like a dream come true when Codemasters announced F1 Race Stars. It features real drivers, tracks loosely based on their real-world counterpart, and unlike the games from the developer's flagship F1 series, it aims to be as unrealistic as possible.
If by the screenshots you think of Mario Kart, you're not alone. However, the overall design and execution of the game feels a lot more like a Sega title to me, down to the graphics and audio – but this is where the similarities end. For better or worse, F1 Race Stars offers unique mechanics to the kart racing formula, which I'll touch on in a bit.
The audience for F1 Race Stars will be split into two categories. There will be those who love the F1 sport and want to race through a reimagining of it, and then there will be those who simply like kart racing games and happen to find this one interesting enough to pick up. You don't have to care about Formula 1 as a sport to enjoy F1 Race Stars, but if you do, you'll be treated to recognizable landmarks and of course, the cars themselves.
Because real F1 tracks wouldn't translate too well to a kart racer, none of the tracks in the game are named after the real thing but rather the country they're located in. You'll see recognizable features of the real-life tracks, but there's a whole lot added in to help make the game more fun. Monte Carlo has never had a ramp that allowed racers to fly 100 feet in the air, for example, nor does Spa have a riverbed. F1 Race Stars introduces both.
Fortunately, some of the most iconic track landmarks have made it into the game, such as the crazy Variante Del Rettifilo turn at Monza, Eau Rouge at Spa and the tunnel + chicane combo in Monte Carlo. Each track has curbs colored in the same way of the official races as well, such as Abu Dhabi's blue and Brazil's yellow/green. Even the pit stops are similar – especially the one from Abu Dhabi which sees drivers go down and up and around. In reality, these details should be expected, but it's nice to see them tackled nonetheless.
There are a total of 11 tracks that ship with the game; Belgium, Germany, Italy, Brazil, Abu Dhabi, Monaco, Singapore, Australia, USA, United Kingdom and Japan. Europe exists as a DLC track, although it's unclear if more are en route. All 24 drivers and teams from the 2012 season are available, with each team sporting a respective power-up bonus.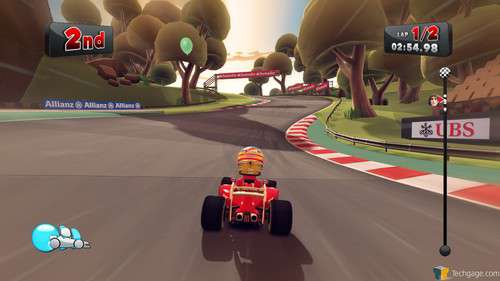 The tracks themselves are quite a bit of fun, but like the rest of the game, can be quite difficult. Certain tracks, such as Belgium, Italy and Brazil, are quite easy to race on through. Others, like USA, Abu Dhabi and Monaco, can be crazy difficult, either due to super-tight turns or environmental hazards.
Despite that, all of the tracks feature rich eye candy and are generally great fun to race through, and no two are anything alike. You'll experience many jumps, racing over many different surfaces and drive over many, many speed boosts. On that note, believe it or not, the game features KERS (but not traditional DRS, thankfully). Throughout each track are blue KERS strips, and by the time you drive over the entire surface, you'll be able to build up three levels of KERS by letting go of the gas and accelerating for each. Once off the strip, you'll get a boost on par with using nitrous.
Not surprisingly, there's no story whatsoever in F1 Race Stars, nor should there be. Everything important is unlocked for you from the get-go, though extra fluff items can be unlocked when you complete championships and other goals, such as different sound packages for your car. Speaking of cars, despite there being a considerable difference between them in real F1, they're all the same here. Want to play as HRT and beat out Red Bull? You can.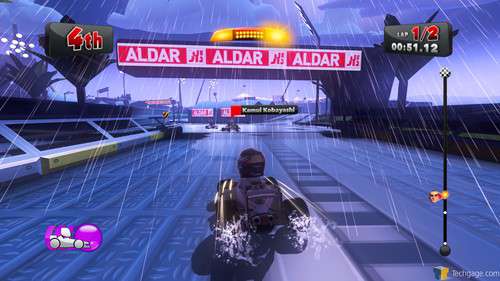 The audio in the game is quite good overall, with the F1 cars sounding just like F1 cars – albeit with the volume turned down considerably (a good thing). Adding to the humor, each driver speaks their own lines, though none have been voice-acted by real drivers. As Vettel, you'll hear him shout, "I'm a champion!", Grosjean will riddle things off in French while Alonso will sing, "Alonsooooo!". It's all very silly, but to be expected from a game like this.
The game features many different power-ups, but figuring out what each one does will be left up to you since the game doesn't explain them. Many power-ups come in the form of bubbles; yellow bounce around the track until they hit someone, blue remain static on the track until someone hits them, purple causes an explosion affecting anyone around its point-of-impact while red acts as a straight-firing missile. Other power-ups include boosts and, a pulse bomb, a rain cloud that appears over the #1 racer, a safety car and so forth.
Safety car, you ask? That's one thing that definitely sets this game apart from other kart racers. I am not sure what exactly causes one to be spawned, but while it's in action, everyone is slowed down. Going further with its F1 integration, you also have pit stops to make whenever your car is on the verge of dying due to damage. These consist of simple paths you drive through that repair your car before you go back out on the track.
Final Thoughts
F1 Race Stars looks great, has real drivers and creative tracks – so is it worth it? As much as it pains me to say, probably not – unless you happen to be an F1 diehard craving a kart racer. Unfortunately, the reason I can't outright recommend the game boils down to one simple fact: it's way too difficult.
Generally in racing games, it's expected that as you move through the championships or whatever heirarchy is offered, the game will progressively become more difficult. But with F1 Race Stars, it's difficult from the get-go. There are four main reasons for this.
First, it's hard to gain a real speed advantage anywhere, so you'll rarely dominate. Second, weapons are deployed like candy, so you'll be slowed down or out-right stopped on a dime often. Third, some of the tracks have a lot of obstacles and crazy turns, which makes them hard enough, but then we pile all the weapons being fired at you on top of it. Fourth, there's no drifting. Sure, there's no drifting in F1, but this is a kart racer! You'll need to slow down to take some corners properly, and it wouldn't even hurt to learn at which apex to enter certain turns. It really sounds like I'm talking about F1 2012 here, but alas, I'm not.
In the end, while I found I was enjoying the graphics, sound and tracks, I was getting frustrated with the difficulty. I'm now at the point where I don't feel like playing it anymore, a mere five or so hours into the game. If the game wasn't so difficult and offered the ability to drift, it would have been a major improvement and I would have no doubt highly recommended it. But for whatever reason, the developers decided to make it needlessly difficult and often frustrating, and for that reason it's not going to sell nearly as well as it could have.
The upside is that Codermasters could release a patch to fix these issues, or add a second mode to make things easier – but that's unlikely to happen.
If you're a kart racer fan, wait for this one to go on sale and then snatch it up.
Extra Screenshots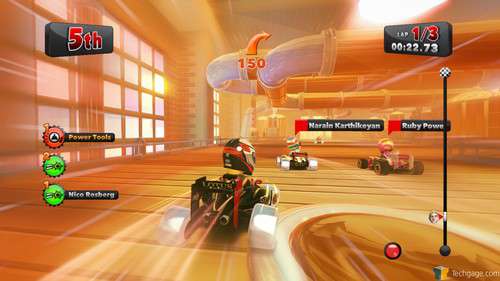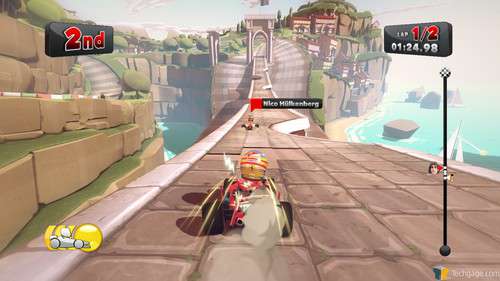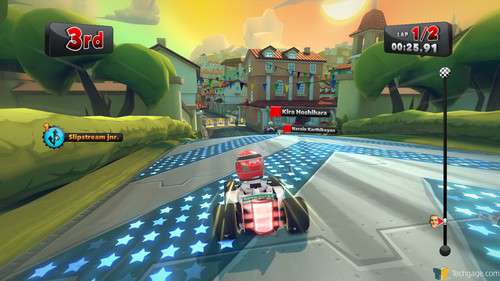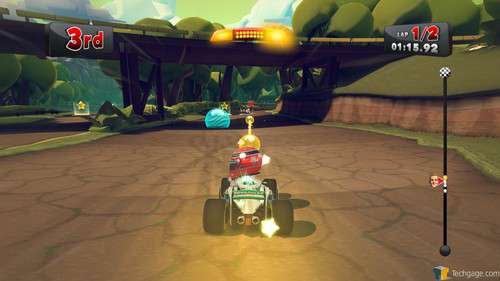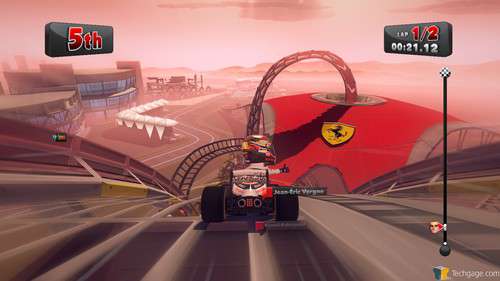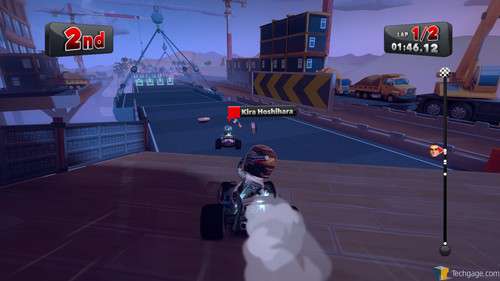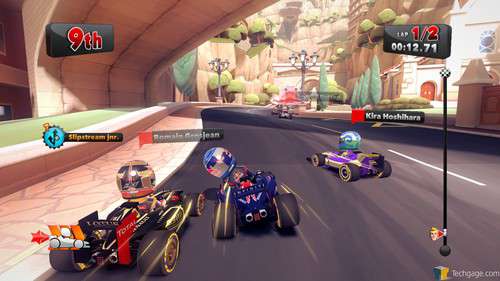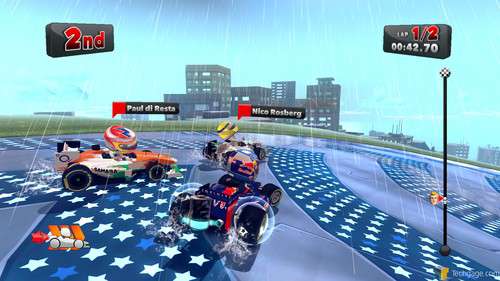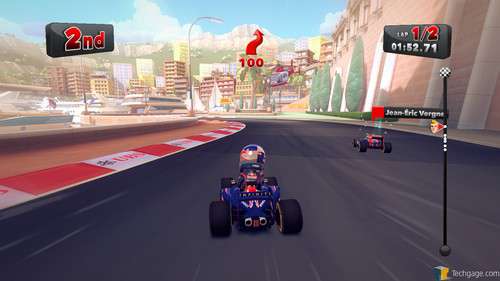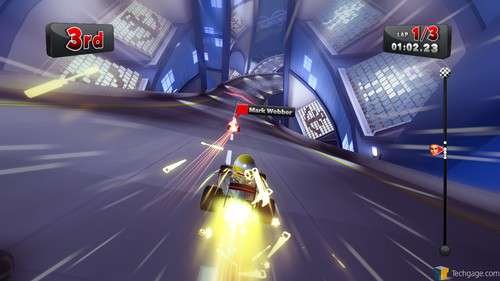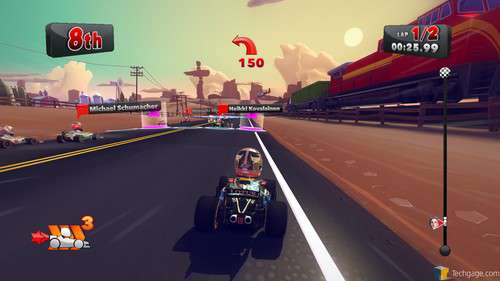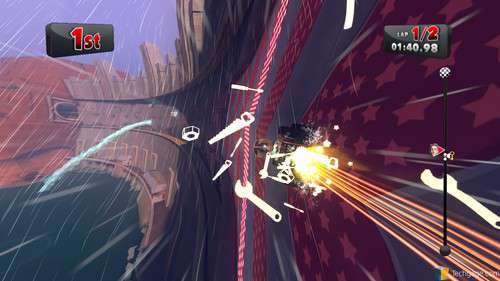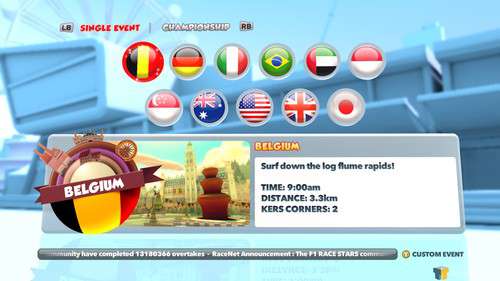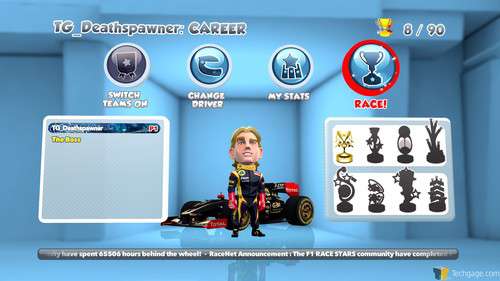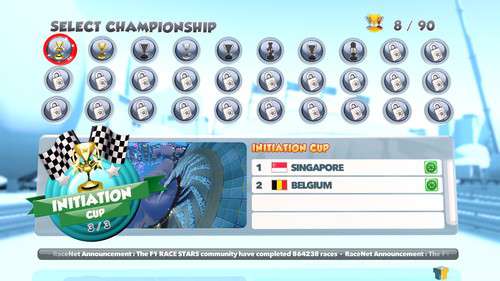 Copyright © 2005-2020 Techgage Networks Inc. - All Rights Reserved.