Fractal Design Arc Midi R2 Mid-Tower Chassis Review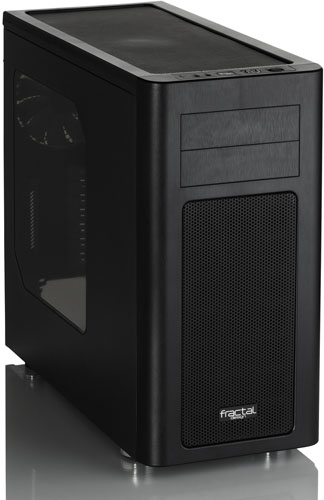 Date: September 9, 2013
Author(s): Ryan Perry

Fractal's original Arc Midi chassis impressed us enough to become the base of our CPU cooler testing rig, so when we heard that a sequel to it was released, we couldn't wait to check it out. With its beefy feature-set, semi modular design, support for up to a 240mm radiator and a $70 price tag, this mid-tower might just be the one to beat.
---
Introduction
When writing a review, I usually try to capture a reader's attention enough in the first few sentences so that they'll want to continue reading through the rest of the article. Coming up with fun, creative ways to do this can sometimes be a bit tough after you've gone through the process many times like I have, but I have to say that I'm proud of the "hook" used for today's review…
BOOBIES!
Or, you know – other "things" if you happen to be one of our female readers.
Anyway, is everybody still with me? Good, because catchy openings are only part of the puzzle; the other is awesome hardware, and thankfully this review has at least one of the two.
Sweden-based Fractal Design sent us its first refresh of the Arc Midi mid-tower case, appropriately named the Arc Midi R2. This ample steel case supports mini-ITX, micro-ATX and ATX motherboards as well as some of the beefiest aftermarket cooling solutions out there – but we'll get to that after we take a look at the exterior.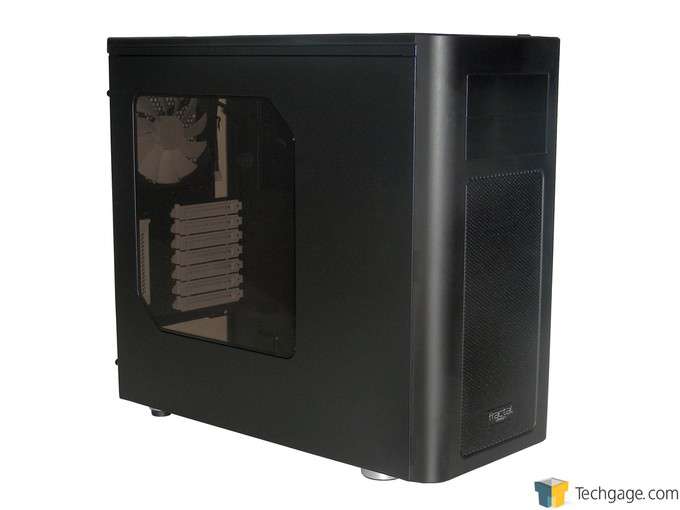 The plastic front panel has been textured perfectly to look like brushed aluminum. Up top are two 5.25″ drive bay covers, while the rest of the front is taken up by a removable metallic mesh cover that doubles as a filter, and hides a 140mm Silent Series R2 fan.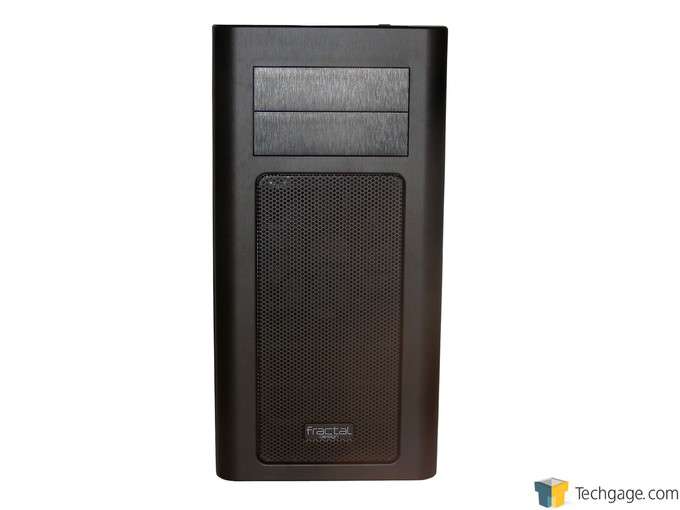 Over on the left side is a large, smoked window that shows off a good chunk of the interior. If less flash is preferred, there's also a model with a solid side panel. Both side panels are secured using thumb screws and slide back before being removed.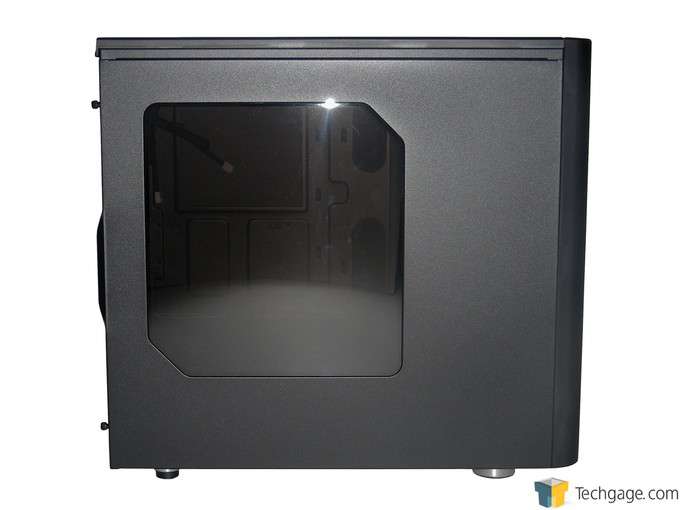 Around back at the top are two thumbscrews used to secure the top cover. Below that is a narrow vented area, the motherboard I/O down and to the left, and a 140mm fan to the right. Further down are seven white slot covers, a vertical slot cover on the right, and the power supply opening at the very bottom. Finally, tucked in below the power supply opening is the lip of another removable filter that slides out the back.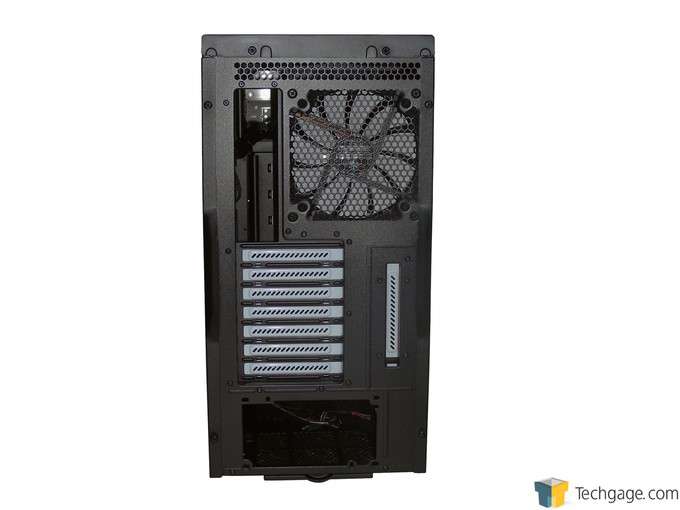 Since the right side is completely solid, we'll move up top to show the I/O area at the very front. From left to right is an extremely small reset button, microphone and headphone jacks, an illuminated power button, two USB 3.0 ports that also double as USB 2.0 depending on how they are connected internally, and the three speed, three channel fan controller. The rest of the top features the same metal mesh found on the front panel, which can also be removed to show a 3rd 140mm fan.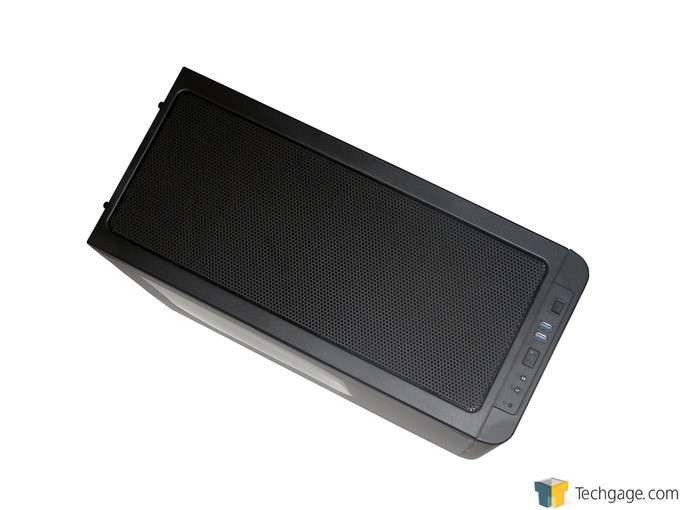 Flipping the case over shows the stereo-style case feet in each corner, and the large, removable filter mentioned earlier, which covers the power supply and bottom fan area.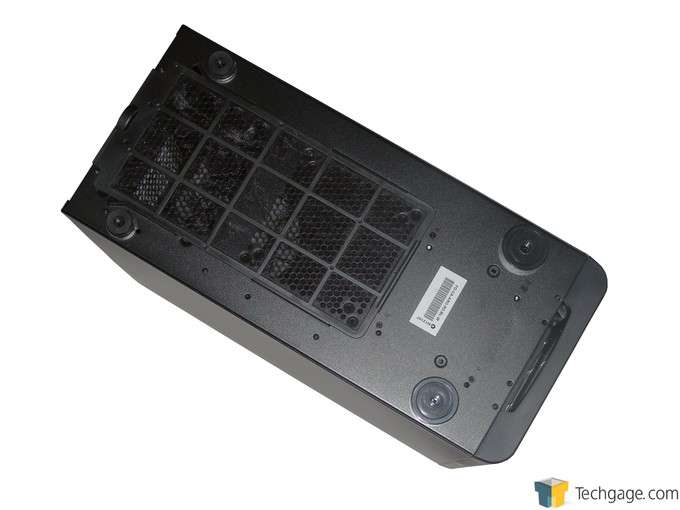 With the left panel removed, the interior shows a modular hard drive cage at the front, and the two 5.25″ drive bays at the top. The motherboard tray sports grommet-lined pass-through holes along the top, down the right side, and at the bottom, as well as a generous cutout around the CPU area. On the floor is enough room for a 120mm fan or radiator, and the mounting area for the power supply, complete with foam risers to absorb any vibration.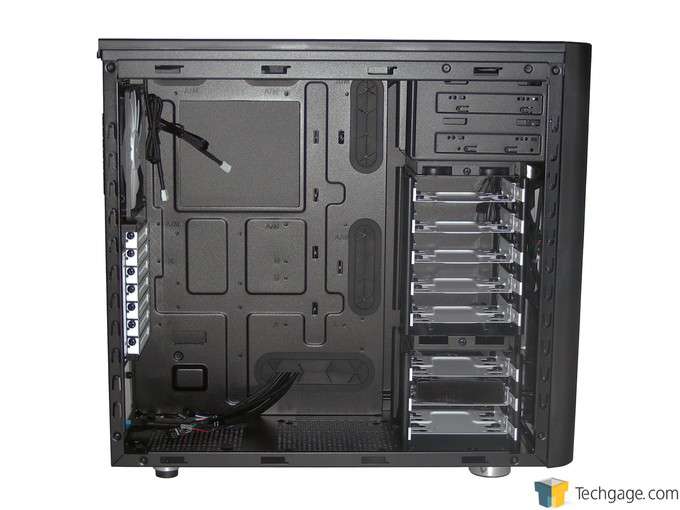 The top section of the modular drive cage has five metal trays, while the bottom has 3. Each tray can support 2.5″ and 3.5″ drives and has rubber vibration dampeners. Users can rotate, move back, or remove either section of the cage, or both in order to fine-tune their hardware configuration and cooling capabilities. With the top cage removed, radiators up to 120mm can be installed, and removing both sections opens up enough room to install up to a 240mm radiator.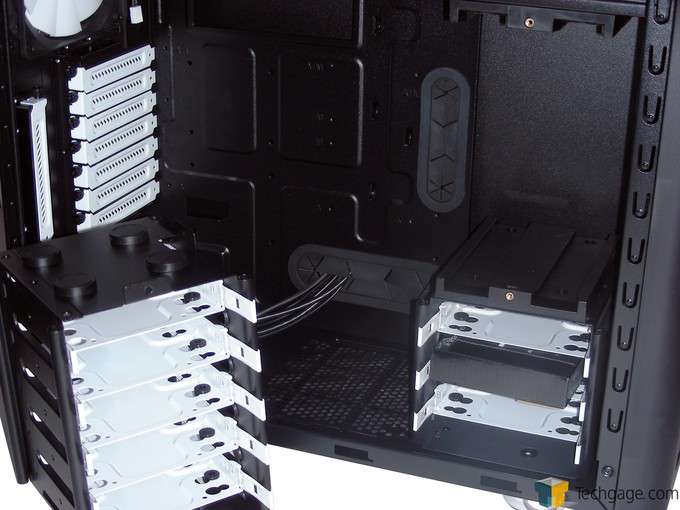 Shooting the interior of the top panel didn't do the flexibility of the Arc Midi R2 justice, so a quick shot of the exterior with the cover removed shows the mounting points for another optional 140mm, up to three 120mm fans, or a 240mm radiator.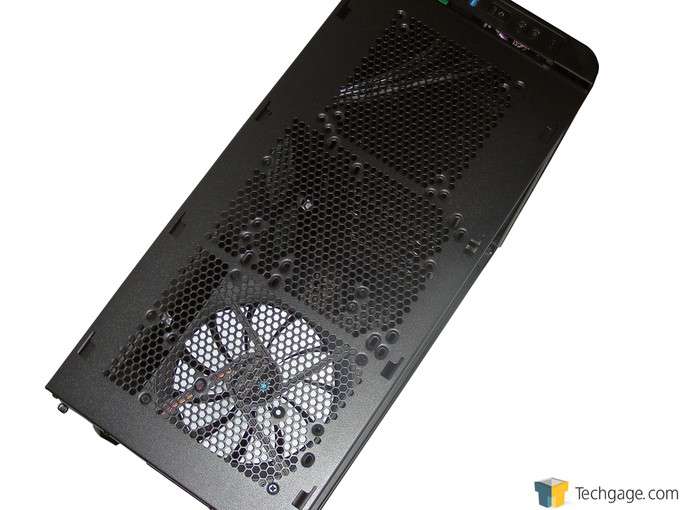 The back of the motherboard tray is set in about 2.5″ allowing for extra room to truck cables away. There's also mounting points for two 2.5″ hard drives on the back of the tray. Moving up to the front are the 4-pin Molex power and 4-pin fan connections towards the front for the top-mounted controller.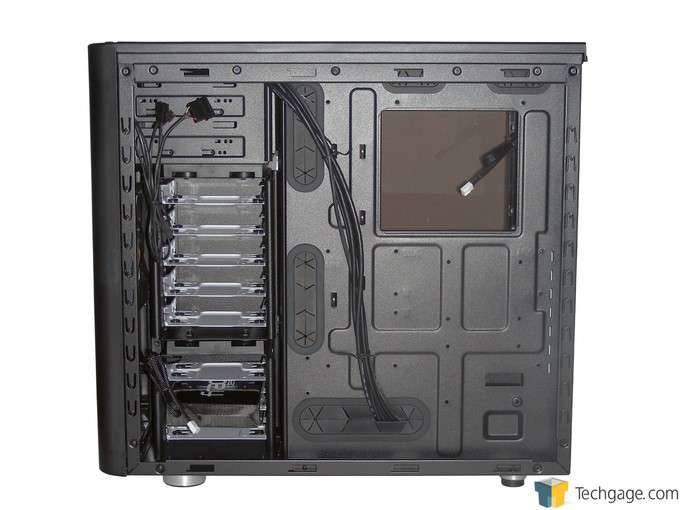 Included with the case are various screws to keep the components in place, as well as a small hex socket to help install the motheboard standoffs. There's also a handful of zip ties for cable managment, and an installation manual.
That about does it for the ins and outs, but what about functionality and performance? That's up next, so read on.
Fractal Design cases do just about everything except build themselves. Our test system slid on in without any problems, and when it comes to the build section of our reviews, sometimes no news is good news.
I found the front panel audio cable a little short for my liking, although it reached the header at the back, bottom edge of our motherboard cleanly, even when run behind the motherboard tray.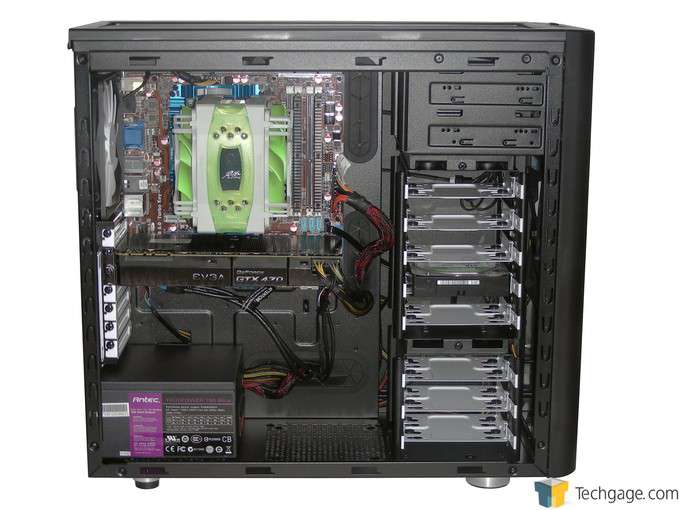 Here's a shot of our test system installed, and thanks to the R2's cavernous interior, it looks even tinier than it usually does, but all of this extra room made for a really easy, worry-free build, which only took about 20 minutes from start to finish.
Testing & Final Thoughts
All of our testing is performed in a near steady 20°C ambient environment with readings taken before and after with a standard room thermometer. AIDA64 Extreme Engineer is used for monitoring and recording all system temperatures throughout the testing process.
Windows is allowed to sit idle for 10 minutes after startup to ensure all services are loaded before recording the idle CPU and GPU temperatures. CPU load temperatures are generated by performing a 20 minute run of OCCT LINPACK using 90% of the available memory, while GPU load temperatures are generated by OCCT's built in test, also for 20 minutes.
Stock CPU settings were obtained by setting the AI Tweaker option with the BIOS to Auto and the maximum stable overclock frequency of 4.0GHz was obtained after extensive testing to ensure stability. The final clocks for the GPU are 760MHz on the core and 1000MHz QDR (4000MHz relative) for the memory with the voltage increased to 1.087V using MSI's Afterburner overclocking utility. As with the CPU overclock, testing was done prior to ensure full stability.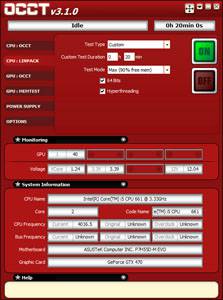 The components used for testing are:
 
Techgage Chassis Testing System
Processor
Intel Core i5-661 – Dual-Core (3.33GHz)
Motherboard
ASUS P7H55D-M EVO mATX – H55-based
Memory
Corsair Dominator 2x2GB DDR3-1600 7-8-7-20-2T
Graphics
EVGA GeForce GTX 470
Storage
Western Digital 2TB Green
Power Supply
Antec TP-750 Blue
Chassis
Cooler Master Cosmos II
Cooler Master Storm Scout 2
Corsair Carbide 400R
Corsair Obsidian 550D
Corsair Obsidian 650D
Corsair SE White 600T
Fractal Design Arc Midi R2
Fractal Design Define R4
NZXT Switch 810
Silverstone Raven RV03
Thermaltake Chaser MK-1
Thermaltake Level 10 GT
CPU Cooling
Corsair H60 (Exhaust Config) (All but Define R4 & Arc Midi R2)
Thermaltake Jing (Only Define R4 & Arc Midi R2)
Et cetera
Windows 7 Ultimate 64-bit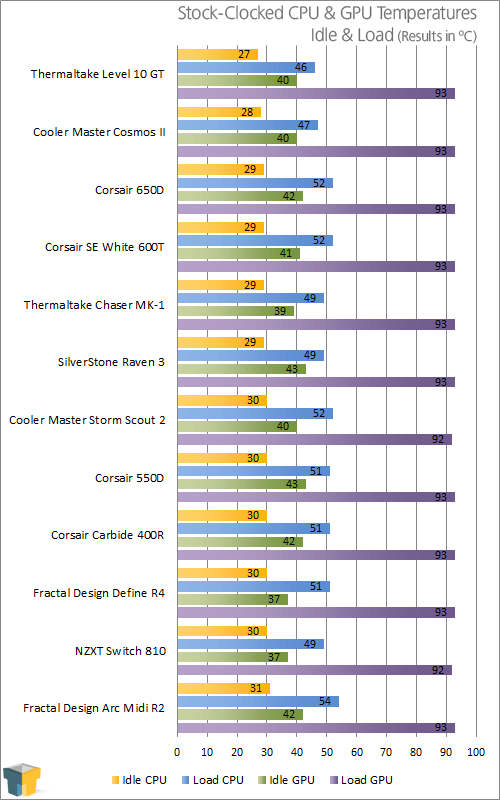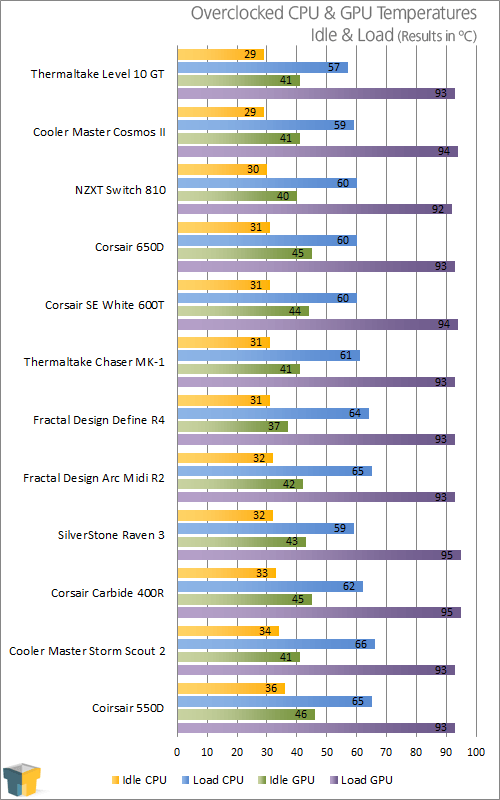 With all of the components running at stock frequencies, things looked right on the money, although the maximum CPU load temperature was a few degrees warmer than when we tested another one of Fractal Design's cases, the Define R4.
This trend continued when running the same load tests while overclocked. On this run, the CPU was a single degree warmer at 65ºC, while the GPU stayed steady at 93ºC.
Since we run all of the case fans at 100% during testing, it gives us a good idea of just how loud a case will be. I'm happy to report that only the faint rush of air could be heard. Well, until the fan on the GPU kicked in at least.
Ok, moving on…
Final Thoughts
From a personal standpoint, I love Fractal Design's cases. There's very little flash, but loads of function, inside and out, and with the Arc Midi R2, things get even better.
The inclusion of a split connector for the combo USB 3.0/2.0 ports means that your front USB ports will always be usable regardless of the configuration of your motherboard. What's more, support for some of the largest radiators around is added to an already fantastic list of features carried on over from the original Arc Midi, which I liked so much, I chose to use it for our CPU cooler test system.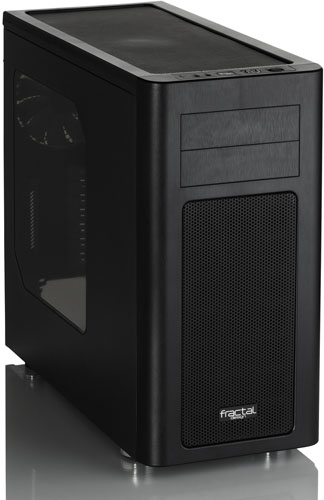 The build quality is top-notch, there's lots of flexibility with regards to hard drive configuration, tons of room to work in, enough space on the back of the motherboard tray to tuck away a ton of cables, and a built-in fan controller. What's not to like?
Despite the front panel audio cable that might be too short to cleanly run behind the motherboard in some cases, and a reset button that's so small I could only press it using something pointy, the Arc Midi 2 is a winner in every sense of the word.
For some, it all comes down to dollars and cents, and to me, this is where the Arc Midi R2 really shines. At ~$70 US, it's an absolute steal. I've tinkered with cases that cost $100 or more, but had similar features and build quality. If you're a budget conscious builder that would rather have more dash than flash without sacrificing quality, keep this case in mind.
It goes without saying (but I'll say it anyway) that the Fractal Design Arc Midi R2 is the proud recipient of our Editor's Choice award!
BOOBIES!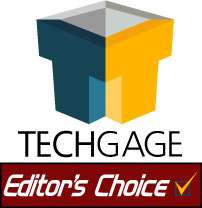 Fractal Design Arc Midi R2 Mid-Tower Chassis
Copyright © 2005-2019 Techgage Networks Inc. - All Rights Reserved.