Futuremark PC Mark 2005

Date: June 28, 2005
Author(s): Rob Williams

Just released is Futuremarks latest system benchmarking tool, PC Mark 2005. We take a look at what's new, and tell you what you need to get an uber score.
---
Introduction
Without question, PC Mark is one of the worlds leading, if the leading, system benchmarking tool. Rather than stressing and testing specific components, like MemTest, 3D Mark and CPU Bench do, PC Mark's final score depends on all your system components. Before we get into all the details, here is a quick Futuremark and PC Mark bio:
About Futuremark
Futuremark Corporation is a leading provider of PC performance information and services. We are known around the world for our benchmark products, including the 3DMark Series and PCMark 2002, with more than 30 million copies distributed worldwide. Futuremark Corporation provides proven analytical technologies and custom benchmarking solutions to leading PC industry companies.
We are the only company in the world to offer services that are powered by a database of over 4 million real-life benchmarking results. Our software is used by more than 250 computer magazines and is recognized as the world de-facto standard for PC benchmarking.
About PC Mark
PCMark05 is everything you need to reliably and easily measure the performance of your PC and determine its strengths and weaknesses. With PCMark05, you will be able to select the optimal upgrades for your existing PC, or choose the right new PC that fits your specific needs. This easy-to-use product gives you the same tools and knowledge that virtually every professional tester in the industry uses.
Let's jump right into all the details on the new version.
What's the reason for PC Mark?
As with all benchmarking programs, PC Mark's goal is designed to give you an overall idea of the performance your computer will deliver. As said in the intro, it tests all components in your computer, from your CPU, GPU, Memory and even your hard drives. Anything that you add or remove from your computer will affect your overall score. For instance, if you upgrade your memory or CPU to something faster, it will increase your PC Mark score, or at least should.
Of course though, it doesn't just check out what hardware you are using, and spit out a number. It stresses all the components to the highest degree to see just how much performance it will press out. As an overclocker, the program is one tool that my toolbox doesn't want to be without. The ease of use is unlike any other, one click.. that's it.
I primarily overclock my CPU, GPU and Memory. When I run the program beforehand, then after the overclock, it gives me a general idea of how much performance I gained. Even though the program is a great benchmarker, there are many people who disagree. Why? Because it is a synthetic benchmark, and doesn't show how your PC performs in the 'real world'. Of course it performs the same tests on everyones PC's, but that's how it should be. That way everyone is on the same line, and some can see areas their PC that could use work, and for others, they can just sit back and watch their e-peen grow.
Prior to this version, Futuremark had released 2002 and 2004 editions. As computers become more advanced, as they do at an unbelievable rate, they release updated versions to reflect this. So what exactly does their '05 edition have that '04 doesn't? Let's check out the feature sets of both:
Tests
I have to say that I'm impressed of the selection this time around. They added quite a bit, and the overall System Suite tends to make more sense. It becomes quite obvious as well, that there is support for Dual Core processors, such as Audio compression and Video encoding performing at the same time.
The Read/Write tests of the Memory Suite also have larger blocks being thrown at our Memory, to reflect todays megabyte hungry apps. As for the Graphics Suite, we see a lot more going on here as well. Some of the techniques are borrowed from '04, but that's because they still apply today, such as fill rates and vertex shaders.
Overall, some tests have been untouched while others have been improved, and then there are others that make a debut.
Visually, the new version looks the same to the '04 edition. Of course, it's not the look of the program that matters, but for those who haven't tried it yet, now you know what it looks like. One major difference you will notice about '05 though, is that it takes easily twice as long to start up as '04. Even though you will likely never be doing anything on the computer when you start the program up, it's a good thing because you will be unable to do. During the start up, it collects all your system information, so you have to just sit back and wait for it to open.
Advanced Section
You are likely wondering when I am going to say anything negative about PC Mark '05. Well, here we come to the Advanced selection. This is part of the options, where you can manually select which tests you want to run, as a custom suite. This is great for those who want to test specific parts of their computer. For instance, you could have a special run of various tests, to stress various components that you overclocked.
If you look at the picture above, you will notice that it is completely faded out. I was quick to realize that this feature, for whatever reason, is only available in the $200 Professional edition. This edition is meant for businesses, and for those that want to publish their results for commercial uses.
There are a few other options available only in the Professional edition, but they are options normal users don't need. However, it would have been nice to have this feature enabled for Advanced users as well, considering it was available in the '04 version.
Unlike 3D Mark, PC Mark is not something most people would sit down to watch. Below is an example of most of the tests, simple progress bars. If you run all the available tests, it will take near 30 minutes to complete.
Now, onto other thoughts and the conclusion.
Conclusion
As stated in our news posting last week, PC Mark '05 launched a new naming scheme for future Futuremark products. Free, of course is for people who want the basic version, and that's all most people will need. Advanced, for users who want more variety, including more tests and options. Professional replaced the Business Edition, and is meant for just that.. businesses who want to use it for commercial use, and need multiple copies.
This is only the third version of PC Mark, but has come a long way since the 2002 version, which was under the Madonion tag at that time. As mentioned earlier, it's a great tool to calculate your performance, and as you tweak your system, you can quickly see if it had any benefit.
One thing I can say is, Dual Core CPU's are going to love this program. If you have a Dual Core processor, you will immediately have better results. If you had two identical setups, but one with an FX-55 and the other with an X2 4800, I am sure you would see at least a 500 score improvement, due to the fact that Dual Core will eat up some of the tests. While most people won't usually compress audio and encode video at the same time, it's quite evident that Dual Core is the future, and your score will reflect that.
Whereas 3D Mark is obviously a gamers benchmark, people can still get a great idea of their results by comparing to others. At the time of writing, the ORB shows someone with a X2 4200+ with Radeon 9800 Pro beating out a 3.3GHz Intel with a 6800 Ultra. So it goes to show, even if you have an incredible video card, it's also the rest of your system that matters.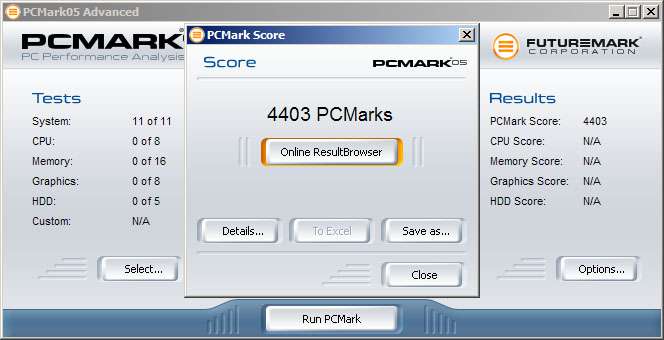 Overall, I enjoy using this program very much. As with all Futuremark products, for the Advanced license, it only costs $19.95US, or $9.95US if you own PC Mark 04. This is hardly a price to complain about, considering all the features included. Even with the low cost though, it would have been welcomed to have the custom suites available in the Advanced version.
Either way, if you want a great system benchmarking program, I highly recommend PC Mark 2005. To download the program, check out the Official Site and select from a variety of mirrors. For those who want to purchase, you can access their store there as well. Remember: If you own PC Mark '04, select the upgrade on the bottom of the selection page to save yourself $10.
For those interested in checking out the ORB result from this review, or you just want to know that your computer is better than mine, you can check out the result here.
If you disagree with anything I have said in the article, feel free to discuss it in our related thread. Comments/Questions and flames are also welcomed. Registration is free, which is good due to the fact that they are currently damned ugly forums ;)
Right-2-Reply:
Futuremark states: "About the custom suite availability, we didn't see it necessary to include it in the Advanced edition, as from our experience it has mainly been used in professional testing / labs. The PCMark05 Advanced edition is targeted for enthusiastic home users, whereas the Professional edition is targeted for professional testing."

Copyright © 2005-2019 Techgage Networks Inc. - All Rights Reserved.