Gateway M-7818u 15.4″ Notebook

Date: December 15, 2008
Author(s): Rob Williams

Finding a proper "multi-media" notebook for under $800 can be a little challenging, but Gateway proves with their M-7818u that notebooks can be both affordable and include the most important features you're looking for. In addition to fantastic battery-life, the M-7818u goes as far as to include an HDMI port for viewing 1080p content on your external display.
---
Introduction
Three months ago, I took the first Gateway notebook to hit our labs for a spin, and for the most part, I was impressed overall with the general design, performance and mostly, the price. The T-6836 was well-designed, didn't feel "cheap" as you'd expect a >$700 notebook to, and as a result, it was recommended overall. The issue with that article, however, was that due to a "mistake" on my part, the review lacked some overall substance.
The issue was that I didn't properly create restore discs… something that should be done as soon as possible. Being used to other manufacturer's notebooks before it, I became accustomed to an included restore disc, but that didn't work out to my favor that time. As a result of having no proper restore CD, I didn't feel I was able to deliver the most-accurate review out there, so I followed-up with Gateway shortly after to receive another notebook, and the M-7818u is what arrived.
This time, I knew better than to format without creating some restore CDs first, and that's something I'll tackle on the following page in more detail, since as far as I'm aware, Gateway is one of the few notebook manufacturers that require the user to take care of this task.
The T-6836 notebook we took a look at last time fits into Gateway's value-targeted category, while the M-7818u we're looking at today is a step-up, and is considered a multi-media offering. Given the price of this particular model ($779.99), we're can't expect an explosive multi-media experience, but it should certainly be sufficient for most needs.
Closer Look at Gateway's M-7818u
As mentioned above, today's model is M-7818u, which is only available at OfficeMax. Gateway works differently than some other notebook manufacturers, mostly Dell, and doesn't allow customization before purchase. Rather, they've teamed up with numerous retailers and sell specific models at each. This can be a little odd, as it makes getting the notebook you want more difficult, but as long as you don't hold any ill regard towards a particular retailer, you can usually order it online. That's the case with this particular notebook, as it can be ordered directly from OfficeMax's website.
If you are interested in this model, but wish the configuration was a little different, you might want to head over to Gateway's site and check out their M-series section, which at the current time lists 18 different models, so there's a good chance that one might better-suit you. Color schemes will sometimes vary, however, which is one downside.
So let's take a look around the notebook and see what it's made of. The specifications will be taken care of on the next page, with the performance data on the final page. This particular model is very similar in design to the T-6836 that we took at in September, but that's not a bad thing. On this model, the color used is Garnet Red, which I happen to love. I should mention that our photographs brightened the shade a little more than I'd like, and in person, it's a bit darker… closer to a light maroon color.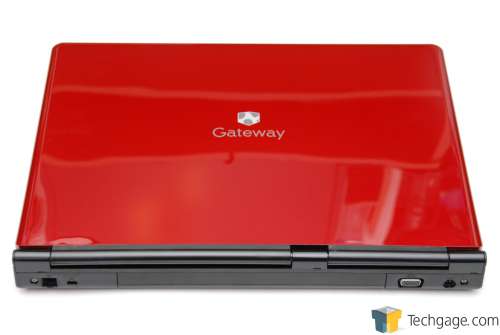 Upon opening, the first thing you'll see is a thin spongy sheet covering the entire keyboard, which protects both that, and the screen, during shipping. Though it's rather brittle, you might be able to reuse this for some time, or reserve it for use while traveling, where the notebook will probably be tossed around. You'd have to make sure there is no debris whatsoever on the keyboard or screen, however, as the extra push could potentially cause some scratches.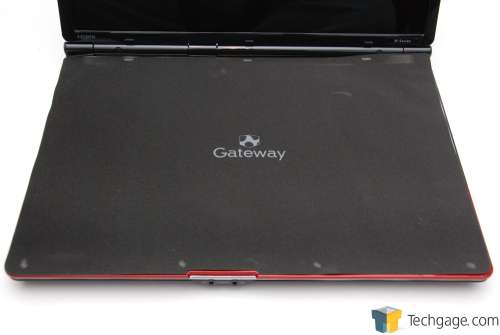 The trackpad used here is good overall. It's not uncomfortable to touch for long periods of time, nor does it heat up to any great degree. The buttons for the most part are also well implemented. During regular use, they're rather easy to tap with your thumb. The black portion directly below the buttons here includes indicator lights that will show depending on a particular status. In most cases, you'll see the HDD indicator light as well as the WiFi activity. The input/output audio ports are found at the absolute front.
If you read our T-6836 review, you'll notice some intense similarities here. The layout is generally the same, with the same keyboard, media buttons and power button. The brushed-aluminum look returns here, and looks sharp overall. The gray-colored keys also make a return, and also look good, next to the faux brushed-aluminum. I enjoyed usage of the keyboard overall, and given that it's full-sized, it's unlikely anyone will have a rough time transitioning from a desktop to this notebook.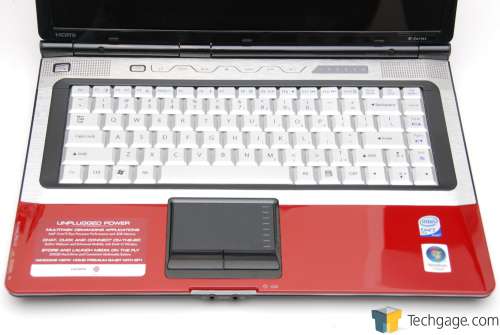 For a closer-look at the keys, look no further than the photo below. I have no major complaints with the layout, although the lack of a numpad might brush seem people away. Given the size, however, adding a numpad would decrease the overall size of the main keyboard, so it's a definite trade-off. Also, one personal gripe I have is that the Ctrl key is not found in the leftmost bottom corner, like it should be. Rather, the Fn key is there, which can at times make a simple Copy/Paste a chore, if you are used to the Ctrl being where the Fn is, which would be understandable. You become used to it after a while, though.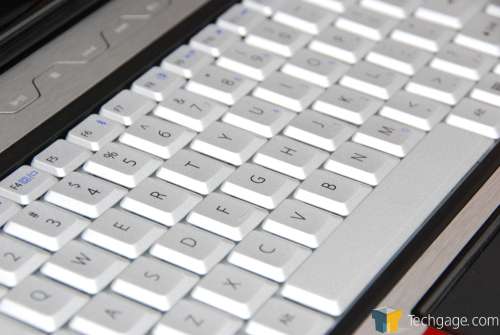 One reason this notebook deserves its "multi-media" likeness is because it includes HDMI support, which is a huge deal if you have a computer monitor with such a connection, or your television. Also on this side of the notebook (left), you'll have access to two USB ports, network port, ExpressCard type 54 slot, memory card slot (SD/MMC/MS/xD) and also the WiFi enable/disable toggle.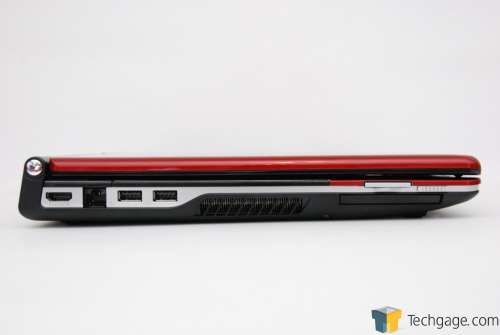 There's a lot less happening on the opposite side (right), with only the DVD-RW drive being available, alongside one more USB port. There are a total of three USB ports on the entire notebook, which should prove efficient for most people.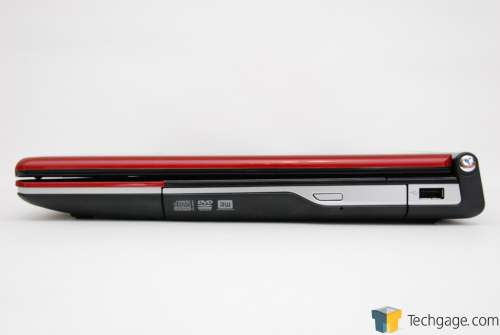 At the back, we find a modem port, Kensington lock, a VGA connector and also the power port. Given the price-range of this notebook, I was pleased to find both an HDMI and VGA connector, which in itself adds quite a bit of value. You could use the HDMI for your TV, or VGA for your monitor, if it doesn't have an HDMI port. It's great to have the option of either, not just be stuck with one.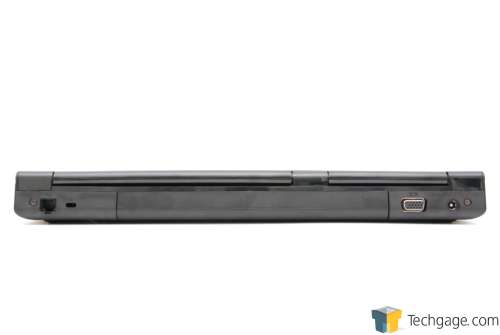 Finally, underneath we can find the various air holes and panels removable for upgrades. Both the RAM and hard drive are fully accessible, so if you want to upgrade to a larger hard drive, the option is there. Given that this notebook and many others ship with 4GB of RAM now, there's no reason to ever consider upgrading to more, as the rest of the notebook is going to become the bottleneck. Although, if you desire even faster RAM, either with higher frequencies or lower latencies, or both, it'd be one option.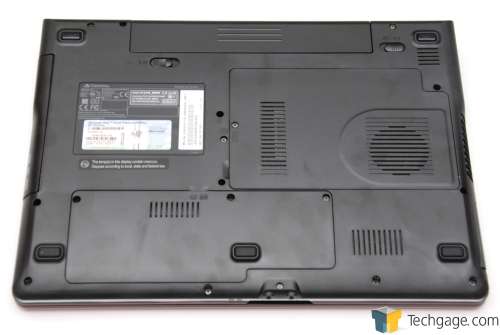 Gateway has done a solid job of packing as much value into the design of the notebook as possible. Although not pictured (since the reflection ruins all photos), the M-7818u includes a 15.4" screen and a 1.3 megapixel resolution web cam at the top, as is common of most notebooks produced today.
After much use, I don't have any show-stopping complaints, although I do wish the volume dial located next to the top-right speaker was a little more accurate. Though it looks like it's designed to support sliding of the finger, it's not. Rather, you are meant to push lightly on the – or + to decrease or increase the volume, which in the end is a rather slow process.
For the most part, though, that's the most "major" complaint I have about the design, and for a $779, I feel there is a good amount of value wrapped in here.
Specifications, Installation & Software
Before we dive into a look at the software and performance, let's first review the M-7818u's specifications. Being a value-oriented multi-media notebook, we wouldn't expect high-end components, and that's reflected in the below table. The CPU might be one of the largest bottlenecks, although it still should prove sufficient for most people. The T5800 is Intel's last-generation Core 2 Duo mobile chip, so it's of the 65nm variety, and lacks certain perks such as Intel's SSE4 extensions.
If production work is a goal while on the go, the second bottleneck might become the memory. While 4GB is sufficient for all needs, it's the overall speed that will slow things down a bit, but mostly in image manipulation scenarios. DDR2-667 used to be a standard, but DDR2-800 has since pushed in and has become a better choice. This is a value-driven notebook though, so small corners must be cut somewhere.
Model
Processor

Intel Core 2 Duo T5800 –
2.0GHz, 2MB L2 Cache, 800MHz FSB

Chipset
Graphics
Display

Samsung LTN154X3-L03 15.4" – Max Resolution: 1280×800 at 60 Hz


Memory

Hynix

2x2GB DDR2-667 (5-5-5-15)

Hard Drive

Hitachi HTS542525K9SA00
250 GB, 5400 RPM, 8MB Cache, S-ATA 1.5GB/s

ODD

Optiarc DVD-RW AD-7560S
DVD±R 8x, DVD+RW 8x/8x, DVD-RW 8x/6x, DVD±R9 6x, DVD-RAM 5x
DVD-ROM: 8x, CD 24x, CD±R 24x

Audio

Intel 82801IB ICH High-Definition Audio Controller

Network

Intel Wireless WiFi Link 5100 (a/b/g/n)
Marvel Yukon 88E8040 PCI-E Ethernet
HDAUDIO Soft Data Fax Modem w/ SmartCP


Et cetera

Weight: 6.28 lbs (2.85 kg)
Dimensions: 1.1" – 1.5" (H) x 14" (W) x 10" (D)
Battery: 6-Cell Lithium Ion 48.84 Whr (2.2AHr)
Gateway 1.3 Megapixel Webcam
3x USB, 1x VGA, 1x HDMI, 1x Kensington Lock
1x ExpressCard Type 54, 1x Memory Card (SD/MMC/MS/xD)
Other than the CPU and memory, the rest of the notebook is pretty-good, with a large 15.4" display, supporting a 1280×800 resolution, along with sufficient connectivity options, including the much-welcomed HDMI port. If you find yourself lacking in overall hard drive space, upgrades are now less-expensive than ever, but 250GB is still a healthy amount of space to deal with.
Installation & Software
On this particular sample, talking about installation would be moot, because simply turning it on brought me straight to the desktop after its quick boot… no halting along the way at all. This means that the notebook was already given a username, and all other configuration set, but I'm really unsure if that's typical design. However, nothing at all was changed on the desktop, so I assume it might very-well be.
The fact that the username was set is a little strange, since with notebooks, customization is something people usually look forward to. But, that's easily changed. You need to go to the user accounts configuration under the control panel, and after selecting the main user, you are able to change it to whatever you like. As far as I'm aware, that will not change the name of the actual folder (C:UsersUsername), but everything else will be reflected to the new name after a reboot).
To help keep notebook prices low (and probably also to help generate more revenue), Gateway pre-loads a handful of applications and URLs. Each of these can be uninstalled if you don't like them, through the Uninstall Programs section in the Control Panel. This "bloatware" includes:
Earthlink – URL to the ISP's website.
eBay – URL to the website.
Gateway Games – WildTangent free trials.
Google Toolbar – Internet Explorer extension.
Microsoft Office 2007 – 60-day trial of the office software.
Napster – 30-day trial of the music-on-demand software.
NetZero – URL to the ISP's website.
Norton 360 – 60-day trial of the security suite.
Aside from those, Gateway also pre-loads a lot of software for the sake of convenience. Some people might consider some of these pieces of software to be bloatware, but for the most part, some of it is stuff people will wind up installing at some point anyway. These include:
Adobe AIR, Flash Player and Reader – Web plugins and PDF reader.
BigFix – PC monitor that detects issues.
CyberLink Power2Go – Media software (DVD player).
Gateway Games – URL to Flash-based games.
Gateway Recovery Management – Save and restore complete OS backups.
Java 6 – Online and offline Java use.
Microsoft Money Essentials – OEM version of the financial software.
Windows Live Messenger – Popular instant message application.
For the most part, there is a lot of software pre-installed, but it only takes a few minutes to uninstall whatever you don't need. Hassle it might be, but if it helps keep the notebook less-expensive, it's not too large a burden. Speaking of burden though, as I mentioned on the first page and the last Gateway notebook review was that rather than including a restore DVD with the notebook, you'll need to create your own. This to me is a chore that people shouldn't be expected to do, but the process is rather simple.
The tool used is Gateway's Recovery Management, which offers you to both back up according to two profiles, as well as restore. The first option below creates a complete factory default disc. It will save all the settings on the PC, including applications installed, and when restored, you will wind up with a desktop reminiscent of the first boot. The second option creates a disc that only saves the drivers and applications, which would be useful if you wanted to install your own copy of Windows (such as if you had a preferred edition).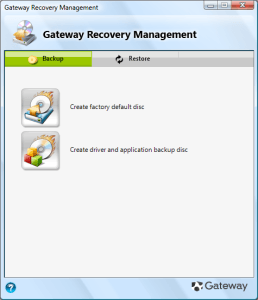 Once you select an option, you'll need to put in a blank DVD or CD and allow the software to burn whatever it needs. For this particular system, two DVDs were required, but if you wanted to take the CD route, you'd have to have 13 handy. I think it's safe to say that the DVD route would be the best one.
The entire process took around a half-hour, which included both the burning and verification process. For the most part, it's a painless process, but I still find it a little strange that users must take it upon themselves to take care of this. Gateway obviously does this to save money, given they have so many models available, but it's a chore nonetheless.
Things became a little more clear as I tested out the restore discs, however. From what I can tell, it doesn't matter when you choose to create these restore discs, because changes I made prior to creating the discs didn't stick after I went ahead with the restore. This is a good thing, because you wouldn't want poor configuration changes to be carried through with each fresh restore, since that defeats its goal.
Rather, after the restore process finished, I was greeted with the usual Vista setup that I've become accustomed to on other brand-new notebooks. This wasn't a simple restore that again brought me straight back to the desktop. This time around, I was able to choose my username, along with a few other small options. Five minutes later, the notebook was ready to go.
What I figure from this is that Gateway allows users two choices in setting up their notebook. Those who want to get things done fast, can simply boot up and use it. But, if they want a more typical "Out-of-Box Experience", then they could create the restore CDs, and go ahead and restore it. That to me is not that important, since the only real difference I could see between the two was the pre-set username, but that's easily changed as I mentioned earlier.
Now that I've been able to toy around with this backup/restore feature, I like it quite a bit, but I still don't understand why Gateway couldn't include the discs to begin with. If it's this easy to create them, then you'd imagine it'd be even easier for Gateway. However, I will mention that I love the ability to create multiple sets of restore discs with this tool. In fact, I'd highly recommend that, since it only takes two DVDs per set. Keep one handy, and store the other one, just in case. No other manufacturer I know of allows the creation of these discs so easily, so that's one perk.
Performance, Final Thoughts
Before we tackle the results, let's quickly review our basic notebook testing methodology. The first steps in preparing the notebook for testing is to use a fully-restored OS install and by uninstalling all unnecessary applications. This is done in order to both optimize the notebook and also remove services that could be running in the background, potentially effecting test results. Also, Windows Search Indexing is manually disabled as well, to further help with producing accurate and repeatable results.
Once the machine is prepared for benchmarking, it's shut down and set on a flat surface with plenty of room for airflow, until it's completely cooled down. Once benchmarking gets underway, the machine is boot and left to sit idle at the Windows desktop for five minutes, at which point testing begins. Each test is run through twice, with a reboot taking place in between each run.
In the case of some of these results, their meaning is not so important as we recently upgraded out general methodology and haven't tested other notebooks via the same methods. Future notebook reviews will have more comparisons, but if you are curious to see how this notebook compares to others we've reviewed in the past, feel free to take a look through our notebooks section.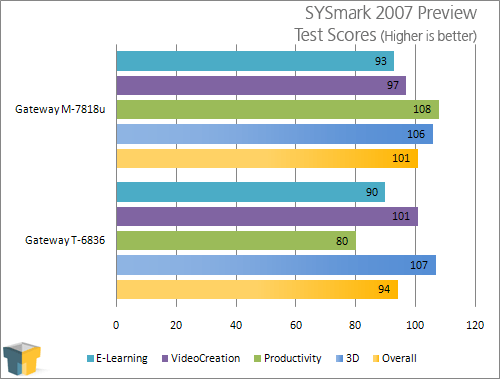 Because both of Gateway's notebooks that we've taken a look at so far have been more budget-oriented, we're comparing just the two in our SYSmark 2007 test. Here, the differences between the notebooks is minimal, but interesting since both include pretty comparable hardware. The M-7818u does feature Intel's latest mobile chipset, however, which might be the primary reason for the increases.
PCMark Vantage

PCMark: 3270
TV and Movies: 2263
Music: 3015
Communications: 3445
Productivity: 3242


HD Tune Pro 3

Minimum Read: 28.0 MB/s
Average Read: 46.0 MB/s
Maximum Read: 58.9 MB/s
CPU Usage: 6.1%


Adobe Lightroom 2

100 10MP RAW to JPEG: 325.79 s

TMPGEnc Xpress 4.6
3DS Max 2009
Sandra 2009

Memory Bandwidth: 3,920 MB/s Int / 3,924 MB/s Float
Memory Latency: 118 ns


Battery-Life

e-Book Reading: 5h 5m
DVD Movie: 2h 40m
SYSmark 2007: 2h 10m

Temperatures

Main Exhaust Before Boot: 73.8°F
Main Exhaust Five Minutes Idle: 81.6°F
Main Exhaust Ten Minutes Stress: 92.5°F
30 Minutes Touchpad Center: 88.7°F
30 Minutes Center of Keyboard: 82.5°F
Bottom of LCD: 96.0°F
For the most part, the M-7818u performed well throughout all of our tests. None of the results were too exciting, but as long as you don't have a serious need for processes finishing as fast as possible, you're sure to be pleased with the performance exhibited here.
Though while performance might be a little lacking for some people, what did impress me was the battery-life. Being a slightly-larger notebook than the T-6836, I was expecting shorter battery-life, but that wasn't the case at all. In the case of our e-Book reading test, you can see that the M-7818u lasted just over five hours, which for the most part is great on any notebook out there, much-less one with a full 15.4″ display.
Where a DVD movie was concerned, the battery-life was still very impressive, at 2h 40m. That's long enough to get through most movies in your collection, if not all… very nice to see. Also, as a result of our MobileMark 2007 installation not playing well (this is not the fault of the notebook, but the software), we were unable to run the usual productivity suite that comes with it. So in order to test out general battery-life with a heavy workload, we ran SYSmark 2007, which lasted 2h 10m before shutting down.
I should note that SYSmark is a benchmark that tests the performance of a PC, and it has no concern for battery-life, so it's constantly throwing work at the PC and hard disk with short 3 – 5 minute breaks in between each run. Although it's impossible for me to predict an accurate battery-life report for an average person, I'd expect that during normal use, including WiFi usage, the notebook should last at least a full three-hours, if not three-and-a-half hours.
Final Thoughts
For the money, Gateway has a great offering with their M-7818u. After taking a look at the T-6836 and being left with a poor taste in my mouth, I'm glad to have been able to have taken a more proper look at one of the company's other offerings. The biggest issue with their notebooks still remains to be the lack of an included restore disc, but as we saw, it's very easy to create your own, so at least there's that.
After being able to use this notebook for the past few weeks, I'm pleased to recommend it to anyone who's looking for a notebook in this price-range. It's not the fastest offering out there, but that's to be expected at $779. For the money though, Gateway packed a lot of value into what's offered here. The caveats are primarily the lack of extras (no notebook mouse, for example) and the obscene amount of "bloatware" pre-loaded.
For the most part, the design is great, and the build doesn't feel flimsy. Gateway also promises scratch-resistant paint, although I'm not sure to what extent that promise would be upheld. I wouldn't drop it and expect it to look brand-new, but it should remain pretty clear of scratches after being thrown in many backpacks or briefcases.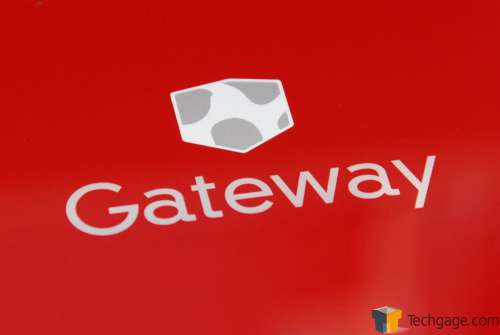 I'm not personally a fan of the top array of media buttons, and found them a little clunky… especially the volume dial. This could be due to personal taste, but I like pushing a button and getting some feedback. With this notebook, I've pushed these buttons more than once simply because I thought I didn't push it hard enough the first time. The volume dial is the biggest issue, though, as you'd have to hold your finger on either the – or + for ten seconds to get it from the top to bottom, or vice versa.
One aspect I didn't touch on much was the HDMI port, but that's something I did put to the test. First and foremost, if you plan to connect this to a monitor or television, be sure to select the native resolution for the display, and nothing else, since input lag could occur. I had this happen with our Gateway XHD3000, which has a native resolution of 2560×1600. If your TV or monitor has a native resolution of 1080p, then you're going to be set, since that's the recommended resolution.
To test the notebook for the ability to handle 1080p content, I used VLC to load up a 1GB 1080p video file that averages out to a ~10Mbit/s video bitrate. While not as high a bitrate as say, Blu-ray, it's common of really high-definition files in a downloadable format. In the case of this video, the 1GB delivered close to 18 minutes of video, so a full movie would be closer to 5GB. Technical data aside, the video played just fine, the entire way through, without a single skip. That's good news for those who want to bring their media with them (and an HDMI cable as well).
Overall, this is a great notebook for the money, and it's priced very competitively. So if this has everything you need and want, you won't be disappointed. If you are looking for more in way of hard drive space, desktop real-estate or anything else, you can check out Gateway's other M-series models on their website. I'd expect our findings to be generally the same (save for performance) throughout most of them.
Pros
Price: ~$779USD
Offers ample performance.
Fantastic battery-life (5 hours for reading, 3+ hours for regular work).
HDMI port addition is useful to those with capable TVs or monitors.
Handles 1080p content just fine.
Temperatures keep rather low, even after long periods of use.
Cons
Top media buttons are a little clunky.
The bottom-leftmost Fn key might annoy some.
Solid build, but lacks a latch for securing the display while closed.
No restore discs included, however creation of your own is a simple endeavour.
So… much… bloatware…
Discuss this article in our forums!
Have a comment you wish to make on this article? Recommendations? Criticism? Feel free to head over to our related thread and put your words to our virtual paper! There is no requirement to register in order to respond to these threads, but it sure doesn't hurt!
Copyright © 2005-2021 Techgage Networks Inc. - All Rights Reserved.