Gateway MD7826u 15.6″ Notebook

Date: April 17, 2009
Author(s): Rob Williams

Gateway launched three new notebook series just a few weeks ago, with the MD arguably being the most interesting. As a value-focused multi-media series, the models feature a large screen and modest resolution, fast processors and ample storage. This along with superb design, and with multiple models available, there's one bound to suit you.
---
Introduction
Late last month, Gateway released three brand-new notebook series, all of which have the goal of delivering a quality product for less than $1,000 USD. The MC is their multi-media specific series, which features a large 16″ display with edge-to-edge glass, in addition to illuminated buttons on the keyboard. There's also the UC, which happens to be the company's first-ever 13.3″ offering. Coming in at 5.2 pounds, the company hopes that given the $799.99 USD SRP, users who love small, yet powerful notebooks, will give it a look.
Lastly, the MD series was also released, which is where the notebook we're taking a look at today belongs. It's similar to the MC series in that it's targeted at multi-media use, but it's more of a value-focused option, so we lose the edge-to-edge glass and also the illuminated keys. Coupled with all of the features each series offers, and the fact that each one retails for under $1,000, either one is well-worth a look if you're in the market for a new notebook.
Of course, it may seem like I'm jumping the gun here, but if Gateway's previous notebooks are anything to go by, then I'm confident each new series should deliver the goods, especially after having given the MD7826u a good test over the past few weeks. So let's get to our reports!
Closer Look at Gateway's MD7826u
The three new series from Gateway aren't simple revamps of their previous models, but each one sports a brand-new design, and I have to say, the change is refreshing. Compared to their M-7818u which we reviewed a few months ago, there's simply no comparison with regards to which one looks better. That opinion will of course vary, but I definitely know which I'd choose first.
We'll take a look at the actual specifications for the notebook on the following page, but for the rest of this one, we'll take a brief tour around the MD7826u and see what's new and available. As we've mentioned in previous Gateway notebook reviews, the company usually picks and chooses which retailer to send a particular model to, so one model may not be available at more than one e-tailer with the same configuration. The MD7826u is one of the oddballs though, because it is available all over, including at e-tailers like Amazon, CompUSA and Newegg.
The first thing you'll spot on the MD models is the stripe which runs down the center of the cover. There's no purpose to this other than to look good. If you look close, the end chrome piece displays the company's name. While we received a dark red version of the notebook, a jet black model is also available.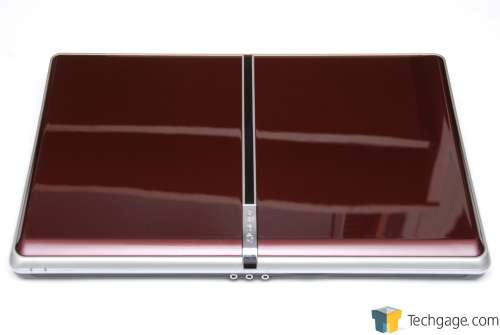 If the cover didn't tell you that this notebook was different, maybe taking a look at the keyboard will change your mind. Well, it's not just the keyboard, but the entire surface area of the inside. It's unlike any notebook I've seen before, and a far stretch from Gateway's previous offerings. One immediate downside I notice, though, is the lack of a numpad. On a 15.6″ notebook, one should be standard, but Gateway had an obvious goal in mind, and losing the numpad wasn't done without thought.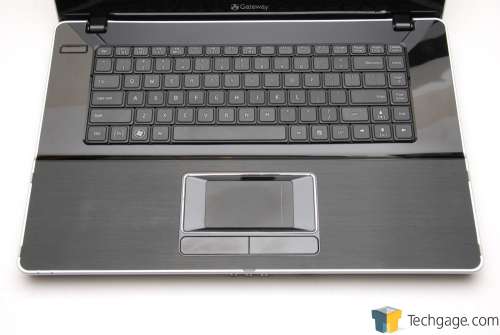 The clean area around the keyboard isn't wasted, as there's orange back-lighting used here to keep you up to date on the various status' of the notebook. On the right side, the backlight illuminates a volume dial and media keys, and it looks pretty sharp, especially in the dark.
One thing I do really like though is the extremely clean design. Because Gateway moved some of the media buttons to become really subtle, the only button to be found other than the what's available on keyboard is the power on/off button. You can't get a much cleaner look than this.
This area of the notebook is produced with two different textures, a glossy plastic around the keyboard, and a faux brushed aluminum palm rest. Both textures integrate well into each other, and the palm rest is one of the best I've used to date. Plastic palm rests can end up rubbing against your skin in the wrong way after long periods of use, but I didn't find that to be the case with the solution here.
Likewise for the touchpad, which is very smooth and easy to use after hours of time. The temperature there never warms up to an uncomfortable level – a big plus. The left and right buttons are flush with the rest of the notebook, and are easy to push if you are in a normal sitting position or even lying down.
Now to the keyboard, which is unlike any I've ever seen on or off a notebook before. Similar to chiclet-style keys, all keys are elevated equally and feel the same. Those of you who love keyboards that give a little bit of tactile feedback will love this, although it does take a look getting used to, like most notebook keyboards. It took me about an hour before I got on a roll and felt I could type comfortably, and reliably.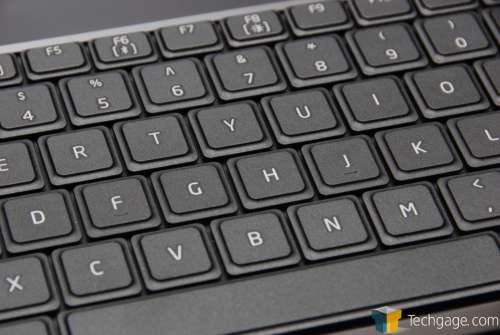 In the photo below, you can see how the notebook opens up. During normal use, the bottom of the panel will hide behind the back of the notebook, and the result looks nice overall.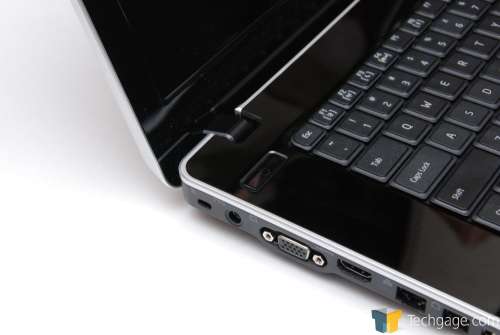 Where connectivity is concerned, the MD7826u has got it all (almost). On the front, you'll find the audio ports, while on the right-side you'll have access to two USB ports and also the ODD (DVD-RW).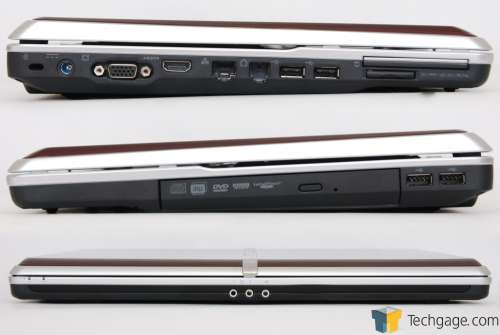 On the left side is where the vast majority of peripheral connectivity is, with both a VGA and HDMI port available, in addition to a LAN, modem, two more USB ports, an ExpressCard slot and of course, a memory card reader.
I admit that at first, I wasn't totally sold on the general design of the notebook, especially the cover (I tend to hate "racing stripes"), but after a fair amount of use, the entire design has grown on me. Even though I wasn't keen on the cover, opening the notebook up changed my mind completely. I absolutely love clean design, and this is about as clean as it gets. Past that, the peripheral connectivity is top-rate. So with that said, on the following page we'll get a bit more into the specifics.
Gateway MD7826u's Configuration
The MD7826u is currently the top-end model for Gateway's new MD series, and as such, it carries a higher price-tag, of just under $1,000 (some e-tailers are selling for as low as $899). If that price tag is a little out of your reach, then not all hope is lost. Gateway offers a wide variety of configurations based around this exact design, with the lowest model selling for $649.
The good thing there is that what you lose when moving downward is performance, and not the aesthetic features, or even some of the peripheral features. On the $649, you still get an HDMI connector, which is a sweet deal. You can see Gateway's entire line-up of MD notebooks here.
What you do get for your $999 is much beefier hardware, including a faster CPU, a much-improved graphics card, more storage and memory. So if overall performance (or gaming) doesn't matter that much to you, then a lower-end model may be more your cup of tea. Gaming is one aspect Gateway doesn't tout about this notebook, but given the more-than-sufficient mid-range graphics card, along with the lower resolution, it should be no problem.
Model
Processor

Intel Core 2 Duo P8400 – 2.23GHz, 3MB L2 Cache, 1066MHz FSB

Chipset
Graphics

ATI Mobility Radeon HD 3650 512MB

Display

Chi Mei N156B3-L02 15.6" – Max Resolution: 1366×768 at 60Hz

Memory

Hynix

2x2GB DDR2-667 (5-5-5-15)

Hard Drive

Hitachi HTS543232L9A300
320 GB, 5400 RPM, 8MB Cache, S-ATA 3.0GB/s

ODD
Audio

ATI Radeon HDMI (ATI RV635)
Conexant Cx20561 (Intel 82801IB ICH9)


Network

Intel Wireless WiFi Link 5300 (802.11 a/b/g/n)
Marvel Yukon 88E8057 Gigabit Ethernet
Conexant 56K Modem

Et cetera

Weight: 7.2 lbs (3.28 kg)
Dimensions: 1.3" – 1.7" (H) x 15.2" (W) x 10.4" (D)
Battery: 6-Cell Lithium Ion 48.84 Whr (2.2AHr)
1.3 Megapixel Webcam
4x USB, 1x VGA, 1x HDMI, 1x Kensington Lock
1x ExpressCard Type 54, 1x Memory Card (SD/MMC/MS/Pro/xD)
Bluetooth
1 Year Parts and Labor Warranty

OS

Windows Vista Home Premium 64-bit
One reason for the extra cost is the nice Intel Dual-Core processor, at 2.23GHz. It includes 3MB of L2 Cache and runs on a speedy 1066MHz FSB. For graphics, ATI's Mobility Radeon HD 3650 is included here, which should be powerful enough to power most games at the screen's native resolution with modest detail settings. And like most notebooks these days, this one also includes 4GB of DDR2, and thanks to the bundled 64-bit version of Windows Vista, it can actually all be used.
Aside from those performance parts, a 320GB hard drive is included for all your storage needs, but sadly, expandability isn't as good as some other notebooks with the lack of an e-SATA port. External storage can of course still be used via USB, however… it will just not be as fast. But as this is built for multi-media, it's no surprise that an HDMI port is included, and that's a huge plus. Given the price-range, it's no surprise that a Blu-ray player isn't included, but downloadable 720p/1080p videos could be streamed without issue to a larger display.
The most comparable notebook to this one that we've taken a look at recently would be ASUS' N50Vn. That notebook costs a little bit more than this one, at $1,149, but contains a slightly faster CPU and also a higher resolution, so the pricing seems to scale. Compared to the ASUS notebook though, I think Gateway has won the round where looks are concerned. There's really no competition in my opinion.
Testing Results
Before we tackle the results, let's quickly review our basic notebook testing methodology. The first step in preparing the notebook is to completely wipe the factory OS and install our own (Vista Home Premium 64-bit). This is to prevent pre-installed applications from skewing our performance results. We then use the included DVD-ROM to install all of the necessary drivers. Also, Windows Search Indexing and a few other Windows services are manually disabled, to further help with producing accurate and repeatable results.
Once the machine is prepared for benchmarking, it's shut down and set on a flat surface with plenty of room for airflow until it's completely cooled down. Once benchmarking gets underway, the machine is boot and left to sit idle at the Windows desktop for five minutes, at which point testing begins. Each test is run through twice, with a reboot taking place in between each run.
Because we recently revamped our notebook testing methodology, we have a general lack of comparative results. This will improve over time, however, and where we are able to compare with at least one other notebook, we will.
Testing Results
Let's start things off with a look at our SYSmark 2007 Preview results. For those unfamiliar, SYSmark is essentially one huge macro which utilizes numerous popular applications found on desktops and workstations, such as Adobe Photoshop, Sony Acid, Autodesk 3ds Max, and so forth. The suite is split into four different sections, including E-Learning and VideoCreation, with scores being awarded after the full suite iteration.
SYSmark tabulates scores based on how fast the given hardware was able to complete various tasks, and because the test emulates multi-tasking scenarios quite heavily, a fast processor and lots of RAM is required to achieve impressive results.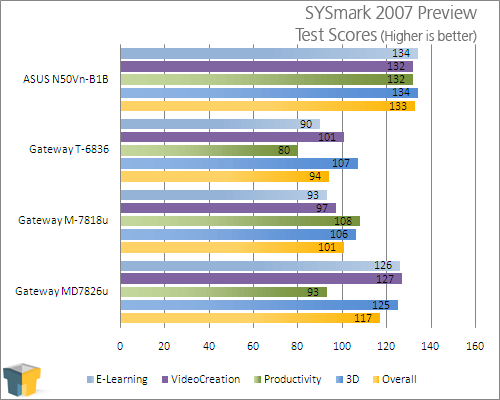 As mentioned on the second page of this article, Gateway's MD7826u compares quite well to ASUS' N50Vn-1B1 in terms of hardware, but the faster hardware of the latter helped it pull ahead by a few points in some tests, and especially in the productivity test. Now to take a look at the other test results, with comparative results of the aforementioned ASUS model.
PCMark Vantage
PCMark
Memories
TV and Movies
Gaming
Music
Communication
Productivity
Hard Drive

3772 (5476)
2583 (3276)
2704 (2780)
3260 (6309)
3618 (5781)
3470 (4910)
3396 (7975)
3018 (21439)

3348 (4916)
2348 (3061)
2506 (2361)
2738 (5045)
3466 (5459)
3315 (4486)
3223 (5130)
2535 (10243)
HD Tune Pro 3.5
Minimum
Average
Maximum
Burst
CPU Usage
29.0 MB/s (193.8 MB/s)
49.2 MB/s (200.5 MB/s)
63.7 MB/s (203.9 MB/s)
98.3 MB/s (94.0 MB/s)
1.3% (5.5%)
29.6 MB/s (84.6 MB/s)
49.9 MB/s (88.5 MB/s)
65.6 MB/s (167.5 MB/s)
47.4 MB/s (44.0 MB/s)
9.5% (19.9%)
Adobe Lightroom 2
100 10MP RAW to JPEG
238.664 s (243.433 s)
262.059 s (255.675 s)
TMPGEnc Xpress 4.6
720p Recode
407 s (409s)
442 s (436 s)
dBpoweramp
Convert 100 FLAC to MP3
597 s (561 s)
654 s (598 s)
3DS Max 2009
Dog Render
389 s (388 s)
413 s (418 s)
Sandra 2009
Bandwidth Int
Bandwidth Float
Memory Latency
5478 MB/s
5472 MB/s
106 ns
5329 MB/s
5293 MB/s
106 ns
Battery-Life
eBook Reading
DVD Movie
Productivity
2h 50m (2h 50m)
1h 53m (1h 55m)
2h 35m (2h 40m)
3h 40m (3h 51m)
2h 31m (2h 38m)
3h 24m (3h 29m)
Game Level Loading
Call of Duty: World at War
Crysis Warhead
Fallout 3
Left 4 Dead
Need for Speed Undercover
18.446 s (10.535 s)
63.285 s (37.488 s)
5.524 s (4.899 s)
16.842 s (11.982 s)
4.171 s (4.189 s)
29.997 s (20.976 s)
62.336 s (48.038 s)
5.170 s (4.642 s)
18.457 s (14.764 s)
5.441 s (11.001 s)
Temperatures
Main Exhaust Before Boot
Main Exhaust 5 Minutes Idle
Main Exhaust 30 Minutes Stress
30 Minutes Touchpad Center
30 Minutes Center of Keyboard
Bottom of LCD
22.2 °C (72.0 °F)
26.3 °C (79.3 °F)
38.8 °C (101.8 °F)
29.7 °C (85.5 °F)
28.7 °C (83.7 °F)
31.9 °C (89.4 °F)
26.9 °C (80.4 °F)
30.1 °C (86.2 °F)
41.3 °C (106.34 °F)
33.6 °C (92.5 °F)
32.7 °C (90.9 °F)
42.5 °C (108.5 °F)

Results with Intel's X25-M SSD in (Brackets)
Let's take a look first at our PCMark results. These seem to scale quite well with the ASUS notebook once again, although it does seem to fall well behind in some tests, especially the HDD test. Note that this notebook uses the exact same model hard drive, so these differences are a little strange. The next oddity comes with the HD Tune Pro test. We saw the same speeds overall, but on the Gateway, the burst speed was much lower, and CPU usage much higher (20% with the SSD!).
In the rest of the performance tests, the faster CPU of the ASUS notebook helped it achieve a great lead, but I'm starting to suspect that something is strange with the storage controller on the Gateway, because the slight difference in CPU speed (7.6%) shouldn't make that much of a difference.
But while that's kind of a downer, the battery-life tests help make up for it. The differences here between the ASUS and the Gateway are once again notable, but this time it works out to Gateway's favor. Not only was the eBook test improved, but even the DVD Movie test! Once again I'm confused, since both notebooks are quite similar, but it could be that the ATI GPU is far more efficient than the NVIDIA on the ASUS, where power draw is concerned.
Game Testing
Because this notebook contains a graphics card suitable for gaming, we've put it through five current games to see just how far we could push the detail settings, while still retaining smooth gameplay. Testing a notebook for gaming potential is unlike our regular graphics card content, however. On a notebook, it's easier to get away with a lower FPS, and still retain good control over your game. So while some of our results below may appear "unplayable", we can assure you that they were.
To find an ideal setting, we took each game and tweaked each and every setting until we hit a "sweet spot"… a configuration that would allow us to play the game without much lag. This of course would include the ability to have good control over your weapon in an FPS title. If we found it to be too difficult to have precise control, we decreased the settings.
Screenshots and FPS results were captured with Fraps 2.9.8. Although we don't benchmark these games in the typical manner, you can get an idea of performance by looking at the top-right corner in each shot. We need to stress though, that while some reported FPS is rather low, each and every game here was completely playable.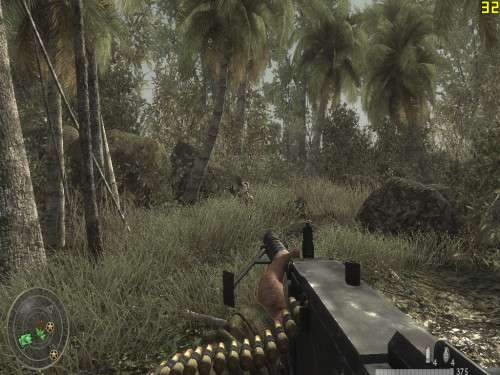 Call of Duty: World at War (1024×768, Low Detail, No Shadows, 0xAF, 0xAA)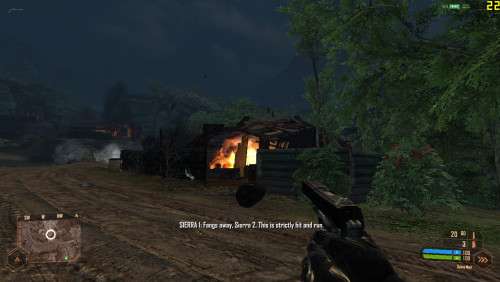 Crysis Warhead (1366×768, Minimum Profile, 0xAA)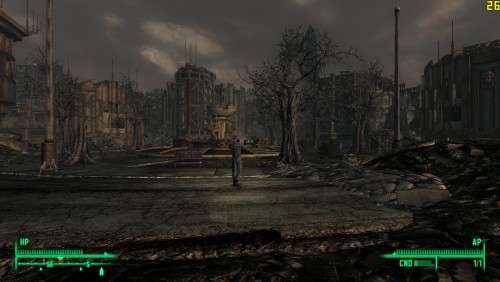 Fallout 3 (1366×768, High Detail, 0xAA)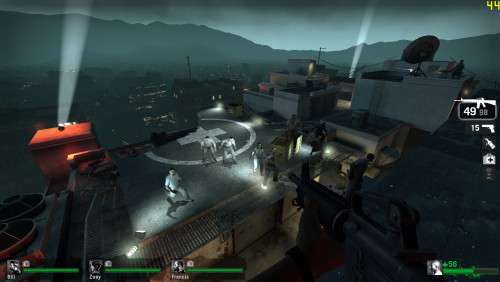 Left 4 Dead (1366×768, Medium Detail, 4xAF, 0xAA)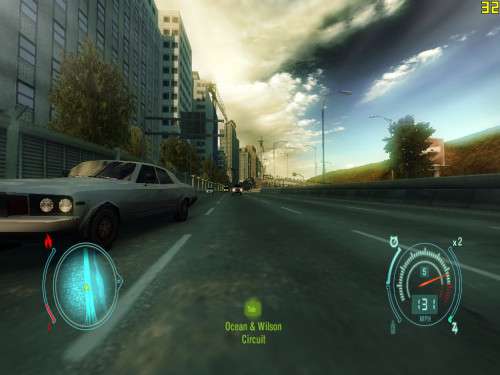 Need for Speed: Undercover (1024×768, Medium Detail, Medium World Detail, 0xAA)
Well, I admit I expected a lot more from this notebook for gaming than what I saw. The HD 3650 moniker for the GPU is kind of mis-leading, because it assumes it's a mid-range card, but in all reality, it felt like a low-end card in all regards. Thanks to the lacking performance, we couldn't run Call of Duty: World at War at the display's native resolution, even with the lowest graphics settings possible. Shifting that down to 1024×768 made all the difference in the world though.
Oddly enough, the game to run the best was Crysis, using the Minimum profile at the native resolution of 1366×768. I was really surprised by how well it played, and despite how it looks in the screenshot above, it looks better on the notebook itself. It's much easier to spot imperfections with a bright high-resolution monitor. In second place for performance would have to be Left 4 Dead.. it played like a relative dream at the native resolution and medium detail settings.
Need for Speed had to be kept to 1024×768, like Call of Duty, but that's because the monitor's resolution isn't supported in the game. Even still though, at 1024×768, we had to decrease the graphical detail a great detail, and this is one game where it actually did look flat and boring. Really not a good experience, but if you're in a bind, it's not going to kill your buzz for gaming.
Final Thoughts
Gateway has been pushing out some great notebooks over the past few years, and they've been becoming well-known to people who wouldn't have considered one of their notebooks just three years ago. We're no longer in a time where people simply flock to Dell's website to order a notebook. The competition and tough, and that results in far better products for us, and not to mention great pricing as well.
I welcome the MC and MD series with open arms though, because their design is excellent, and really breathes new life into Gateway's mainstream line-up. I'm still not gung-ho for the stripe on the hood, but the clean layout of the keyboard is simply awesome. As I've mentioned before, I love clean design, and I really can't see how that general area could be any cleaner. The back-lit buttons are also a nice touch.
Overall, my complaints are few, but there was a strange issue that must be brought up. During our benchmarking, we found lacking results when comparing the notebook to ASUS' N50Vn. Granted, that notebook is a wee bit faster, and has slightly faster memory, but the hard disks are identical. Given the slight hardware improvements of the ASUS, I don't see how these numbers add up. Either way, it is what it is, and ASUS has a slightly better setup, but for a higher cost (and it's nowhere near as good-looking).
But that gripe aside, the performance seen here is still quite good, and I'm doubtful anyone is going to be unhappy with having it in their notebook. The processor is rather beefy and makes for a perfect multi-media CPU, and the memory is plentiful as well. The 320GB hard drive isn't huge, but for most people it's likely to suffice. I do wish they would have added an eSATA port though, since they are growing in popularity.
You might have also noticed that I didn't devote a page to the installation and software like I usually do, but it's because nothing at all has changed since we last reviewed a Gateway notebook (which makes sense given it was only a few months ago). For information on the software, please check out a page from the M-7818u review, as even the bloatware is almost identical (the only thing missing is Cyberlink Power2Go).
Gateway doesn't consider this notebook to be for gaming, and it's a good thing since the results there weren't too impressive. Given the mid-range name of the GPU, I expected to see decent performance, but really it was a non-joy to test with. Do not purchase this notebook and expect to game, it's as simple as that. You can certainly play games with decent gameplay, but you have to sacrifice detail settings far too much to do so. Not a fun experience in my opinion.
Where the notebook lacked in some benchmarks though, it made up for in the battery-life tests. Compared to the ASUS, Gateway's offering lasted 50 minutes longer in our eBook test, 38 minutes longer in DVD playback (not even sure how that's possible, but I'll take it) and 49 minutes longer in our productivity test. Not bad at all, especially for a 15.6″ notebook under $1,000.
Speaking of the price tag though, although I quite like the MD7826u, I can't help but feel that the graphics card included doesn't warrant the $999 SRP. Compare this to the MD7822u, for example. That notebook has an Intel integrated graphics chip, a slightly slower CPU and slower memory, but somehow includes a larger hard drive (500GB), all for $799. I'd be far more likely to pick up that notebook over this one, because the extra HDD space is nice, and I consider this ATI card to be all but useless. The integrated Intel card is going to be sufficient for HD playback like this ATI one, and though the CPU is a bit slower, it's not exactly going to be lacking, either.
Taking the downsides mentioned above into consideration, I believe Gateway could make a few changes with the MD series, but as it stands, it's still a great notebook and happens to be one of the best-looking ones available. This isn't the exact model I'd recommend, as I'd leave that to the MD7822u. It pays to shop around though, so if you want to save even more money, you could browse the other MD notebooks to make your final decision.
Pros
Great design and aesthetics.
Battery-life is good for a 15″ offering.
Keyboard has good tactile feedback.
Speedy processor, great for many tasks, including 1080p playback.
Plenty of USB ports (4) and HDMI port is a plus.
Vista 64-bit OS pre-installed. Down with 32-bit!
Priced right for the hardware, but more attractive lesser-expensive MD models available.
Cons
Keyboard can take a little getting used to.
Lacking gaming performance.
No eSATA port.
No bundled mouse or any other accessories.
Once again, bloatware!
Discuss this article in our forums!
Have a comment you wish to make on this article? Recommendations? Criticism? Feel free to head over to our related thread and put your words to our virtual paper! There is no requirement to register in order to respond to these threads, but it sure doesn't hurt!
Copyright © 2005-2020 Techgage Networks Inc. - All Rights Reserved.