Genius WideCam 320 Webcam Review

Date: January 29, 2013
Author(s): Ryan Perry

More and more people are using webcams to connect with others either for business or pleasure, so it only stands to reason that we should see more low-cost offerings that don't skimp on features. Come along as we take a look at Genius' $30 WideCam 320, which aims to cover these points, while offering users a look at the "bigger picture".
---
Introduction
Remember back in the day when webcams used to cost an arm and a leg? There were some that I can recall where the picture was so pixelated, it looked as if you were stuck in Minecraft. Some of them even required you to buy a separate microphone! Compared to what we have today, using early webcams would be like living in prehistoric times.
Well, come with us as we hit 88MPH and fast-forward to the future where we have products such as the Genius WideCam 320. Some of you might be thinking that a webcam is a webcam and why should the WideCam be any different? Well, as the name suggests, the WideCam 320 is just that – an 8 megapixel, wide-angle camera capable of capturing a 100 degree range thanks to its wide-angle lens.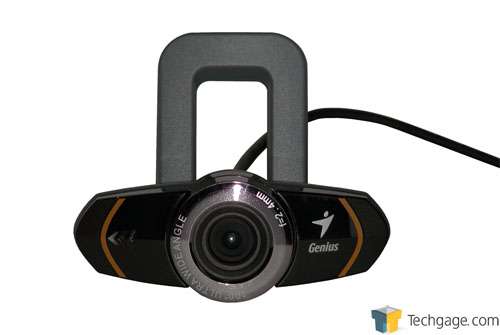 The housing and clip are made entirely of plastic, which keeps the weight to a minimum. In the center is the glass lens that is said to improve image quality over webcams with plastic lenses. The WideCam 320 also sports a 3x digital zoom for those who want to get up close and personal. To the left of the lense is the built-in microphone along with the LED indicator that shines blue when the camera is in use.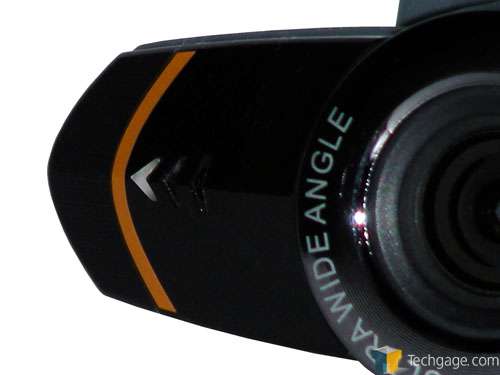 Thanks to the "universal" clip, the WideCam 320 can be perched just about anywhere, from the top of a monitor, to a laptop, to flat on the desk. Users shouldn't have a problem placing it where it needs to be so long as it's within reach of the 5 foot USB cable. Vertical adjustments can be made but horizontal adjustments are out of the question due to the way the camera is secured to the clip.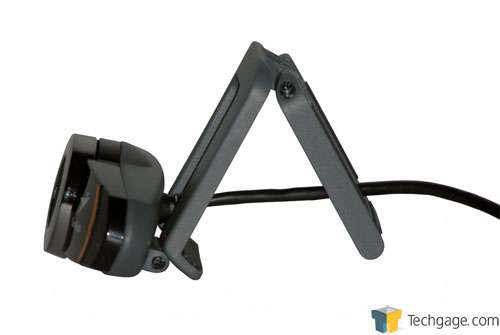 Included with the WideCam 320 is a fold-out user manual and a Windows software CD that contains the Genius Utility and a copy of ArcSoft's Webcam Companion 4 Lite. Since the camera is plug-and-play, there are no drivers to mess with. Those running Mac and even Linux (rejoice, Rob!) are covered as the WideCam 320 supports OS 10.4.9 and up, and Kernel 2.6.21 and up, respectively.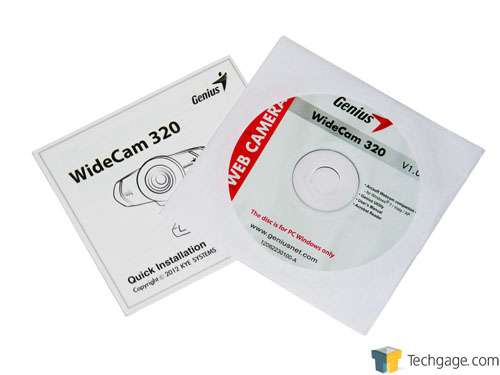 With regards to software, the Genius utility runs in the system tray and allows users to switch between frequencies of 50 or 60 Hz, but can also enable or disable the Image Protection Mechanism. This little feature is meant to prevent outside parties from taking over the webcam if they gain unauthorized access to the system.
ArcSoft's Webcam Companion 4 Lite can be used to record video and capture still images, create some fun framed images as shown below, and allows users to edit images and videos while giving them the ability to upload them directly to Facebook, Twitter, Flickr and YouTube, without having to visit the sites directly.
Another application that was installed, to which there was no mention of during the installation processes, was ArcSoft's Magic-i. This application allows for on-the-fly changes to be made to things such as brightness, sharpness, focus and zoom. Other features such as face-tracking can also be enabled along with silly things like setting a filter or an avatar. Magic-i can also save profiles, which could come in handy if the webcam is frequently used in different rooms with different lighting.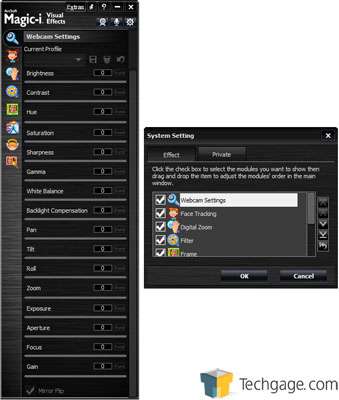 A camera is useless if it doesn't capture audio and video properly regardless of the specs and software, so up next, we're putting the WideCam 320 to the test.
Testing & Final Thoughts
With plenty of light, video on the WideCam 320 looks quite good even if I don't, but there's no webcam on the market today that can improve this mug. When moved into a low-light environment, the image quality drops as the camera tries to use the available light in the room to display the subject. A lot of the sharpness and clarity is lost and the amount of blur is increased when the subject moves, but this is to be expected.
The WideCam 320 gets the job done from a video stand point, but the audio is where things start to fall flat. No matter what settings were modified – such as microphone boost – the audio always came in extremely soft and muffled. Unless I began to really project my voice, which put me on the verge of yelling, the built-in microphone had a hard time picking up sound. To rule out a possible audio problem on my desktop, it was also connected to my laptop, but the audio levels didn't improve.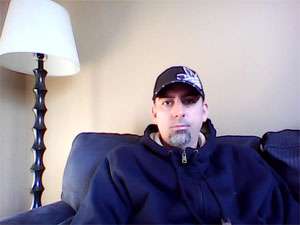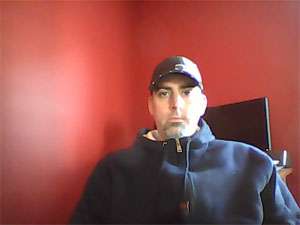 (Click each image to view in browser, or right-click and save as)
Another problem that I ran into was that the mounting clip provided almost no resistance; the camera would not stay where it was placed. While mounting it onto a LCD monitor in the office, the camera routinely shifted position due to the weight of the USB cable. Tightening the screws on the clip only helped to a small degree and I found myself having to place it very carefully, hold my breath and hope for the best.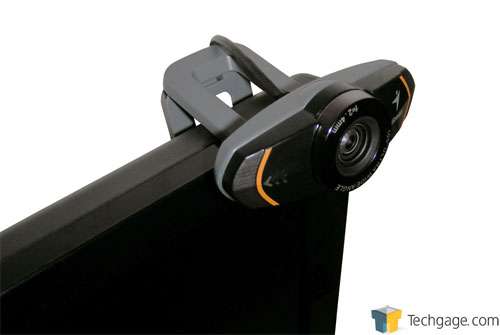 Final Thoughts
From a design perspective, I like that the WideCam 320 is quite small, which means it manages to stay fairly inconspicuous. This could be a big selling feature for someone who plans to hook it up to an HTPC in their living room and doesn't want a camera that looks out of place.
This small, light-weight package creates a problem though as the camera simply wouldn't stay where it was placed without some creative maneuvering. Adding some extra resistance to the points where the clip is adjusted would go a long way here.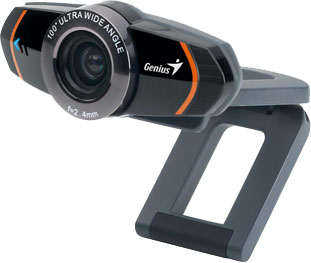 Performance-wise, the video in bright light environments is good, but I don't know if I'd go so far as to say it's 8 megapixels good. The camera on my phone is only 5 megapixels and it does a much better job when there is enough light. Moving into low-light environments, the WideCam 320 holds its own and does a good job at using what light is available.
Normally I try to list any shortcomings while being as tactful as possible, but to put it bluntly, the audio on the WideCam 320 is terrible. No amount of tweaking would make the audio come through clearly, so that's one half of the webcam equation that doesn't add up.
The WideCam 320 doesn't live up the claims on the box, but it's the price-point that might woo prospective buyers so that they look past any performance problems. It's retailing for about ~$30 US, which makes it very attractive. Couple this with the fact that it works with Windows, Mac and Linux operating systems, and it could be a winner for those who don't need bleeding-edge video or audio.
There are better options out there for those who are able to spend even $20 more, but for those who want what I would call an entry-level webcam, the WideCam 320 from Genius might be worth a look.
Copyright © 2005-2019 Techgage Networks Inc. - All Rights Reserved.