GIGABYTE X99-UD4 Motherboard Review

Date: May 4, 2015
Author(s): Rob Williams

Building an X99-based machine and want a great "sweet-spot" motherboard? GIGABYTE's X99-UD4 is well worth the consideration, as it delivers a lot of functionality for its <$250 price-tag, tosses in a couple of extras we might not "need" but do appreciate, and sports a solid design. Let's check it out.
---
Introduction, A Tour Of The Hardware
Since posting a look at ASUS' X99-DELUXE in February, I've been anxious to talk about another X99 motherboard I've spent quite a bit of time with: GIGABYTE's X99-UD4. Based on the fact that you're here reading this, you've probably surmised that I'm going to take care of that now.
Similar to the goals of ASUS' DELUXE series, GIGABYTE's UD, or "Ultra Durable" series aims to offer well-rounded solutions that don't cut corners. Being that the UD4 I'm looking at here is an X99 one, it goes without saying that it's going to be beefier than most mainstream boards, and that's something its ~$250 price tag could also allude to.
The UD4 is designed for those who want to go the route of a high-end platform but don't need to go over-the-top. Part of that means it has no wireless, but it still does have an M.2 slot, as well as support for SATA Express. Oh – and 64GB of fast DDR4-2800 memory.
Like the rest of GIGABYTE's X99 UD boards, the UD4 sports a black base color with gray and gold accents.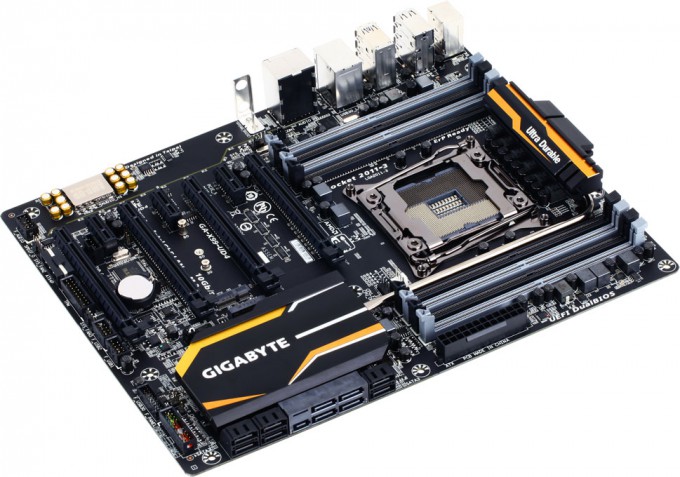 The X99-UD4 doesn't just pack a ton of features into its modest ATX frame, it also sports a smart design. I appreciate boards that don't settle some important connectors inward, or at odd angles. The 8-pin motherboard connector should prove accessible for almost all builds, and the same goes for the chassis connectors. Beyond that, those wanting to take the quad GPU route will have ample spacing for that.
GIGABYTE X99-UD4
Architecture
Intel X99 (LGA2011-v3)
Form-Factor
ATX (12″ x 9.6″)
Memory
Up to 8x8GB DDR4-2800
Multi-GPU
4-way NVIDIA SLI
4-way AMD CrossFire
Expansion
4x PCIe 3.0 x16
3x PCIe 2.0 x1
Storage
10x SATA 6Gbps (Intel)
1x SATA Express 6Gbps (Intel)
1x M.2 (PCIe SSD: 2242/2260/2280)
Network
Intel Gigabit Ethernet
Wireless
Can be added with add-on M.2 card
Audio
Realtek ALC1150 8-channel
Optical S/PDIF out
USB
Back-panel: 2x 3.0 & 4x 2.0 (Intel), 4x 3.0 (Renesas),
Internal: 2x 3.0 & 4x 2.0 (Intel)
Back I/O
1x 1Gbps LAN, 6x USB 3.0, 4x USB 2.0, 1x Optical S/PDIF, 5x Audio Jacks, PS/2 Keyboard + Mouse
Features
@BIOS, Q-Flash, Smart Switch, Xpress Install, EasyTune, ON/OFF Charge, EZ Setup, DualBIOS, Smart Recovery 2, Smart TimeLock, USB Blocker, Fast Boost, Cloud Station, V-Tuner, Ambient LED, 5x 4-pin Fan Headers
A couple of things to note about the UD4 is that it includes an x4 M.2 slot, so you can equip yourself with one of the fastest SSDs going. If you don't want to go that route, you can install a Wi-Fi card instead, although if you have enough PCIe slots left over, that'd be another route to take for that. If you don't use SATA Express, you'll have 10 SATA ports to take advantage of, and at the back, there are 10 USB ports, with a mixture of 3.0 and 2.0.
On paper, the feature set looks great, but a visual tour is often better. Let's get on it.
As mentioned earlier, GIGABYTE's X99 Ultra Durable series all have a black base color and are accented by gray and gold. Personally, I love clean aesthetics like this. If you want something a little flashier, the company's Gaming or SOC series might be worth a look (the SOC series in particular has an awesome orange theme).
At the bottom-right corner of the UD4 we find the 10 SATA ports (2 will become occupied if SATA Express used), as well as the chassis connectors and USB headers (1x 3.0, 2x 2.0).
At the bottom left of the board is its audio card, a Realtek ALC1150 offering that supports up to 115dBA and has a built-in amplifier. Interestingly, GIGABYTE separates the left and right audio channels by putting them on separate PCB layers. That doesn't meant that the solution only supports stereo, though: 7.1 support is there if you need it.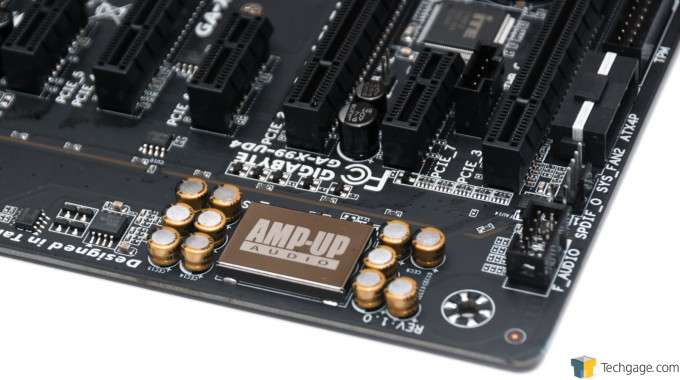 Four x16 PCIe slots are provided on this board in addition to a trio of x1 slots. In between them all, you'll be able to spot the M.2 connector. Also here are two 4-pin fan headers.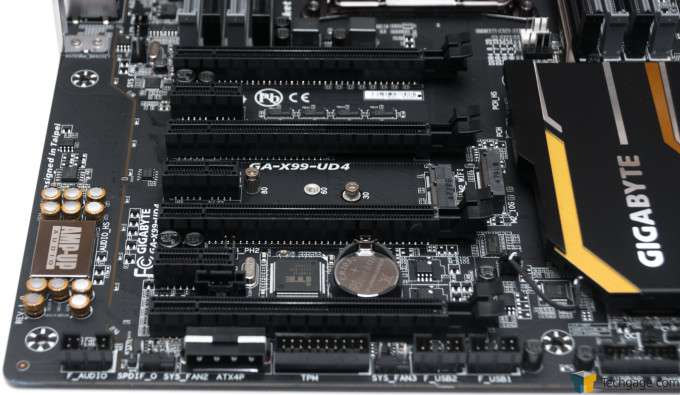 Before moving on, it's worth pointing out the hard-to-read "ATX4P" port in the shot above. This is for use with a 4-pin Molex connector, and is recommended by GIGABYTE if you're using two or more graphics cards. I'd have to imagine that with two cards, you're never going to run into a problem, but if you have a Molex connector lingering around, it won't hurt to plug it in. With three or four GPUs, I'd consider it important to utilize this extra power source.
Up at the socket area we can find the… socket, as well as the 8 DIMM slots. Two 4-pin fan headers can be seen to the bottom-right of the socket. Another header can be seen to the left of the first set of DIMM slots.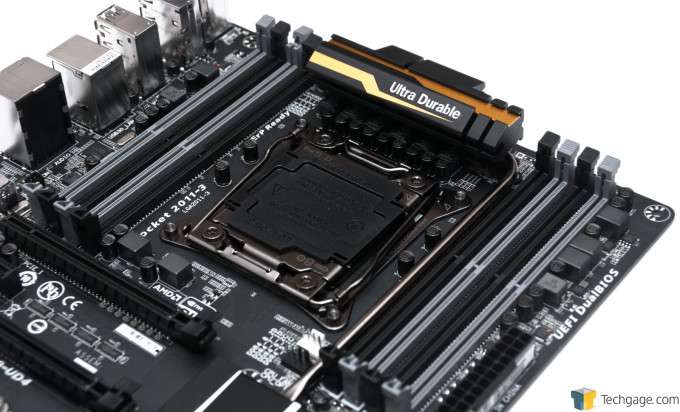 And here's a close-up of the M.2 connector. With it, you can install a Wi-Fi module, or even better, a ridiculously fast solid-state drive, such as Samsung's SM951.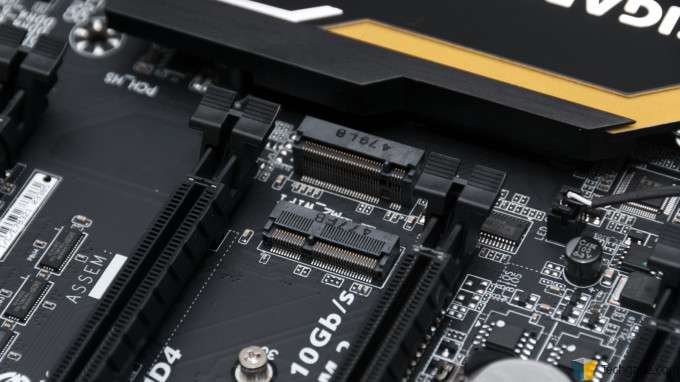 There's not too much to see at the top of the board, but I did want to highlight the simple fact that the 8-pin motherboard connector is very accessible. GIGABYTE seems to have a knack of occasionally placing this connector in an odd manner (either up and down or inside the board an inch or two), so I was glad to see a normal implementation here.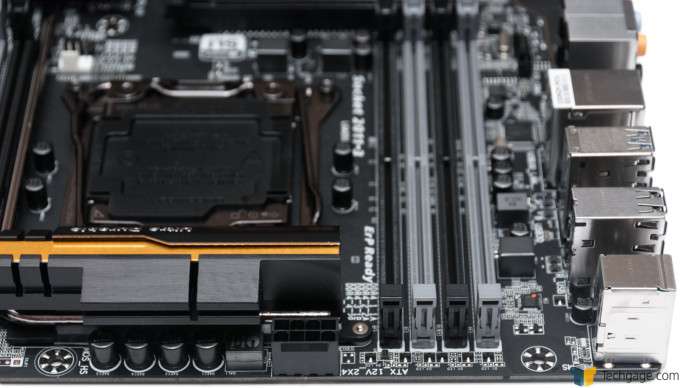 For back panel connectivity, the UD4 offers dual PS/2 ports, 6x USB 3.0 and 4x 2.0, a single LAN port, as well as a full complement of audio jacks. To the right of these is a mount for a Wi-Fi module, should you end up installing one (I am not entirely sure these are common).
In way of accessories, GIGABYTE includes four sleeved SATA cables (a nice touch), a CrossFire bridge, and an impressive four SLI bridges, with two being designed for 3-way configurations that have different gap lengths.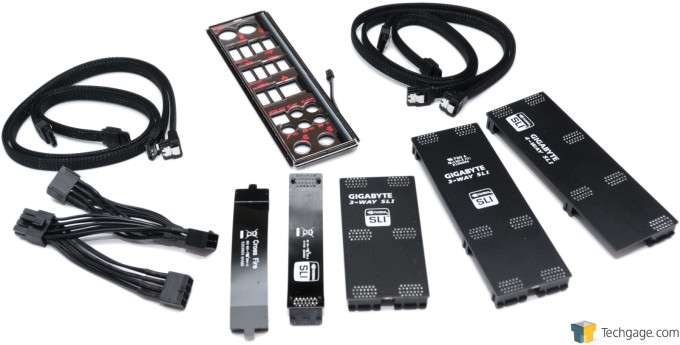 Two unique components in this picture include the I/O panel and also the 1-to-3 power cable. On the I/O panel front, you can plug the little cable into the motherboard to activate its LED lighting, while the cable is to be used if you are going to be doing some extreme overclocking. To take advantage of the feature, you'd plug this cable into the board's lone 8-pin motherboard power port, and then populate the three ends with cables straight from the power supply. It probably goes without saying, but this will not be a commonly used feature.
Overall, the X99-UD4 is a great-looking motherboard and I can't manage to complain about much of anything. If I really had to dig deep and come up with something, it'd be that I'd like to see the board offer 6x 4-pin fan headers. For some, 6 headers might not be needed, but if it adds another header to a different spot on the board, it might be more convenient than what's already there.
With the hardware tour tackled, let's check out the X99-UD4's software.
A Tour Of The Software & EFI
An archive including all of the screenshots we captured (EFI + software) can be downloaded here (.ZIP, 2.0MB).
When I took GIGABYTE's Z97X-Gaming G1 WIFI-BK for a spin last fall, I remarked that the company had made great strides with regards to its EFI quality in recent years – but, not all was perfect. I ended my look at the EFI by saying, "it feels like to me that GIGABYTE focused way too much of its efforts on prettying up its EFI than improving its functionality this generation."
Well, it's as if I wasn't the only one who had that concern, because with the EFI on this X99-UD4 board, the complaint no longer sticks. This EFI still has three different interfaces, which some might seem a bit clunky, but all are pretty usable, and look great.
You can see the main interface below. This is similar in design to the original EFI interface GIGABYTE rolled out, but it sports much-improved aesthetics. In fact, this might be one of the best-looking EFIs to have ever been released. It's clean, and almost classy. Unlike the interface we'll look at in a moment, this one isn't high-resolution; it's locked to 1024×768. In a way, I don't mind this, simply because the interface in general is good. An EFI doesn't need to be about eye candy, after all.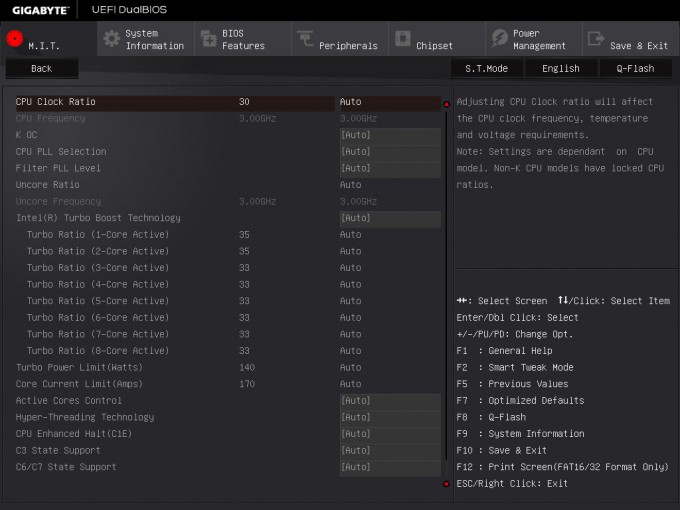 An expanded interface can be seen below. This one scales up to 1080p, although for some reason, it was a bit buggy when I used it (note cut-off text at the bottom, and black space to the right). I am not sure if that's a typical issue, as the last GIGABYTE board I looked at didn't have that problem. Nonetheless, the default theme featured here is nice, although I find the interface a lot more tedious to work with than the simpler one seen above. You might disagree, which is why it's great to have a couple of different options.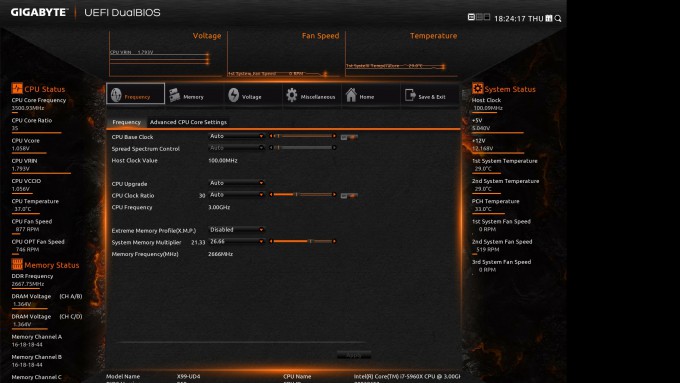 The third and final EFI on this board is simply called "Startup Guide". It's essentially a toned-down EFI, which could be useful for those who need to tweak very little. I find this interface to be a bit too simple, but once again, it's not a bad thing to have the option here.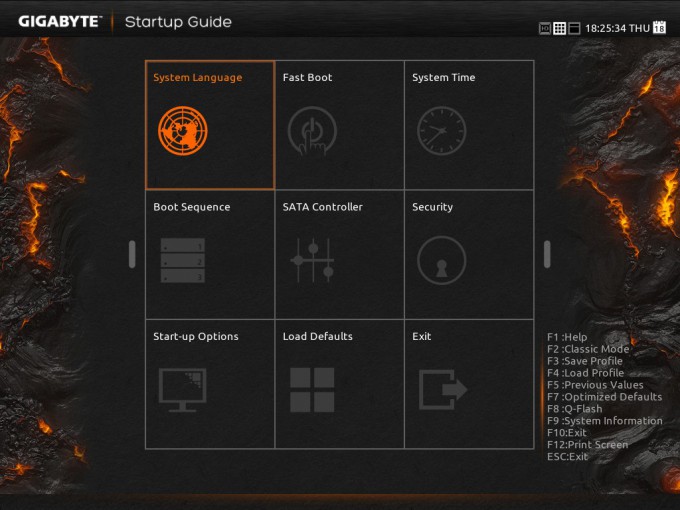 The software component of the X99-UD4 is called EasyTune, and since it's changed very little since the version available for GIGABYTE's Z97 boards, I'll point you to that review page if you wish to learn more about it.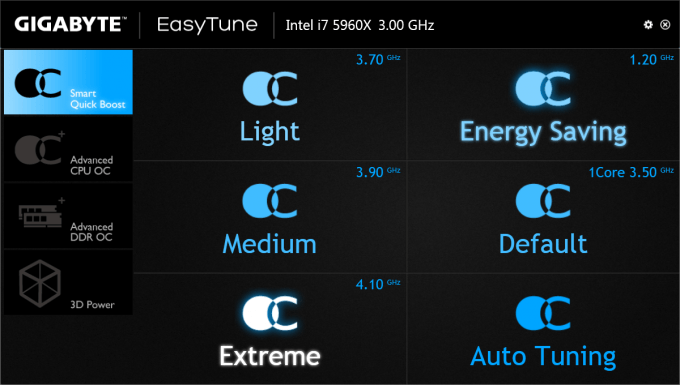 One thing that does differentiate this particular EasyTune from the Z97 version is that there's an "Ambient LED" option in the "App Center", which controls the LED (off, still, beat, pulse) on the I/O panel (if you plugged in its power cable).
I'd recommend installing EasyTune to anyone who wants to overclock their CPU automatically. The overclocks provided are admittedly modest compared to what you could pull off yourself, but that's not really the point. EasyTune's goal is to give you a stable overclock that anyone can pull off. Just note that the "Extreme" setting is unlikely to work for everyone, as that one in particular does actually push things a bit high (default is 4.1GHz on a Core i7-5960X, as an example).
Overall, both the EFI and EasyTune software included are great iterations of what we've seen before. While I wasn't entirely pleased with some EFI choices on GIGABYTE's Z97 gaming board, I can't complain about that much here. Except for the fact that there's still no fan control solution in here. Both ASUS and MSI offer fantastic fan control in their EFIs, so I'd love to see GIGABYTE catch up.
Performance & Final Thoughts
From a performance perspective, we feel that motherboard benchmarking is almost useless. It's the motherboard's job to allow all of the installed hardware to operate at its full potential, so in theory, a $100 option shouldn't be much (or any) slower than a $300 one. The differences in price instead comes down to the quality of the onboard components and other features.
So why do it at all? It's because it's important to make sure that the board we're dealing with doesn't lack in one particular area versus the rest. If board A performs 2% slower than board B in PCMark, for example, that's of no concern to us – benchmark variance is a fact of life. However, if one board consistently performs weaker than the rest, that's worthy of note – it could suggest that weaker components have been used which do not allow the hardware to operate at its full potential.
Please bear this in mind when perusing our results. Just because a board under-performs in a single test, it doesn't mean anything in regards to its quality as a whole. Our ultimate goal here is to make sure that each board we test performs as we'd expect across the gamut of scenarios we pit them against.
Intel LGA2011-v3 Test System
Processor
Intel Core i7-5960X – Octa-Core, 3.00GHz
Motherboard
ASUS X99-DELUXE (BIOS: '0801' 09/04/2014)
EVGA X99 Micro (BIOS: '1.06' 09/05/2014)
GIGABYTE X99-UD4 (BIOS: 'F10' 11/24/2014)
Memory
Corsair Vengeance DDR4-2800 @ DDR4-2400 16-16-16
Graphics
NVIDIA GeForce GTX 650 Ti (GeForce 340.52 Driver)
Audio
Onboard
Storage
Kingston HyperX 240GB SSD
Power Supply
Corsair HX850W
Chassis
Corsair Obsidian 700D Full-Tower
Cooling
Noctua NH-U14S Air Cooler
Et cetera
Windows 7 Professional 64-bit
Increasing the BCLK value is one way that vendors could sneak in some higher-than-stock performance numbers, so after letting the test bench sit idle for a couple of minutes, we look at the current BCLK value as according to CPU-Z.
| | |
| --- | --- |
| BCLK Values | Result |
| ASUS X99-DELUXE | 100.1 MHz |
| EVGA X99 Micro | 99.9 MHz |
| GIGABYTE X99-UD4 | 99.9 MHz |
All is kosher. Let's move on.
General System Performance
To take a look at the "overall" performance of our PC configuration, we rely on dual Futuremark suites: PCMark 8 and 3DMark (2013).
SPECwpc 1.0
Media
Financial
Development
Energy
Sciences
General
ASUS X99-DELUXE
3.87
4.09
3.44
4.16
4.61
5.30
EVGA X99 Micro
3.64
4.03
3.12
3.79
4.37
4.36
GIGABYTE X99-UD4
4.02
4.28
3.32
3.95
4.67
4.3
PCMark 8 Suite Scores
Home
Work
Creative
ASUS X99-DELUXE
4465
5077
3474
EVGA X99 Micro
4294
4920
3409
GIGABYTE X99-UD4
4238
4915
3579
3DMark (2013)
3DMark
Graphics
Physics
ASUS X99-DELUXE
3334
3483
17247
EVGA X99 Micro
3299
3447
16243
GIGABYTE X99-UD4
3315
3462
17200
As we'd expect, the variance between these three boards is small, although ASUS' board does seem to have a slight advantage. With the SPECwpc test in particular, both the ASUS and GIGABYTE boards trade punches.
I/O Performance
To properly give the internal SATA 6Gbps and USB 3.0 ports a good workout, we turn to HD Tune and CrystalDiskMark.
HD Tune Pro 5
Minimum
Average
Maximum
Latency
ASUS X99-DELUXE
290.5
373.0
416.6
0.093ms
EVGA X99 Micro
247.8
332.9
367.2
0.100ms
GIGABYTE X99-UD4
249.4
350.9
394.4
0.092ms
CrystalDiskMark
Read Seq.
Read 4K
Write Seq.
Write 4K
ASUS X99-DELUXE
515.3
36.68
315.4
106.8
EVGA X99 Micro
499.6
34.53
312.2
110.4
GIGABYTE X99-UD4
492.4
34.27
330.7
106.3
CrystalDiskMark USB 3.0
Read Seq.
Read 4K
Write Seq.
Write 4K
ASUS X99-DELUXE
432.0
27.17
286.5
59.71
EVGA X99 Micro
238.2
22.84
237.8
42.83
GIGABYTE X99-UD4
242.05
22.99
240.58
41.77
I don't know what ASUS is feeding its SATA chipsets, but for the past couple of motherboard generations, its boards have consistently performed better than the others. Will these small differences be noticeable in the real-world? I certainly wouldn't think so, but like most of the benchmarks on this page, it's simply interesting to note.
Where ASUS really shines is with the USB 3.0 test, as on its boards, we have the option to enable the UASP protocol. Why that's not a standard option on the other boards, I'm not quite sure. Again, though, unless you are copying data all day long, the boosted performance might not be that noticeable. Still, I'd rather faster, if given the option.
Rendering & Image Manipulation
Writing files to disk or reading a website doesn't do much to exercise our CPU, so for that, we turn to a few common scenarios – image editing, video rendering, music conversion, and 3D rendering.
Adobe Lightroom 5.5
Result
ASUS X99-DELUXE
435 s
EVGA X99 Micro
464 s
GIGABYTE X99-UD4
459 s
Adobe Premiere Pro CC
Result
ASUS X99-DELUXE
575 s
EVGA X99 Micro
608 s
GIGABYTE X99-UD4
577 s
Autodesk 3ds Max 2015
Result
ASUS X99-DELUXE
674 s
EVGA X99 Micro
723 s
GIGABYTE X99-UD4
678 s
Cinebench R15
OpenGL
CPU
ASUS X99-DELUXE
142.05
1416
EVGA X99 Micro
138.31
1331
GIGABYTE X99-UD4
140.11
1397
dBpoweramp R15
FLAC to MP3
ASUS X99-DELUXE
463 s
EVGA X99 Micro
491 s
GIGABYTE X99-UD4
466 s
HandBrake 0.99
Result
ASUS X99-DELUXE
1880 s
EVGA X99 Micro
1998 s
GIGABYTE X99-UD4
1880 s
POV-Ray
Single
Multi
ASUS X99-DELUXE
333.95
2872.56
EVGA X99 Micro
320.90
2699.90
GIGABYTE X99-UD4
333.53
2862.15
This set of tests highlights an obvious trend. For some reason, EVGA's board consistently falls behind the other two boards each and every time, whereas the ASUS and GIGABYTE are pretty well neck-and-neck. Great performance all around, but the EVGA trends are hard to ignore.
Sub-system Performance
For memory and CPU testing, we utilize SiSoftware's Sandra 2015.
Sandra 2015 (Memory)
Integer
Float
ASUS X99-DELUXE
50.346 GB/s
51.203 GB/s
EVGA X99 Micro
48.359 GB/s
48.986 GB/s
GIGABYTE X99-UD4
51.160 GB/s
52.395 GB/s
Sandra 2015 (Arithmetic)
Dhrystone
Whetstone
ASUS X99-DELUXE
318 GIPS
186 GFLOPS
EVGA X99 Micro
298 GIPS
176 GFLOPS
GIGABYTE X99-UD4
311 GIPS
187 GFLOPS
Sandra 2015 (Multi-core)
Bandwidth
Latency
ASUS X99-DELUXE
55.67 GB/s
52.0 ns
EVGA X99 Micro
47.93 GB/s
53.4 ns
GIGABYTE X99-UD4
55.71 GB/s
52.2 ns
Once again, EVGA's board falls a bit behind here (for reasons unknown), but overall, there's great performance from all three boards here. While faster memory really isn't important for most people, I admit it's still nice to see performance peak at about 50GB/s. To put that into perspective, I hit 9.9GB/s on the last memory kit I reviewed seven-years-ago.
Final Thoughts
GIGABYTE's X99-UD4 motherboard hits the "sweet-spot" when it comes to features and pricing. While the board today hovers around the ~$250 mark, it can regularly be found for less. As I write this, Newegg has the board listed for $245, and then offers a $20 mail-in rebate on top of it.
Like the ASUS X99-DELUXE board I took at look at in February, I've spent a lot of time with GIGABYTE's X99-UD4, and overall, I don't have much to complain about. The board looks good, has a great, common-sense design, and has a decent EFI / software implementation as well. Functionality-wise, it delivers all of what I'd expect an X99 board of this price range to.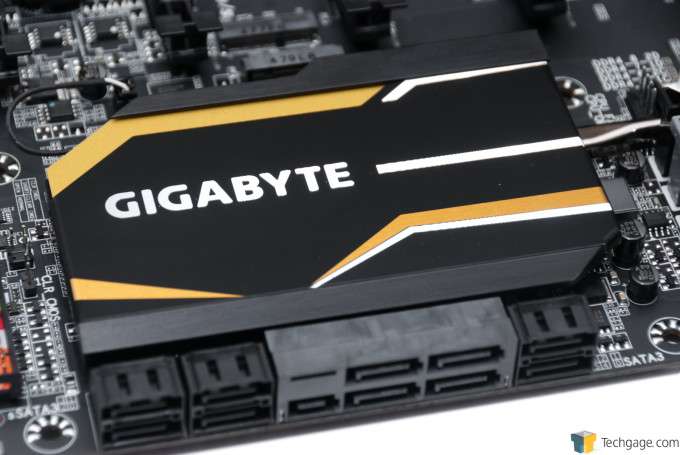 GIGABYTE offers two boards above this one that might be worth considering if you don't mind shelling out another $20 or $40. The X99-Gaming 5 board, for example, costs about $20 more, but caters more towards gamers. It offers a very similar feature set to the UD4, but has a catered audio solution, as well as Killer E2201 Ethernet (I actually consider that a downside, but some gamers might prefer it). The UD5 costs $40 more, so it's not a great contender, but it offers dual Intel NICs, dual M.2 slots, as well as Wi-Fi (which hogs an M.2 slot).
But enough of other boards. For its price-point, I think the X99-UD4 is a fantastic option for a new build. As I said above, it succeeds in being a "sweet spot" board – it doesn't go overboard, but it doesn't sacrifice anything important, either.
Pros
Great "sweet-spot" board (well-priced).
Performance is great.
Good layout and design.
Lots of on-board functionality.
Supports quad-GPU.
Sleeved SATA cables is a nice touch.
Main EFI interface is excellent (in looks and use.)
LED-lit I/O panel – if you're into that sort of thing.
Cons
EFI can be a bit buggy at times.
GIGABYTE really needs to add a comprehensive fan-tuning utility in its EFI.
A minor complaint, but I wish six fan headers was standard on $200+ motherboards.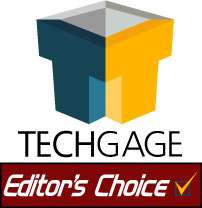 GIGABYTE X99-UD4 Motherboard
Copyright © 2005-2020 Techgage Networks Inc. - All Rights Reserved.