GIGABYTE Aivia K8100 Gaming Keyboard

Date: October 27, 2010
Author(s): Rob Williams

GIGABYTE's not a huge name in the peripheral business, at least on these shores, but it hopes that will change in the near-future. To help kick things off, it recently released its first gaming keyboard as part of its Aivia line-up, and in addition to sturdy construction, it features unique color choices, macro capabilities and an excellent feel.
---
Introduction
In the world of gaming peripherals for the PC, there exist a couple of names that everyone is familiar with… so much so, that I don't even need to mention them. But hiding in the bushes are some other companies that are eager to get a piece of this market's pie; GIGABYTE being one of them. One thing's for sure… it will be an uphill climb given the fierce competition.
Although GIGABYTE is a name that almost never comes up in North America when talking about PC peripherals, it's been producing them for quite some time, but mostly in Asia. It wasn't until fairly recently that the company had begun introducing products over here. The first gaming product the company pushed rather heavily here was its GM-M8000 gaming mouse, which seemed to be well received (I used one for close to a year and loved it).
It took the company quite a while to follow-up to that initial serious gaming offering, but earlier this month, it announced its first gaming keyboard to help fill the void, called Aivia K8100. As you can probably guess, the company wasted no time in sending us one to take a look at. With so much competition out there, can the K8100 offer enough to compete with the big boys? Let's find out.
Closer Look
Hitting the market at around $70, GIGABYTE's K8100 faces some real competition. Logitech's G15, featuring an LCD screen, retails for around $80, as does Razer's upcoming mechanical BlackWidow. The K8100 doesn't offer either of those perks, but it does hope to make up for it with its looks, ease-of-use, comfort factor, and of course, functionality.

As a general rule, I never include photos of the product box in a review, but there's the odd occasion when I feel overly compelled to. This is one such case, because when I hauled this box out of its larger shipping box, I wasn't sure if GIGABYTE sent me a suit jacket or a keyboard. Yes, the graphics card is there only for comparison!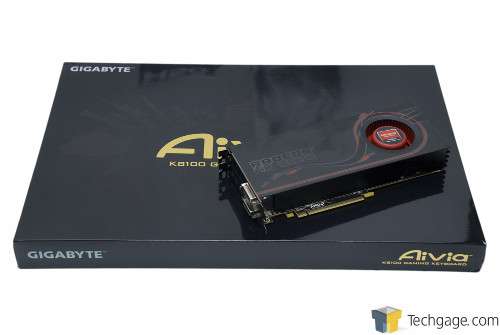 Prior to receiving the K8100, I had done little to no research on it, so I didn't even know what it looked like. When I hauled this sucker out of its box though, can you guess what stood out?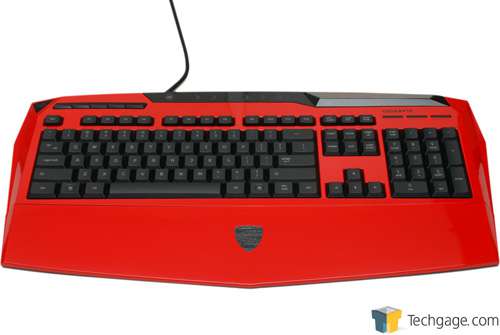 GIGABYTE doesn't declare this color as being "Ferrari red", but that's what it is. The company also offers a bright yellow version reminiscent of Lamborghini, and if you don't care for such stand-out colors, there's also a black version available.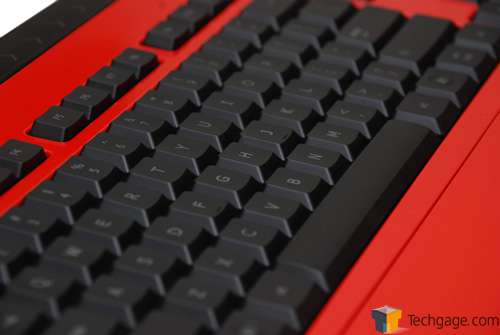 The K8100 is not a mechanical keyboard, but its keys don't look to be a far stretch, either in aesthetics or by touch. If I had to come up with a description for them, I'd say that the feel comes somewhere in between both standard and mechanical, because the keys don't have the super-tight response of a mechanical keyboard, but they do have far better response than most other keyboards I've used in recent memory.
Continued Look
For a lot of gamers, a gaming keyboard isn't a gaming keyboard unless it features macro capabilities, and have no fear… this one does. There are a total of five macro buttons and with the help of the "Mode" button, which switches between five different profiles, it means you can use up to 25 macros at a time. To help you remember which profile is which, the LED color behind the Mode button changes depending on what one you're on (Red, Green, Blue, Purple, Light Blue).
Unlike the macro buttons on most other gaming keyboards, the five included here aren't the same size as the standard keys, nor are they even shaped the same as each other. You can see that each of the five are shaped just a wee bit differently, which I assume is so that it makes finding the right one in the dark a lot easier.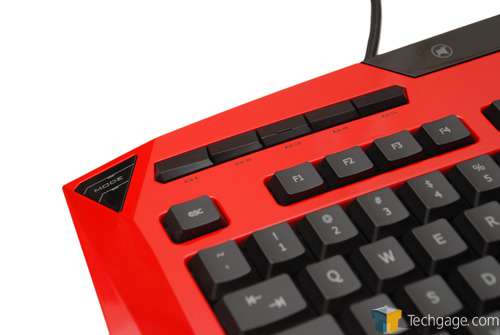 On the opposite side of the board are indicator lights for Num Lock, Caps Lock and of course Scroll Lock. Above these you can see a strip of LEDs that correspond to touch buttons found in the top center of the board, for the volume. Because you wouldn't immediately see the reaction of the mute and volume adjuster buttons as you hit them, these notification lights exist to visually show you that you did indeed successfully hit one. It seems simple, but it's actually rather cool, since adjusting the volume is something that happens in small increments and is harder to notice right away.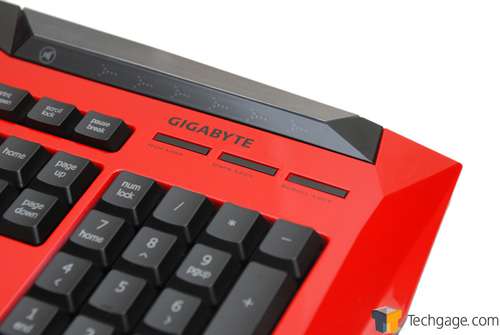 The back of keyboards is not something that I find too interesting, but there are a couple of things worth pointing out here. First, the "legs", which aren't flimsy little things that will break after a couple of weeks, are fairly tight when opened. There's also the cable routing, which some might like to take advantage of. If you prefer the cable to come straight out the back, you can shift it. Or if you like it in its default configuration, you can leave it as is.
Another feature worth noting is that the arm rest isn't only removable, but it's held in place with four screws, ensuring that it doesn't fall off during a heated battle. This is a great thing, as I've had so many rests break off of my keyboards in the past, I simply gave up on them.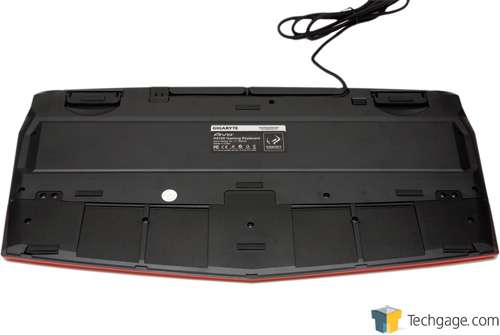 Speaking of the removable rest, here's what it looks like broke apart: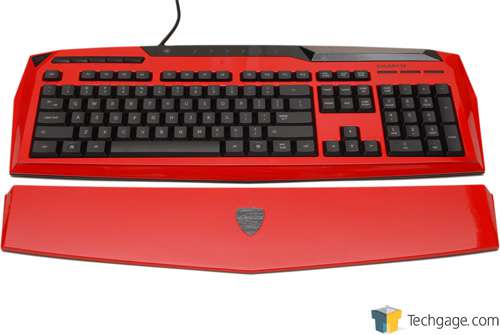 An optional extra that's included in the box is a silicone protector, a simple sheet of rubber that helps you keep your keyboard as dirt-free as possible. I was quite surprised to actually enjoy using this, but I'll be the first to say it's not for gaming use. Because it doesn't cover the entire board, it has the tendency to shift around in the heat of battle. For normal use though, such as, oh I dunno, writing a review, it's quite a nice addition. It quiets down the keys tremendously, making it ideal for late night use.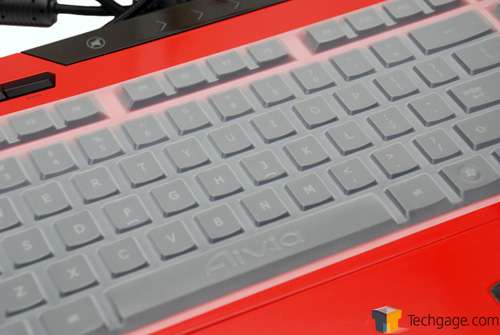 Understanding that gamers tend to use four specific keys more than any other, GIGABYTE included a couple of spares, in addition to a simple key removal tool.
This tool couldn't be easier to use. You need to lower the two grabbers down onto a key, and once you hear a click, you can pull slowly to remove the key. To put a key back in, you can simply push it down into the socket, and once it clicks, you're done.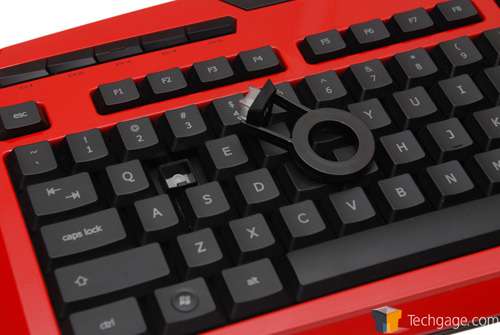 Another gamer-esque feature that will be appreciated by anyone who games late at night, and with the lights off, are full backlit keys. Unfortunately, you are stuck with a single color, red, but it's at least bright and helpful for finding the right key, quick.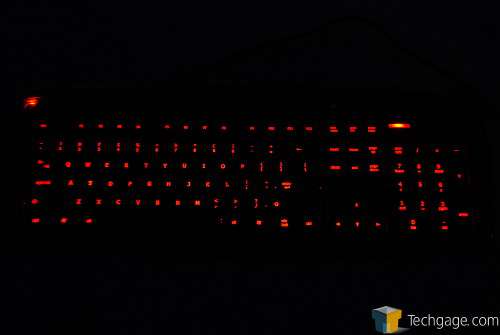 Enough of the aesthetics! On the following page, we'll talk a bit about the included Aivia software and the K8100's technical capabilities.
Aivia Software; Macros
Although I enjoy taking a look at the odd peripheral for the website, there's one aspect of it all that I can't stand, and would avoid if I could… the software. There are a couple of reasons for it. The first is that most gaming peripheral software looks ridiculous, and is apparently made with a 10-year-old in mind, with a bucket-full of random textures tossed onto an application interface. Then there's the macros. Oh, don't get me started on the macros!
The problem I have with these is that more often than not, I feel like I should be studying from a book to figure out how to set some up. And again, the chances that even a little bit of documentation is available is going to be ultra-slim. Given the history of hatred I've had for setting up macros, I admit that I was quite impressed with GIGABYTE's implementation here.
GIGABYTE is not known as being a top-dog where peripherals are concerned, but its implementation of setting up and executing macros is by far the easiest I've ever dealt with. Though, I will say that like previous experiences, not everything here was self-explanatory, but it only took a couple of minutes of fiddling around to understand how things worked.
Remember how I mentioned that most software interfaces for gaming peripherals look to be built for 10-year-olds? Yeah, this one, too.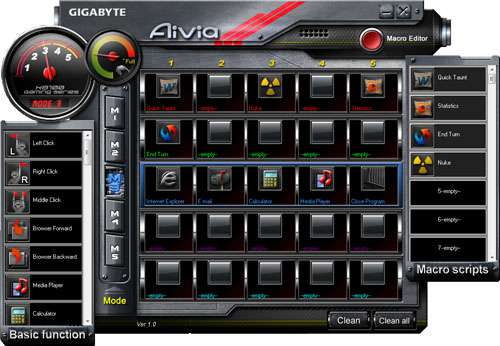 The fortunate thing, though, is that this is the main interface, and there's little else. That's a good thing, because it means there's no faux doors to open or pop-up elements to trigger. Most of what you need is right here, and is easily configurable. As mentioned earlier, the keyboard allows up to 25 macro shortcuts at a time, and the selections here are color-coded to make things easier to set up.
To create a macro, you need to click on "Macro Editor", which will launch this screen: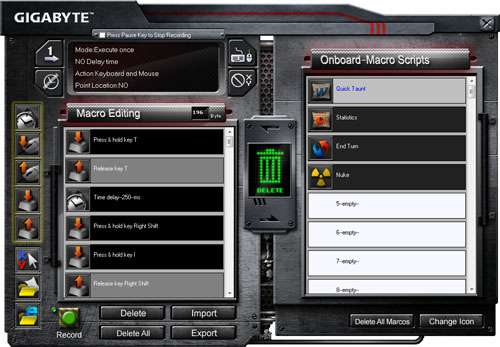 At the top, you can configure how your macro is going to run, such as whether to have it execute just once, continue until you stop it, or to loop indefinitely. You can also set up a delay time, whether the macro includes mouse functions and where to point the mouse cursor once the macro has started.
In the gray area is where your macro will be recorded, and after hitting the "Record" button, you can begin typing away, or really take your time and add things in like delays, mouse cursor positions and things like that. It's all fairly simple to use, though really advanced macros will understandably take you a while to create. Personally, I never find myself with such a need, so I stick to simpler ones.
To save and store a macro, you need to click anywhere in your macro editing box and drag it over into an empty box in the "Onboard-Macro Scripts" section. If you want to delete a stored macro, you can simply drag it into the big "DELETE" button. Should you want to back them up, you can do that also with the "Export" option, and "Import" them again later. Because these exported .ini files are proprietary in nature (not easy to read and understand like some others), you can't edit them to your liking outside of this program. Here's a portion of an .ini file as an example:

[Macro]
count=196
0=130
1=34
2=23
3=255
4=40
5=23
6=255
7=65

Since the K8100 doesn't have predefined media keys, you can dedicate some of these macros for that use. There are preset options found at the main screen you can use, such as browser, e-mail, calculator, media player and more, each of which will launch the respective default applications. One of my favorite options is "Close Program", which is a good Alt + F4 substitute.
So what can you do with your macros? As I mentioned, I have almost no use, but I did consider that I could be one of those annoying guys you see spamming up online multi-player FPS titles.

Yes, GIGABYTE allows you to be that guy.
One of the things GIGABYTE advertises on this board is the ability to push up to 20 keys simultaneously. As far as I'm concerned, 20 is overkill, and I'm highly doubtful any gamer will ever need even six or eight (unless the game you play literally requires you to sit on the keyboard). But twenty does look good on paper, doesn't it?
To test this feature nonetheless, I did what I could to push as many keys at once, and overall, I found the limit to be more like 10, not 20. When I really tried to push a lot of keys at once, I'd almost get no output at all. But when I kept it to a more modest number, I had success.
Here are a couple of examples of me pushing 10 random keys at once:
bceiqrtuwy
adfklmsv;,
bcdfh(space)svxy
iouybeqrvw
These outputs were generated by me pushing down on all ten keys at the same time, and as you can see, the results are quite good. Still, no matter what I tried, I couldn't surpass 10, and sometimes, after fiddling around for quite a while, I couldn't even get up to 10 depending on the keys I was hitting. It might be that some sets of keys simply are not able to be pressed down in conjunction with another, at least, with so many at once.
I'm awaiting a response from GIGABYTE on this, but to me, it isn't a major issue. As I mentioned, I can't see any gamers, even the most hardcore of us all, being able to take advantage of more than eight or ten, let alone twenty. If anything, it affects only those who are trying to push twenty at once just for fun.
Usage Experience; Final Thoughts
Whenever I take a new mouse or keyboard for a spin, I'm always a little bit wary, for what I'm sure are obvious reasons. Peripherals seem like a simple thing, but the fact of the matter is that you could use two keyboards that look quite similar, but feel completely different. And after having used a particular setup for a while, moving to another model is always a bit strange at first.
With the K8100, though, I was actually quite amazed at how quick it felt "just right". For well over the past year, I've been using a simple Logitech Internet keyboard, so the two aren't alike at all. But still, this one just felt right, with everything from the layout to the feel of the keys.
For gamers, the most important thing about a keyboard is its feel, and I'm certain what GIGABYTE has done here will please many. This isn't a mechanical keyboard, but it almost feels like one. The keys are very responsive, and though there's no defined "click" with each button press, you can hear them just fine as you type – if that's your thing.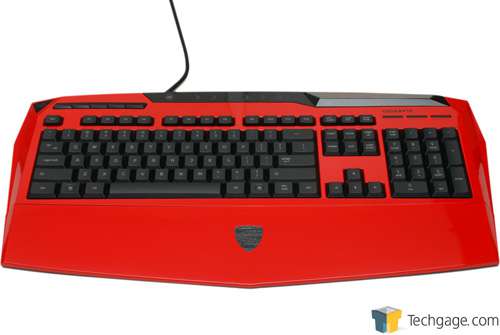 The fact that the K8100 allows a large number of simultaneous key presses is huge, although not totally uncommon. It's a feature I appreciate quite a bit as I've run into many situations where I've pushed too many keys at once with my cheapy keyboard, and the PC would react in strange ways. The most common side-effect is broken button input, forcing you to close your game and reboot. I even had this occur a couple of times while playing through Medal of Honor, and it's only a five hour game!
That kind of thing just won't happen with this keyboard, and as mentioned before, even though it doesn't seem to live up to its statement of 20 keys (I'm still waiting to hear back on this, since it could be an isolated "issue"), it did manage to continually deliver 10, which should be more than enough for anybody, hardcore gamer or not.
Another major plus that the K8100 has is its reliable and easy-to-implement macro functions. The UI for the software is, not surprisingly, ugly, but after you spend a couple of minutes with it, you'll be using it like a pro. There's no scripting support, so if that's important to you, you might want to look elsewhere. Like the 20 simultaneous keys feature, I'd have to imagine that true scripting for macros is not a feature many people look for.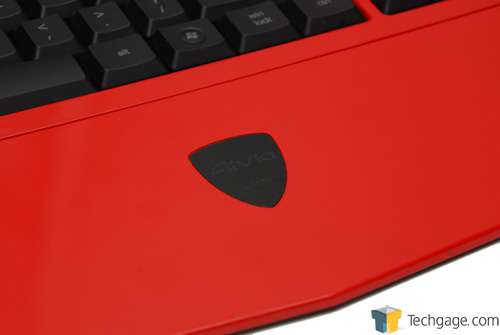 Though I'm limited in testing out macros since I can't even think of advanced ones to create (perhaps macros are best-suited for MMO gamers), the macros I did create executed without issue whatsoever. They were completely reliable, and if there was any issue at all, it was attributed to a fault in the macro setup itself, and could be corrected.
There are two things I haven't mentioned up to this point, that I will here before wrapping up. First, the keyboard's backlight LEDs can be turned off via a button in the top right-hand corner. It's hidden, for no other reason that it might not be used all too often. Also, there is a USB port on both sides of the keyboards, near the back. These are also hidden, but are easily accessible.
At $70, the competition for this board is fierce, with both Logitech and Razer offering comparable and possibly even more feature-packed options. For those who don't care about brand, but just need a reliable keyboard, and perhaps even happen to like the retro styling of the K8100, I'm confident you won't be upset with it. It's become my main keyboard, and I expect it to stay that way for a while.
One thing I will say, and I have to give thanks to a friend for pointing this out, is that this red version almost looks like the perfect backdrop as a themed board for my favorite footy team, Arsenal FC. Even the emblem looks to follow almost an identical shape!
Pros
Quality construction – not creaky
LED backlight isn't the brightest, but is more then sufficient.
Not a mechanical design, but still feels fantastic.
Bright red and yellow colors are unique.
Included silicone key protector is a nice touch, as are the replacement WASD keys.
USB port on each side of the keyboard.
Windows key lock is useful for games that fail when a Windows key is pressed.
Macros are easy to setup and execute.
Price, at around ~$70.
Cons
Aesthetics are not for everyone.
Misshapen macro keys are interesting, but not always ideal.
User-editable macro .ini files would have been appreciated.
Doesn't quite live up to the 20 simultaneous keys promise (we found it to be 10).
Spacebar doesn't always activate if you hit the absolute edge of the right side.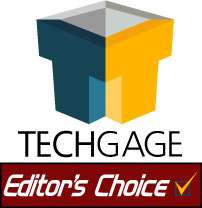 GIGABYTE Aivia K8100 Gaming Keyboard
Discuss this article in our forums!
Have a comment you wish to make on this article? Recommendations? Criticism? Feel free to head over to our related thread and put your words to our virtual paper! There is no requirement to register in order to respond to these threads, but it sure doesn't hurt!
Copyright © 2005-2019 Techgage Networks Inc. - All Rights Reserved.