Gigabyte EG45M-DS2H

Date: December 3, 2008
Author(s): Rory Buszka

On the test bench today, we have Gigabyte's latest Micro ATX offering, the Intel G45-based EG45M-DS2H. This board carries the typical Gigabyte enthusiast charm, but also caters towards those looking to build a media center. But how does it stack up against the other Intel mATX boards we've tested recently?
---
Introduction
As a company that serves the PC enthusiast market almost exclusively, Gigabyte's product line can usually be counted on to reflect what enthusiasts, upgraders, and gamers are actually buying. There's an impressive array of offerings in Gigabyte's product line, ranging from the most affordable budget-enthusiast parts to the most highly-tweaked cost-no-object options, but every product in their line has been tailored to appeal to the aftermarket and system builder crowd.
So when we began seeing a proliferation of Micro ATX products in their product line years ago (approximately timed with the arrival of "media center PCs" based on more powerful integrated graphics processors than usual), we knew we were beginning to see a broad shift away from a solely performance-oriented PC enthusiast market toward one that designed machines with specific applications in mind.
The march of steadily higher-performing integrated graphics chipsets has continued unabated, but historically, Intel's integrated graphics chipsets were near the bottom of the totem pole, bettered by offerings from then-independent ATI and category-dominating NVIDIA.
It's notable, then, that Intel's last two graphics chipsets have garnered quite a bit more attention than their predecessors, equipped with vastly-improved GMA X3500 (in the Intel G35 chipset) and GMA X4500HD (in the Intel G45 chipset) integrated graphics cores. Intel has obviously been devoting more resources to competing in the integrated-graphics arena as of late, and it shows – they now have a serious contender for a media center PC chipset on their hands in the G45 Express, with its DirectX 10 capable GMA X4500HD integrated graphics core that also provides hardware acceleration for HD video decoding, offloading that processing task from the CPU altogether.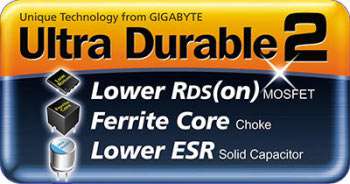 Gigabyte's EG45M-DS2H motherboard is the second board we've tested based on Intel's G45 chipset. It's designed to support LGA 775 processors up to and including the latest 45nm variants, and features Gigabyte's "Ultra Durable 2" design, which incorporates conductive polymer capacitors, ferrite-core choke coils, and power transistors (MOSFETS) with lower "on" resistance. What does all this mean to you? It means you're buying a board that will still work just like new, ten years from now. The motherboard also sports a HDMI video output port and a digital Toslink audio output port, making it attractive to home theater PC builders.
The EG45M-DS2H features environmentally-conscious "Dynamic Energy Saver" technology, with "Dynamic 4-Gear Switching" technology in its quad-phase CPU power supply. The CPU power supply stage can turn unnecessary switching transistors completely 'off', based on CPU usage and loading. Some of Gigabyte's Dynamic Energy Saver boards feature up to twelve separate power 'phases' ("gears"), but the EG45M only provides four levels of switching. Still, the Dynamic Energy Saver feature equates to improved energy savings over boards that lack the feature, and also helps to improve the longevity of the motherboard. That means lower cost of ownership over the long term.
The board is also equipped with Gigabyte's Ultra TPM hardware data encryption technology, which makes it an option for IT professionals who are looking to safeguard critical data. The encryption key itself is stored on an external flash media device, which can be detached from the machine to render its data unusable – a useful feature if you're guarding nuclear secrets, or something equally important.
Of course, what we're really most interested in from the Gigabyte board is the performance of its Intel G45 Express chipset in our strenuous, targeted application testing. Intel claims that the G45's built-in GMA X4500HD graphics core is around 70% faster than the GMA X3500 graphics core in the G35 Express chipset, thanks to a beefed-up graphics core with two additional universal shader units (bringing the total up to ten shader units), and an increase in graphics core speed to 800 MHz from the G35's 667MHz. On the CPU side, like the rest of the 4-series chipsets, the G45 also adds FSB1600 capability.
Even though we reviewed the G45-based Intel DG45ID motherboard some time ago, we don't feel that it was the best showing for G45 (we ran into issue after issue), so we've been waiting to get our hands on a third-party board that's been more highly tweaked for performance (and functionality). And Gigabyte provides some of the most polished product offerings out there, so with the EG45M-DS2H and Intel's latest G45 chipset drivers in hand, we're looking forward to seeing what the Intel G45 chipset is truly capable of.
First Impressions
Like just about everything else out there, Gigabyte's EG45M-DS2H came to us in a glossy, colorful box that touts the product's features, the Gigabyte board's Dynamic Energy Saver feature foremost among them. While it's unlikely that choosing an energy-efficient motherboard will have any effect at all on performance, the fact that you can use the EG45M-DS2H as the platform for an energy-efficient PC may be appealing to the value-oriented crowd, as well as anyone who tends to leave their computer on for weeks at a time.
Here's what you get with the EG45M-DS2H motherboard bundle: You get the board itself, a comprehensive user's manual, a helpful multilingual "Hardware Installation Guidebook" that details the process of hardware installation into the motherboard in step-by-step form for first-time builders, a customized I/O panel, a pair of locking serial-ATA cables, ribbon cables for your floppy (if present) and parallel-ATA drives, and a set of stickers, including a Dolby Home Theater sticker (a nice touch if you're building a HTPC) and an enormous "DYNAMIC Energy Saver" sticker. While we can't personally imagine being enthusiastic enough about energy savings alone to affix the monstrous Dynamic Energy Saver sticker to our case, the hardware bundle overall reflects Gigabyte's orientation as a manufacturer toward system builders of all skill levels. In fact, we can't think of anything they've left out.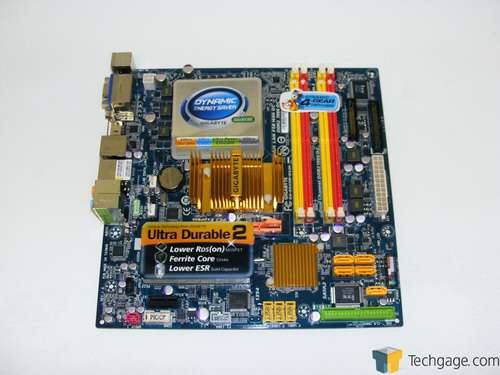 The board itself ships with several decals affixed to it, which you'll need to remove if you want to make any progress installing hardware components. Thankfully, the decals come off easily, but we'd honestly rather keep the marketing materials on the box, not the board itself.
The board is also brightly colorful, with Gigabyte's signature blue PCB and gold-anodized heatsinks, as well as multi-colored ports, plugs, and jacks. Even though it's a value board, Gigabyte is obviously still intimately familiar with many enthusiasts' desire to show off their handiwork. Let's look at a breakdown of the EG45M's specifications.
EG45M-DS2H Specifications
CPU Socket: LGA 775 (Intel)
CPU Support: Core 2 Duo/Quad/Extreme, Pentium Dual-Core, Celeron
Chipset: Intel G45 Express featuring G45 GMCH Northbridge, ICH10R Southbridge
Onboard Graphics: Onboard Intel GMA X4500HD in G45 GMCH
Memory: 4x 1.8V DDR2 DIMM sockets, supports up to 16GB, DDR1066, dual channel
Audio: Realtek ALC889A High Definition Audio, up to 7.1, supports Dolby Digital, S/PDIF output
LAN: Realtek 8111C (10/100/1000 Mbit)
Expansion Slots: 1x PCI Express 2.0 x4, 1x PCI Express x1, 2x PCI
One of the more important pieces of information we can glean from the board's specifications is also so subtle that you might miss it if you weren't looking for it. The EG45M-DS2H's larger PCI Express 2.0 slot looks like a typical 16x PCI Express slot, but only four lanes are active – giving only one-fourth the available bandwidth of a true x16 slot. The PCI Express specification calls for the X16 connector to be used for all applications greater than x2, so the board is still fully standards-compliant, but you couldn't tell that the slot was only a 4x slot simply by looking at it.
Why do this, when the G45 chipset has 16 available PCI Express 2.0 lanes? On a typical IGP motherboard, those 16 available lanes are either allocated to the IGP or the active GPU, but never both. Gigabyte's unorthodox arrangement allows the G45's integrated GMA X4500HD graphics core to claim all of the 16 available lanes, while the additional 4 lanes are provided by the ICH10R southbridge, allowing both video processors to be active at once, driving multiple displays.
However, the highest-end video cards of today might stretch that available bandwidth to its limit, so you probably wouldn't want to consider the EG45M-DS2H if you're planning on upgrading to an NVIDIA GeForce GTX 280 anytime soon. But if you're satisfied with a midrange video card, you're probably good to go. And honestly, for a productivity-oriented workstation or a home theater PC that won't be tasked with any gaming at all, a midrange video card is quite enough for all but the most specialized workloads (like hardware-accelerated image editing or 3D modeling programs).
Next, let's delve into the Gigabyte EG45M-DS2H's layout.
Board Layout
The colorful Gigabyte EG45M-DS2H promises to be a stable, competent platform for a media center or value workstation PC, and it's certainly got an impressive list of credentials. The Intel G45 chipset provides fairly robust onboard graphics, and the board has been engineered to allow multi-monitor functionality, which means that this is more than just your typical HTPC motherboard.
After peeling away the decals covering the CPU socket, memory slots, and expansion card slots, we're ready to examine the EG45M-DS2H's layout.
At first glance, there's relatively little that's outside the ordinary when it comes to the layout of the EG45M-DS2H. Power and drive connectors are located near the periphery of the board, with the CPU's power connector residing in the extreme upper left-hand corner, and the main ATX power connector mid-way along the right edge. While some newer motherboards have eschewed a floppy connector entirely, the EG45M preserves this legacy feature just above the ATX power connector.
As mentioned at the start of this article, the EG45M-DS2H joins the legions of other socket 775 motherboards that have been made since the package debuted with the later-model Pentium 4-family processors. Located near the CPU socket are four groups of similar-looking components – those would be the voltage regulators for the EG45M's quad-phase "4-gear" power supply circuitry. The CPU area is roomy enough to accommodate most larger 'tower-style' heatsinks, but the brawny northbridge heatsink might obstruct your access to the push-pins from the bottom side. There's plenty of room for more reasonable heatsinks, however.
The EG45M-DS2H supports four DDR2 memory modules in dual-channel mode at speeds up to 1066MHz. We've been frustrated in the past with other motherboard layouts that group all four memory modules tightly together, impairing cooling and making memory installation a headache, but the Gigabyte board spaces the DIMMs for each channel widely apart, so that when all four color-coded slots are populated, there's still plenty of room for airflow.
The Intel G45 GMCH northbridge is centrally-located on the motherboard, and housed beneath a large gold-anodized heatsink. This seems to be typical of most Intel IGP integrations – since they seem to dissipate quite a bit more heat than the competition. While the G45 chipset is the product of a die shrink to 65nm, the graphics core has been juiced up somewhat with a speed boost over its predecessor, and the result is that the large heatsink gets just as warm to the touch as the large heatsinks used on last-gen G35 chipsets, in spite of the smaller process.
Looking at the bottom right quadrant of the motherboard, we see that just like Intel's own DG45ID, the Gigabyte EG45M-DS2H pairs the G45 GMCH northbridge with the RAID-capable ICH10R south bridge, which is more or less a simple 65nm process shrink of the last-generation ICH9R south bridge. The south bridge (under another gold-anodized heatsink) integrates the board's IDE, SATA, and USB controllers, so the nearby placement of five SATA ports in a 4+1 arrangement makes sense.
The IDE port is placed along the bottom edge of the board, which can make cable routing a bit more problematic than it needs to be, but unless you've still got older IDE optical drives kicking about, you're less and less likely to be concerned with the motherboard's IDE port at all, as newer SATA optical drives become more prevalent. The internal USB headers are also clustered along the bottom edge of the board. Support for legacy floppy, COM (RS232 serial), and LPT (parallel) ports has been dropped from the ICH10R, so those functions are handled by an ITE IT8718 super-I/O chip that connects to the ICH10R via a secondary bus. The LPT and COM ports are handled via onboard headers to free up space on the rear I/O panel for non-legacy ports.
Towards the rear of the board is a group of four expansion slots. Gigabyte again demonstrates its orientation toward the enthusiast by retaining two legacy PCI slots, instead of sporting a larger number of PCI-express slots. This can be useful if you're planning a system upgrade but have a number of older PCI peripherals that you'd like to hang onto, such as PCI sound cards, storage controllers, and Ethernet cards. The orange slot at the top is the 4x PCI Express slot that I spent quite a bit of time talking about on the last page, so there's no need to belabor that point further, and of course there's an obligatory 1x PCI Express slot at the bottom of the group.
The EG45M-DS2H motherboard boasts an impressive array of ports along the rear of the board. The only display connection that's absent here is DisplayPort – you've got HDMI, DVI-D, and D-Sub connections available for connecting your display, whether it's brand-new or not-so-new. Only a legacy PS-2 keyboard port is provided – the rest of your peripherals can connect via the six rear-panel USB ports.
The motherboard's sixth SATA port is actually an e-SATA port, which means that you can take advantage of the high-speed SATA connection for connecting external storage devices that support it. There's also a Firewire-400 port for older high-speed external storage devices and video cameras. Audio input and output is provided via six analog connections, and there's also a Toslink S-PDIF optical output for a digital connection to a home theater receiver.
Overall, the Gigabyte motherboard's layout is uncluttered and logical, with distances between critical components such as the CPU, northbridge, and memory kept short, and with ports placed in close proximity to the onboard device that controls them, all this while offering plenty of room to work around the CPU and expansion cards. There weren't any obvious clearance train-wrecks, even with a large video card installed in the board.
Now that we've vetted the EG45M-DS2H motherboard's layout, let's take a gander at the tweaking options built into the BIOS.
BIOS and Driver Software
We've taken a look at quite a few Gigabyte boards in the preceding months, but it's been over a year since we last examined a budget Micro ATX offering from them. For those who struggle to maintain a five-minute attention span, a brief recap would consist in disappointment at the sparse set of options and the tricky 'secret handshake' (CTRL+F1) that was required to access any advanced tweaking options such as DRAM timings or CPU clock ratio. However, Micro ATX boards are generally not targeted toward performance-seeking enthusiasts or gamers, but usually at home theater PC or ultra-budget applications. Let's see how the much newer EG45M-DS2H stacks up in terms of BIOS options:
The main BIOS screen is instantly recognizable as that of Award's BIOS firmware, because of its completely blue background and simple list structure. We've been more impressed by the Phoenix BIOS firmware's menu structure, which is a little easier on the eyes to boot, but Award's BIOS menu structure is reasonably intuitive, and certainly serviceable. (Before we continue on, be sure to press CTRL+F1 – yep, the 'secret handshake' is still in place.)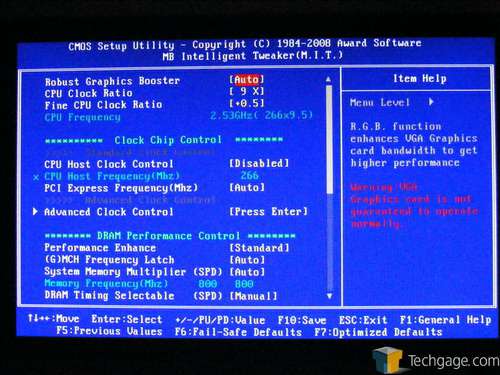 Most of the options we'll be interested in are under the "Motherboard Intelligent Tweaker (M.I.T.)" menu, which contains clock and voltage options for the CPU, memory, and northbridge. Already, things are looking far better for this board than they did for the last Gigabyte Micro ATX board we tested. The list is long, so we'll cover it in several screen shots. In this shot, we see options for CPU clock frequency with multiplier options that provide single-decimal precision. We've also got control over the PCI Express frequency, memory frequency, and northbridge frequency (up to 400 mHz), as well as something called Robust Graphics Booster.
The EG45M-DS2H BIOS's 'Robust Graphics Booster' is one of its more obscure tweaking features. Three settings are provided, 'Auto', 'Fast', and 'Turbo'. According to Gigabyte, this feature applies a small overclock to the PCI Express bus, to provide increased bandwidth and, by way of the faster bus, faster video card operation. However, the BIOS screen warns that correct operation of the video card is not guaranteed with R.G.B. activated. (We left this option disabled during testing, since there's no way to quantify exactly what it's doing to the PCI Express bus speed.)
Of course, a comprehensive set of DRAM timing adjustments is on offer – in fact, some form of DRAM timing control is the minimum that we'd expect from any motherboard regarded as 'tweakable'. You can select the effective speed, as well as the CAS latency, TRCD, TRP, and TRAS from the main screen. But if you're a real tweakaholic (and know what all the extra settings do), there's a wealth of additional timing options under the 'Advanced Timing Control' menu.
At the bottom of the list on the M.I.T. screen (last, indeed, but certainly not least) are the voltage controls that were lamentably missing from the last Gigabyte Micro-ATX motherboard. It's clear that Gigabyte has learnt its lesson – not only are there voltage options here, but you can even adjust the operating voltage of the G45 GMCH northbridge. There's enough headroom here to be potentially dangerous – the possibly damaging values flash red, just to remind you that you could accidentally smoke something in the process of your adjustments. That's the kind of tweakage we like to see!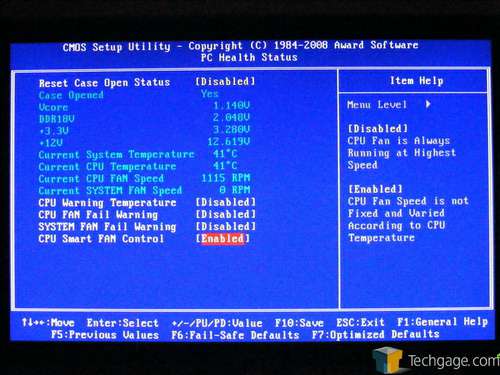 Unless you need to set something mundane, like your maximum CPUID limit, the only other BIOS screen that's particularly important is the PC Health Status screen. You can set an alert to sound if you exceed a certain maximum CPU temperature – a handy feature for overclockers who want to know when their CPU has begun to throttle because of heat. However, this screen doesn't give you much in the way of smart fan control options – the ultra-budget Gigabyte AMD 690G-based Micro ATX board we reviewed a year ago allowed us to choose a specific mode of fan control, and other more modern boards we've encountered have at least allowed us to set a target temperature, or specify the endpoints of a linear response curve.
Gigabyte EasyTune 6
The EasyTune utility included on the motherboard's software CD provides a software-based interface for making changes to BIOS operating parameters in real-time, including on-the-fly overclocking. EasyTune 6 looks at first glance like a more highly-polished version of CPU-Z, but its Tuner, Graphics, Smart, and HW Monitor panels introduce additional controls that you can adjust, while CPU-Z's functionality was limited to displaying current operating parameters.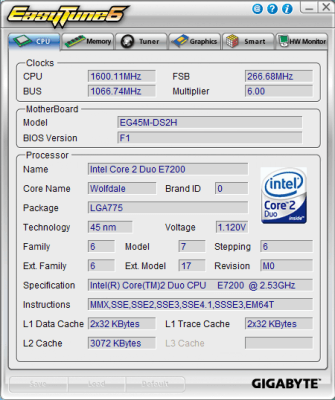 From EasyTune's "Tuner" tab, with 'easy' mode selected, you can adjust the front-side bus speed for a simple overclock. However, with 'advanced' mode selected, you get full control over front-side bus speed, CPU multiplier, memory speed, and PCI-Express bus speed, to help you find the maximum stable overclock.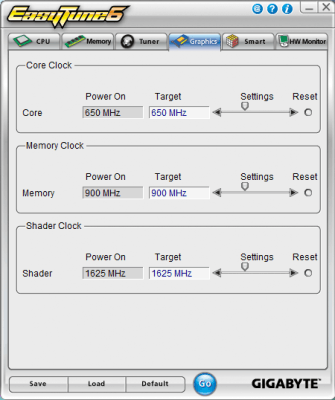 The 'Graphics' tab provides control over the GPU's clock speeds from within Windows, letting you maximize your graphics horsepower as well. EasyTune 6 correctly identified the available clock settings for the NVIDIA GeForce 9600GT video card used in some of the testing for this article.
EasyTune's 'Smart' tab lets you access settings for the "CPU Intelligent Accelerator" (C.I.A.) that allows the system to dynamically adjust the CPU's clock speed for various usage patterns, according to system load. Gigabyte's C.I.A. feature a way to squeeze more performance from your system only when you need it, which provides energy savings and prolongs CPU life under overclocked conditions. EasyTune also provides the advanced 'Smart Fan' settings that were missing in the BIOS – with the ability to set the low and high endpoints of the desired CPU temperature envelope, and the ability to set the minimum fan speed. Ideally, this would correspond to the CPU fan's starting voltage.
Between the EG45M-DS2H motherboard's BIOS and Gigabyte's EasyTune 6 software application, there's quite a bit of customization possible. The array of options is impressive, and there's no shortage of ways to custom-tailor the Gigabyte board's performance to your needs. But when it comes to our performance testing, it's sink-or-swim. Next, let's take a look at how the EG45M-DS2H fared against its competition.
Test System & Methodology
At Techgage, we strive to make sure our results are as accurate as possible. Our testing is rigorous and time-consuming, but we feel the effort is worth it. In an attempt to leave no question unanswered, this page contains not only our testbed specifications, but also a fully-detailed look at how we conduct our testing.
If there is a bit of information that we've omitted, or you wish to offer thoughts or suggest changes, please feel free to shoot us an e-mail or post in our forums.
Test System
The table below lists our machine's hardware, which remains unchanged throughout all testing, with the exception of the motherboard. Each board used for the sake of comparison is also listed here, along with the BIOS version used. In addition, each one of the URLs in this table can be clicked to view the respective review of that product, or if a review doesn't exist, you will be led to the product on the manufacturer's website.
Processor
Motherboards
Memory
Graphics

Intel GMAX4500HD (G45-based boards; Driver 7.15.10.1554)
Intel GMAX3500 (G35-based boards; Driver 7.15.10.1554)

Audio
Storage
Power Supply

PC Power & Cooling Silencer 500W

Chassis
Display

Dell Ultrasharp 2208WFP 22″ Widescreen

Cooling
Et cetera
*The 32-bit version of Windows Vista Ultimate is used for SYSMark 2007 testing.
When preparing our testbeds for any type of performance testing, we follow these guidelines:
General Guidelines
No power-saving options are enabled in the motherboard's BIOS.
Internet is disabled.
No Virus Scanner or Firewall is installed.
The OS is kept clean; no scrap files are left in between runs.
Hard drives affected are defragged with Diskeeper 2008 prior to a fresh benchmarking run.
Machine has proper airflow and the room temperature is 80°F (27°C) or less.
Windows Vista Optimizations
User Account Control (UAC) and screen saver are disabled.
Windows Defender, Firewall, Security Center, Search, Sidebar and Updates are disabled.
To aide with the goal of keeping accurate and repeatable results, we alter certain services in Windows Vista from starting up at boot. This is due to the fact that these services have the tendency to start up in the background without notice, potentially causing slightly inaccurate results. Disabling "Windows Search" turns off the OS' indexing which can at times utilize the hard drive and memory more than we'd like.
Application Benchmarks
When benchmarking a graphics card or processor, performance is expected to scale in a certain manner, but that's not the case with motherboards. Since motherboards tend to only be as fast as the hardware installed on them, we don't run an exhaustive collection of benchmarks for the sake of avoiding redundancy. For the most part, one motherboard with an equal chipset to another should offer close to equal performance.
Our primary goal with motherboard-related benchmarking is to see if one motherboard is lacking in a certain area when compared to the rest. These discrepancies, if they exist, are usually caused by lackluster components on the board itself, which is why higher-end motherboards tend to see slightly better results than the more budget-oriented offerings.
To properly test the performance of a motherboard, we run a small collection of system-specific tools, such as SYSmark 2007, Sandra and HD Tune Pro. We then run real-world benchmarks using popular multi-media applications, such as Adobe Lightroom. To see how a board stacks up in the gaming arena, we benchmark using both Call of Duty: World at War and Half-Life 2: Episode Two.
We strongly feel that there is such thing as too many benchmarks when it comes to a motherboard review, so we keep things light, while still being able to offer definitive performance data.
Game Benchmarks
In an attempt to offer "real-world" results, we do not utilize timedemos in any of our reviews. Each game in our test suite is benchmarked manually, with the minimum and average frames-per-second (FPS) captured with the help of FRAPS 2.9.6.
To deliver the best overall results, each title we use is exhaustively explored in order to find the best possible level in terms of intensiveness and replayability. Once a level is chosen, we play through repeatedly to find the best possible route and then in our official benchmarking, we stick to that route as close as possible. Since we are not robots and the game can throw in minor twists with each run, no run can be identical to the pixel.
Each game and setting combination is tested twice, and if there is a discrepancy between the initial results, the testing is repeated until we see results we are confident with.
The two games we currently use for our motherboard reviews are listed below, with direct screenshots of the game's setting screens and explanations of why we chose what we did.
Half-Life 2: Episode Two
Editor's Note: In this article, we won't be testing under Half-Life 2 as usual, because of known issues when running on the Intel G45 chipset. The issue is driver-related, but the bottom line is that the game simply won't run on G45 at the 1680×1050 resolution that we consider the 'minimum' today. Even many 19″ widescreen monitors are moving to a native resolution of 1680×1050, so it's disappointing that Intel still hasn't managed to fix their drivers by this point.
Call of Duty 4: Modern Warfare
To further put the motherboard's integrated graphics core to the test, we run through a level of Activision's Call of Duty 4: Modern Warfare. CoD4 is run at a resolution of 1680×1050 pixels, which we feel is the highest reasonable resolution to attempt with an IGP, and corresponds to the native resolution of most 20″-22″ widescreen monitors.
On the next page, we'll kick off our results with SYSmark 2007 Preview.
SYSmark 2007 Preview, Intel DHCAT 3.0
Synthetic benchmarks have typically been favored for performance testing, but the results they provide can be fairly abstract, and the methods they use to assign their scores can be dubious at times. By contrast, real-world application benchmarks provide performance metrics that apply directly to real-world usage, and we endeavor to apply both in our performance comparisons.
SYSmark 2007 Preview from BAPCo is a special case, because its synthetic scores are derived from tests in real-world applications. However, we still believe that synthetic benchmarking scores are best used to directly compare the performance of one piece of hardware to another, and not for developing an impression of real-world performance expectations. SYSmark is more useful than most synthetic benchmarking programs in our opinion, because its tests emulate tasks that people actually perform, in actual software programs that they are likely to use.
The benchmark is hands-free, using scripts to execute all of the real-world scenarios identically, such as video editing in Sony Vegas and image manipulation in Adobe Photoshop. At the conclusion of the suite of tests, five scores are delivered: an E-learning score, a Video Creation score, a Productivity score, and a 3D Performance score, as well as an aggregated 'Overall' score. These scores can still be fairly abstract, and are most useful for direct comparisons between test systems.
A quick note on methodology: SYSmark 2007 requires a clean install of Windows Vista 32-bit to run optimally. Before any testing is conducted, the hard drive is first wiped clean, and then a fresh Windows installation is conducted, then lastly, the necessary hardware drivers are installed. The 'Three Iterations' test suite is run, with the 'Conditioning Run' setting enabled. Then the results from the three runs are averaged and rounded up or down to the next whole number.
Since both the Intel DG45ID and the Gigabyte EG45M-DS2H are both based on the Intel G45 Express chipset, we expect to see results that are in about the same neighborhood. While the Gigabyte board managed to pull away from the DG45ID in the video creation part of the test, the productivity section gave it a bit more trouble – we see performance that's more on par with the last-generation G35 chipset – which resulted in a lower overall score for the Gigabyte board than the Intel DG45ID managed to achieve.
Intel Digital Home Capabilities Assessment Tool Pro 3.0
Developed in cooperation with BAPCo, Intel's Digital Home Capabilities Assessment Tool (DHCAT for short) Pro 3.0 is another synthetic benchmark that tests performance in real-world applications. In this case, the real-world applications are related to the various aspects of audio and video recording, processing, and playback relevant to a media center or home theater PC. As with SYSMark 2007, we conduct our testing on a clean 32-bit Vista install.
It's a little surprising that in this test, the G35-based ASUS P5E-VM board obliterated both of its G45-based competitors. We were disappointed in the Intel DG45ID motherboard's performance when compared to the last-generation offering, but the Gigabyte EG45M-DS2H manages to improve on the DG45ID's performance somewhat in more throughput-intensive tests like music ripping and photo compression.
Next, let's take a look at the EG45M-DS2H motherboard's performance in some real-world multimedia application testing.
Multimedia: DivX, 3ds Max 2009, Blu-ray Playback
Given the EG45M-DS2H's positioning as a value-priced motherboard for media-center PC applications, we'll be looking closely at how it performs under our set of multimedia tests, which are designed to test the board's memory bandwidth and hardware acceleration features.
TMPGEnc 4.0 Express (DivX 6.8.4)
When it comes to video transcoding, one of the best offerings on the market is TMPGEnc Xpress. Although a bit pricey, the software offers an incredible amount of flexibility and customization, not to mention superb format support. For our test, we take a 0.99GB high-quality DivX H.264 AVI video of Half-Life 2: Episode Two gameplay with stereo audio and transcode it to the same resolution of 720p (1280×720), but lower the bitrate in order to attain a modest filesize. We've also enabled the DivX codec's 'Experimental Full Search' feature using the highest level of the SSE instruction set that the processor supports.
Here we see that the Intel DG45ID and Gigabyte EG45M-DS2H both manage to edge out the ASUS P5E-VM, suggesting that the latest G45 drivers from Intel have managed to produce some performance gain. We tested all three boards with newer drivers than were used in last month's review of the Intel DG45ID motherboard, and it's clear that both G45-based boards have benefited from that. The Gigabyte board doesn't outperform the Intel board here, however.
Autodesk 3ds Max 2009
Autodesk's 3ds Max is without question an industry standard when it comes to 3D modeling and animation, with DreamWorks, BioWare and Blizzard Entertainment being a few of its notable users. It's a multi-threaded application that's designed to be right at home on multi-core and multi-CPU workstations or render farms. In our testing, we use a model that is supplied with the program, of the interior of a bathroom. The scene is rendered as a single frame at a resolution of 1920×1080 (1080p) using NVIDIA's Mental Ray ray-tracing renderer, and the overall rendering time for the scene is recorded.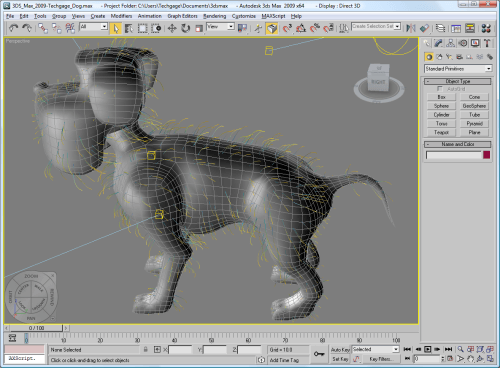 The Gigabyte EG45M-DS2H outperforms the DG45ID here, but still slips behind the ASUS P5E-VM in this test. Likely, memory bandwidth is the culprit here.
Arcsoft TotalMedia Theatre (Blu-ray Decoding)
Hardware acceleration of high-definition video decoding plays a large part in the Blu-ray experience on your PC, offloading the decoding task from the CPU and ensuring stutter-free and artifact-free HD playback. In light of this, we've incorporated a Blu-ray playback test that compares CPU usage in ArcSoft's TotalMedia Theatre player while playing a specific scene from Disney's Pirates of the Caribbean: At World's End, which is a Blu-ray movie encoded in the H.264 format.
For comparison's sake, we've also tested the motherboard under review with our reference NVIDIA GeForce 9600GT discrete GPU, which also supports hardware acceleration of HD video.
As you can see, having an IGP that's capable of HD video acceleration can make a big difference in CPU usage – simply compare the performance of both Intel G45-based boards with the lone G35-based board, which doesn't support HD video acceleration at all. The EG45M-DS2H comes up marginally shy of the Intel DG45ID's performance in this regard, but having a discrete GPU providing acceleration is by far the best arrangement.
Hardware: HD Tune Pro and Sandra 2009
Many of the results we see in real-world testing with real-world applications have technical root causes that can be exposed by hardware benchmarks, which measure performance metrics directly. The motherboard you choose is likely to have a significant effect on storage and memory performance, so numbers like these can provide important comparisons of performance in absolute terms. HD Tune Pro 3.01
To test the storage I/O, we use a tool that we've been using for a number of years, HD Tune. The developer released a "Pro" version not long ago, so that's what we are using for all of our storage-related benchmarking. To avoid potential latency, the drive is tested once Vista is idle for at least five minutes, and CPU usage remains stable at >1%.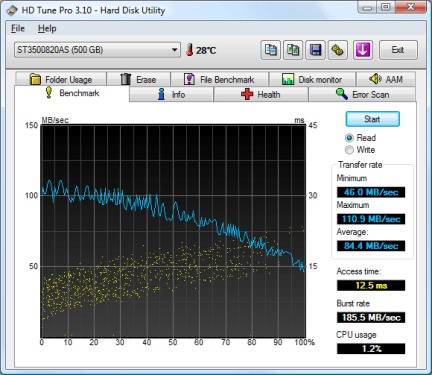 The results of this test aren't too surprising, considering that all three motherboards being compared have essentially the same storage controller. The three boards are almost dead even, within a reasonable margin of error.
SiSoftware Sandra 2009
Yet another classic tool from our toolbox, SiSoftware's Sandra is one of the ultimate benchmarking sidekicks around, allowing us to test almost every-single component in our PC, from CPU to GPU to memory to storage. In the case of our motherboard reviews, we stick with the memory bandwidth and latency tests, since its an area where some differences could very-well be seen.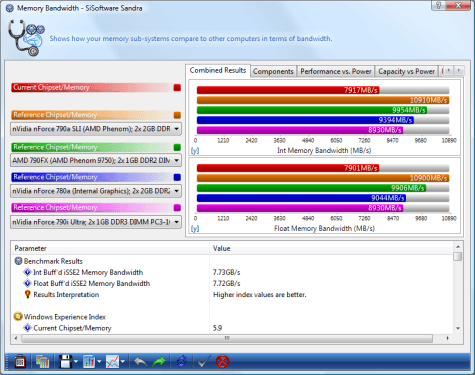 As mentioned above, the results here don't represent real-world performance, and if one motherboard sees the memory 4ns slower, the chances of you noticing the hit in real usage is highly unlikely, if not impossible. If any scenario would be effected, it would be processes that last the course of a few hours, not a few minutes.
These results tell a fairly disturbing tale. Both G45-based motherboards in this test suffer from triple-digit memory latency, and turn in bandwidth numbers that are at least two-tenths off from the G35-based board's performance. However, the Gigabyte EG45M-DS2H adds 10ms of memory latency and drops an additional tenth in bandwidth when compared to the Intel DG45ID motherboard. This alone could explain why, in our application testing, the Gigabyte board brought up the rear. But there's something else to mention…
To show the effect that the G45's onboard IGP may be having on the Gigabyte board's memory performance, I tested the board's memory performance with a discrete GPU installed, in this case our reference NVIDIA GeForce 9600GT. Here, we can see the sizeable claim that the G45's onboard GMA X4500HD graphics processor is making on the overall system memory bandwidth.
IGPs rely on the system RAM for their frame buffer, which can detract from the memory bandwidth that's available to the CPU, which is what we're measuring here. With the IGP out of the picture, the EG45M-DS2H is almost competitive with the performance of the G35-based ASUS board in our last comparison.
Next, let's check out the EG45M's performance under some gaming tests.
Gaming: Call of Duty 4
Gaming usually isn't the first thing on the minds of PC builders who use Micro ATX motherboards; typically, achieving a compact form factor or a low total price for a fully-functioning machine comes in higher on the list of priorities.
Gigabyte's EG45M-DS2H is designed around this assumption, as I discussed several pages ago – instead of providing the typical direct 16-lane connection to the motherboard's northbridge, they've chosen to use the 4-lane PCI Express controller in the ICH10R southbridge, favoring multi-monitor functionality over gaming performance.
We're quite interested to see how this plays out in our game testing – does the ICH10R provide a modern discrete GPU with enough bandwidth to achieve acceptable performance in 3D gaming?
Call of Duty 4: Modern Warfare
Activision's Call of Duty 4: Modern Warfare has been a mainstay of our graphics hardware test suite for quite some time, and its ability to scale well to lower-power GPUs made it a natural choice for our IGP motherboard testing. It's multi-threaded, and its graphics engine is one of the most efficient in the business.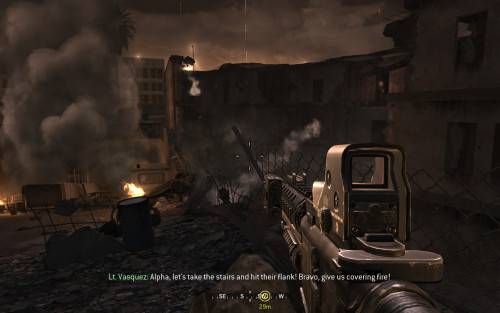 Our level of choice for graphics testing is "The Bog", which is an extremely system-intensive level that features spectacular lighting, gunfire, and explosions, as well as fog and night-vision overlays. Our run consists of storming an apartment building and flushing the enemy out of their second-story hiding spot, and ends just as we're leaving the building – on average, a four-minute scenario. Check out the Testing Methodology page of this article for more details on the settings used.
In a reversal of what we've been seeing so far in non-3D applications, the Gigabyte board pulls out a small victory over the only other G45-based motherboard we've tested so far, the Intel DG45ID. While none of the motherboards we compared managed playable frame rates, the gaming test gives us new insight into the board's resource allocation strategy.
It's likely that the reason for seeing worse performance in our memory bandwidth test was that more of the available memory controller bandwidth was being allotted to the onboard IGP, which makes the memory controller itself the bottleneck. Essentially, the CPU and IGP are 'fighting' each other for bandwidth, which makes the balance of bandwidth allocation to the CPU and the IGP extremely important.
As mentioned before, the Gigabyte EG45M-DS2H provides PCI Express bandwidth to its PCI Express x4 slot using the 4-lane controller in the ICH10R southbridge, instead of using the faster 16 lanes provided by the G45 GMCH northbridge as many other motherboards do. While this compromise is intended to allow the simultaneous use of both the onboard IGP and a discrete GPU to drive multiple monitors, as you can see, it has a significant effect on the motherboard's ability to keep a modern midrange GPU like the NVIDIA GeForce 9600GT completely fed.
We ran the same level on both the Intel DG45ID board and the Gigabyte EG45M-DS2H, and the Gigabyte board turned in significantly lower performance numbers. Unfortunately, this means that the EG45M-DS2H is a poor candidate for a graphics 'upgrade' via the PCI Express x4 slot. If your plans included ditching the onboard graphics in favor of a discrete GPU, you'd probably do best to look somewhere else.
You'll notice that our usual Half-Life 2: Episode Two test is absent from our benchmarking suite this round. Of the three motherboards being compared, only the G35-based ASUS board would actually allow the game to load – a known driver issue prevents Half-Life 2 from loading properly at a resolution of 1680×1050 or beyond.
It's unfortunate that the same problems with immature drivers that we saw with the Intel DG45ID have carried over to the Gigabyte EG45M-DS2H, but we simply decided to forego the test until Intel can get their act together and actually correct this ludicrous driver problem. After all, the G35 worked perfectly at our desired resolution. Perhaps Intel should go back to their last-gen drawing board and figure out why the G35 has no problem with this four-year-old game, but the G45 does.
On the next page, we'll wrap up with some final thoughts.
Final Thoughts
Gigabyte's EG45M-DS2H motherboard takes a novel approach to the design of an affordable integrated-graphics motherboard that's capable of supporting multiple displays. Rather than focus on providing the installed video card with maximum bandwidth, the EG45M-DS2H sources the PCI-express bandwidth from another device entirely, ensuring that the onboard G45 chipset can run to the fullest of its potential while still feeding a secondary graphics device.
In addition, the EG45M-DS2H boasts a full set of features designed to improve system performance while minimizing energy usage. The board's 4-stage power supply nets some power efficiency gains, but that's not the only power-saving feature on the board.
The Intel G45 chipset can handle the processing load of decoding HD video more efficiently than a CPU-bound decoding process, a factoid we picked up at this year's fall Intel Developer Forum where a G45-equipped notebook PC was shown that could play an entire Blu-ray movie on a single charge. When it comes to media center PC applications, the EG45M-DS2H has what it takes to get the job done efficiently.
Efficiency aside, we were somewhat disappointed in the raw performance of the EG45M-DS2H, even in view of the tradeoffs involved in its design. Whether it was our synthetic benchmark tests, our real-world application testing, or our direct hardware tests, the EG45M-DS2H managed to come up just shy of the Intel DG45ID's already underwhelming performance from our last 'budget' motherboard review.
We did, however, see a marginal uptick in gaming performance from the G45 chipset, but you'd have a hard time convincing us that the tiny improvement in gaming performance was worth the loss of application performance that we observed.
The difference in app performance is probably not make-or-break in this case, but it was measurable. When we tested the EG45M-DS2H with a modest midrange GPU installed, we experienced first-hand the performance penalty paid for using the southbridge to feed the video card's PCI-Express slot. The approach has potential merit if a low-end GPU is installed, but don't even think about installing anything more than a bare-minimum card if you want to get the performance you paid for.
Even with the slow rollout of Intel's new-generation Core i7 CPUs onto the market, the Core 2 microarchitecture and its 45nm process variants will continue to provide an important presence for Intel in the bang-for-the-buck CPU arena. For that reason, it's unlikely that the Intel 4-series of chipsets are going to slip into irrelevance anytime soon. Gigabyte's EG45M-DS2H is a versatile motherboard that can perform well in the role of a media center platform or as the basis for an inexpensive business PC workstation, but if you've got gaming on your mind, it's best that you steer clear.
Pros
Efficient power design.
G45 chipset lends media center capability.
Can use onboard IGP and discrete GPU simultaneously.
Plenty of expandability for older PCI devices.
Cons
Underwhelming performance.
Can't take advantage of high-performance discrete GPUs.
Suffers from immature chipset and IGP drivers.
Discuss this article in our forums!
Have a comment you wish to make on this article? Recommendations? Criticism? Feel free to head over to our related thread and put your words to our virtual paper! There is no requirement to register in order to respond to these threads, but it sure doesn't hurt!
Copyright © 2005-2020 Techgage Networks Inc. - All Rights Reserved.