Gigabyte Open Overclocking Championship 2009

Date: April 28, 2009
Author(s): Rob Williams

The North American regional final of Gigabyte's GO OC 09 overclocking championship took place this past weekend in the City of Industry, and we were there to take it all in. Although no world records were broken, no one disagrees that it was an exciting event, and the result is one lucky overclocker who's now getting ready to head to Taipei for the final.
---
Introduction
This past weekend, Gigabyte held the last of the GO OC 09 regional finals, which had the goal of finding a North American qualifier to compete in the worldwide final, which will be run during Computex in June, in Taipei, Taiwan. We'll get to the winner soon, but first, let's take a look at what the event is all about, what its goals are, and what makes it cool and noteworthy.
Although a countless number of vendors tout overclocking features on their products, Gigabyte is one of the few to put their money where their mouths are and have actually developed an entire event to help promote the overclocking lifestyle. And since their motherboards are increasing in popularity within overclocker circles, the company obviously wants to capture the moment and make sure people choose their products when purchasing a new computer component.
To lead up to this past weekend's regional final, which was held in City of Industry (Los Angeles County), Gigabyte has held various other regional finals around the world, with the intent of finding the best of the best from each region to compete in the final. The North American event is of course the most interesting for us since it's more local, but it's also cool in that we can see familiar overclockers get down and dirty with their elaborate setups.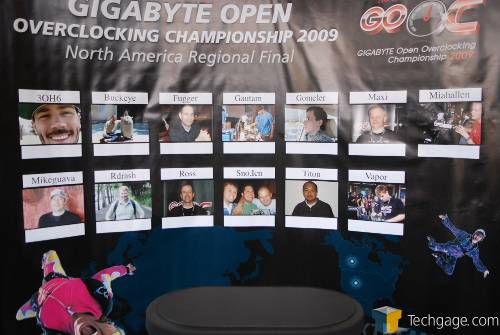 For each event, Gigabyte themselves scour the web for some of the most promising overclockers out there. But, since they care about the community, they don't simply pick and choose the best, but rather choose people based on various factors, with the community aspect playing a huge role. If you're a great overclocker but never participate in online forums or simply troll, they may not be too interested.
With that said, the eleven talented overclockers they chose for this event included 3oh6 (Jody Bailey, the lone Canuck), Buckeye (William Harmon), Gautam (Gautam Bhatnager), Gomeler (Chris Morrell), Maxi (Mark LeaMaster), miahallen (Jeremiah Allen), Mikeguava (Michael Graf), Rdrash (Matthew Kinley), Ross (Ross Lapkoff), sno.Icn (Jeremy Clifton) and Titon (Vachira Khowdee). Also there to overclock, but not qualify (they've qualified previously) were FUGGER (Charles Wirth) and Vapor (Eric Hassett).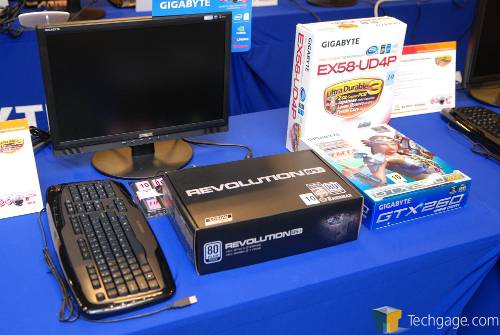 Whereas top overclockers normally break world records with their own hardware, this competition was designed around fixed configurations, and if Gigabyte developed a particular component, it was used. Here, this included their EX58-UD4P X58-based motherboard, their GeForce GTX 260 graphics card (with the help of NVIDIA, it seems) and also their new keyboards and mice.
Other vendors included Intel, who donated both their Core i7-965 Extreme Edition processors and X25-M solid state disks, Enermax with their beefy 1050W Revolution 85+ power supplies and also Kingston, who brought cherry-picked 3GB DDR3-2000 memory kits.
Aside from the fixed hardware, contestants had few rules. Debugger cards were not allowed, however, as like other serious overclocking competitions, contestants are expected to overclock based on pure skill, and if a problem arises, they're expected to be able to fix it themselves. Seems fair, and given how knowledgeable these guys are with hardware, debuggers are hardly ever needed anyway.
Each overclocker was also able to use their own liquid nitrogen (LN2) pot (CPU cooler), with K|ngP|n's Dragon F1 Extreme Edition being one of the most popular (it comes at a price, but it's effective and easy-to-install). Coupled with the over 400 litres of liquid nitrogen sitting in the back of the room, we all immediately knew that some hardcore overclocking was going to soon go down, and lots of it.
Preparations and Competition
Although the event took place on Saturday and Sunday, the actual competition ended on the former. That morning, Gigabyte's VP of North America Sales & Marketing, Tony Liao, helped kick things off with a quick speech, which was followed by other small speeches from vendors. As the event progressed, Gigabyte's Maggie Lin and Colin Brix handled most of the hosting duties (Colin was a trooper and flew in straight from Taiwan).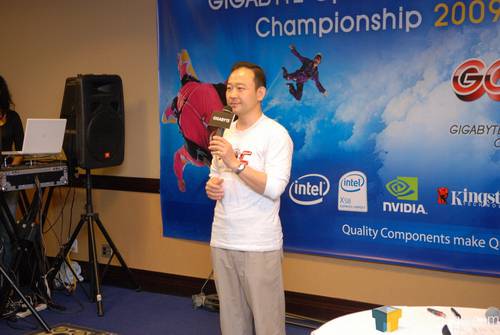 Tony Liao – Gigabyte VP of NA Sales & Marketing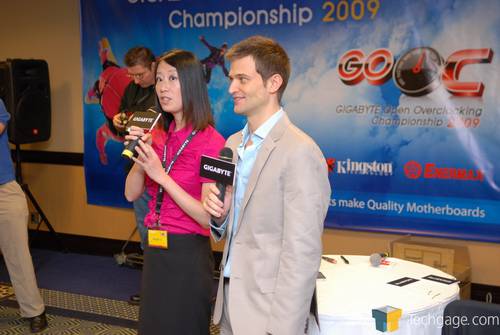 Gigabyte's Maggie Lin and Colin Brix
Once the speeches were done, the competitors got right to unboxing their parts and slapping them all together. Unlike most of our regular builds, which take almost no time at all to piece together, these machines are another story. Rather than carelessly place components on the motherboard and boot everything up, extreme overclockers have to take many extra steps, including insulation, greasing and semi-complicated pot mounting. Here's a quick taste: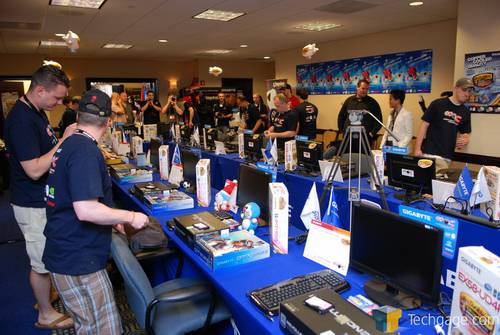 Overclockers preparing to build.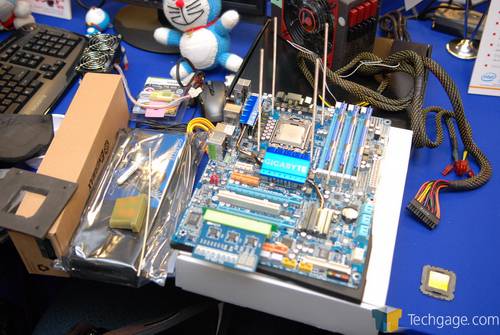 CPU socket preparation for the LN2 pot.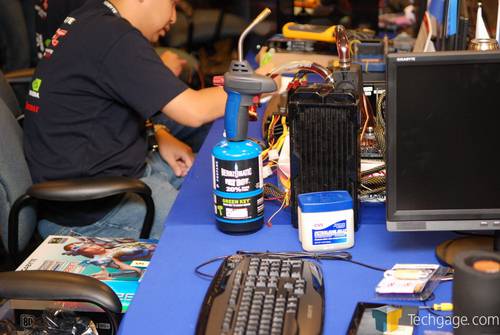 So things don't get too cold and stuck together, a torch and petroleum jelly.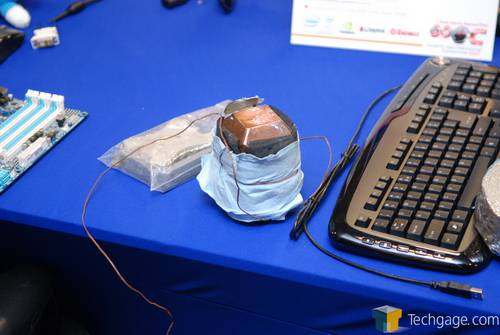 LN2 pot, almost ready for installation.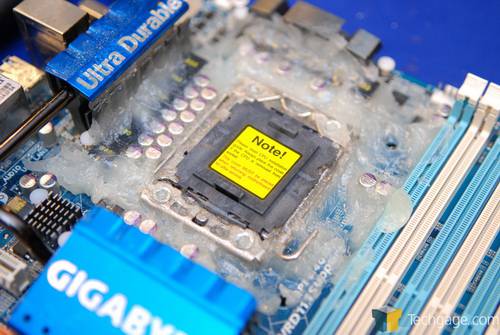 To think, it's Gigabyte who deals with these boards after the competition.
There wasn't an insane rush to get things built, thanks to the fact that the first contest began a few hours later, but the no competitor here took their time. It didn't take too long before all of the machines were built and the overclockers were double-checking everything to make sure their rig was fully prepared for the first overclocking contest, Super Pi 8M.
How the competition was structured was that two different contests were run. The first, as mentioned, was Super Pi 8M, which for the unaware, is an application that calculates the first 8 million digits past the decimal place in π (3.14359…). It's a single-threaded tool, but regardless of that, the highest processor frequency is pretty much guaranteed to be the winner. Tighter memory timings can help also, but not as much as a few extra megahertz on the CPU.
After Super Pi, the other benchmark to be used was 3DMark Vantage, from Futuremark. This contest actually consisted of two separate tests, which gave overclockers even more ways to gain points to their total. The overall score was of course one of those, with the HDR/SM3.0 being the other.
Super Pi 8M, 3DMark Vantage & The Winners
The Super Pi contest went quite well, with some really tight moments along the way. FUGGER helped prove why he's one of the world's most respected overclockers by placing first with a score of 30.625s. Since he doesn't qualify, the "real" 1st place (really 2nd) was miahallen, with his ultra-close score of 30.969s. The second and third place winners weren't too far behind, though, with Rdrash in second with 32.312s, and Gomeler with 32.563s.
Towards the end of the Super Pi competition, when some competitors realized they weren't going to be able to place in the top three, work began on preparing their machines for 3DMark tests, which meant tearing off the GPU's cooler and installing yet another LN2 block. Yes, both the CPU and GPU would be cooled with the ultra frigid liquid (-196°C).
While Super Pi was a single test, 3DMark consisted of two, which meant a greater chance for extra points if you managed to get in a good ranking in both the HDR and overall score tests. And though it may seem that if a card is overclocked in a certain way, it would excel in both tests, it really comes down to how and what you clock. Boosting the Shader clocks will improve results differently than if only increasing the Core clock, for example.
Titon proved to be the winner in the HDR/SM3.0 contest here, with a score of 10,657, with second place going to Maxi with 10,576 and third to sno.Icn with 10,486.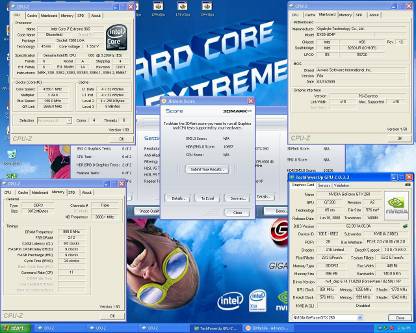 Titon's 3DMark 06 HDR/SM3.0 Score
Things changed up a bit with the overall score, with sno.Icn boosting his third place to first with a score of 24,869. Second place went to Maxi with 24,624, while third went to fellow Canadian 3oh6 with 24,409. Overall, a very close race all the way through.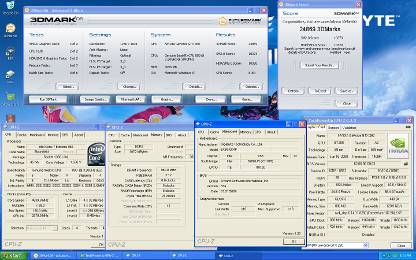 sno.Icn's 3DMark 06 Overall Score
So, who proved to be the number one overclocker in North America? Before I tell you, I need to say that this competition was absolutely amazing, and I'm impressed with how each overclocker did, scores aside. In some cases, the scores were literally milliseconds apart, and those who fell further behind had little other to blame than the hardware they were given (primarily the processor, which can vary wildly in overclocking-ability).
And though the competition was tight, this wasn't a fierce competition. Every overclocker in the room considers each other to be friends, and numerous times throughout, I saw many exchanging ideas with each other, or if someone was truly stuck, help would be offered. That's the true overclocker spirit, not only to be the best out there, but to enjoy the ride and make friends along the way.
But, there has to be winners in any contest, so let's start with third place. That happened to be Mark (Maxi), with a total of 13 points. For his win, he walked away with a Gigabyte EX58-UD4P motherboard and the GeForce GTX 260/216 graphics card, a 3GB Kingston DDR3-2000 memory kit and also Enermax's Revolution 85+ 1050W power supply.
Second place went to Jeremy (sno.Icn) with a total of 14 points, only one past Maxi. For his win, he walked away with the exact same stash of hardware as Maxi, which is still a good haul after a fun event.
Finally, first place went to Jeremiah (miahallen) who scored a staggering 19 points overall… total domination. Like the others, he walked away with a motherboard (upgraded to an EXTREME), graphics card (upgraded to a GTX 285), a RAM kit and the power supply, but the swag didn't end there. For this prize, Intel also threw in a brand-new Core i7-965 Extreme Edition processor (not sure if it was ES or not) and also their X25-M SSD. And…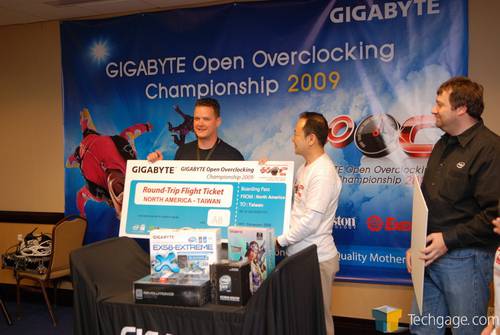 An undoubtedly happy miahallen.
… not to mention that Gigabyte gave him one heck of a flight ticket – a round-trip to Taipei, Taiwan for the GO OC 09 finals. What a sweet haul! We wish miahallen the best of luck over there… let's put North America on the map and stay there!
Vendors
Aside from the competition itself, Gigabyte found a way to kill some of the media's time by allowing the event's sponsors to give mini-briefings about their products in a separate room. Each one of the sponsors took advantage of this, and we were treated to quite the deluge of information, some of which we were already familiar with, and a bit of what we weren't.
The first speaker to take the stage was Intel's Performance Analyst Francois Piednoel. It's wise to ignore his title, however, as it severely underwhelms just how much he takes care of. Francois is one of the brightest in the business, and he's the furthest thing from being a marketing guru. Rather, his passion for hardware and technology shine through when you talk to him, and it becomes clear quick that he really, really knows what he's talking about.
But he knows a lot about the small details with Intel products, and we don't necessarily. So to help see just how much of a geek we all were, he presented 10 questions, that if answered correctly, made us an "Alpha Geek". I won't be ashamed in admitting that I only knew three out of ten answers. These were tough:
What processors (codename) worked with the i820 Chipset?
What process technology was used on Prescott?
What codename was given to the Pentium II?
What's the average success rate of DivX 6.8 L1 cache hits on HD 1080p video? (Yorkfield)
What improvements are there between Conroe and Penryn?
What's the FSB utilization on POVRay rendering on Penryn? (Yorkfield)
What's the common point between Glenn Hinton, Bob Valentine, Jack Doweck, Stephen Fischer and John Crawford?
What's the SPEC CFP2006 fp_rate_base score of the i7-965 Extreme Edition?
In the best case, how many instructions can be decoded in parallel on a Nehalem core?
How many sums of absolute differences and ABS can MPSADBW perform?
I'll leave you to Google to find the answers, as I failed to write any of them down.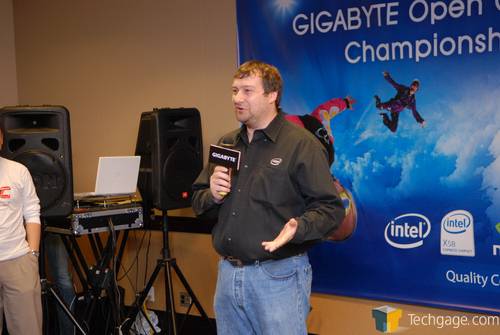 Francois Piednoel – Intel Performance Analyst
Francois then followed that with a quick briefing about Intel's SSDs. He's not a marketing manager, and he hates to come off as one, so he talked about things from a technical standpoint. Much of what was mentioned we knew about already, but he's very confident that SSDs are going to become even more impressive as time passes.
Up next was NVIDIA's talk, given by their Channel Sales Manager Jack Chen. Most of what was said was a complete rehash of what we've been told numerous times over the course of the past few months, and in truth, I could have easily worn an NVIDIA shirt and gave the same speech without needing a reference note, but, one member of the media did get him to cough up information about a possible single-PCB GTX 295. It's being worked on, but if and when it will happen is up in the air. At least it's on NVIDIA's radar.
Mark Takunoff, Senior Technology Manager at Kingston gave a good talk about what he does and what Kingston's goals are, although goals might not be that important when you are the world's leading DRAM vendor. He's a performance nut though, so he spends a fair amount of time in the lab tweaking their modules to see where improvements can be made. Not just desktop memory either, but even SODIMMs (which REALLY do need some TLC. Down with their low frequencies and high timings!).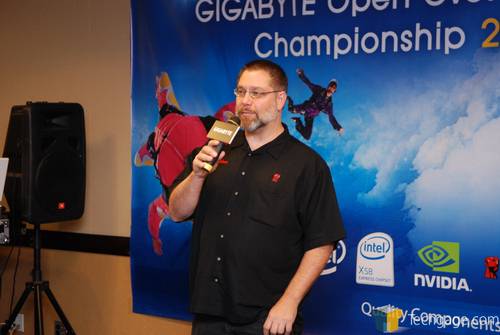 Mark Takunoff – Kingston Senior Technology Manager
The final talk was given by Joerg Theissen, the Chief of Global Product Marketing at Enermax. I admit, I'm not the least bit interested in power supplies, but James did an incredible job of keeping things enlightening, and at the end of his speech, I had a newfound respect for their product. Did you know that some of their models are future-proof? Because they use 12-pin connections all around, if a new connector type comes out during the life of your unit, you can simply purchase that particular new cable, which last I checked, is far less expensive than purchasing a new PSU.
Overall, when I heard that there would be media briefings, I sighed, because after all, we're briefed all the time, so what new were we going to hear? I was relieved when things were kept interesting though, so kudos to all of the presenters.
Final Thoughts
As this GO OC 09 regional final was the first-ever overclocking competition I've attended, I wasn't quite sure what to expect. Although I have read reports of previous events, it helps to experience them first-hand, and you can truly understand just how knowledgeable and passionate these hardware gurus are. While I'll overclock with a few simple settings in the BIOS, these guys have no problem hauling their soldering gun out. I'm not quite that hardcore.
Competition was undoubtedly tough, and everyone there wanted to win, but that didn't stop anyone from being friendly with each other, and as I mentioned earlier, there was no shortage of help to those who needed it… especially a couple of overclockers who wound up with really poor CPU samples and ended up with absolutely no points in the end.
Even Intel showed some team spirit, and to help make up for their lackluster samples, Francois awarded an SSD to both Gautam and Ross, who scored 0 points overall by no fault of their own. That's overclocking for you… unpredictability is the name, and if you've ever spent many hours clocking any component beyond its limit, you'll understand that well.
I also have to give kudos to Gigabyte, because although they are using overclocking as a marketing tool (and who can blame them?), they did a fantastic job pulling this show off and were really hospitable to both the overclockers and the media (if I ever complain about free beer, someone please put me out of my misery). Gigabyte's Angela Lan, Rita Kuo and Sherri Lee are three girls who probably never overclock their PCs, but that didn't stop them from making sure everyone was being taken care of, and each one helped make the show just that much more enjoyable, so huge thanks to them.
After the event, I had the opportunity to speak to a few different overclockers, and the general consensus is that Gigabyte really knows how to pull off a great overclocking event, and no one I spoke to was unhappy about anything (even those who wound up with bummed hardware took it in stride). I'm not a serious overclocker myself (which may become obvious in some of my content), but this event has inspired me to try just a little bit harder with my next clock.
I look forward to seeing how the finals turn out during Computex, and once again, good luck to miahallen. I for one will be watching that event like a hawk. For those interested in random photos, check out the next page. There were many I couldn't fit into the article itself, so I loosely threw a bunch together there.
Discuss this article in our forums!
Have a comment you wish to make on this article? Recommendations? Criticism? Feel free to head over to our related thread and put your words to our virtual paper! There is no requirement to register in order to respond to these threads, but it sure doesn't hurt!
Leftover Pictures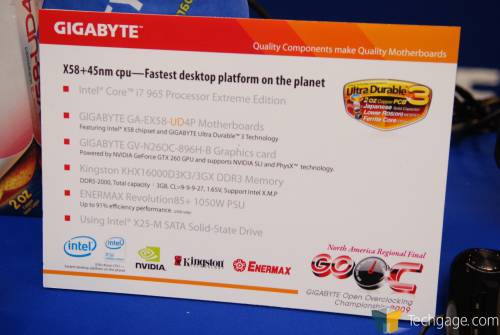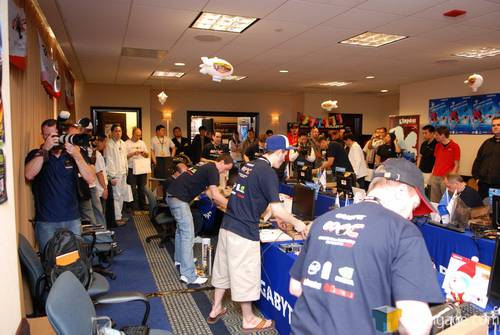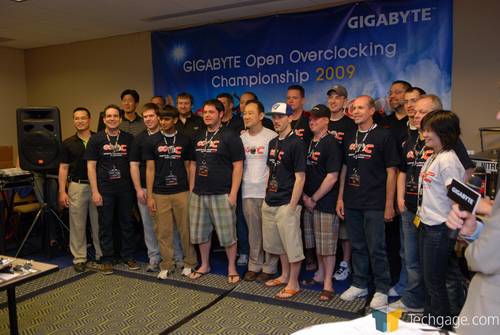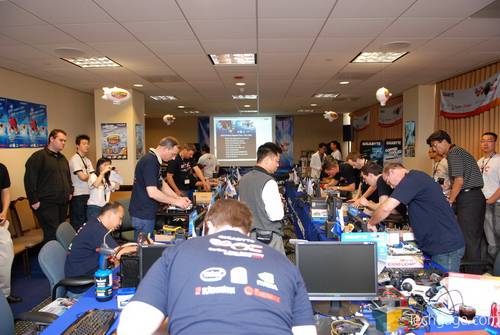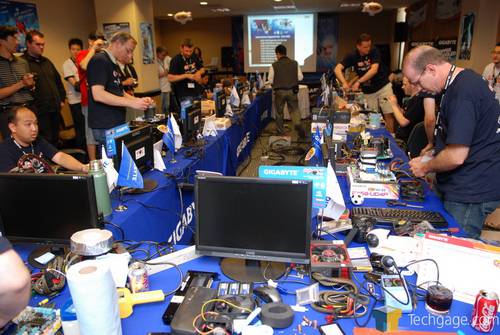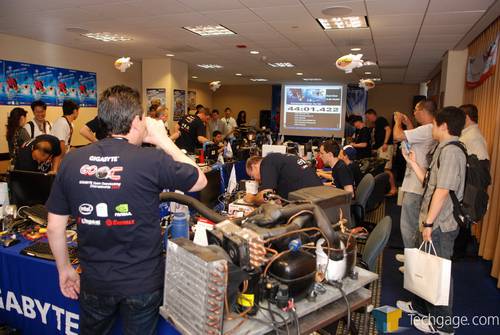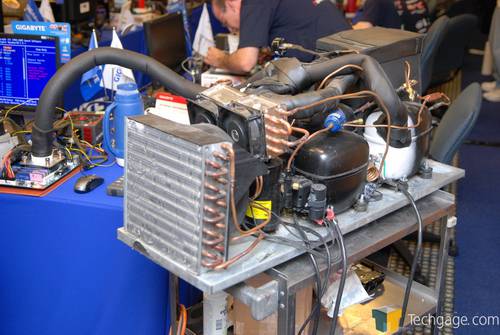 FUGGER's trusty triple-cascade (temps are far more stable than LN2).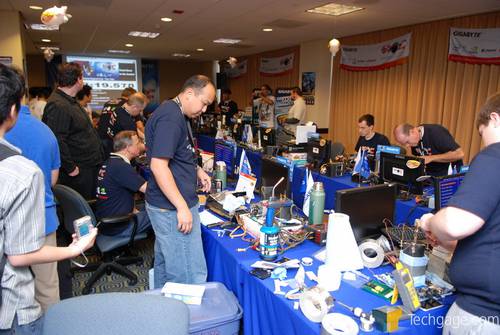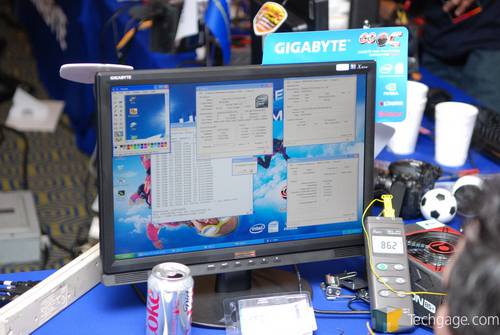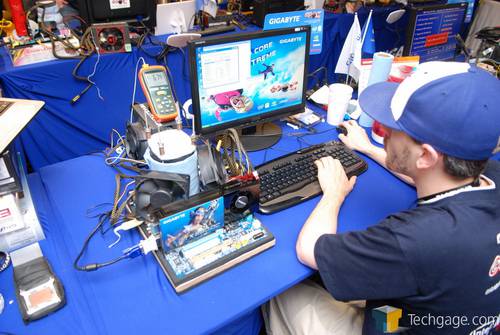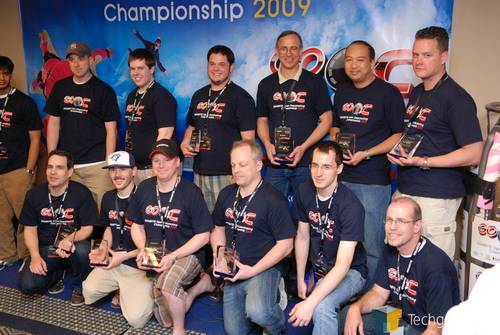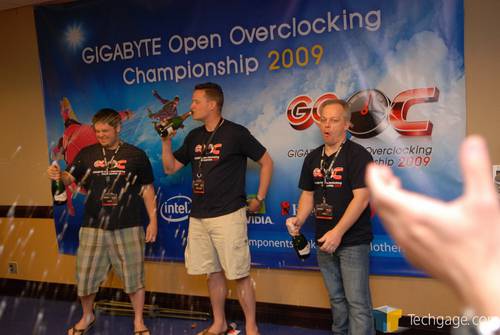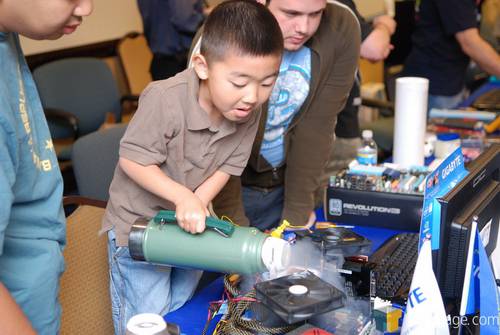 You can never start them out too young!
Copyright © 2005-2021 Techgage Networks Inc. - All Rights Reserved.