Gigabyte P55-UD5 Preview

Date: August 28, 2009
Author(s): Rob Williams

With Intel's Lynnfield launch right around the corner, let's kick off our coverage with a look at one of Gigabyte's launch P55 boards, the P55-UD5. A mainstream model, the UD5 features enough connectivity to totally fill up your chassis with components, a smart design and for what could be considered a relative rarity… a cool color scheme.
---
Introduction
Ahh. Don't you just love the smell of fresh processor architecture in the air? I sure do, and we'll be able to continue savoring its goodness for a few more weeks, at which point Intel's Lynnfield CPUs will hit the market and be ready for consumer consumption. If you've been sleeping under a rock, you probably have a sore back, and you'll also need a refresher of what Lynnfield actually is.
Lynnfield, for the most part, can be considered a scaled-back version of the Nehalem architecture we saw introduced last fall as Core i7. Lynnfield products will be split across the Core i5 and i7 monikers, and the main differences will be a drop back to the DMI interface (in lieu of QPI), a dual-channel memory controller (rather than triple), a new socket type and a few other notables we'll tackle in our launch article.
You shouldn't make the mistake of discrediting Lynnfield as being just a scaled-down Nehalem, though, because believe it or not, there's going to be some features that actually help these chips surpass performance of chips we've seen using that architecture, such as the re-tweaked Turbo mode. Again, we'll get far more in-depth regarding the features in our launch article.
What's interesting about this processor launch though, is that unlike any other, vendors of everything except the CPU are extremely interested in getting their name posted on our sites. We've already been receiving LGA 1156 CPU coolers for a while, and also memory kits best-suited for Lynnfield's dual-channel memory controller. Then we of course have motherboards, including the one we're going to take a brief look at today.
Gigabyte's P55-UD5
We're going to save our full run-down of this board for the review after Lynnfield launches, so this article as a result is going to be rather brief. Our goal is to wet your appetite for what's to come. This isn't the only P55 board we've received so far, but as time has been ultra-limited lately, it's the only one I've had time to take photos of. You can expect a look at ASUS' P7P55D Pro (a Techgage exclusive) next week.
Over the past few years, Gigabyte has been adamant in promoting their "Ultra Durable" technologies on their motherboards. The UD5 features their UD3 suite of features, which include 2oz of copper throughout the PCB, Japanese solid capacitors, low RDS MOSFETs, high-quality ferrite core chokes, and more. Of course, we haven't even touched on their robust power solutions. Thankfully, the UD5 doesn't come equipped with a 24 power phases, but rather a "modest" 12.
Once again, we'll tackle the board's features in greater detail in our actual review, so for now, let's take a trip around the board and see what it's made of.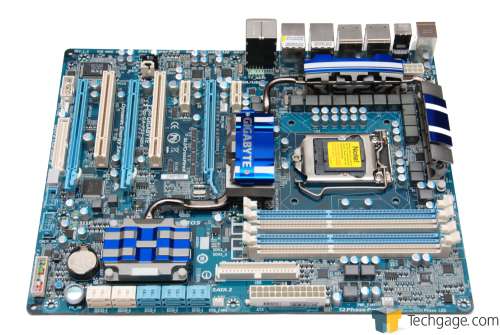 If you've been following Gigabyte boards for a while, one of the first things you might notice is the, umm, lack of color. No oranges, greens, yellows or pinks here… just blue and white. Clean, and simple. First stop is around the new LGA 1156 socket, which is surrounded my many capacitors and the 12-phase power solution.
If this is your first time seeing the new LGA 1156, you'll notice that the mounting mechanism is far different than LGA 1366. Whether it's a good thing or not, I'm unsure, but it is easy to install a CPU, so it may very well be preferred by most system builders.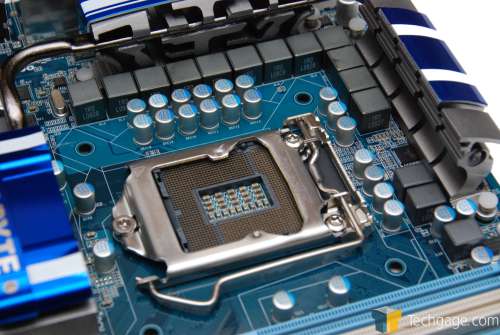 And here's an alternative view to better show off the heatsinks.
Given that Lynnfield features only a dual-channel memory controller, four DIMM slots are made available, with support for up to 16 GB of RAM.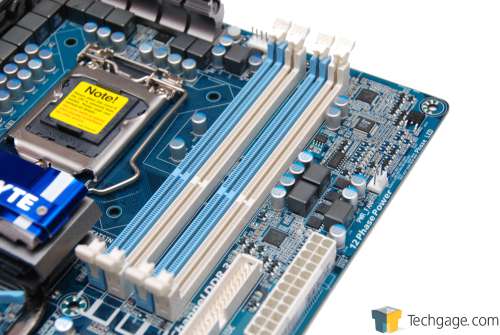 If I had to choose one major motherboard innovation that I appreciate the most, it'd have to be the vertically-mounted S-ATA ports. They simply can't be beat. When you see these on a motherboard, you know that your long graphics cards aren't going to be a problem, and if you have a big graphics cards and only top-mounted S-ATA ports, you know what I mean. All ten S-ATA ports here are vertical, which will no doubt be hugely appreciated by anyone who picks this board up.
Also around this area is the Southbridge (there is no Northbridge on P55 boards thanks to Lynnfield's integrated components), a power switch along with reset and CMOS reset buttons, the BIOS battery and the slew of internal connectors, such as USB, FireWire and the ATX chassis connectors.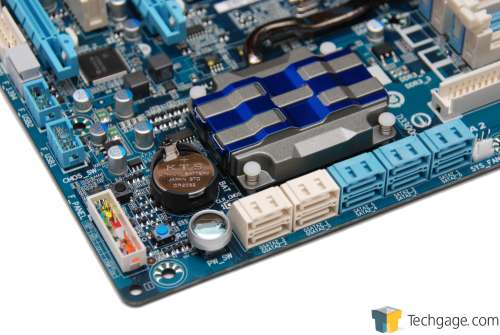 Because NVIDIA has "allowed" SLI to be licensed on P55 boards, Gigabyte makes that option available here (along of course with CrossFireX). If you wanted, you could even go triple GPU, but the bottom of the board might cause the third GPU to suffer a tight squeeze. Aside from the triple PCI-E 16x slots, we have two PCI-E 1x and also two legacy PCI. The IDE and other various connectors can be found at the bottom here.
As we've seen on a few other Gigabyte boards before, the top right-hand corner features a variety of LEDs to show the status of your current phase state. We'll be sure to have a prettier photo after the launch of these in action.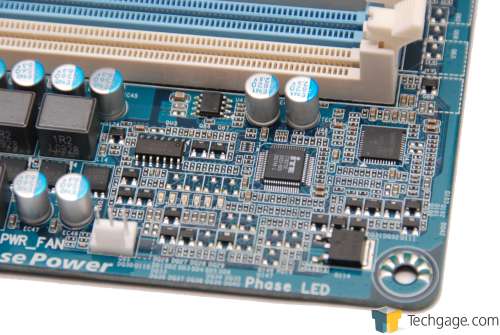 As a slightly higher-end board, the UD5 features the entire gamut of peripheral connectors on the back I/O panel. These include a total of ten USB ports (the two bottom yellow USB ports double as eSATA), two LAN ports (which can be linked for double the speed), your usual selection of audio ports, the two FireWire variants and also a PS/2 connector for a legacy mouse or keyboard.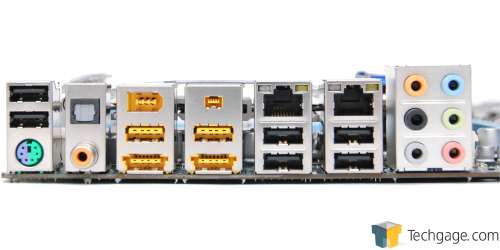 Below, you can see the various manuals Gigabyte has included to explain every aspect of the board (four total!), the back I/O panel protector, an SLI bridge connector, various chassis stickers and also four S-ATA cables, an IDE cable and also an internal slot to add two more eSATA connectors to your machine.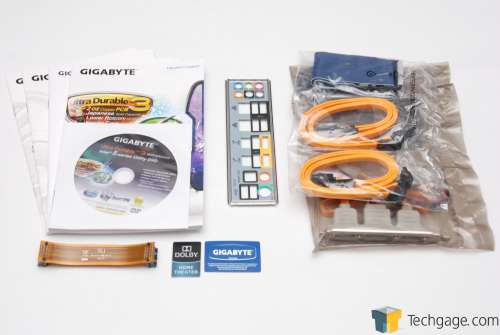 As you can likely see, the P55-UD5 is a packed board, with enough bling to and features to remain attractive to pretty much any enthusiast. How it performs, and overclocks, will be revealed in the coming weeks. As mentioned before, we'll have a preview of ASUS' P7P55D Pro next week, an exclusive, which is not the company's highest-end model, but rather one you're actually likely to purchase (price will be around ~$175). Stay tuned for that!
Discuss this article in our forums!
Have a comment you wish to make on this article? Recommendations? Criticism? Feel free to head over to our related thread and put your words to our virtual paper! There is no requirement to register in order to respond to these threads, but it sure doesn't hurt!
Copyright © 2005-2021 Techgage Networks Inc. - All Rights Reserved.