GO OC 2010 North American Final

Date: August 13, 2010
Author(s): Robert Tanner

This past weekend, Gigabyte held its third GO OC NA final in Industry, California, and put fourteen of the best overclockers together in the same room and let them loose on Intel's Core i7-980X processor and Kingston's HyperX memory. We were there and have all the info, and more pictures than you can shake a memory stick at.
---
Introduction
What do propylene, propane, butane, petroleum jelly, and electric hair dryers all have in common? All were present in high quantities at the Gigabyte GO OC 2010 North American regional overclocking championship, obviously! This past weekend Gigabyte hosted its third GO OC event running, where twelve hardcore overclockers from Canada and the United States sat down to a table full of new hardware and an all-you-can-eat buffet of liquid nitrogen.
Gigabyte's annual "GO OC" event was held at the Pacific Palms Resort in City of Industry, California just outside Los Angeles, and has become so popular as to even spawn similar events by other companies. For the 2010 season, regional events have been held for China, Pan Asia & Africa, Latin America, Europe, and North America. All of these regional events set the stage for the final, upcoming competition in Taiwan, where the top winners from each region will compete directly in the championship for prestige and some serious prizes.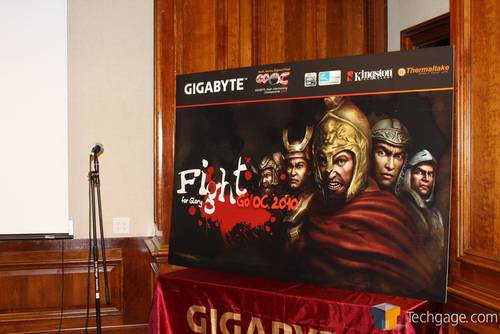 In addition to a contestant Latin America attending, the twelve overclockers in the running for this event included 3oh6 (Jody Bailey), Buckeye (William Harmon), Duex (Patrick Van Valzah), FUGGER (Charles Wirth), Gautam (Gautam Bhatnager), G H Z (Mark LeaMaster), Gomeler (Chris Morrell), mikeguava (Michael Graf), rdrash (Matthew Kinley), Ross (Ross Lapkoff), sno.lcn (Jeremy Clifton), and Vapor (Eric Hassett).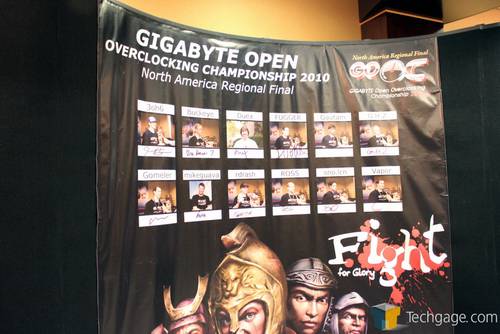 To keep things even as possible, each contestant starts with the same cornucopia of new hardware that would make anyone swoon. Gigabyte provided its own X58A-UD7 motherboards, monitors, mice, keyboards, and GeForce GT 240 graphics cards. Kingston was showing off its 64GB SNV425 series SSDs and a screaming fast triple-channel, 6GB HyperX 2000MHz CAS 9 memory kit. Intel naturally provided the ES grade processors, although this year they were the well-regarded Core i7-980X Extreme Edition models. To keep all of this powered Thermaltake was showing off it stalwart Toughpower 1200W beast of a power supply.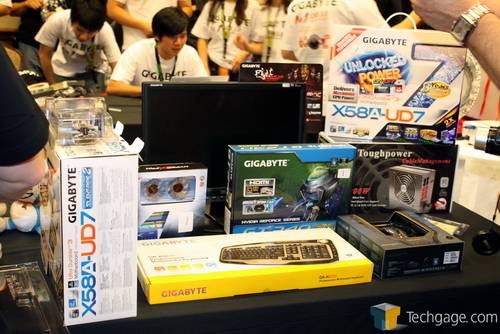 Entrants were allowed to bring their own choice of liquid nitrogen (LN2) pots that prevent the CPUs from frying instantaneously at settings at or even beyond two volts, but debugger cards, other forms of cooling, and other hardware other than what is provided wasn't allowed.
If a problem arises (and plenty did!) then contestants are given one chance to replace the hardware. Due to the fickle nature of processor overclocking, all contestants have the option to request trading in their CPU for another held in reserve, but once done for better or worse they are stuck with the exchanged CPU.
August 13, 2010 Addendum: Some paragraphs and wordings were changed on this page after posting at Gigabyte's request.
The Preparations
The event kicked off bright and early Saturday morning, and with only a few short words and after the well wishes from our Gigabyte hosts and the co-sponsors Intel, Kingston, and Thermaltake, iBUYPOWER and CyberPower, things quickly jumped into gear.
To keep things even, all overclocking "stations" were numbered, along with a matching, new USB drive. Every contestant would then draw their own seat at the event. For those wondering, the USB thumb drive was required for score submission screenshots and anything else the contestants wanted to save. Gigabyte's Rita Kuo, North America Marketing Manager, bravely presided over the drawing ceremony.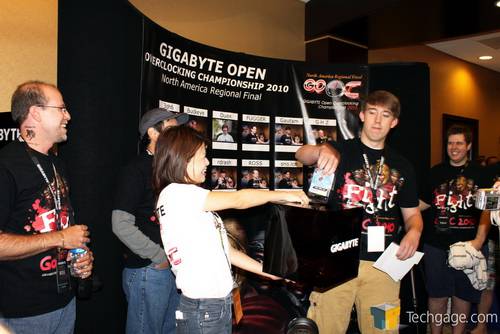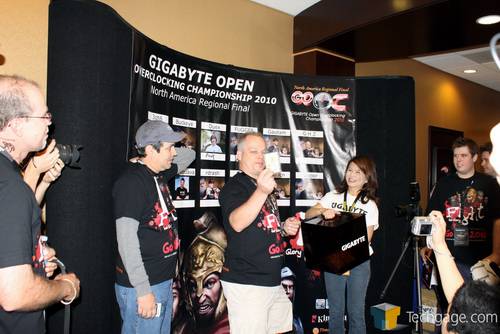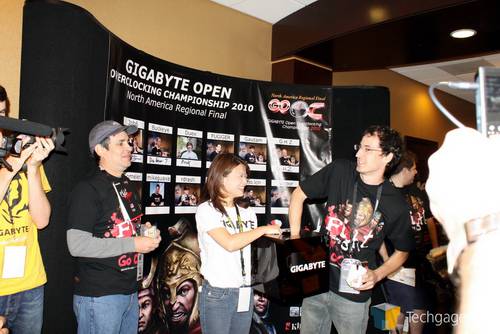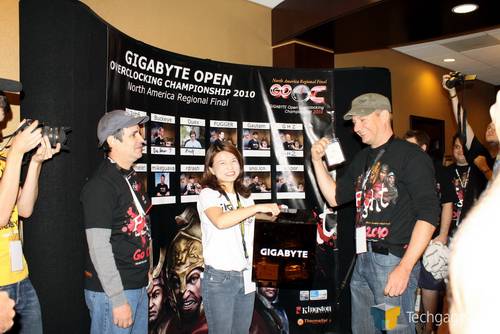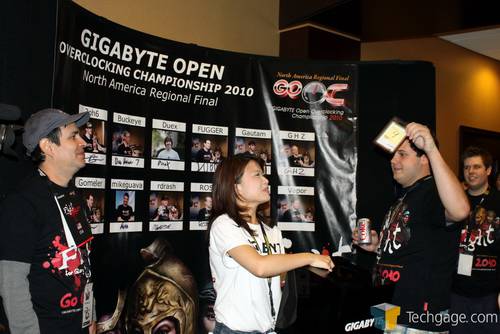 After everyone had drawn their seat and signed their name to the board, all the heavy gear started showing up. Set up time was a full two hours long, and apparently for good reason. It doesn't take just skill, luck, and experience to overclock under sub-zero cooling, but also a pretty large case full of gear.
Things seemed ordinary enough with copper LN2 pots, petroleum jelly, and all manner of gas torches and heaters appearing, at least until the unboxing was done. Then the soldering guns, wire, resistors, silicone, neoprene, modeling clay, and a bit of everything else came out. Contestants were free to modify the motherboards as they wished, and many chose to do so.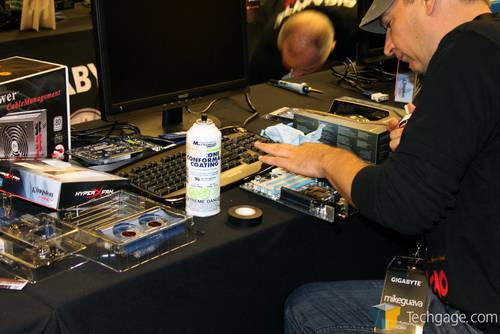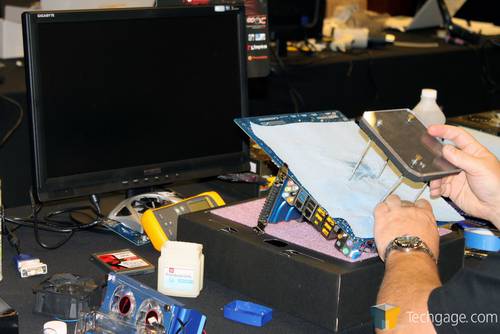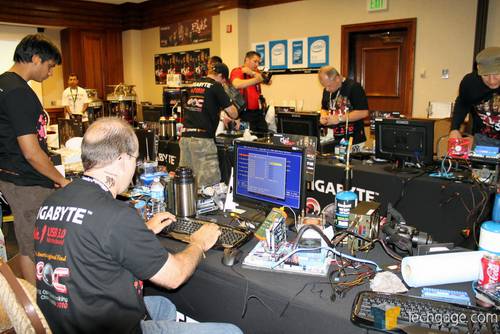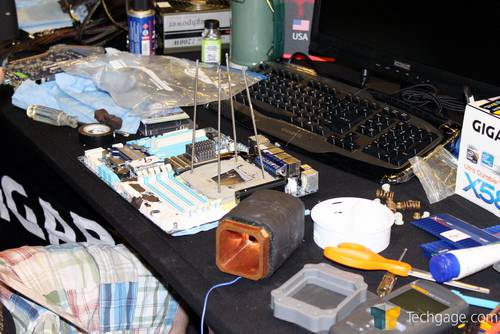 Unfortunately, Gigabyte shuffled the media out of the room for a presentation just as the setup gear was getting even more interesting, but everyone got back as quickly as possible afterwards. I have followed similar events before, but after attending this one it is safe to say the rough idea I held was an understatement for how much work goes into prepping these boards!
Many of these well-known if even legendary overclockers spent most of the two hours provided setting up their hardware in order to eke out every last hertz. Not to mention also ensure it will survive over four hours of subjection to sub-zero temperatures without condensation shorting out the motherboard, processor socket, or sensitive memory slots.
The Competition
Here's how it worked in a nutshell. There are four benchmarks in use for this specific event: Super PI 8M, MaxxMem, Pifast, and Wprime 32. Results from these generate a point score that contributes to an overall score, and obviously the highest cumulative score at the end wins. The top three contestants in the North America finals will receive some serious prizes, but only the top two will receive a paid ticket to Taiwan to compete in the final championship event!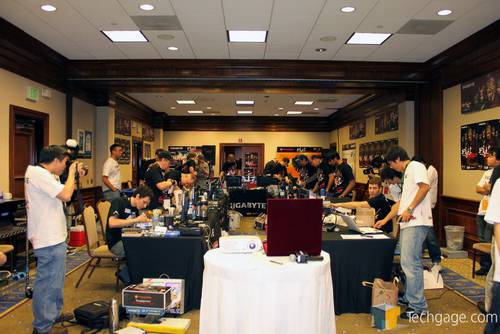 For this event, benchmarking was split into two rounds, with Pifast and Wprime up first (primarily processor oriented), followed by a brief intermission, then round two consisting of SuperPi and MaxxMem (which focus on memory bandwidth). This was a bit of a departure from previous years, as GPU overclocking was not a factor in any of these benchmarks this time around. Each Kingston SSD came preloaded with an identical OS install that had all benchmarks, drivers, and allowed utilities (such as CPU-Z, SetFSB, and EasyTune6) installed.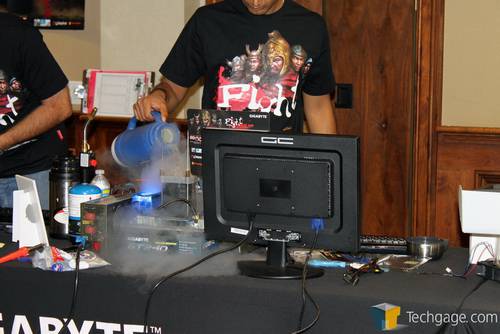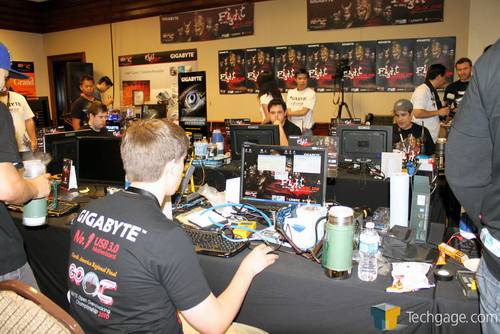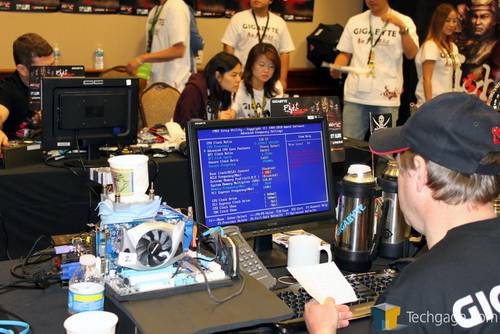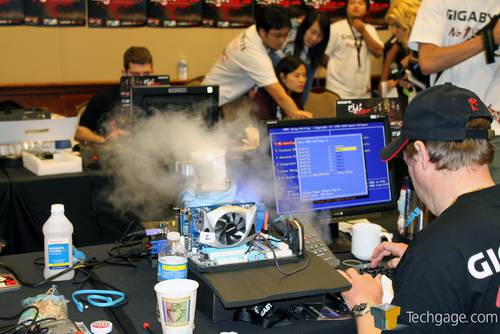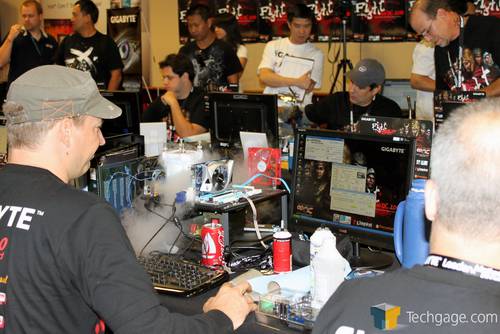 Oddball implements such as coffee cups were quickly conscripted as well, perhaps a Caution: COLD warning needs to be added. It didn't take long for the various types of torches to come out either. Mostly these were used when the processor had gotten too cold to boot, as the operating temperature required to boot a processor must be much warmer than the temperatures it can sustain under loads. Although the torches and heaters were sometimes also used to take apart frozen blocks of equipment as needed.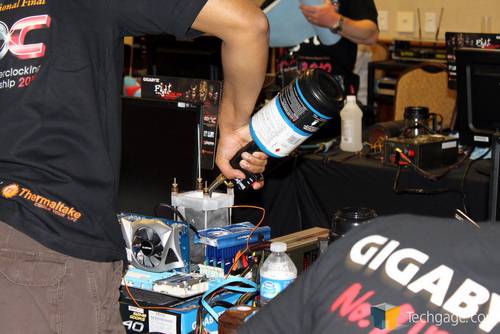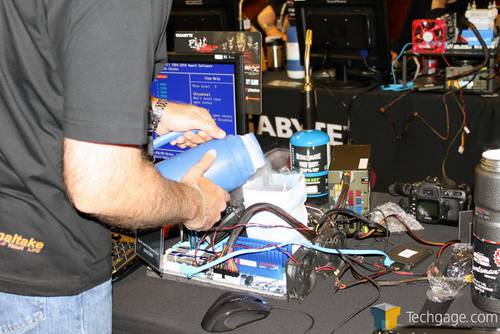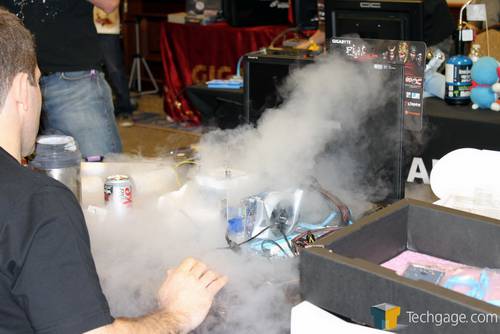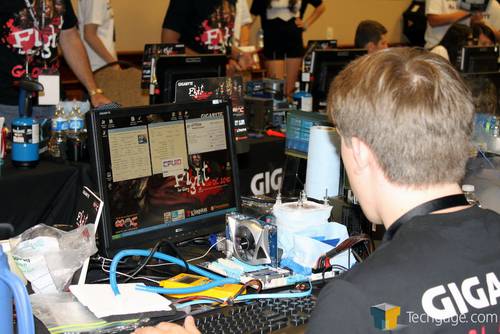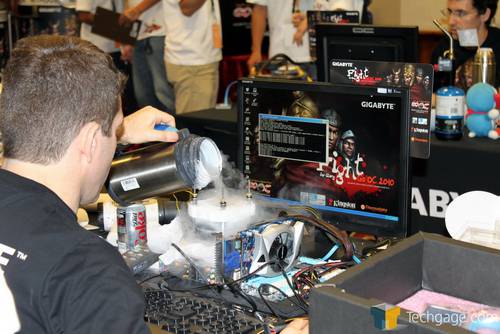 Not sure how cold LN2 is? If it helps any, liquid nitrogen will begin to "boil" away back into its gas form at temperatures warmer than -195.7 Celsius, although there were plenty of hints at the event for anyone that wasn't sure. If the LN2 container and hose beginning to freeze solid weren't clue enough, the frozen vacuum thermos bottles icing up like a nice chilly drink certainly spoke of the temperatures within!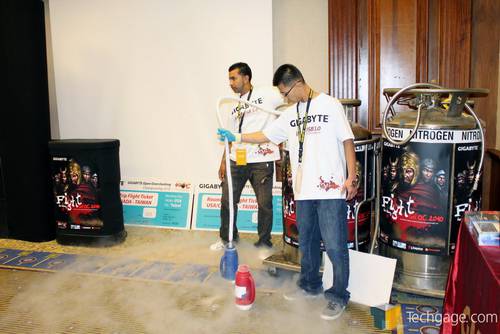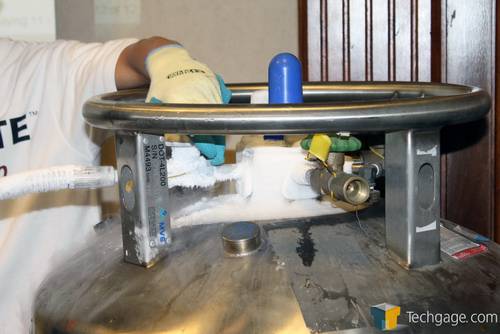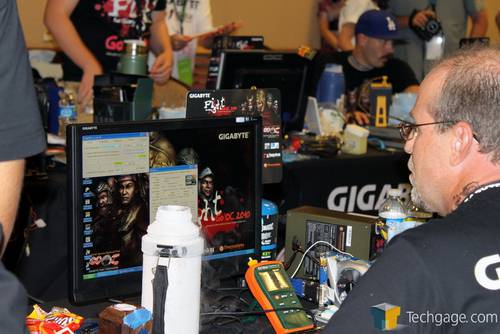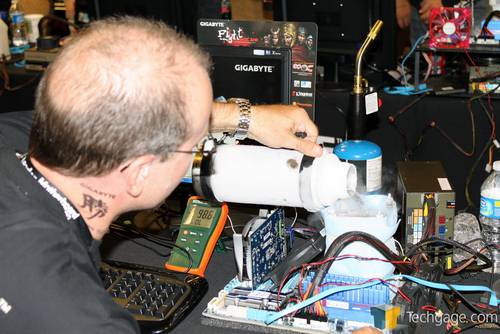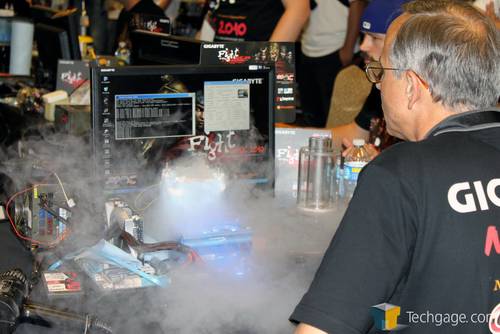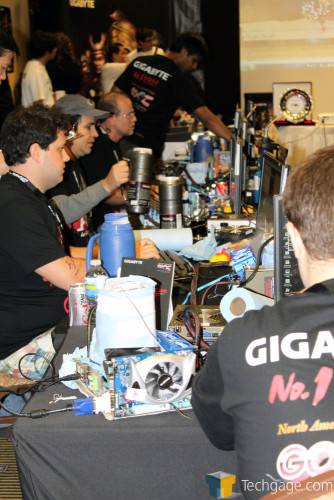 Sno.lcn rounded out the first round fairly well, although it is a safe bet that expression speaks all by itself.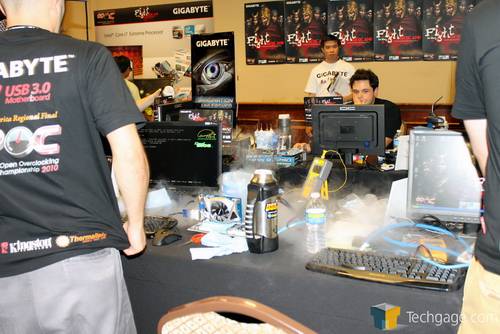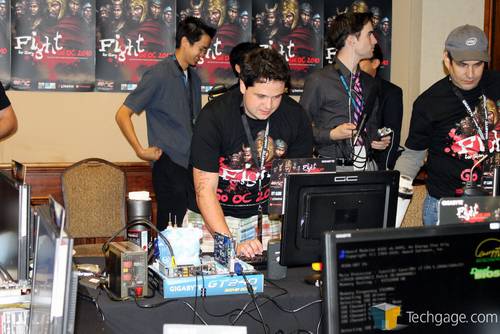 During the ten second countdown of the first round, sno.lcn managed to post an official score at the five second mark, keeping his overall score fairly close to mikeguava who both had been going back and forth for the latter half of the first round.
The Winners
This was the first time I have had the pleasure of covering any sort of extreme overclocking event, although Rob attended last year's competition. While on one hand my personal system runs a 24/7 4.4GHz overclock under water, it still isn't remotely anything like the style of overclocking found at these events, that's for sure!
While most users try to maintain and preserve their computer hardware, the mere act of using subzero cooling alone requires some pretty hardcore and often one-way modifications to their equipment. It takes a passion and an honest interest in taking hardware to the absolute limits, because most of the time it is only going to result in damaged, fried, or melted hardware!
For example, although Mikeguava managed to recover fairly well to place second, he did blow several chokes on his first UD7 motherboard necessitating a full tear down and rebuild for the second round. 3oh6 was another overclocker that ended up with degraded memory controllers on his second processor, prematurely ending his run for the top. For every top score there are quite a few stories of people not able to make it. This sort of competition is rough!
The amount of camaraderie amongst the overclockers competing in the Gigabyte GO OC event was also a surprise. Most of these guys know each other fairly well, and not just from past events either. If one overclocker needed a LN2 pot, some insulation, petroleum jelly, or even advice, another contestant would step up and/or help out.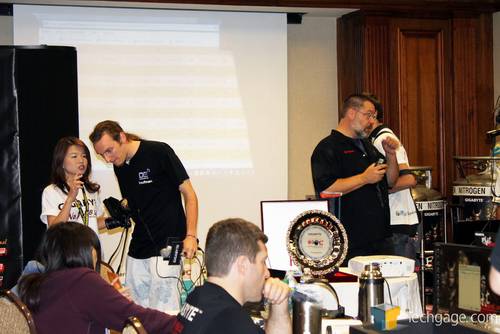 As all competitions go there must be a winner. Duex is a relative newcomer but posted a very respectable fourth place showing with 40 points, so we suspect we will see him again during next year's event! Ross placed third with 52 earning him some nice swag. mikeguava and sno.lcn both had a very tight race during the second round, but sno.lcn took first with 68 points with mikeguava placing second with 60.
Both mikegauva and sno.lcn will move on to compete in the grand final, which will take place on September 25th, 2010 in Taipei, Taiwan. Live streaming, info on the fifteen global finalists, and more info can be found at the official website!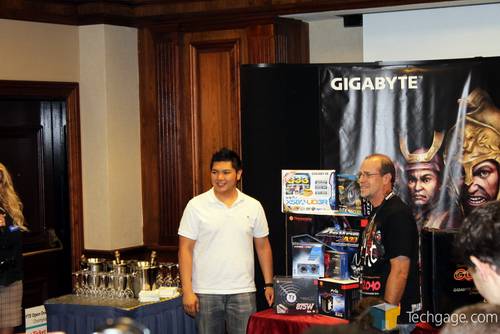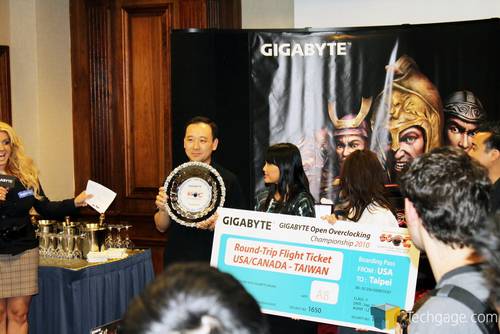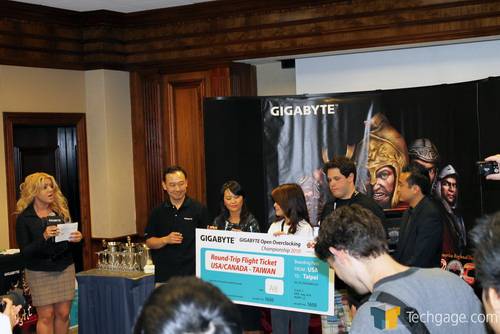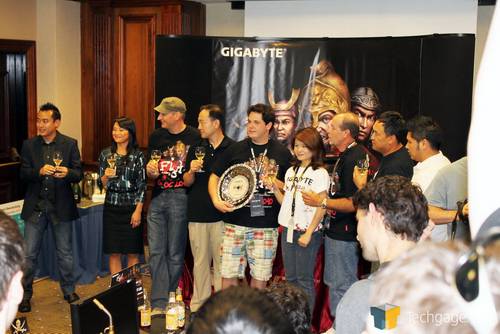 The complete list of official results can be found here!
Haven't had your fill of overclocking event photos? Head over to the next page for some leftovers!
Leftover Pictures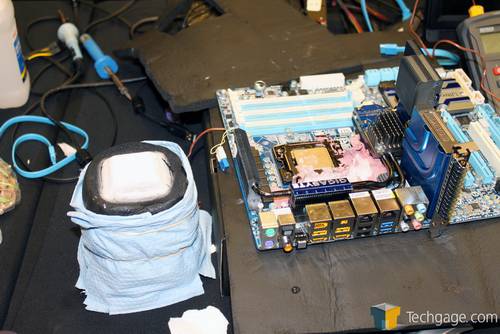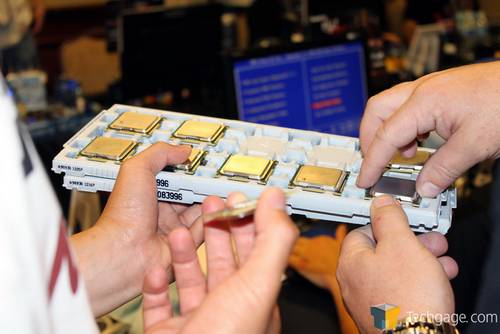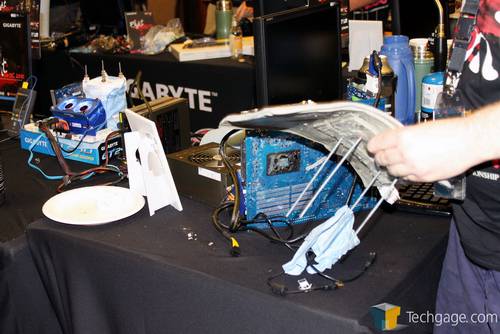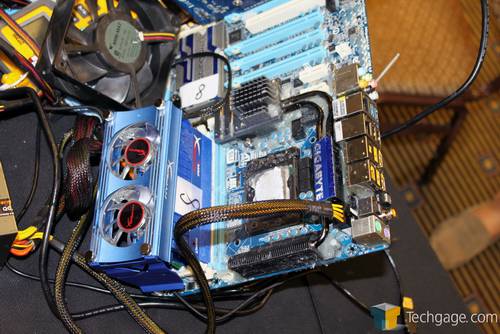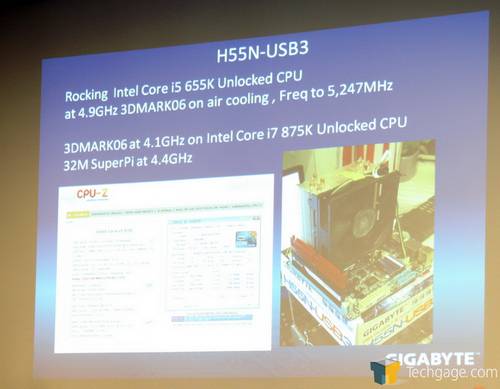 Copyright © 2005-2019 Techgage Networks Inc. - All Rights Reserved.