GOG.com – Breathing New Life into Old Games

Date: June 24, 2009
Author(s): Rob Williams

Are you a classic PC gamer looking for a new place to pick up some games? Enter GOG.com. This service currently offers well over 100 titles spanning nearly twenty years, and all are offered at reasonable prices. To make the deal even sweeter, in addition to included perks for each game, there's absolutely no DRM to be found across any title.
---
Introduction
Late last week, Brett posted an editorial which takes a look at the current state of the video game industry. He explores the current challenges facing gaming as a whole, and offers solutions and strategies on how to improve things. I highly recommend checking it out if you haven't already. For the most part, we share similar ideas about current gaming, but what his article did most for me was re-instill my belief that older games were better… when graphics wasn't the only thing that mattered.
Sure, some of this could be, and is, due to nostalgia… but not all. Today's games are becoming more complex than ever, and most often, the graphics receive more emphasis than gameplay, and that's not a good thing. Take a game like Portal, for example. Its graphics can't compare to some of the more recent blockbusters out there, such as Crysis and Call of Duty, but that didn't stop anyone from having an absolute blast with it.
For what reason was that the case? Gameplay, of course. When's the last time you played through a game and immediately wanted to play back through? Titles like this are certainly rare, but Portal was one of those, and it's because the developers focused on the gameplay, not the graphics (not that they were in any way poor).
More often than not, I'd quicker go play one of the classics than load up the latest blockbuster, and looking around various web forums, and also at games that still have unbelievable gamer support, it's obvious I'm not alone. The fact is… classic gaming is never going to die, and that's a very good thing.
GOG – Proving Old Games Will Never Die
Alright, I'm sure this article sounds more like an editorial up to this point, but it's not meant to be. The reason I brought all of that up is because we're taking a look at a game service from people who share the same passion for the classics. GOG.com, or "Good Old Games", aims to offer PC games from all eras to you for a reasonable price, along with a few extra perks on the side. But what could make things even sweeter? How about the fact that each title is DRM-free? Yes, it's true.
I first learned of GOG last fall, and finally got around to joining just two months ago. So far, I have to say I'm quite impressed with pretty-well every aspect of the service, but let's not get into our conclusions quite yet! For what I'm sure are legal reasons, the company currently only offers games based on the PC platform, and for the same reason, I don't see that changing soon. However, if a game was available on both platforms, it still has a chance to be launched on the service (MDK, Earthworm Jim and Flatout are current examples).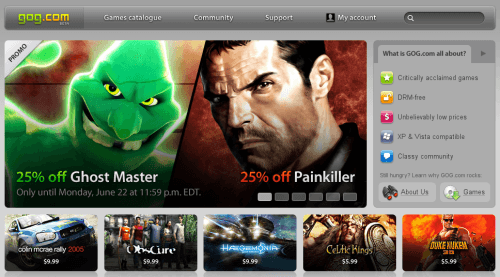 Taking a look through their games catalogue, you can see old games, older games, and some really old games. Surprisingly though, not all games sold are ancient… some are as new as four years. The service isn't limiting themselves to only old games, but games that make sense to be on there. So you can expect that among such titles as Duke Nukem 3D, Fallout and Tex Murphy, you'll also see some newer titles like Far Cry and Unreal Tournament 2004.
To keep things simple, GOG offers games at three prices: free, $5.99 and $9.99. At the time of writing, only three titles are free: Beneath a Steel Sky, Lure of the Temptress and also Teen Agent. I'd expect this list to grow over time, but it does make sense that the company would rather focus on their bread and butter. Of these dual prices, they seem to be split fairly evenly, and in my particular case, only one out of the eighteen games I've purchased so far has been $9.99.
Purchase & Installation
When the service launched last fall, they had 50 games to offer consumers. The current number is well over 100, and with the support of over 20 publishers (another list that's growing), the company expects to release many more over time. Their goal is to release at least one game per week, and if it's feasible, they'll release two or even more. They also hold regular sales of select titles, so it's worth subscribing to their newsletter, or at least making sure to check back to their website every week.
As I mentioned earlier, the service vows to offer a little more than just the games they sell, in way of downloadable content. This can vary from the game manual to wallpapers, but also include things like avatars, SMS tones, artwork, soundtracks and more. Each game page has a list of what's included, and though not all of what's offered is incredibly interesting or useful, perks are always appreciated.
After purchasing a game, it will be tossed on your virtual shelf, where you'll be able to re-arrange them as you like. You could put the most frequently-used game at the forefront, or arrange them alphabetically like I did (indeed, I am capable of pulling this off!). From here, clicking on a box will bring up a pop-up with all related downloads, and also related information, such as support articles and forum topics.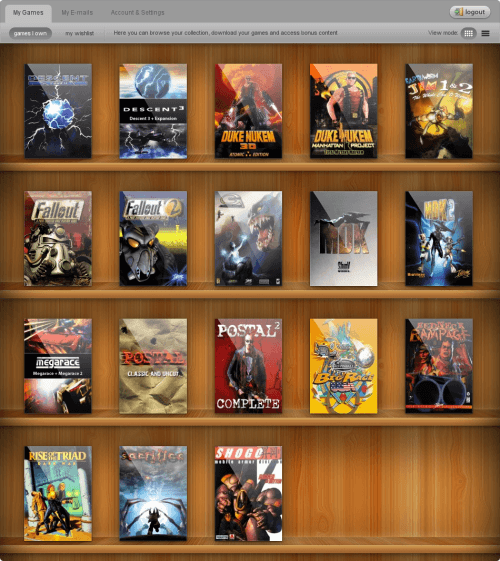 I personally prefer the alternate view mode, which is a simple list. With this mode, you're able to quickly access a huge deal of information very quickly, including of course the downloads, your personal rating, the date you purchased it, and also related forum threads and support articles.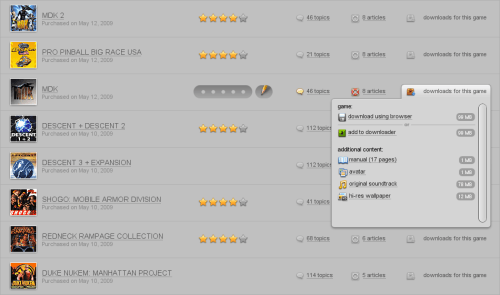 When choosing to download a game, you'll have two options. As you'd assume, you can simply download the game you want with your browser, but another option is with GOG.com's own downloader tool, built using the Adobe AIR platform. The company recommends this tool if you're looking to download a huge file, or have an unstable Internet connection, and to be honest, even if you don't fit into either category, it's still a great tool.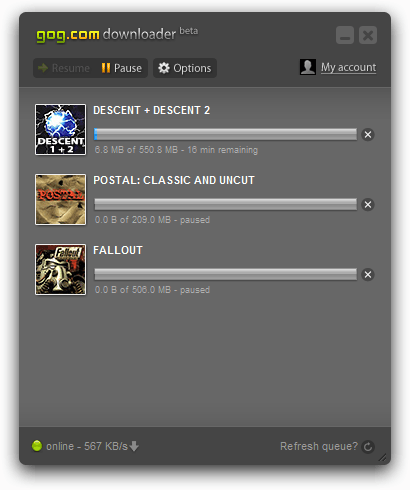 When browsing your purchased games, you can "add to downloader". Once done, you can load up the downloader on the desktop, log in, and it will automatically begin grabbing all of the games you've previously added. And if your Internet cuts out right in the middle, the downloader will simply resume where it left off once the connection becomes active again.
To keep things congruent throughout the service, each game offered is bundled with their custom installer in lieu of the original. This is a good thing, because it's clean, simple and works fast. One of the biggest issues of many Windows' installers is that they like to go full-screen or play music that can't be muted, but not here.
The process to install couldn't be any easier. You simply agree to the EULA and let it do its thing. One hitch is a prompt to install a PDF reader of its choosing, which can get annoying if you have to install more than one game (or a bunch of them). You won't receive such a dialog if you already have the reader installed (either Adobe Reader or Foxit Reader).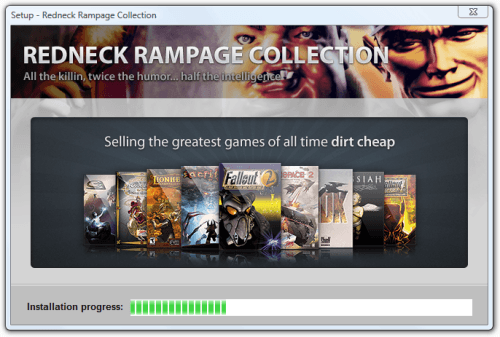 One of the best aspects of the installer might be the fact that it doesn't leave a bunch of junk on your machine, including registry entries. The games themselves may change that, but the installers don't. To make things even better, if you uninstall one of the games and it happens to be the last GOG.com title installed, it will also entirely remove the installation folder – something a lot of other applications and games don't care to do.
For the most part, what you get when you install a game is exactly what you would have gotten with a store-bought copy. Each game is updated to the most recent version, but that's about as far as the alterations go. Also, because many of the titles found on the service were originally intended for DOS, the company includes a copy of DOSBox with each game intended for that OS. To learn a little more about this tool, you can refer to our Game Emulation Under Linux article, or visit the official site.
DOSBox is a little complicated to use for non-techy users (or those who've never used DOS), but GOG.com makes the process simple… loading a game is completely seamless to the user. After a game is installed, a shortcut will appear on the desktop, and it will control the exact parameters needed to load the game through DOSBox. In all my tests, their shortcuts worked well and I've never encountered a problem.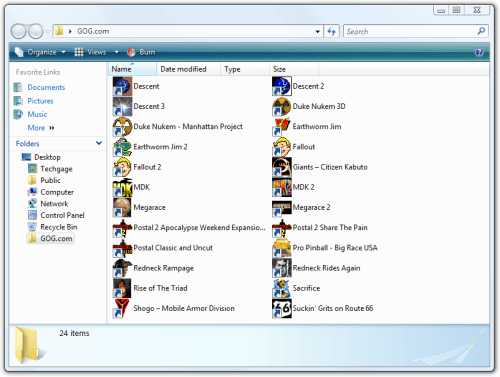 Although on the website, GOG.com boasts complete Windows support, they actually include the Linux version of DOSBox with each game that requires it. It's an interesting move, because nowhere do they mention this on their website, but it's there. Now, while the Windows shortcuts take care of everything, to use the Linux version of DOSBox would require a bit more work. In this particular case, you'd need to extract the archive provided, enter super user status, then run "./configure ; make ; make install", without quotes. If all goes well, you'll have a working DOSBox install.
Even easier would be to use your repository's version of DOSBox, and in my experience, most repositories do indeed include this application. It should also be noted that DOSBox works with Mac OS X as well, in addition to other operating systems, so GOG.com's games certainly go beyond just Windows. It's up to you to figure out which games are DOS-based, however, as the site doesn't tell you (as far as I can tell).
The Games!
As I mentioned earlier, I've really had a great experience in all the time I've used the service, and out of the eighteen games I purchased, I didn't encounter a single problem. The GOG.com website resembles an Apple style way too much for my liking, but past that, everything about the service is top-rate. The navigation is for the most part simple, and full descriptions and many screenshots are included for each game. It's definitely an enjoyable website to browse and use.
But, of course, you want to know about the games! If you've been playing games on the PC for quite a while, and by that, I mean over ten years, then you're bound to find many titles on the service that you loved playing, and chances are, there are likely some there you forgot all about. In my case, I forgot all about Pro Pinball: Big Race USA, but lo and behold, it was available here.
Their selection at this point in time is still rather modest, with 125 available titles at the time of publishing, but the selection continues to grow with each week. Personally, I can think of at least ten games off the top of my head I'd like to see become available: 3-D Ultra Minigolf, 3-D Ultra Pinball, 7th Guest, Battlezone, Forsaken, Interstate 76, Jazz Jackrabbit, Magic Carpet, Motocross Madness, Omikron: The Nomad Soul, Recoil, Redline, Rollcage, Shadow Warrior, Thief, The Wheel of Time and so on.
| | |
| --- | --- |
| Rise of the Triad | Megarace |
That's not to say some killer hits aren't already to be found, though. I've already purchased a fair amount of games through the service, and I feel like I'm not even done! Of what I've picked up so far, my favorites are Descent 3, Duke Nukem 3D, MDK 2 and Shogo, but I also have Fallout, Giants: Citizen Kabuto, Postal and Redneck Revenge to hurry up and make time to play.
But as I mentioned, the selection right now is pretty good, so if you plan on picking up a few games, it's best to leave the site quickly, else you're just going to continue looking through and end up buying more games! That's what happened to me, and now I own eighteen of them. Other games I personally have on my to-purchase list are Blake Stone, Gothic, Messiah, and Painkiller.
| | |
| --- | --- |
| Duke Nukem 3D | Redneck Revenge |
As you can probably tell by now, I'm a fan of GOG.com, and I don't really see that changing anytime soon. These guys knew what they were doing well before they launched, and it shows with their amazing execution. Everything from their website, the game selection and pages, the process to purchase and download, on top of the robust support articles and forums, simply screams high-quality. If only they could lose the Apple-inspired aesthetics!
One of the best parts about the service are the prices. A starting price of $5.99 seems entirely reasonable, and as I mentioned, only a single game out of the eighteen I've purchased was priced at $9.99, so even if you want to game as cheaply as possible, you'll have a rather sizable selection to choose from. Since the service launched late last fall, GOG.com has more than doubled the number of games being offered, so I hope to see this momentum keep up (not to mention see the above-mentioned games added to the service!).
If you're a classic gamer and haven't paid a visit to GOG.com yet, you're doing yourself a disservice.
Discuss this article in our forums!
Have a comment you wish to make on this article? Recommendations? Criticism? Feel free to head over to our related thread and put your words to our virtual paper! There is no requirement to register in order to respond to these threads, but it sure doesn't hurt!
Copyright © 2005-2020 Techgage Networks Inc. - All Rights Reserved.