Great Wireless Audio For $49: A Review Of Sbode's M400 Bluetooth Speaker

Date: March 5, 2018
Author(s): Tom Roeder

If you are on the go and you love music, you need a Bluetooth speaker. They are great companions for working in the kitchen, garage, yard, and even the washroom. I have owned many Bluetooth speakers over the years, to the point where they are now a necessity, so let's take a look at Sbode's take on things, with the M400.
---
A Review Of The Sbode M400 Bluetooth Speaker
Bluetooth speakers are plentiful these days. There seem to be a proverbial ocean of options out there; how do you pick a good one? Back in my day (using my best old fuddy-duddy voice), you could just go to Amazon and look at the reviews, and for the most part, get a good idea as to whether the device you were looking at buying was the worth buying.
However, Amazon has been meijered with fake reviews, counterfeit products, and so on. If you haven't heard about the fake reviews, simply google "Amazon fake reviews". I am not trying to slam Amazon here – it is a great retailer in many ways – but it has its fair share of problems that it seems to have been ignoring for far too long.
Features
Weighing in at just one pound and being about the size of a tall can of beer, the Sbode M400 touts impressive specs, even a few that I haven't even seen in a Bluetooth speaker before: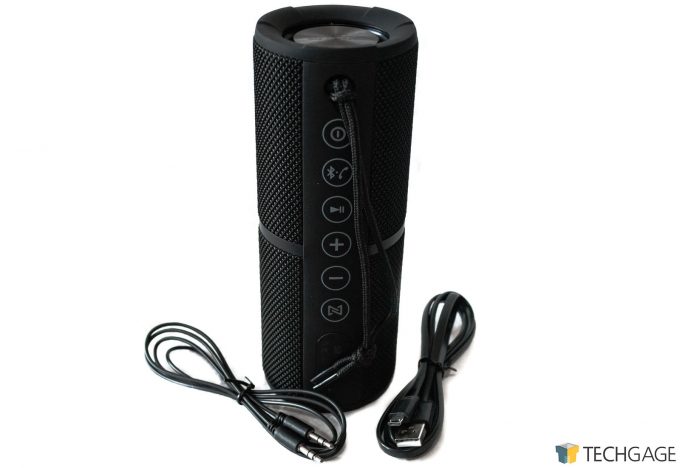 True Wireless Stereo (TWS) – This means if you have two of these speakers, you can pair them together, the two speakers will tether the audio input, and give you actual stereo functionality
Water Resistant – While it says waterproof, it's IPX6 rated, which is resistant to strong water jets, making it easy to clean under the shower (just don't submerge it)
Hands-free calling – this is commonplace on Bluetooth speakers, really, and it's a nice feature to have
FM Radio – This isn't so common on Bluetooth speakers, especially in this price range
MicroSD card reader – This is something that I've never seen before in a Bluetooth speaker, let alone that this card reader reads just about every format you could ask for. Yes, even FLAC!
MicroUSB charging port
3.5mm AUX input
A Visual Tour
First impressions when using this speaker are very good. The size is nice, and it's easy to grab; as I mentioned earlier, about the size of a tall boy beer can. The weight is nice, at only one pound, but still feels solid and well made.
The fit and finish are very much top-notch, Sbode paid close attention to details with the build quality of the M400. On the bottom and top of the speaker we find small woofers to deliver mids and lows.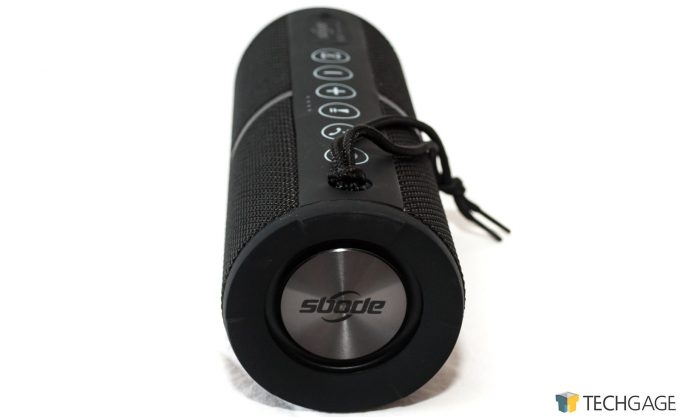 The M400 measures 2.72-inches in diameter, and is 7.32-inches tall. The majority of the body is covered in a fine mesh material that feels quite sturdy.
The front of the M400 has a loop where a lanyard is included, and below that we find the control buttons. The control buttons are pretty standard fare: power, hands-free calling, play/pause, plus and minus (default are track control, long press are volume) and a TWS (true wireless stereo) button at the bottom.
Just south of the buttons we find the charging port, microSD card, and AUX input hid neatly behind a rubber flap. The flap is easy to access, and is held captive when removed.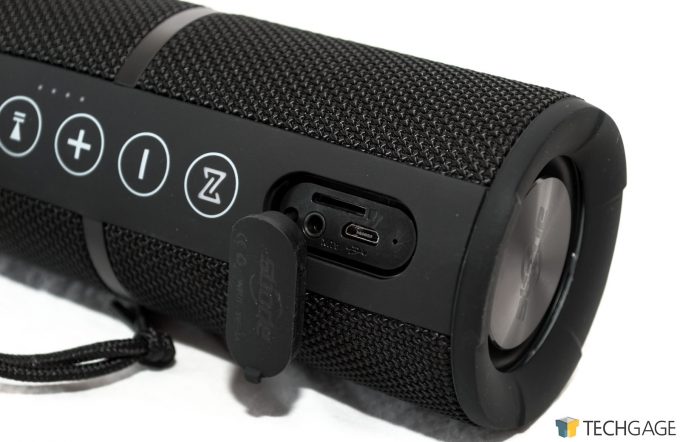 Usage and Final Thoughts
Reviewing speakers and headphones are not easy, as so many people have different preferences, or ideas on what good and bad sound quality are. I try to be as subjective as I can be when reviewing audio products, and to also keep in mind the price and form factor.
Sound quality: for $49 USD, I am seriously impressed. The sound is well-balanced, and very natural sounding. Hardcore audiophiles will of course trash the sound quality of this unit without any regard to cost, but I can tell you that for the size, weight, and cost, this speaker delivers. The volume gets plenty loud, and there's no noticeable distortion when fully cranked.
The speaker has no real learning curve if you have ever used Bluetooth speakers before. Pairing the speaker was a breeze, and reconnecting after it was powered off was quick as well. The FM radio works pretty well, but I found it frustrating to use as there is no display, or companion smartphone app to aid in finding a frequency. This isn't a big deal to me, as I never listen to FM radio anyway, but it's still a nice feature to include.
The microSD card slot is a great addition. If you were going to take this speaker camping but didn't want to take your phone with you, you could just create a playlist on your microSD card and take it with you. Or if you are at a party and you don't want to worry about going out of Bluetooth range, the microSD card would be a great solution.
I used this speaker for quite some time, really putting it through the motions. I got several hours out of a single charge, around 8 hours or so at a moderately loud volume, and it only took about 2 hours to recharge it. And yes, you can listen to it while you recharge.
Overall, this is a great value, and for $49 USD, the Sbode M400 delivers strong audio, with a strong feature set as well.
Copyright © 2005-2021 Techgage Networks Inc. - All Rights Reserved.