Guild Wars 2 Review

Date: September 19, 2012
Author(s): Brandon Mietzner

Guild Wars, the hugely successful subscription-free fantasy MMO, now has its first sequel: Guild Wars 2. The developers promise a divergence from traditional MMO formulas, including those used by the original. Does this new direction herald a new era of how we play MMOs, or is this an experiment that's gone awry?
---
Introduction, Classes, Quest Mechanics & Professions
The idea behind the original Guild Wars was to deliver a fully realized world as big as, or bigger than, any subscription MMO without charging a monthly subscription fee. This was a new and ambitious idea at the time, and as fate would have it, Guild Wars went on to have 3 expansions and sold 6 million units of the core game – the gamble definitely paid off. Guild Wars 2 is yet another gamble, promising dynamic events, personal stories with unique backgrounds and much more content to experience inside of the Guild Wars universe.
Guild Wars 2's character creation gives you the option to choose from 5 different races; Asura, Human, Norn, Charr and the newest race Sylvari. All of which have their own unique starting area and race-dominant cities. The basic elements of changing your character's features aren't very robust but there is enough to change in order to look unique.
Professions come in 6 flavors; Engineer, Necromancer, Thief, Elementalist, Warrior, Ranger, Mesmer and Guardian. The traditional healer and buff/debuff profession are absent here; this is because every profession has its own unique set of skills that offer those abilities one way or another.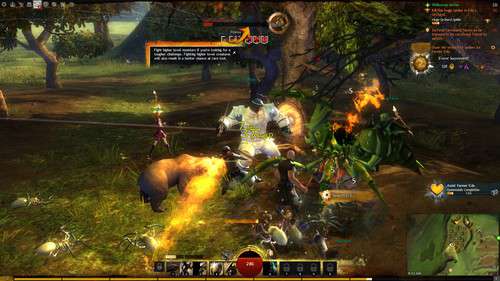 (View screenshot at 5760×1080)
When the race and profession has been decided, you will move onto the personal story choices that will forever affect how the story is told for that particular character. There are 3 main story choices, each of which offers a few more additional choices to reflect how you feel the story should be told for him or her. An example would be if you were raised on the streets, with common folk or among royalty as a Human character. These options change between each race and the combinations will bring you to similar points of interest. The options you are given will change based on those 3 primary story choices, however.
During the course of the story missions you are given choices; you could either take a heavy-handed approach or you can take more of intellectually and possibly a role-playing approach – it could lead to combat, but not always. In one story mission, I choose to investigate a matter at a dinner party instead of searching a home; this gave me the opportunity to talk to the guests and role-play a little. I played the alternate choice with my brother and we found ourselves in a few battles, but my choice yielded no such battles.
At another point in the story I choose what seemed to be the role-playing choice, but there was still a battle. Again, I played the alternate choice with my brother and we were in the middle of a major battle. This illustrates how Guild Wars 2 has brought traditional single-player RPG elements closer to the world of MMOs and might have you going back to experience more of it, just to see how it might have played out if you chose something differently.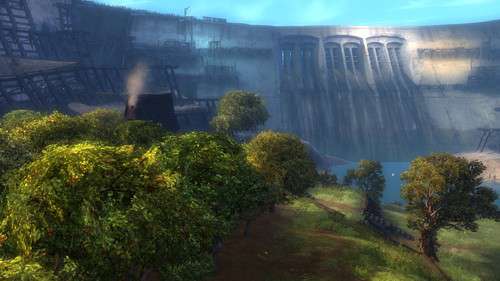 (View screenshot at 5760×1080)
As mentioned before all of the races have their own starting areas, thus an Asura won't face the same challenge a Charr would in their unique area. This is where you start your unique journey, but it isn't very personal until you leave the starting area. The common thread between all of the race starting areas is the final event – all of them have it one way or another and afterwards you will be taken to the open world. All of the events are dynamic and they either happen at random intervals, by NPCs asking for help and telling you where to go, through direct actions made by players in a previous event or a side mission.
These events are everywhere in the world and participating in them will either earn you a Gold, Silver or Bronze medal. These medals will vary in experience, Karma and the Coin you earn. The medal you are awarded depends on several factors such as the amount of time spent in the event area, damage dealt to enemies and gathering of specific items you personally contribute to an NPC. The events are not restricted to those who started it, but are instead open to everyone who is passing by or can see it taking place on the map, ensuring you can get further help as it progresses and encourages you to explore each area thoroughly.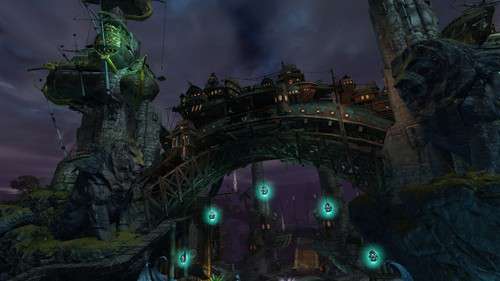 (View screenshot at 5760×1080)
The personal story is given after you pass the starting area, but you don't have to do them alone. While part of a group and following your personal story, no one can influence it – but if you enter combat, the difficulty of the opponents increases, sometimes drastically. There were times when my guild mates and I barely survived or died several times in these story instances, and I believe this to be a small balance issue. I personally would have liked the party to be allowed to give their input to my personal story or better yet, have guild-specific stories allowing everyone to make choices. This is something I was fond of in Star Wars: The Old Republic and for a game that encourages teaming up, I thought it would have been a logical choice to have something other than combat to bring us together.
While on your personal journey you will find that there are many areas to explore, all of which encourage exploration by way of points of interest, side missions, waypoints, vista viewpoints and the ability to earn extra skill points. The rewards offered are random and unique to each area in the way of weapons, crafting items, coin, special one-time use items, armor and upgrade items that are appropriate to level of the area.
The waypoints you find are extremely useful because you can later use them to quick travel. The amount to each waypoint varies with the distance but if you are in a major city area it costs nothing to use them while in the city limits. There are times when getting to these points will be difficult to get to, requiring you put your jumping skills to the test. There are even a few places where you will encounter a static hidden or random chest in an area.

(View screenshot at 5760×1080)
The side missions are scattered around many points of a given area, and the NPC who is offering it will be on your map as a heart. This is where you will earn most of your experience and karma throughout the game. The player doesn't need to talk directly to the person offering the side mission; all you need to do is walk in their sphere of influence and it will pop up under your main story objective. When the side mission has been completed you will then have access to a unique store offered by each of these NPCs; items here are purchased with your karma points and not regular coin like the regular vendors.
There are eight types of currency in Guild Wars 2; Karma, Influence (Guild & Boon-specific), Gems (Black Lion Trading Company-specific), Glory (PvP-specific), Tokens (dungeon-specific), Skill Points (can be sold for crafting items), Supply (WvW-specific) and regular Coin. The Coin works as follows: 100 Copper gives you 1 Silver, 100 Silver gives you 1 Gold. The Coin currency will be used throughout the entire game, sometimes in combination with other currency. Those interested to know more about how Currency works in the game can head over to the official Guild Wars 2 wiki.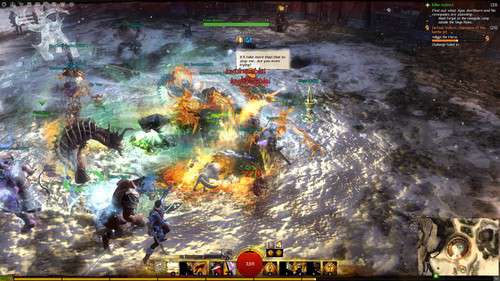 (View screenshot at 5760×1080)
The entire time you are exploring or advancing your story, there are several opportunities to gather or mine certain materials from the world to help you craft all kinds of gear. The act of gathering gives you regular experience, while crafting gives you experience in that profession and regular experience for your characters level.
Professions you can choose from are Armorsmith, Artificer, Chef, Huntsman, Jeweler, Leatherworker, Tailor and Weaponsmith. The bank you use is shared between all of your characters and is limited to a certain number of slots, unless you purchase additional slots with gems; there is however a separate inventory tab just for crafting materials, which is also shared. This makes crafting less intrusive on your available inventory and easier to manage between multiple characters.
Crafting, Gameplay & Final Thoughts
Crafting is very lopsided from what I can tell; you need a very generous amount of raw materials to craft items and then the crafting experience isn't beneficial enough to take you to the next level of materials. I used all of the materials I had gathered in the beginning section for bronze items and still didn't make enough experience to start crafting iron or silver in the next area.
Unless you have people willing to help you with little to no gain, crafting is going to be a real grind because Coin is very hard to come by starting off. I can see many people just blowing this off until they are either geared out to kill things quickly in the lower level areas, or have enough cash to buy raw materials at the auction house.
The overall gameplay of Guild Wars 2 is fluid and intuitive. The rigidity of having to use one weapon for your character is gone; here you can swap to any weapon your class can use with no investment of gold to learn it, and you gain the skills from making kills with each weapon. The only thing you have to pay Coin for is how many points you can put in your trait skills; these are used to increase your critical damage, strength, health and etc.

(View screenshot at 5760×1080)
Guild Wars 2 will now lower your level to that particular area, therefore if you're a level 30 helping a level 7 and are in a level 4 area, both of you will be leveled down to the max level allowed in that area, generally 2 levels above the beasts. This only affects your health and max damage; critical damage and skills are not affected. This is a fair balance for a game that encourages you to team up.
While you are teamed up with other people, your Influence gain for completing events and personal story are increased, providing more currency to your given guild. All guilds require a high amount of Influence to provide features such as a guild bank, bonuses to gathering/mining and so much more.
There are some basic features missing from the game that should be there, such as you can't directly trade with another player. Instead, you have to mail everything. You also can't inspect another player's gear, and if someone is in a overflow area of a map you can't find them on the world map – the latter could be a bug but it's happened frequently to my friends and I.

(View screenshot at 5760×1080)
I would like to say that I appreciate how the dye system works; you don't have to hunt down or buy the exact same dye for each piece of armor you wish to change, all you do is add it to your inventory and you can apply it to as many times as you want. A feature many veteran players of Guild Wars were looking forward to is the legacy system at the Hall of Monuments. This feature is however a hollow gesture, in my opinion. The reason is that all the rewards are cosmetic or give you legacy-only pets in Guild Wars 2 – and there is no bonus to using these cosmetic changes or unique pets. This is a feature that had all of us Guild Wars veterans excited, but turned out to be a disappointment.
That aside, the death system is greatly appreciated and balanced. When you run out of life, you go down and have the chance to fight to survive to rally or heal yourself slowly to the point where you get back up and bring yourself back with around 10% health. This is sped up with the help of other players of any profession who can revive you and the more people helping, the better your chance of getting up much quicker. If the unthinkable happens and you do perish completely, you have to teleport back a town waypoint and repair one piece of armor for a small price.

(View screenshot at 5760×1080)
The Player vs Player (PvP) is well balanced and I didn't notice any particular class dominating another, so this is something they obviously spent a lot of time working on. The maps I played on were small and fast paced, but in World vs World (WvW) they are open and take time to get to the action, then it gets hectic. There are bonuses to be gained from WvW such as gathering and mining, crafting for certain professions, Coin drops and more.
I mentioned before about the Black Lion Trading Company; this in-game group only takes Gems for purchases. These Gems can be earned via two methods; either real-world cash or by exchanging Coin at a certain exchange rate (gems can also be exchanged into Coin, again at a certain and different exchange rate). The Black Lion Trading Company can be accessed anywhere in the world, so you can always purchase something no matter where you are.
The Black Lion Trading Company also run the world's auction house, but if you need to pick up your profits you will need to talk to a representative in a city or in certain towns. The establishment is run independently from the primary game server, thus it has a tendency to be down for maintenance or experience severe load times. This has progressively gotten better since launch, but there are still random problems that pop up from time to time.

(View screenshot at 5760×1080)
Guild Wars 2's connectivity certainly is stable; I have only been disconnected 3 times because of the game server not responding. This is saying something for a game that is supporting well over a million players since launch. A frequent audio bug I run into is related to my 5.1 speaker setup; such as I would hear the start of a NPC conversation from across the street as if I was standing right next to them, but the next person to talk would sound like they are actually across the street! The same thing happens to world sounds as well. This is very annoying because they sometimes don't stop, so I hear the area sound the entire time I'm around it until I leave it.
The music and sound effects are all well done; the music has a fantasy feel and when in a major battle the effects are clear and vibrant. The only problem I had with audio (aside from the bug) was the voice acting, not all of the dialogue is voiced and much of it is rehashed over and over.
The graphics are gorgeous, especially the particle effects from magic and area-of-effect skills. I have only two nitpicky complaints, the first: all the woman look young even if they are described as old, and second: how one texture meets another, such as a sidewalk meeting a group of stairs; one can look brighter than the other or the color can be drastically different. A frequent video bug I run into occurs when I go up stairs or an incline and almost all of the textures will disappear; turning the camera pops the missing textures back but if I go back, the same textures will disappear again.
I am very disappointed to report that Guild Wars 2 does not officially support multi-monitor resolutions. The character creation and cut scenes are completely broken, even when using third party tool like Flawless Widescreen to fix many of the other visual issues like the HUD. This is something Arena Net could have easily included, especially since the original Guild Wars has no trouble with multi-monitor resolutions.

(View screenshot at 5760×1080)
To get the best possible performance out of the game, I recommend you use an SSD to run it from. There are many different variations of armor, clothing and color that would stress a regular HDD and this will cause a drastic drop in your frame rate. Techgage's own Rob Williams put up a video illustrating the advantages of using a SSD in "Lineage II – Hard Drive (HDD) vs. Solid-State Drive (SSD)". This video is almost a carbon copy of the performance difference I experienced when playing Guild Wars 2 on a HDD and then on my SSD.
In the end, Guild Wars 2 is one the best subscription-free MMOs I've played yet. I think Arena Net achieved many of the goals it was aiming for and pulled its ideas off extremely well. But, nothing feels new, except for where the personal story is concerned. I do get the feeling that some things were left behind or not fully explored and there could have been much more than what is here; I hope to see a little more risk in the way of original game play and more guild-centered story. Until then, Guild Wars 2 is a great game if you are looking for largely familiar but fine-tuned features, but without the subscription fee.
Pros
Graphics are second to none.
Weapon skills are learn as you go.
Personal and unique stories.
Dynamic event system.
PvP and WvW is well-balanced.
Cons
Minor network issues.
Hall of Monuments is lackluster.
Minor graphic and audio bugs still persist.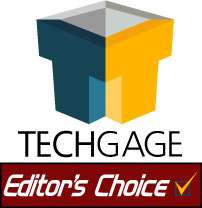 Guild Wars 2
Discuss this article in our forums!
Have a comment you wish to make on this article? Recommendations? Criticism? Feel free to head over to our related thread and put your words to our virtual paper! There is no requirement to register in order to respond to these threads, but it sure doesn't hurt!
Extra Screenshots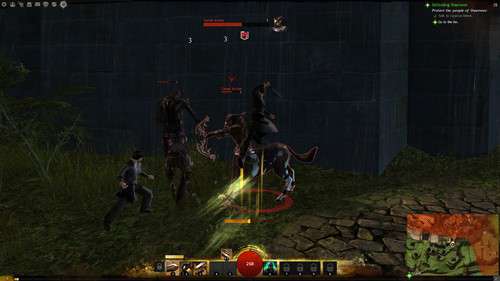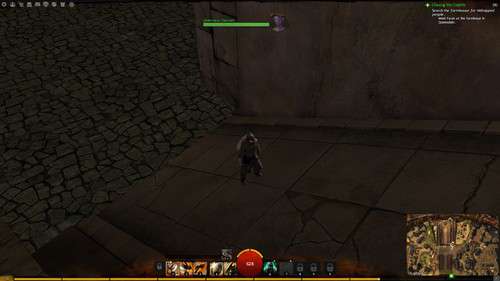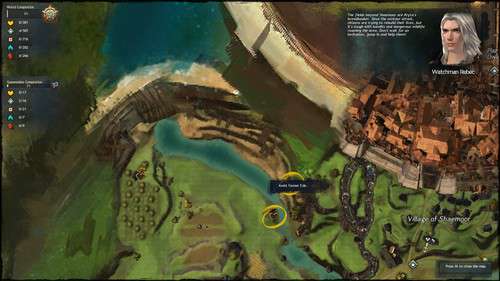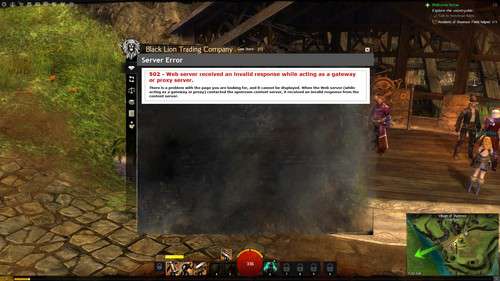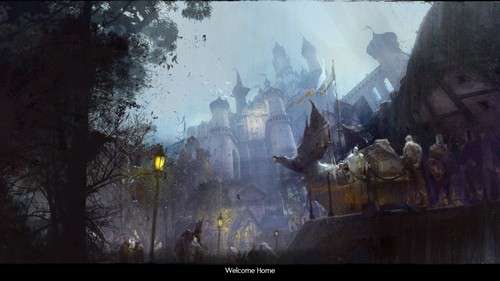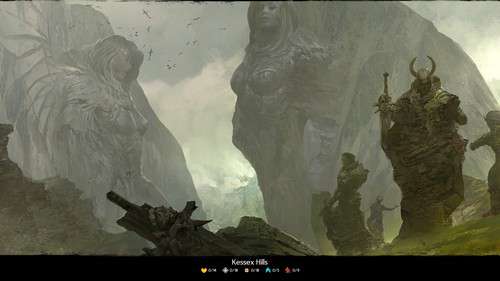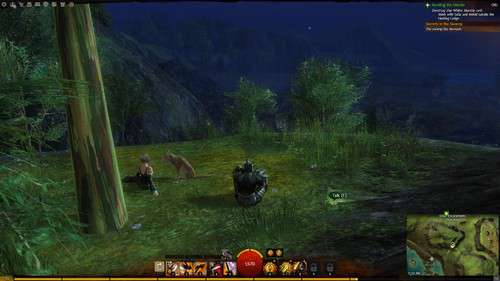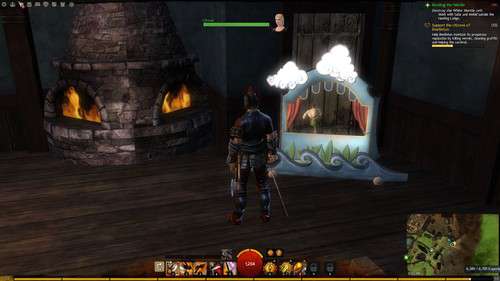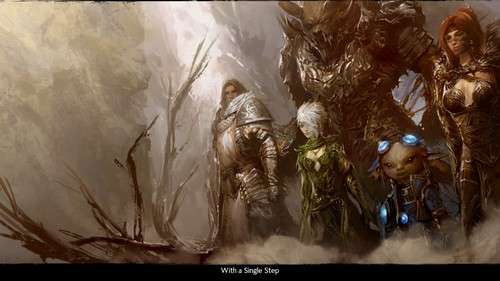 Copyright © 2005-2020 Techgage Networks Inc. - All Rights Reserved.