Hands-on With Windows 10's Preview Build 9926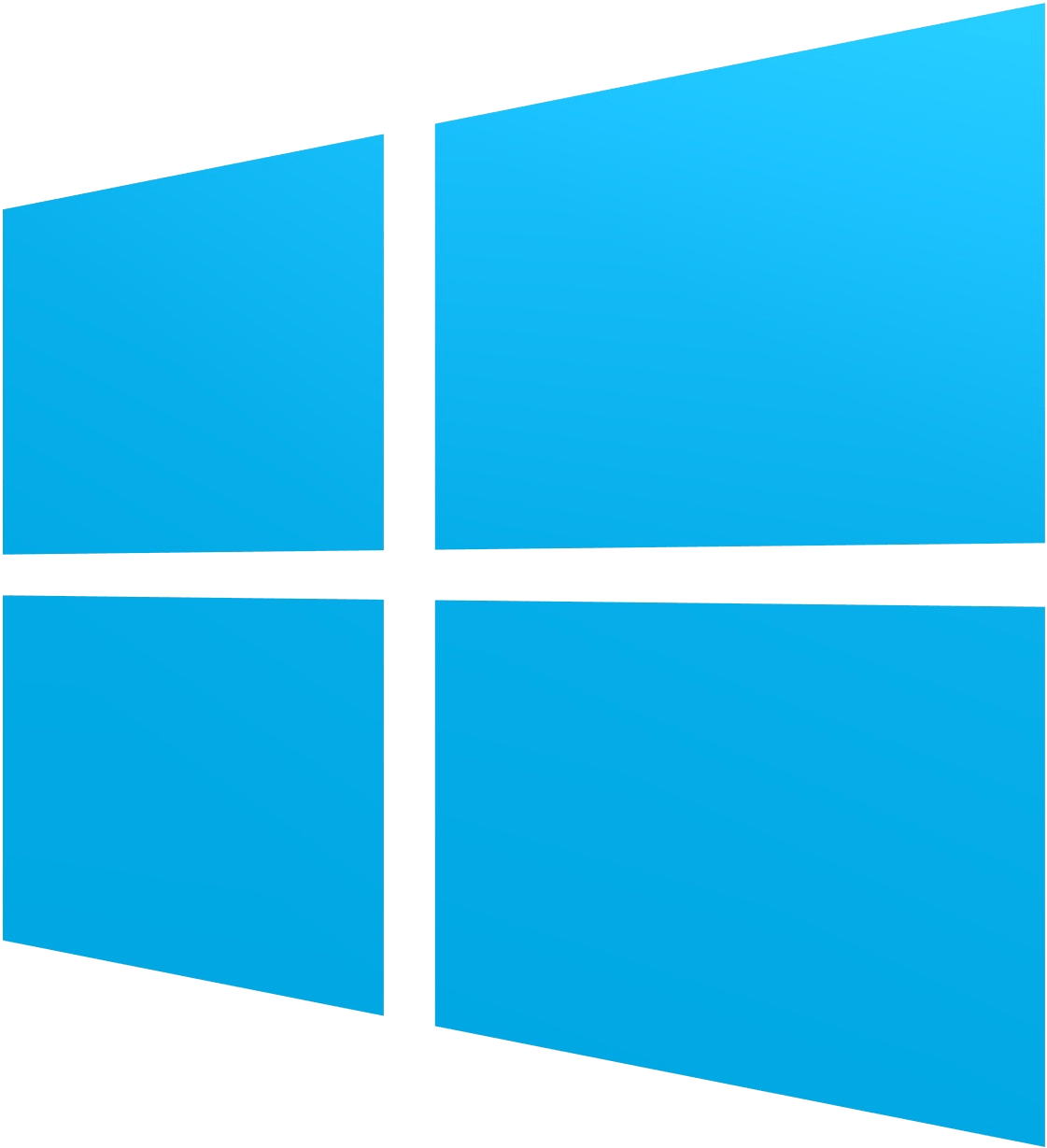 Date: January 26, 2015
Author(s): Rob Williams

Hot on the heels of its major Windows 10 event, Microsoft released a brand-new preview build to the public, versioned 9926. Given what we were told at the event, we knew that Cortana, a revamped Start menu, and updated Notifications pane would be featured. But is that all? As it happens, no. Not even close.
---
Introduction
At last week's Windows 10 event, Microsoft told us that the next available preview build would be lacking some of the operating system's most-anticipated features, with the biggest one being Internet Explorer's potential killer, Spartan.
Seemingly ahead of schedule, the company released build 9926 on Friday. At the time, I didn't feel overly compelled to give it an install, mostly because of Spartan's absence. But, on account of Microsoft's AI assistant Cortana making an appearance, I decided to suck it up and install it in a virtual machine. Not long after, I was compelled to install it on my main PC.
Even the first preview build of Windows 10 was stable; and this latest one only improves the situation. As I write this, I've spent two full days with the OS and have had not a single issue to report. That's not to say that you won't, but it's been rock-solid for me, to the point where it feels like a production OS.
That alone isn't what made me to decide to move to this preview build, though. With build 9926, there's more than meets the eye. I loaded the OS up expecting the updated Start menu / Start Screen, improved notification center, as well as Cortana. What I discovered was much more, and while some of the items might be minor, I consider them notable for the fact that they've been areas of Windows that Microsoft hasn't touched in quite some time.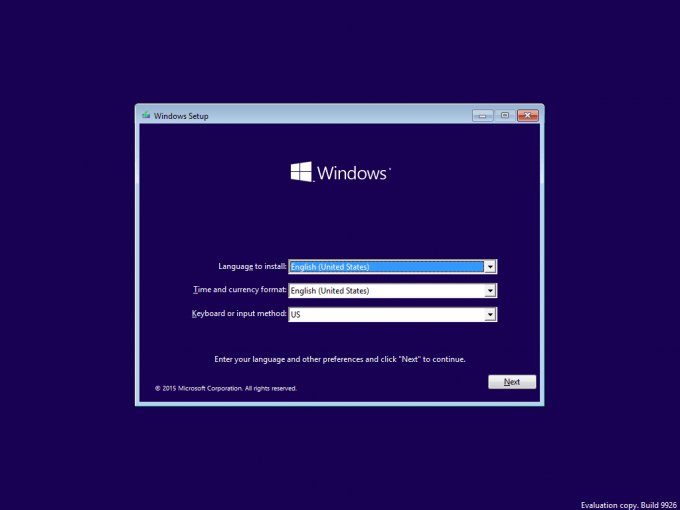 In this article, I'll talk about all of the enhancements in build 9926 that weren't in 9879, which came out in mid-November. It could be that despite all that I talk about here, there might still be features I didn't spot. If so, please hit up the comments!
Cortana Comes To The Desktop
The most notable addition to build 9926 is Microsoft's AI assistant Cortana. As we should expect from a brand-new feature, Cortana is very much a beta at the moment, so expect a lot of trial and error, and for most questions to bring you straight to Bing.
"Hey Cortana. Are you better than Siri?"
"I think we're both pretty clever."
After setting Cortana up, which involves telling her your name, and adjusting some other minor settings, she'll be good to go. If the respective option is enabled, she'll always listen out for "Hey, Cortana", at which point your question can be asked. In the example below, I asked, "Hey, Cortana. Could you please show me the weather?", at which point she queried the Internet and spit back the accurate info – without me having to state a specific location.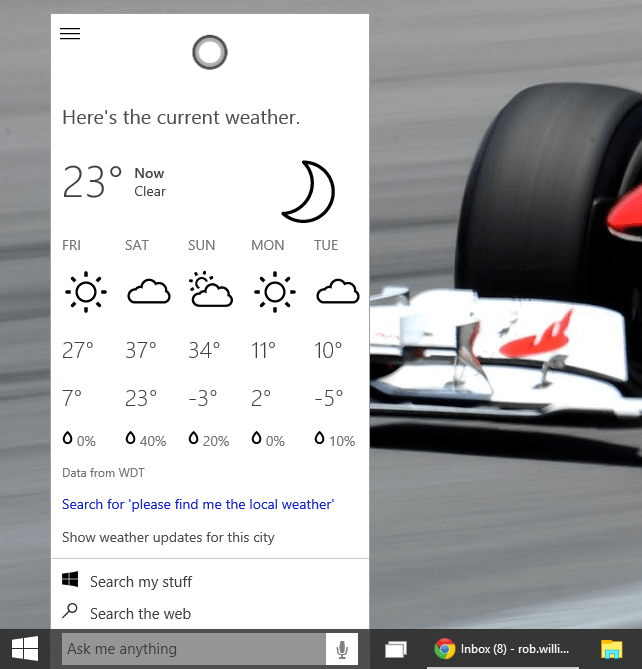 Talking to Cortana is finicky at best. After stating "Hey, Cortana", I've found that I've either had to keep talking right away to be heard, or have her say, "Hey, Rob" and then me have to click the microphone icon again to speak. It seems some thresholds need to be adjusted, because in the current implementation, it's easier to avoid potential hassle and just go find such information online.
In many cases, full questions do not need to be asked. Simply saying "weather" after Cortana is summoned is enough for her to give an answer. Interestingly, since the default temperature is in Fahrenheit, I said, "weather in Celsius", and it worked as hoped.
Outside of the small quip above about Siri, the only other thing I've been able to have Cortana automatically do is spit back math answers. On that front, she'd answer basic math just fine, including commands like "What is 10 to the power of 6". Given how she liked to cut out on occasion, I couldn't bear to ask anything more complicated than that.
Without question, Cortana needs a bit more work in Windows 10, but despite being rough around the edges, this first release is good, and fun to use.
Updated Folder Icons & Quick Access
Anyone who's been using recent versions of Windows should be able to spot some differences in the shot below without much effort. While the drive icons remain the same (at least for now), Microsoft's overhauled all of its folder icons, including those for Desktop, Pictures, Documents, and so forth.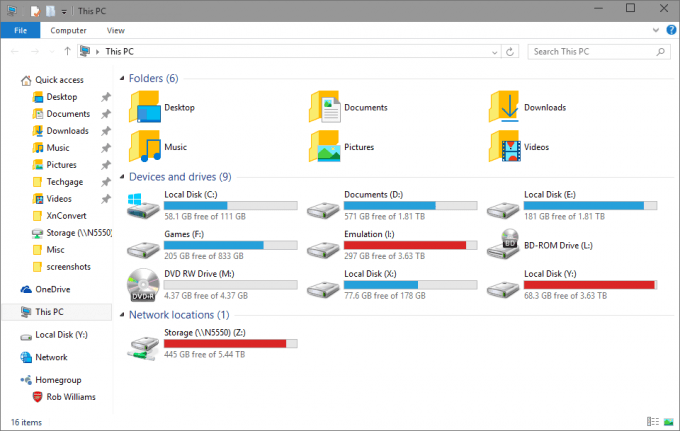 Whether or not these new icons actually look better than the old ones will no doubt be debated. I do believe that the folder icons have been long overdue for a big update, but I am not entirely sure if I like these new ones more. It might be the fact that they stick so close to modern design standards, that they lose some of their realistic aesthetic. Whatever your thoughts, I'm just glad to see a fresh coat of paint over such an integral part of Windows.
Microsoft has long offered the ability to pin folders to the left pane of Explorer for quick access, and with this new build, we can see that the company's decided to call it what it is: "Quick access", while also adding some pins to denote static locations.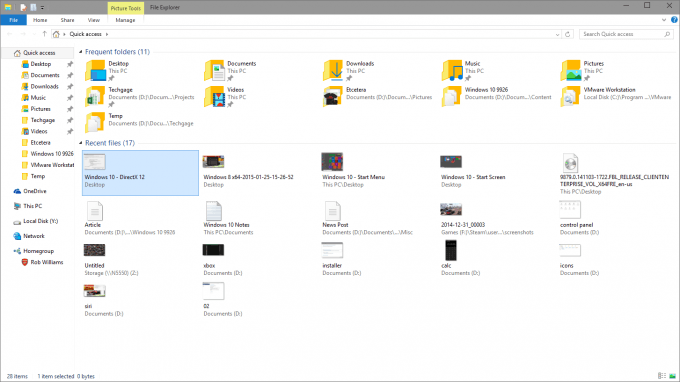 Aside from the name change, the biggest difference here versus the last build is that recently used folders will appear underneath the static locations. If you wish for those folders to remain there, or to add any other location on the system, you can simply right-click the one in question and select "Pin to Quick access".
I should note that the folder seen above is the result of hitting the Win + E combo. In previous Windows versions, including 8, that key combination would bring you to "This PC" (which shows your storage devices), which is what I personally prefer. At this point I am not sure if that's something that can be changed. (Addendum: It can in fact be changed through the "File" menu in any Explorer screen. Go to "Change folder and search options" and then change "Open File Explorer to" at the top to "This PC". Thanks to karoc for the tip.)
Updated Start Menu / Start Screen
Microsoft can't seem to settle on a Start menu design for Windows 10, as it's tweaked things multiple times since the first preview build. But, it does seem likely at this point that this is what we'll largely see in the final release.
I feel like this Start menu is the least attractive part of Windows 10. There's no real aesthetic flow, and as with Windows 8, all of the regular Windows application icons look out of place.
Let's use the shot above as an example. Despite the fact that some of the applications I installed have higher-res icons embedded in them, it seems Microsoft believes the tile color is more important than showing those off. Why is a color backdrop needed at all? On most desktop and mobile OSes, app icons don't have a backdrop, and they look good. This doesn't, at least to me.
Having said that, the build seen at the Windows 10 event showed the Start menu with a transparent background (seen in the "Final Thoughts" section at the bottom of the article), and while that's an undeniably simple tweak, it makes an unbelievable difference in the aesthetic. Unfortunately, that feature is not available in this particular build, or if it is, I could not find out how to enable it.
That tangent aside, the shot above highlights a notable change: Increased tile placement freedom. Whereas with Windows 8, the OS forced you into certain tile configurations, there's much more flexibility here. As you can see, you can even place a tile in the center of where two tiles would normally be. You can also snap these tiles into different configurations, and overall, this is a much-needed change.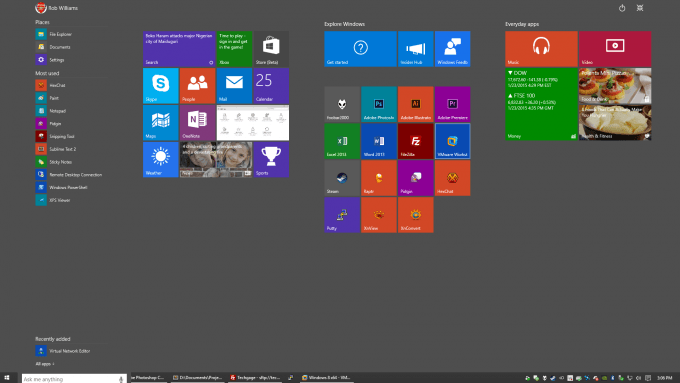 Clicking the expand icon in the top-right corner of the Start menu will turn it into a Start screen, in case you happen to prefer it.
Overhauled PC Settings
In Windows 8, "PC Settings" was a full-screen app that was, in effect, a scaled-back Control Panel. In the first batch of Windows 10 builds, it was similar, but at least broke into its own window to feel like a native app. In build 9926, it's been overhauled to become a modern Control Panel. Behold: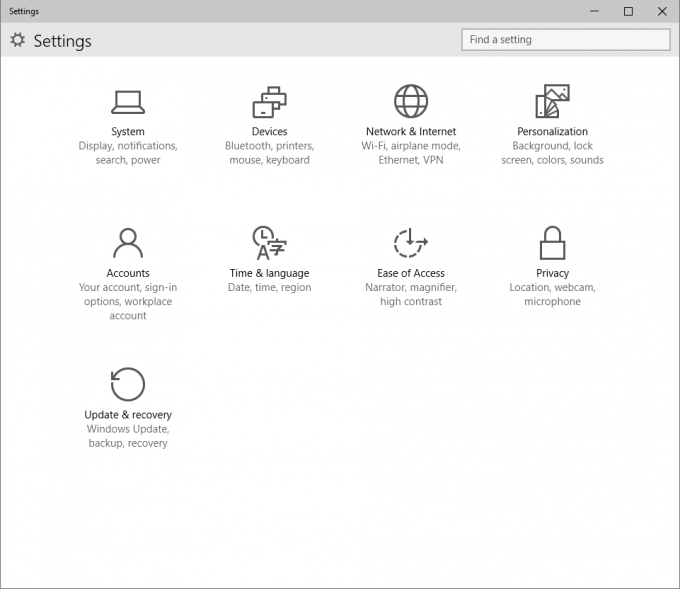 It might take on the general design of Windows' Control Panel, but this updated PC Settings is still a scaled-back version. It'll be used for simple tasks, whereas the classic Control Panel (which can be accessed by right-clicking the Start menu icon) will be used for more advanced configuration.
If you've used the PC Settings in Windows 8, you'll feel a familiar vibe with the latest version. The biggest difference is that it looks different. Navigation is largely the same.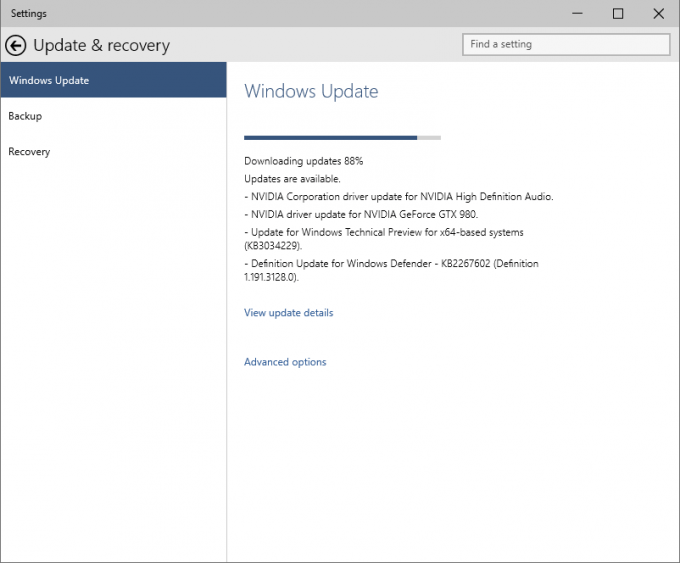 The first thing I do after installing Windows is hit up Windows Update, and that was no exception here. Normally, the system will find a video driver, and it will attempt to download it, at which point I freak out and try to cancel it. After all, I don't want an outdated driver when I can just hop online and grab an updated one easily. Well, to my surprise, the driver that Windows Update was downloading was the same WHQL GeForce driver released the same day (347.25) as this build. Color me impressed.
Throughout PC Settings, there have been some tweaks, enhancements, and even name changes. One of the latter hits "Disk space"; it's now called Storage Sense, and allows you quickly see what it is that's hogging so much space on a given drive. This is definitely more suited for mobile use, but some desktop and notebook folks might appreciate it as well.
The revamped PC Settings tool is good, although outside of changing the login screen wallpaper and other customization options, I think most people will still prefer to use the classic Control Panel on account of it being quicker. Unless you're on a touch device, that is.
Xbox Comes To The PC For Some Reason
When Xbox chief Phil Spencer took the stage at last week's event and praised PC gaming for being so great, I think my brain had seized up for a moment. To see a man so intertwined with the console universe praising the PC was something else, and he proved that he wasn't just making things up by showing his Steam account and exclaiming his love for Civilization: Beyond Earth. Whew, that was a lot to process.
Since the death of its Games for Windows Live platform, Microsoft has wanted to inject some Xbox flavor into Windows somehow, and in Windows 10, it's going to happen by way of an Xbox app. After logging in, you'll be able to check your achievements progress for both Xbox and PC games, check up on messages, configure your profile, and manage game clips.
It's the "game clips" that's most intriguing here, because with this feature, you'll be able to manage video captured on either the Xbox One or PC, and share it with friends. In fact, this tool will in time be able to capture video on the PC as well, similar to Fraps, GeForce Experience, Raptr, or PlayClaw.
Ultimately, the Xbox app really strikes me as only being useful to those who actually own an Xbox, but Microsoft could pull some surprises out of its hat down the road to make the app more useful to PC gamers.
Miscellaneous Changes
All of the changes I've talked about up to this point are the most notable in the latest build of Windows, but there are a couple of others that deserve at least some mention.
As someone who uses the system calculator a lot, I was blown away when I launched it in build 9926. It's a Windows "app", yes, but it looks fantastic. As you'd expect, it's also completely scalable.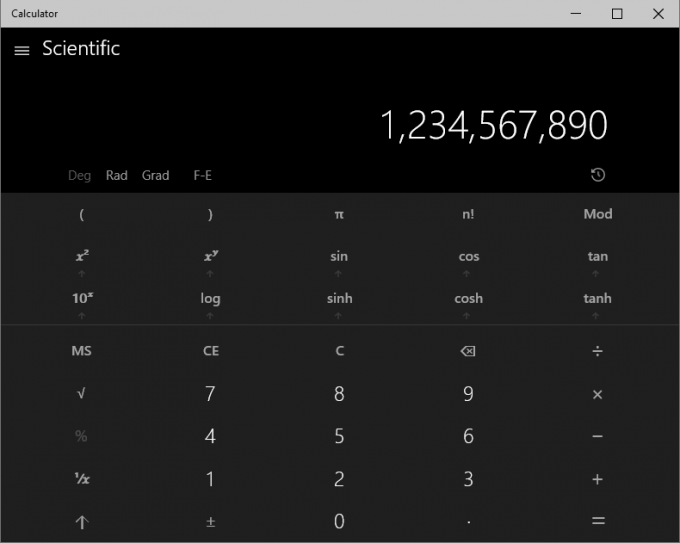 Not only are you able to perform calculations using the standard, scientific, and programmer designs, you can also convert a number of different metrics, like temperature, volume, length, weight, speed, and so forth. By now, this kind of thing is standard fare, but it's great to see it built into the standard calculator that ships with Windows.
For some, including me, a downside to this calculator is that you can only launch one instance. If that is a real deal-breaker, you can import the old calc.exe from another Windows install and launch that as many times as you like.
Significant changes have hit the Notifications pane in this build as well, starting with the small tweak of having it expand the entire height of the screen. Not much changes with the notifications themselves, but the bottom of the pane offers some quick access to certain PC Settings areas, like Display and VPN.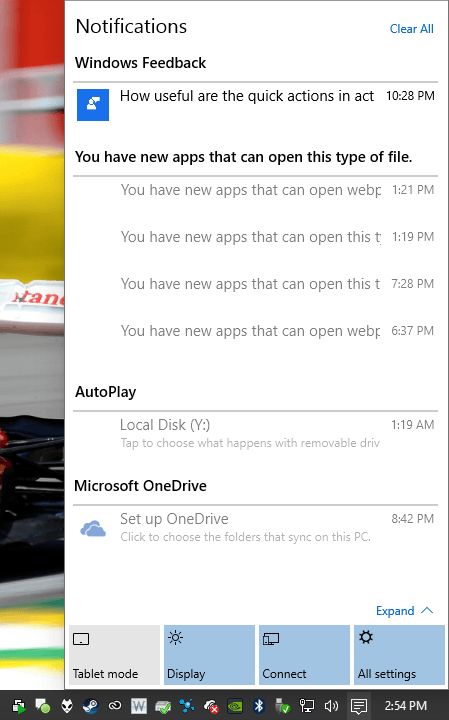 Another change is one that you might have noticed from earlier screenshots: The taskbar has received a makeover. I don't know about you, but I think it looks awesome.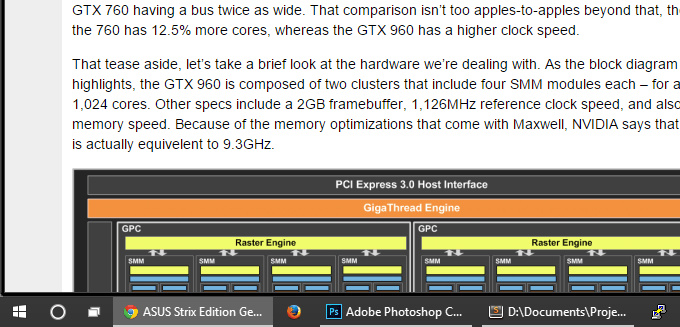 It's hard to tell from the screenshot, but under each open application is a gray line that spans its bottom, letting you know that it's open – although this is more useful if you don't expand the app names like I do. Also, while my taskbar is thin, the default is to have it about twice as tall (as it was in Windows 8).
One of the most subtle changes in this build of Windows 10 is the introduction of the DirectX 12 API. Unfortunately, it's also one of the most useless additions at the moment, unless you happen to be a developer that requires it.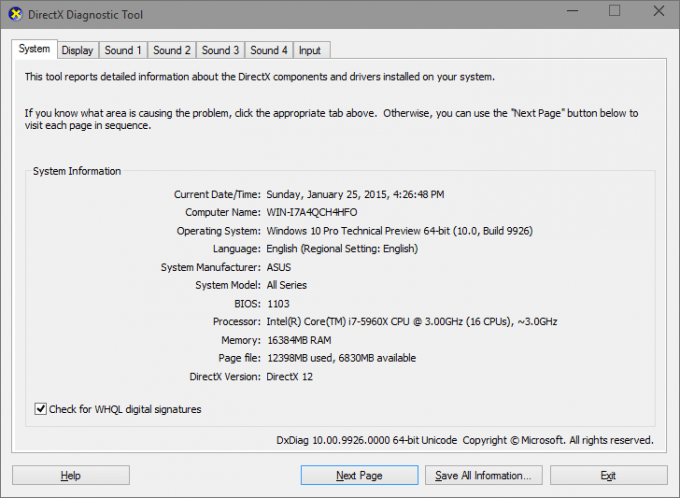 Until AMD, Intel, and NVIDIA release drivers to support DirectX 12, the feature will go unused by end-users. For that matter, we also need DX 12 content, which is going to take some time to get here. As Futuremark has been a spearhead in showing off the benefits of DX 12, I'd suspect that we'll seen something 3DMark-related out of those guys soon enough, which in turn should help us get beta drivers from the earlier mentioned GPU vendors so that we can actually test it out.
Even if it will be a while before we can actually use it, the inner geek in me is still excited to see DirectX 12 included in this build.
Final Thoughts
With Windows 10 where it is right now, I'm stoked at the fact that there's still more to come. Right now, the current build is solid, stable (that'll be debated, of course), and feature-rich. That's all so much the case that I'm content sticking with it rather than going back to my Windows 8 install. While none of the enhancements here (versus 8) are "important", the overall package is just too good to put back on the shelf.
There are of course improvements that need to be made, or at least could be. I'm not talking beta-related issues, such as Cortana's finicky design, but rather things of the functional nature. When I hit Win + E, for example, I'd like to see my hard drives, not some "Quick access" pane. I'd also love it if when moving a window towards the edge of the screen, it'd snap to affix itself to the absolute edge (I'm picky like that).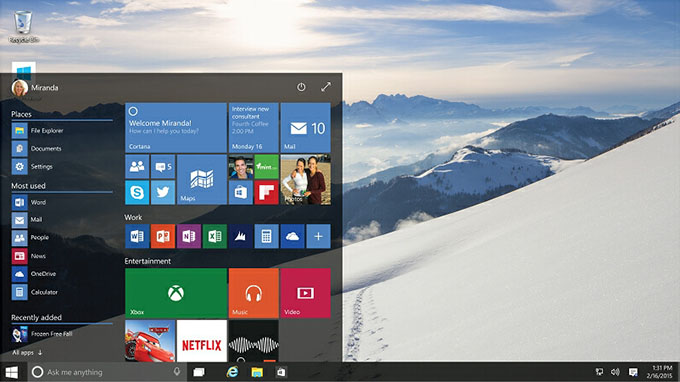 Other requests would be to overhaul some Windows tools that haven't had any TLC for a while, like the Resource Monitor. Some extra customization options wouldn't hurt, either, especially with regard to anything that could make the Start menu prettier.
Those would just be a couple of my requests; I'm sure everyone testing Windows 10 out right now has their own list, and I'd welcome you to share them in the comments below. That also goes for anyone that knows of a feature I didn't cover here. While I realize Continuum is also a new feature, I don't have a convertible notebook and thus was not able to test that out.
Overall, an awesome build, without question. I look forward to the next one.
Copyright © 2005-2021 Techgage Networks Inc. - All Rights Reserved.