Honestech My-IPTV&CAM Anywhere Deluxe

Date: November 13, 2007
Author(s): Colin Huckstep

Having the ability to keep a close eye on your home while on a trip is fantastic. So is being able to watch your homes TV via the internet. Honestech has released a product that offers both those features and many more. It's just too bad it doesn't manage to do any of them well.
---
Introduction
With the amount of convergence in the technology world it's no surprise that televisions and computers are starting to feel the effects. Quite a few LCD TVs have Linux-based firmware, Microsoft has Windows Media Center Edition, and there are numerous other "media center" applications out there. My-IPTV&CAM Anywhere Deluxe puts a different twist on this technology.
Honest Technology's My-IPTV&CAM Anywhere Deluxe is a bundle of several of Honest Tech's products. It combines their My-IPTV Anywhere and My-IPCAM Anywhere software in a single package, as well as including their My-IPBOX USB TV Tuner and Webcam.
My-IPTV Anywhere is a software package designed to stream the television signal from your home computer to your laptop. The idea is that you can watch your local television channels from any place that has an internet connection. The software works in conjunction with the my-iptv.com website, offering the ability to view TV listings and schedule recordings via the web.
The My-IPCAM Anywhere software is a personal surveillance system that allows you to monitor and record USB Webcams connected to your home PC. It works similarly to My-IPTV Anywhere, offering a web-based interface for viewing your cameras and the ability to email video or still images.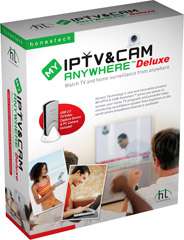 At this point a few similar products come to mind. Many webcams come with some kind of 'security' software these days. On the TV side of things there's Orb (a free program that, like My-IPTV, turns your machine into a streaming video server that can serve live TV as well, even to your web-enabled mobile phone) and the Slingbox (which does about the same thing, but uses a separate 'box' that can plug directly into home A/V components).
Closer Look
The package comes in a high quality box with vivid graphics and a display flap that reveals the My-IPBOX USB integrated tuner/webcam. Inside we find a plethora of cables, a quick start guide, user manual, and the installation disc. The cables include 2 USB cables for connecting the camera and tuner to the PC, an SMA to F-Type dongle (for connecting the antenna/CATV cable), and an S-Video/Composite Video and Stereo Audio breakout dongle. None of the included cables were found to exceed three feet in length, which may severely limit your placement options for the My-IPBOX.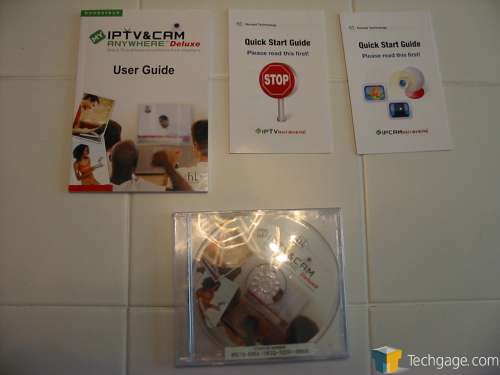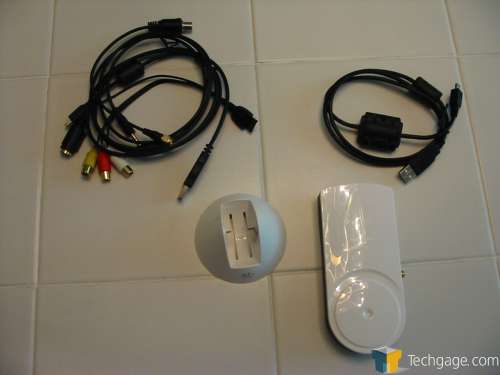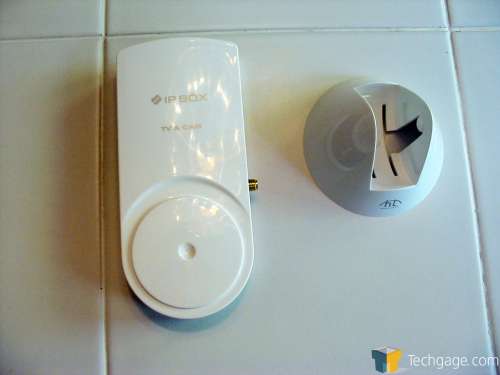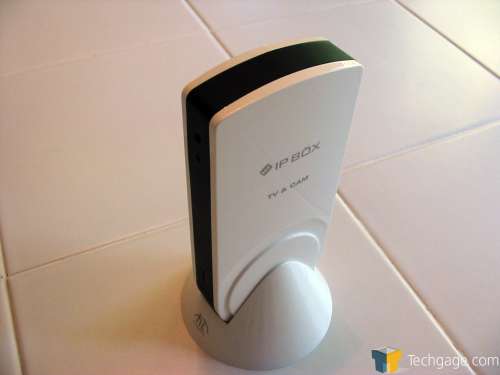 The My-IPBOX Tuner/Webcam is essentially two USB devices in one unit. My speculation is that Honest Tech uses two USB connector cables in order to accommodate the bandwidth needed to transfer video from two devices to the PC simultaneously. The camera and tuner are treated as discrete devices by Windows, and each can be operated independently of the other.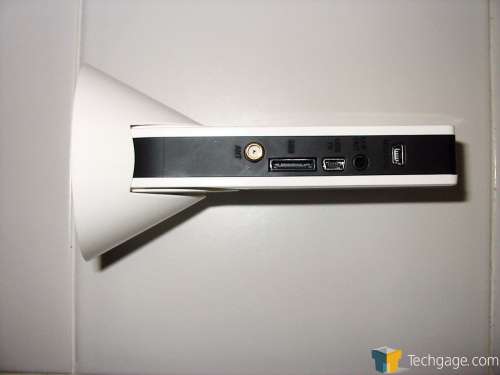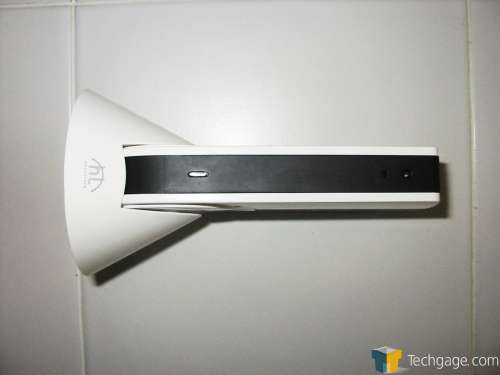 The front of the My-IPBOX houses the camera lens, a microphone, and a blue power LED. The rear of the device has connectors for the two USB cables, the SMA to F-Type dongle, an audio Line out, and a multi-pin connector for the A/V input dongle.
Installation and Setup
The installation of the software is accomplished through the fairly straightforward wizard system that we're all quite used to by now. When you insert the disc into the drive, an Autorun program launches, asking which piece of software you would like to install.
Additionally, your web browser is launched to the registration page, where you create your account and enter your "Registration Coupon" code. This website is used for browsing TV Listings, adding and removing recordings, and viewing security cameras. More on this later in the article.
After registering an account I began working my way through the quick start guide. This begins with installing the My-IPTV Anywhere Server. I ran through the wizard using the default settings for everything. The install process also installs msxml4, and the driver for the My-IPBOX.
Upon completing the server setup I was asked to plug in the My-IPBOX and begin the driver installation. I connected my cable TV cable and one of the USB cables to the TV sided of the My-IPBOX. This starts up the usual Windows driver install wizard which will automatically install the driver.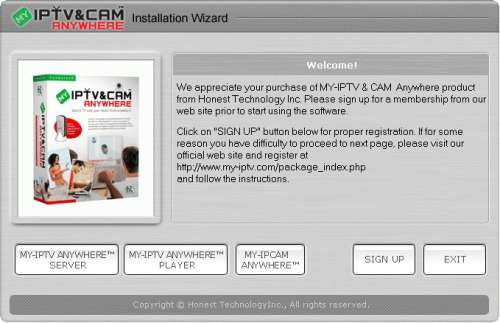 Now I want to take a moment here to appeal to all of the hardware manufacturers. Please, please get your drivers WHQL Certified. Some 64 bit versions of Windows require signed drivers, so unsigned drivers can cause problems. I understand that it costs a bit of money to get your drivers WHQL Certified, but there is a reason for this certification process.
Additionally, as a consumer it is really annoying when I select automatically install and then I get a message asking me if I really want to install the driver. I know that you can turn the signed drivers dialog off, but my grandmother does not know how to do that, and she probably doesn't understand what this error message is really trying to tell her.
As you'll notice below, Honest Tech didn't take the time to get the drivers for the My-IPBOX signed.
Enough ranting for now, as there will be plenty of opportunity for that later. Next you'll want to install the My-IPCAM Anywhere software. The install procedure looks much the same as for My-IPTV Anywhere Server. I installed the software, and then plugged in the cable for the 'Cam' side of the My-IPBOX.
After both server programs are installed you'll want to switch over to the remote machine you'll be viewing from and install the My-IPTV Anywhere Player. Again it is an easy install, I just ran through the wizard with everything on default.
This is where you will probably notice the first inconsistency. The IPTV Anywhere software has a client, but the CAM Anywhere software does not. Frankly I would have liked to see either one application for both viewing the cameras and TV — or even better would be to have a completely web based client, similar to Orb.
Configuration & Use
Configuration of the TV Server and CAM Server is pretty straightforward. Launch either of the server programs, log in, click the 'options' button which looks like a pair of gears. On the TV Server the key is to make sure the IPBOX is selected as the video device and the audio device. Once these were selected I had no problem viewing TV.
I also tested the TV Server using my ATi Theater 650's analog tuner. I was able to configure the TV Server to use either tuner. I did notice that the Theater 650's picture quality was significantly better than the IPBOX. The TV Server only supports analog tuners; while it did see the tuners on my HDHomeRun, it was unable to display anything using them.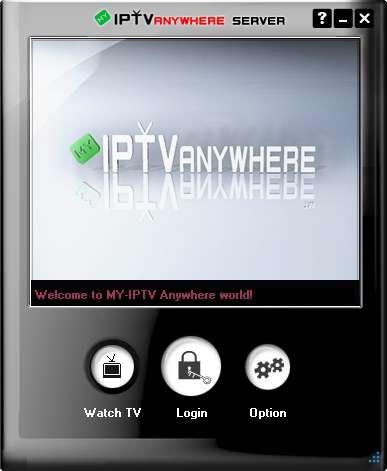 On the CAM Server I quickly disabled the audio alarm. Frankly if you're using this as a security device you probably don't want people to know they are being watched. I configured the email address and changed its time interval to 1 minute, meaning there must be a 1 minute lack of motion before the system will send me another email. This is also where you would enable a second and third camera. The problem is, every time I tried to enable a second camera, applying the settings would cause a fatal system crash and instantly restart the computer.
Back on the main screen, you can adjust the sensor area for the camera by adjusting the sliders on either side of the image. I was also able to adjust the sensitivity of the motion sensor, and set the recording behavior. I was able to select video recording, video recording with email, jpeg, jpeg with email, or just email.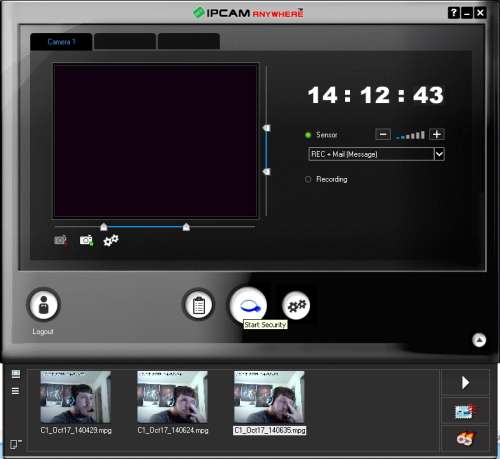 With everything installed and configured, I set about attempting to get a video stream going. A good portion of the package's functionality is actually handled through the my-iptv.com website. This is where TV Listings are available, as well as functionality for scheduling recordings and viewing the webcams, though actual TV viewing is done through a separate client.
Below are several screenshots of the web interface and client. While viewing the listings you can click the red circle next to a show to schedule it for recording. Unfortunately I was unable to schedule the series for recording, only the individual instance of the show. I was also unable to view a recorded show through the client or server. I actually had to dig through the program folder in order to find them.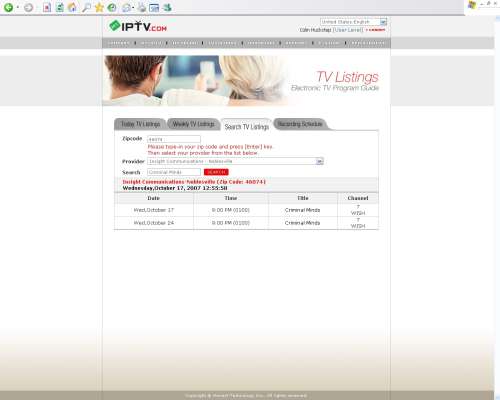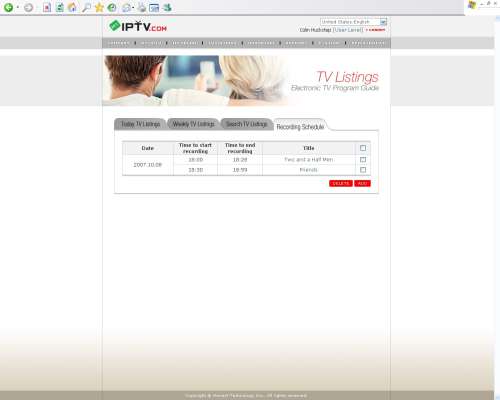 From the web interface you can also use 'channel surfing' mode which will bring up a table showing a screen shot of every channel. Someone might find this useful, or at least nifty, but to me it just seemed like a gimmicky feature given that you already have detailed TV Listings available to look at.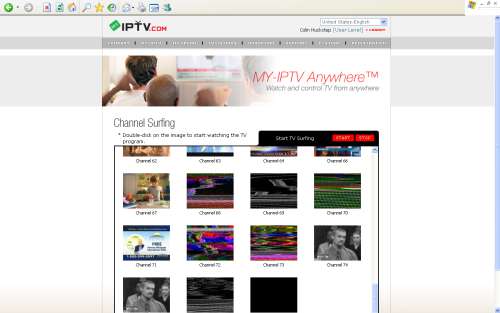 In order to use the channel surfing or actually watch TV you have to have the client installed on your computer. If you have an account you can always download the client again but this takes time, so if you're in a hurry to catch something, you're out of luck.
Final Thoughts
To put it mildly, the approach taken by Honest Tech with My-IPTV Anywhere is not the best. In order for the client to connect and watch streaming TV, you need to leave the TV Server open and watching TV. This means if you forget to open the TV server before you leave the house, you're out of luck. It also means that if anyone wants to watch TV locally you are at the mercy of what they want to watch, or you'll constantly be fighting over the channel that's being viewed.
If someone wants to do something other than watch TV on the home machine, they are forced to either have the audio for the entire system muted, or be subjected to what you are watching at the time. I could go on, but I think you get the point — the execution of the concept is highly flawed. On the TV Client side of things the 'pause', 'fast forward', and 'rewind' seemed to have no usable function.
The web interface for the CAM software works well. It shows you the three webcams you have connected. Pretty simple stuff. As an "added security measure for your computer", however, the software is a joke. It requires that you leave the server up and running, similar to the TV Server. If the server isn't left open, you are unable to view the cams through the website. However, having the server open is a pretty good tip-off to someone at your computer that they are being recorded.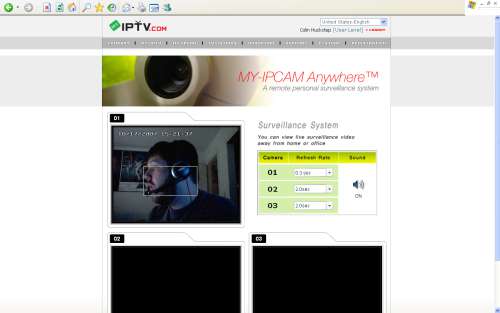 Additionally, every email client I've used asks for permission when another program tries to use it to send mail, so none of the alert emails will be sent until you are back at the computer to give permission to be sent. Honest Tech should have packaged in their own SMTP client, but really that's the least of their problems.
As a final nail in the coffin, USB Cables have a maximum length of a little over 15 feet. This makes USB cameras fairly ineffective for use as home security devices. And as I said before, adding a second camera caused a fatal system crash, so good luck trying to use any other camera than the marginal one built into the My-IPBOX.
I had high hopes for My-IPTV&CAM Anywhere Deluxe – it's an exciting concept at the vey least. However, I was severely disappointed with the way things turned out. After actually attempting to make meaningful use of the software, the excitement quickly fades away. It's hard to even pick a place to start, so I'll begin with the TV Server software.
As an all-in-one package My-IPTV&CAM Anywhere does get a few things right. The bundle provides you with a camera, tuner, cables, and software all in one box. The hardware is of reasonable quality and the software is easy to operate.
With that being said, I don't feel I can in good conscious recommend this product to anyone. It just feels cobbled together at best, and at worst it can be downright frustrating. The software is incredibly invasive to the server system rendering it virtually useless to anyone at the local machine while the software is in use. It also requires too much local user intervention. If you forget to launch the server programs before you leave, you're out of luck.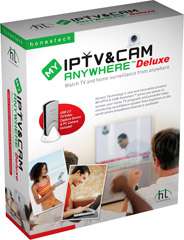 Frankly, I don't know how Honest Tech let this out of their QA department. If you ask me, it needed to go back in the oven for a few more months until it was done cooking. If you are looking for remote access to your media, I can only advise you to look somewhere else. Orb (orb.com) is free, and really a better developed solution. Orb is a completely browser based, harnessing the power of Flash to stream your video and music to you wherever you have an internet connection.
Orb also integrates well with Windows Media Center and your existing TV Tuners. If you don't have a tuner in you computer and you're really just looking for a way to stream TV, look at the Slingbox. The basic Slingbox costs the same $129 as My-IPTV&CAM Anywhere Deluxe, though it doesn't have the recording capability.
One final note: if you're running Vista, don't even bother; I tried and was only able to get limited TV viewing capability. I'm awarding this product a Techgage score of 4 – the only question left to ask is, "Will it blend?"
Pros
Comes with TV Tuner and Webcam
Cons
Extremely short cables; No coax tv cable included.
Software is tolerable at best.
Too much user intervention required.
Inconsistency in software between products.
Discuss in our forums!
If you have a comment you wish to make on this review, feel free to head on into our forums! There is no need to register in order to reply to such threads.
Copyright © 2005-2019 Techgage Networks Inc. - All Rights Reserved.