Ice-cold Temperature Killa: Arctic Accelero Hybrid II-120 GPU Cooler Review

Date: July 21, 2014
Author(s): J.D. Kane

There's no question about it: AIO water cooling solutions are here to stay. They've been around for CPUs; but what about GPUs? Arctic has that base covered, and it sent us its Accelero Hybrid II-120 with the unspoken promise that it is superior to any stock cooling solution. But just how good is it?
---
Introduction
Let's face it, folks.
No matter how much we might all deny it, we're all greedy. In our PC enthusiast heart of hearts, we are possessed of an avarice for performance. Sure, some of you may deny it. Some of you might even say, "Hey, I'm happy with what I've got. I don't need more frames-per-second," or "I'm not chasing those last few degrees Centigrade lower of maximum load temperatures."
You ain't foolin' no one.
I mean, how else would you explain that PC enthusiast syndrome known as "upgrade-itis"? Let's just be honest here: Isn't this eternal quest for bigger, better, faster, cooler at the very core of our involvement in this wonderful hobby?
Let's talk about cooling. In my earliest years as a PC enthusiast, I was obsessed with lowering my components' temperatures – especially at load – through any means available. With my Opteron CPUs, that even entailed removing the IHS (integrated heat spreader). The payoff, of course, was spectacular, with maximum load temperatures dropping as much as 20ºC. That ultimately meant that I could overclock my Opterons like crazy.
And this was all before I got bit by the water-cooling bug.
These days, I'm a dedicated custom water cooling enthusiast. As such, I must admit to having a bit of a snobbish attitude towards the modern trend for AIO (all-in-one) water cooling solutions. But cooling equipment solutions provider Arctic has given me something of an attitude adjustment.
Behold the Accelero Hybrid II-120.
Arctic's Accelero Hybrid II-120 is an AIO GPU water cooling solution. Unlike one of Arctic's competitor's products which I reviewed earlier this year, the Accelero Hybrid II-120 is a complete solution in one box. The competitor's product, if you'll recall, is an adapter that enables CPU-mounted AIO water-coolers to be mounted on a GPU. The Accelero Hybrid II-120, on the other hand, has everything you need to improve your GPU's temperatures.
Let's have a look at it, then, shall we?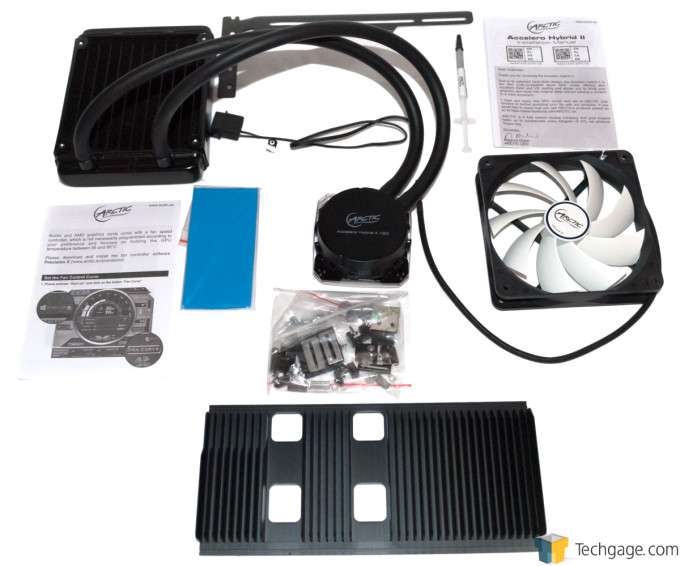 Here's everything that comes in the box.
All told, it's a comprehensive package. Of course you have in the integrated water pump + cooling block + radiator unit. There's also the 120mm Arctic fan; it's designed to be connected to your GPU's 4-pin connector. Also pictured are a couple of baggies for installation hardware. The light blue rectangle is thermal interface material to be used on your GPU's memory chips and voltage regulators. The big black item on the bottom of the picture is the backside-mounted heat sink, while, partially hidden at the very top is an L-bracket (Arctic calls it a Graphics Card Holder in its instruction manual) that's used to stabilize the video card installation in a conventional PC chassis. As an aside, I won't be using this since I'll be installing this on my test bench, where the motherboard is installed horizontally. Also, Arctic has included a syringe of its highly-regarded MX-4 thermal interface material. Finally, there is a good instruction manual.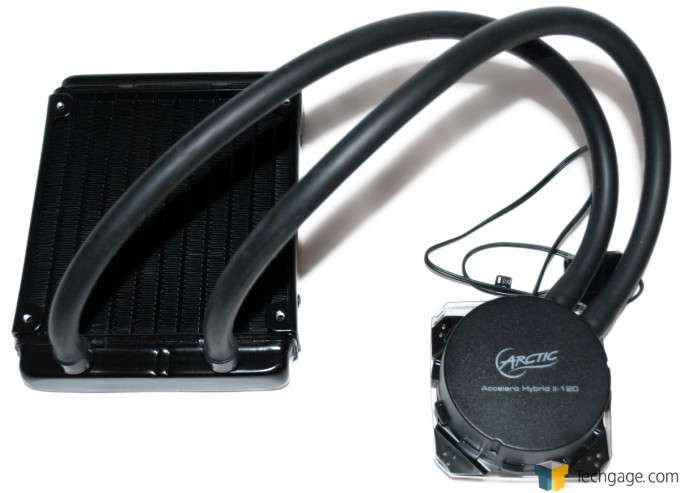 Here's a close-up of the integrated pump + block + radiator unit. The water pump is powered by a 4-pin Molex connector.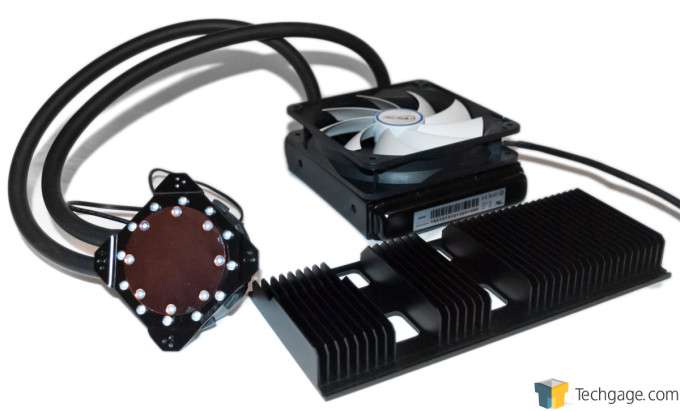 This shot shows the bottom of the cooling block as well as the backside heat sink. These represent the bulk of the Accelero Hybrid II-120's cooling power. The backside heat sink in the foreground is a fairly heavy piece of metal; therefore, when the Accelero Hybrid II-120 is installed in a PC chassis, I highly recommend you use the Graphics Card Holder to help support the graphics card. You wouldn't want the whole kit and caboodle supported just by the GPU's PCI-Express connection, for sure.
Installation
The next series of pictures will show you the installation phase. It's not meant to replace the instructions provided by Arctic; these shots merely show the real-world application of those instructions.
Installing the Arctic Accelero Hybrid II-120 onto your graphics card is what I would consider an intermediate-level operation. Raw novices might be intimidated with the prospect of first uninstalling their graphics card's stock cooler, then installing an aftermarket cooler afterwards. However, it's all a matter of understanding which screws you need to remove from your graphics card (not all of them need to come off), then following Arctic's very good instructions to install the Accelero Hybrid II-120.
A reference-design EVGA GeForce GTX 680 is our GPU guinea pig. It's the same graphics card I used in January 2014 for one of Arctic's competitor's products. The photo below shows the GTX 680 with its cooling apparatus completely removed. Your graphics card will look something like this once you've removed its cooler.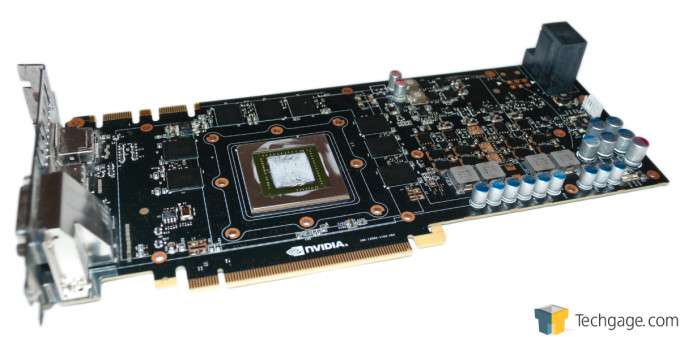 Note that the GPU itself (the big chip in the middle of the PCB) still has some residual TIM (thermal interface material). This residual TIM will need to be removed before installing a new cooler onto the graphics card. I wipe the old TIM off with a paper towel soaked with 98% isopropyl alcohol.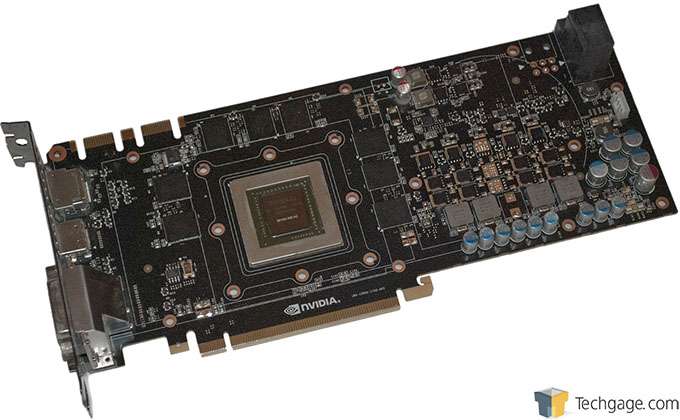 It's very important to remove the old TIM from the graphics chip. I also lightly clean with graphics RAM chips and the voltage regulators (the big and small black chips, respectively) with a wipe of alcohol-dipped paper towel as well, just to remove any residual thermal pad material from them.
Before installing any aftermarket equipment, it's a good idea to perform an inventory of the included parts in the package. The instruction sheet provides a call-out of all the needed components. After checking that I have everything I need, I proceed with the installation.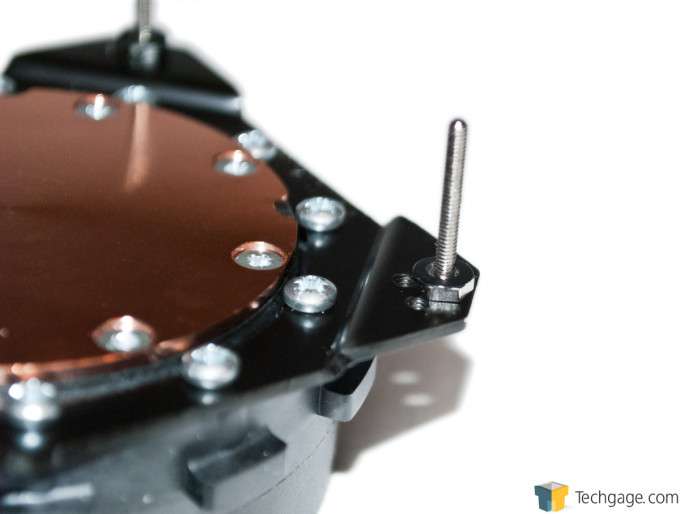 The first step is to prepare the bolts needed to fix the GPU block onto the graphics card PCB. The photo above shows is a close-up of one of the bolts (the instruction sheet calls these "Long Screws") installed onto the GPU block. Note the nylon washer also installed. Be mindful that you may also need to add another nylon spacer to your installation; the instructions specify which graphics card models need which nylon washers and spacers to install. It's therefore highly recommended to read and follow the instructions.
Next is preparing the light blue thermal pads for installation. Arctic provides a good-sized rectangle of thermal pad; it's up to the user to cut appropriately-sized pieces so that these could be installed on the backside of the PCB, directly over where they are on the side where the GPU block is installed.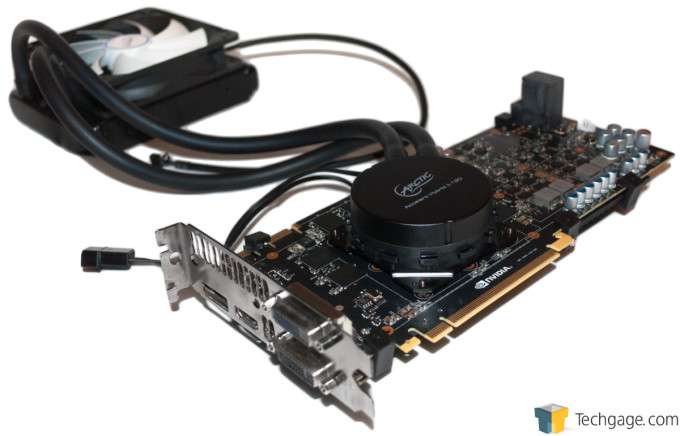 After the thermal pad pieces are cut to size and positioned correctly, the next step is to take the clear plastic protective film and lay it out over where your thermal pads are positioned. Cut out appropriately-sized and correctly-positioned openings on the protective film so that the thermal pad pieces can then interface with the backside heat sink unit. The way I did this (not pictured; it's simply impossible to photograph the clear protective film without camera flash destroying the picture) was to lay the film over the graphics card, trace the thermal pad positions over the film with a fine Sharpie marker, then cut out the tracings with a very sharp X-Acto knife.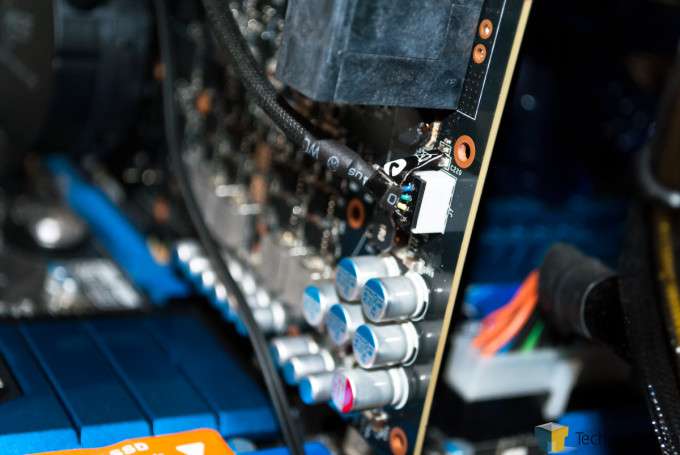 Once the protective film has its openings cut out, you can then mate your graphics card with the Accelero Hybrid II-120. It's a simple matter of following the provided instructions. Once you're done, your graphics card should look like the above photo.
A final note about assembly: Don't forget to plug in your radiator fan! The 120mm fan Arctic provided is supposed to plug into the fan header on your graphics card. If you choose a different fan for the radiator, for whatever reason, don't forget to plug it in somewhere!
With assembly all done, let's move on to some performance testing and some final thoughts.
Testing & Final Thoughts
Testing the effectiveness of the Arctic Accelero Hybrid II-120 was a straightforward process. It basically came down to two things: 1) Is it easy to install onto a video card? and 2) Would installing it result in a cooling performance benefit for your GPU?
As I said before, I'd classify the installation process as an intermediate-level job. I'd say the most complicated aspect of assembling and installing the Accelero Hybrid II-120 onto your graphics card is the preparation of both the thermal pad material and cutting out the correctly-sized and -positioned openings on the clear protective film. I used scissors for the thermal pad material and, as stated previously, a very sharp X-Acto knife for the clear protective film. If you can work a screwdriver with no issues, the rest of the assembly is pretty straightforward. Arctic's instruction sheet goes a long way towards making the task of installing the cooler less daunting that it might appear at the onset. I'd say that the whole installation process would take around two to three hours in total if you're careful and take your time.
Some salient information on the thermal performance tests: 1) All tests were performed with an ambient room temperature of 72ºF/22.22ºC; 2) the stock cooler data is merely copied over from my original tests from January 2014. I did not reinstall the video card's stock cooler and re-run the temperature testing since no other variables have changed in the tests; 3) temperature data was collected ten minutes from a cold boot for the idle temperatures, and load temperatures at around 20 minutes of maximum load conditions.
| | | |
| --- | --- | --- |
| | Stock Cooler | Arctic Accelero |
| Idle | 36°C | 26°C |
| Load | 81°C | 52°C |
At idle conditions, the Accelero Hybrid II-120 lowers the GPU temperature by a whole 50°F/10°C. Quite impressive, for sure.
The gulf in the cooling performance of the GTX 680's stock cooler (177.8°F/81°C) and the Accelero Hybrid II-120's (125.6°F/52°C) is monstrous. Shedding 52.2°F/29°C is a massive gain in thermal headroom, something graphics card overclockers will certainly appreciate. But even if you don't overclock your GPUs the huge improvement in maximum load temperatures should still be a boon. High operating temperatures are said to accelerate the degradation of computer components, so lowering temperatures ought to give users a theoretical bonus in component reliability. Another way to look at the maximum load temperature: The temperature delta between the ambient room temperature and the maximum load temperature of our GTX 680 with the Accelero Hybrid II-120 is a mere 53.6°F/29.78°C.
Plus there is another advantage to the Accelero Hybrid II-120: Arctic's supplied 120mm fan is much quieter compared to the stock cooler. As a reminder, I have an open-air test bench; even in that open environment, I literally could not detect any fan noise, even during the maximum load temperature tests. If I couldn't hear it working in an open test bench, users who use in a closed PC chassis won't, either.
Final Thoughts
So what's the verdict on the Arctic Accelero Hybrid II-120?
It's obviously a supremely effective way to reduce your GPU's thermal output compared to any stock cooler. Whether or not you overclock your graphics card, the massive near-30°C improvement our performance tests show is impressive. The fan's lack of noise is also an appealing benefit. Basically, if you crave either great temperature, particularly at maximum load conditions, or quieter operation, the Accelero Hybrid II-120 is something you should consider.
Installation might be intimidating for some users, particularly enthusiasts who may be delving into aftermarket graphics card cooling for the first time. However, Arctic did a great job with its instructions. RTFM, take your time, and you'll be okay.
Just to compare with a fully custom water-cooling solution for graphics cards, the Accelero Hybrid II-120 is overall a simpler solution. Everything you need is there in the box.
Moreover, cost-wise, at a MSRP of $129.99, the Accelero Hybrid II-120 is comparable to a typical custom water-cooling solution for a graphics card as well. Back when I bought my other GTX 680's EK water block, it cost roughly $120.00. Add in the costs of tubing and fittings, and the costs match up pretty well. And I haven't even mentioned the water pump and reservoir costs of a custom water cooling solution yet.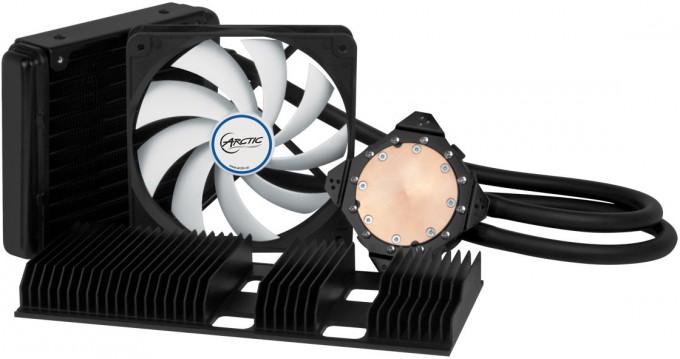 Before closing this review, a note about the backside heat sink: I must confess that, at first I was shocked at how the Accelero Hybrid II-120 had zero contact with the graphics RAM and voltage regulators on the front side of the PCB (where the GPU block is installed). I mean, think about it: Most users who have stripped off their graphics card's stock coolers off have surely noticed that these RAM chips and voltage regulators contact the heat sink on the front side. Full-coverage water blocks do the same. But the Accelero Hybrid II-120 does not.
I thought about Arctic's design philosophy here, and while the design is unusual (at least, that's how the design struck me), I basically concluded that there is just zero chance for Arctic to expose itself to potential liability by designing and selling a fundamentally-flawed design. I mean, wouldn't the company be on the hook for a ton of grenaded video cards from exploded voltage regulators not cooled through direct contact on their front sides, as per the usual design in video cards?
In practice, the backside heat sink works a treat. While I couldn't get any temperature data on the graphics card's RAM and voltage regulators, I did take a bit of a risk and ran MSI Kombustor's GPU burn-in test (thereby putting the GPU at maximum load) for test periods up to three hours long. The test machine performed brilliantly, with zero reliability issues. I'm therefore confident enough to say that Arctic's backside heat sink works quite well, as unconventional a design as it is.
All told, the Arctic Accelero Hybrid II-120 easily earns Techgage's Editor's Choice award.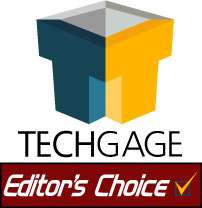 Arctic Accelero Hybrid II-120
Copyright © 2005-2020 Techgage Networks Inc. - All Rights Reserved.