Icy Dock MB453
Date: October 20, 2006
Author(s): Matthew Harris

With the introduction of the nForce 4 chipset we saw the beginning of cheap and easy mass storage options. With this revolutionary change we also see a need for Hot-swappable SATA drive bays for RAID-5 arrays made possible. Today we take a look at the new offering from ICY DOCK that allows for three drives in an easily achieved space.
---
Introduction
Not too long ago RAID was the territory of servers and uber geeks. You had to buy either an add in card or a mobo with a raid chip soldered on and even then unless you went with a high dollar add in SCSI card you were generally limited to RAID -0 or RAID -1 or combinations of these. RAID -5 was generally left to servers requiring excellent performance and 100% uptime. "What's RAID -5?" I can hear some of you asking, well RAID -5 is a setup that takes your data and stripes and mirrors it across three drives. It uses 66% of each drive's overall size to do this so you end up with an array that's the total size of two of the three drives.
This allows you to lose one drive with Windows running and still keep the OS up and running and be able to rebuild the array from within Windows. To do this requires a hot swappable HDD cage for each drive so you can pop the offending drive out and slap a new one in with the PC running.
This is where ICY DOCK fits in. ICY DOCK has long been offering drive bay enclosures but recently they began offering hot swappable SATA versions. One of these is tailor made for RAID -5, the MB453. The MB453 is a three SATA drive enclosure that fits into 2-5.25" bays. Let's take a quick look at what ICY DOCK has to say about the MB453.
Product Description
Full aluminum built cooling body constructed to fit three drives within a two (5.25") bay fitting, the MB453 Series follows the tradition of industrial systems' needs for stability, durability, toughness and high sensitivities for mass storage operating conditions. It's equipped with a hot swappable fan that may be detached if confined by depth limitations when integrated, or if replacement is necessary.Our removable fan requires no tools or wiring, simply swap with a new fan and back to operation! It is space saving and user friendly for industrialized system solutions.
Suggested Applications
Storage drives expansion and enabling drive maintenance to industrial PC, server, and various storage system applications.
Product Features
Drive Fit : 3 x 3.5"
Hot Swappable SATA I or II
Device Fit : 2 x 5.25" device bays
Internal drive security, exchangeability, expandability and maintenance capabilities
Compact and space saving for multiple drive fit
Durable aluminum built cooling
Huge warm air outtake fan cooling that's detachable
Advanced drive monitoring system built internally w/ visual & audio indicators
| | |
| --- | --- |
| Item Number: Black | MB453SPF-B |
| Internal Host | 7 pin SATA |
| Drive Fit | 3 x 3.5 " SATA I / II |
| Drive Bay | 2 x 5.25" |
| Transfer Rate | 3Gb/sec. |
| Insert & Extract connection Via | 15 pin direct hard drive connection |
| Structure | Full Aluminum |
| Drive Cooling | Rear outtake fan w/ aluminum heat dispersion |
| Alarm Indication | Audio & Visual |
| LED Indication | Drive activity/overheat/failure, Fan working/failure status |
| LED Display Color | Green : Device Power ; Amber : Drive activity/overheat/failure ; Red : Drive failure |
| Drive Security | Drive tray locking mechanism |
| Dimension (L x W x H) | 240.0 x 146.0 x 85.0 mm |
| Weight | 2.40 lbs. |
Don't get the wrong idea, this is perfect for the enthusiast as well as the professional. If you've ever dabbled with RAID you can see where this would be immensely beneficial to you.
Let's take a look at the MB453 shall we?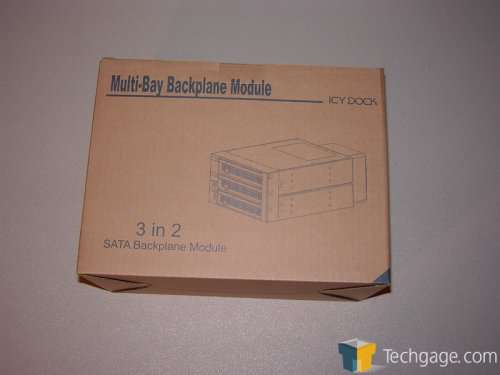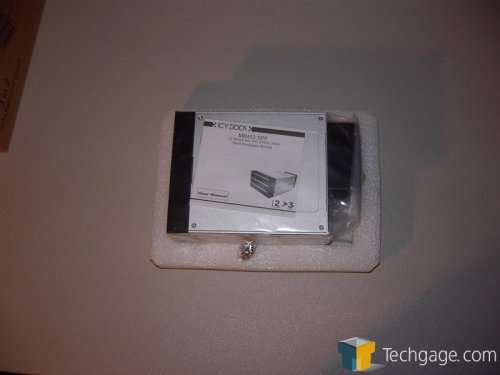 The MB453 comes securely packaged in an expanded foam cradle. It'd take a really incompetent delivery person to put the hurt on this beauty.
Closer Look, Conclusion
Inside the package the MB453 is wrapped up in a plastic bag that has the instructions in it, the screws are in a small poly bag taped to the side. Don't lose these screws! They're countersunk to work with this enclosure. Standard HDD screws won't cut the mustard with this unit.
The label on top of enclosure shows all of the connections for this model. For a server mobo or RAID card that supports it you can use the LED's built into the MB453 to show you which drive has failed at a glance. If your board or card doesn't support this feature don't worry, your software will tell you. You'll just have to remember which drive corresponds to which tray. There's also a switch that allows you to choose three pre-determined alarm levels on the overheating alarm. You can choose from 45*C, 55*C and 65*C. I personally set it to 45*C. The temp is monitored by an internal diode mounted on the rear PCB.
As you can see, each tray isn't a traditional tray. The drive doesn't fit inside it as much as it attaches to the drive. You pull the support from the center (saving the screws) and then use the counter sunk screws and the screws from the support to attach the rails to the drive. The drive is held onto each rail with three screws for a very secure attachment. The drives then slot into the MB453 and interface with the connectors at the end of the bay as seen in this last pic.
Their aren't any cables inside the MB453, instead the drive interfaces directly with the PCB at the end of the bay. You can also see the openings in the PCB for the air to circulate through for the forced air cooling. The LED's adjacent to the drive bays light up green to show power to the drive, orange to show the drive being accessed and as I said before, with failure red to show a failed drive.
In use the MB453 is transparent. I get the same performance with my drives in it as I did with them directly attached to the SATA cables. No hit in performance at all. You're not forced to use the MB453 for RAID at all though, if you're like me and just need somewhere to put your drives other than the HDD cage in your case this is the ticket. You get great cooling, lose 2-5.25" bays to fit three HDD's and the convenience of being able to add in another drive to your PC while booted into your OS.
The only thing that's a bit of a downer is the fan. I won't mince words here, it's loud. Not mind numbingly loud mind you, it is livable but you might want to investigate another fan to swap into the included fan holder. I'm using it in the NZXT Zero which has a door on it, the door does an excellent job off muffling the din raised by the fan and has no real impact on cooling. I've experimented with doing huge transfers and monitoring the drive's temps with the door open and closed and the temps never fluctuated at all. The MB453 retails for just under $100 and while this a bit on the pricey side it does offer a very good value when compared to traditional single drive bay enclosures that tend to retail for around $40. With two of those you only get space for two drives and you're stuck with sub-standard cooling afforded by the measly 40mm fans that are used with those types of bays.
Overall I'm awarding the ICY DOCK MB453 a 9/10 and our Editor's Choice award for bringing this beautiful piece of geek nirvana to the needy power users in the PC enthusiast world. If you're in need of storage for your storage I suggest you stop by ICY DOCK's site and see what they have to offer, there's a whole lot of love to be had.

Copyright © 2005-2020 Techgage Networks Inc. - All Rights Reserved.