IDF 07 SF: PCI-Express 3.0 and USB 3.0

Date: September 19, 2007
Author(s): Greg King

Both USB and PCI Express 3.0 have been unveiled at IDF, each including fresh feature-sets and upgraded architectures. USB in particular is quite exciting, as bandwidth is well over 10x from current USB 2.0. Read on as we relay what we've learned at the show.
---
Introduction
USB 3.0
Yesterday at Pat Gelsinger's keynote address, he announced a pair of incredibly important technologies that we are all familiar with in one way or another. While not developed exclusively by Intel, they have played an important role in the development of these technologies. As a member of the USB 3.0 Promoters' Group, Intel has worked with their partners to develop, test and push the next chapter in an already popular format.
Included in this group is of course Intel, but joining them are also HP, NEC, Microsoft, NXP and Texas Instruments. This group of six, consisting of some of the most powerful and influential companies in the tech industry look to work out and deliver the final product specifications in the progression of USB technology by early next year.
Combining both optical and copper interconnects; USB 3.0 looks to build upon the immense success of the estimated 6.2 billion (yes, with a B) already shipped USB devices by offering greater than 10 times the performance when compared to existing USB 2.1 performance. Now we know that 10x is a significant claim but to put a real world number to that claim, the USB 3.0 standard booth was claiming that a 29 GB file can be transferred in under 70 seconds. If this is true, sign me up.
Being backwards compatible with current USB 1.0 and 2.0 devices, the latest in USB technology should keep the format alive and kicking, for quite some time. To point out the importance of USB, as well as the vast adoption of companies using the interface in ways not originally intended by anyone, Pat showcased a wall of USB devices, ranging from the typical mouse and keyboards to micro fridges, USB powered hand warmers and our person favorite, CoolIT's beverage chiller.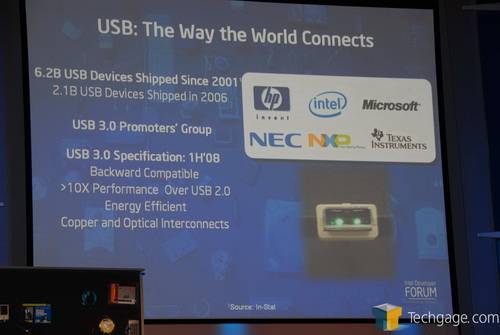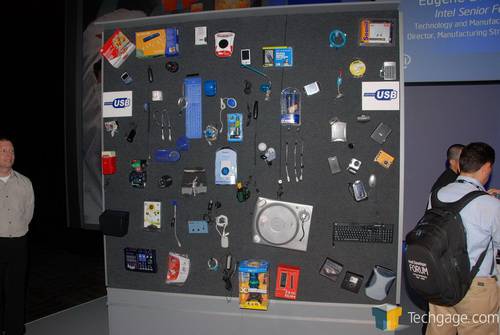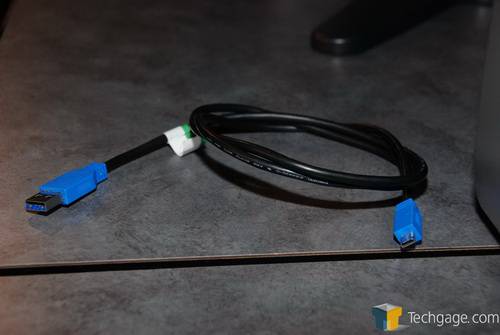 Initially provided by discrete silicon, look for the final specifications of the latest in USB technology by the first half of '08 (hopefully).
PCI Express 3.0
To add another conversation piece for editors like myself, Pat briefly touched upon the development of PCI Express 3.0. As a member of PCI-SIG, a 900+ member consortium of industry leaders, Intel has been instrumental in the development of the next version of the serial protocol. Taking a quick look at the slide we saw while Pat spoke, we can see that even though PCI-E 2.0 is still a short while away, development of the next standard is well in the pipes and is on pace to become a standard by 2009 and in retail channels by 2010.
Without PCI-E 2.0 products in our hands at present time, we really can't see its benefits, which most notably is double the bandwidth currently available in PCI-E 1.0. While the highly anticipated X38 ships soon, giving us our first look at this latest protocol, we sat down with PCI-SIG earlier today to discuss what we can look forward to when 3.0 comes out in 2010.
Rob and I were fortunate enough to steal a half an hour of time from the folks at PCI-SIG this afternoon and in our talks, they gave us an idea of what we can expect when PCI-E 3.0 eventually becomes the standard.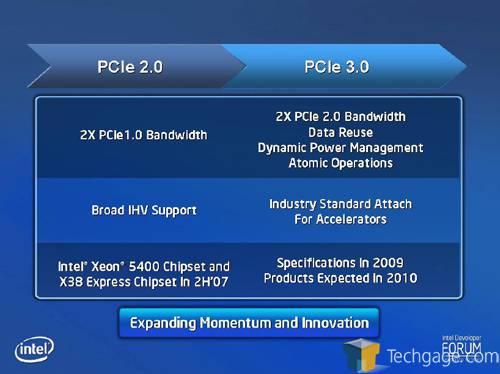 In our talks, we came away with two significant advances that 3.0 brings to the table. The most valuable feature to most is the compatibility with PCI-E 1.0 and 2.0. This ensures that anyone with a video card from either generation of PCI Express can use their card in 3.0 slots. While still 3 years away, current PCI-E cards, should they still be in use, will be more than capable of working in the latest version of the bus.
Another significant advancement is PCI-E development is another doubling of bandwidth. While 2.0 doubles what 1.0 can deliver, it is still "crippled" by it's use of 8b/10b encoding scheme which with it, comes a 20 percent overhead on the overall bit rate. By abandoning this encoding scheme, PCI-E once again receives a doubling of bandwidth.
Also updated is the power specification of the bus. 3.0 will be able to provide more power for our power hungry graphics cards and God knows, the power requirements of current and upcoming video cards only continues to grow.
Rob covered the enthusiast oriented news in his previous articles but in this one, we looked at a couple of larger technologies that virtually everyone will deal with eventually. Both USB 3.0 and PCI-E 3.0 will bring more possibilities to our computing experience and I for one, can't wait to see them in the wild.
Discuss in our forums!
If you have a comment you wish to make on this review, feel free to head on into our forums! There is no need to register in order to reply to such threads.
Copyright © 2005-2021 Techgage Networks Inc. - All Rights Reserved.