IDF 08 SF: Day 2 Keynote Roundup

Date: August 21, 2008
Author(s): Rory Buszka

Wednesday's keynote schedule may not have been as chock-full of new hardware demonstrations as Tuesday's Gelsinger-Perlmutter marathon, but it wasn't without some excitement of its own. Here's our summary of the day's keynote speeches.
---
Anand Chandrasekher, Eric Kim
We're back in San Francisco today for the next day of the Fall 2008 Intel Developer Forum conference, here at San Francisco's Moscone Center West, and that means more keynote speeches. Today's speech schedule included updates from the Ultra Mobility Group, Digital Home Group, and Software And Solutions Group at Intel, with a look at new products and services based on Intel technologies. While these departments' contributions aren't as sexy as Nehalem, they definitely account for a significant portion of Intel's business. In this article, we'll take a look at all three Wednesday keynotes in order.
Anand Chandrasekher, "Ultra Mobility MIDs: Platforms for Innovation"
To open for Ultra Mobility Group general manager Anand Chandrasekher's keynote regarding ultra-mobile PCs and mobile internet devices (MIDs), David (Dadi) Perlmutter first took the stage to explain how the product categories come together to redefine a market segment that used to be associated almost exclusively with the notebook PC. During his introduction, Dadi presented a revised version of his graph from the previous day, with additional bars to represent UMPCs, netbooks, and MIDs, The purpose of the exercise was to show how the Ultra Mobility segment contributes to Dadi's earlier prediction of 1 billion portable internet access devices to be sold next year worldwide.
Anand's keynote speech focused specifically on the smallest portable devices enabled by Intel's Atom processor, which include mobile internet devices, ultra-mobile PCs, and 'netbooks', which are ultra-small sub-notebook PCs designed to offer internet access capability in a small, affordable package. That market segment has been waiting quite some time for a capable processor in a miniscule power envelope, to enable visually-rich interfaces, web page rendering, and the ability to run an x86-specific operating system like Microsoft Windows. Now that Atom has arrived, there has been a rapid proliferation of devices to fill the niche.
Among the devices on display was Panasonic's Toughbook UMPC, whose 'toughness' was demonstrated inadvertently by Anand as he dropped the device on-stage while taking it from a Panasonic representative. Anand also demonstrated the ubiquitously-popular game World of Warcraft running on an ultra-micro PC with reduced graphics settings. Though WoW's graphics are now several generations behind 'state-of-the-art', the ability of an Atom platform to support any type of 3D gaming at all is a promising sign.
Eric Kim: "Digital Home: 'I Love TV'"
Another area where we're likely to see a growing Intel presence is in the consumer electronics world, where Intel's new Media Processor CE 3100 promises to offer x86-based rich media applications built right into a television or a cable set-top box. The CE 3100 provides hardware-accelerated video decoding for MPEG-2, H.264, and VC-1 (which you might recognize as the three encoding formats used in 1080p video playback via Blu-Ray Disc), and audio decoding as well. This eliminates the need for additional CPU overhead devoted to accomplishing those tasks in software. The CE 3100 also provides 2D and limited 3D graphics acceleration in hardware for UI rendering. Toshiba and Samsung are already planning CE 1000 applications.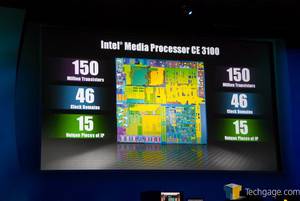 At this point, Eric was joined on-stage by a Yahoo! representative, and the two of them introduced a new application framework for televisions based on Intel Architecture (IA; this appears to be Intel's newest way of referring to x86 technology) and the Yahoo! Widget Engine. Intel and Yahoo are calling this user interface the "Widget Channel", and its purpose is to make web content available directly on the TV, while maintaining its simplicity. You wouldn't want to keep a wireless keyboard in the TV room simply to use its interface, so the Widget Channel is designed for greatly simplified operation.
Kim concluded his keynote by announcing the formation of the Intel Consumer Electronics Network, which will provide engineering support for consumer electronics companies who embrace the Intel solution for delivering web-based content on consumer electronics devices. In a sense, this goes along with Pat Gelsinger's earlier keynote, in which he described Intel's goal to push the Intel Architecture into the embedded systems realm.
Renee James; Final Thoughts
Renee James, "Developing for the Future of Computing"
The final Wednesday keynote was delivered by Renee James, Vice President General Manager of the Software and Solutions Group at Intel. Her first announcement addressed what many analysts agree to be a major problem in the current computing world – the transition to multithreaded software isn't going very well, with true multithreaded solutions being limited to only very high-performance applications.
Toward the end of accelerating the software industry's transition to true multithreaded applications and program functions, Intel is releasing a set of libraries and extensions for Microsoft's Visual Studio development environment, which encompasses a broad array of programming languages. These new libraries and extensions make it simple to create applications that harness the capabilities of a multi-CPU system. There are four modules in the package, intended to assist with application design, coding, debugging, and optimization in the multi-threaded realm.
Renee next introduced Jeffrey Katzenberg, CEO of Dreamworks Animation SKG, who announced a new brand for a 3-dimensional computer-animated movie experience based on stereo-vision, called "INTRU3D". Unlike the'dweeb'y-looking cardboard 3-D glasses used in previous attempts to create a three-dimensional movegoing experience, the INTRU3D glasses use polarized lenses, which preserve color accuracy, and appear very much like ordinary thick-rimmmed glasses. Jeff also stated that all future DreamWorks films would be released with INTRU3D as well as in the traditional 2-D projection format.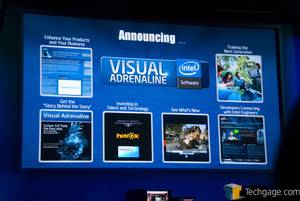 What Katzenberg announced next took the audience's breath away – a tech demonstration of INTRU3D technology, based on a clip of the company's Kung Fu Panda would be taking place, right there in the Moscone Center West's third-floor auditorium. An enormous 16-foot-tall, wide-format screen began to roll across the stage, suspended from ceiling truss, and loudspeakers had been suspended along the side walls and back walls, to provide multichannel surround sound.
The 3-dimensional effect was surprisingly convincing, even at our seating position's extreme off-axis angle to the screen. Forget what you remember about stereovisual 3-D movie technologies of the past – INTRU3D has been extremely well thought-out. Katzenberg also showed a clip of Aliens vs. Humans, Dreamworks' first feature film to use INTRU3D.
Finally, James and Katzenberg jointly announced the formation of Visual Adrenaline, a new developer program created by Intel for visual computing developers, as well as the artists and animators.that make use of visual computing technology.
Final Thoughts
Wednesday's keynote speeches wrapped up the complete set of new product and developer networking announcements for IDF, with the two Thursday keynotes looking at the broader state of computing technology as a whole – past, present, and future. We can't help but feel that we've been witness to one of the most significant IDF conferences in Intel's history.
This is partly because of the significance of the new Nehalem CPU microarchitecture, which will likely make a far-reaching impact on all future Intel CPUs, and will certainly define the state of the art in CPU design for the near term. But it's also significant because of the multitude of different directions that Intel as a company is now finding itself pulled, as it develops purpose-built processors for the ultra-mobile, embedded, and desktop computing market segment, in a gambit to gain market leadership in all three – through the technical merits of its de facto industry standard Intel Architecture.
Discuss in our forums!
If you have a comment you wish to make on this review, feel free to head on into our forums! There is no need to register in order to reply to such threads.
Copyright © 2005-2021 Techgage Networks Inc. - All Rights Reserved.