Intel Unveils More Details About 12th Gen Core 'Alder Lake'

Date: October 27, 2021
Author(s): Rob Williams

It wasn't all too long ago that Intel debuted its 11th-gen Core series, but here we are, with the 12th-gen launch upon us. Unlike most architecture launches we've seen from Intel recently, this one represents truly major changes, both to the architecture itself, and the accompanying platform.
---
Intel Unveils More Details About 12th Gen Core 'Alder Lake'
Intel today revealed lots of information about its upcoming 12th-gen Core series processors, which up to this point have been referred to by its codename, Alder Lake. The existence of this series likely won't surprise anyone, as it's been treated to the usual deluge of leaks that generally beats out most announcements of major tech products lately. What matters most, though, is that the series is finally almost here.
With Alder Lake, Intel says that it's "Reinventing Multi-Core Architecture", and at least as far as its own portfolio goes, it's not kidding. On our phones, a CPU design that sports both fast and energy-efficient cores has become standard – big.LITTLE archtecture on ARM-powered mobile devices, but on the desktop, that design has been scarce until Alder Lake. It's such a drastic design difference, that we admit we didn't even originally believe the rumors that it was going to become a reality. But, here we are.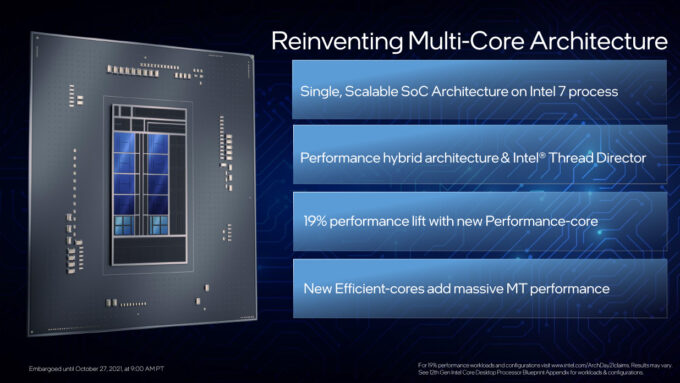 Alder Lake represents such a major change in CPU architecture, that there are more considerations than normal to be aware of. Because this architecture was designed around Intel's new Thread Director, the chip will effectively require Windows 11, and all of its up-to-date bits, to operate at its peak potential. While you may be able to run the chip under Windows 10, the performance is going to suffer.
Speaking of Thread Director, this is an integral new feature to make sure Alder Lake performs as expected in Windows, and any OS, for that matter. As mentioned, it'll be assumed you'll opt for Windows 11 when using these new chips, and at the moment, we're not quite sure the state of things under Linux, but we'll surely be finding out soon.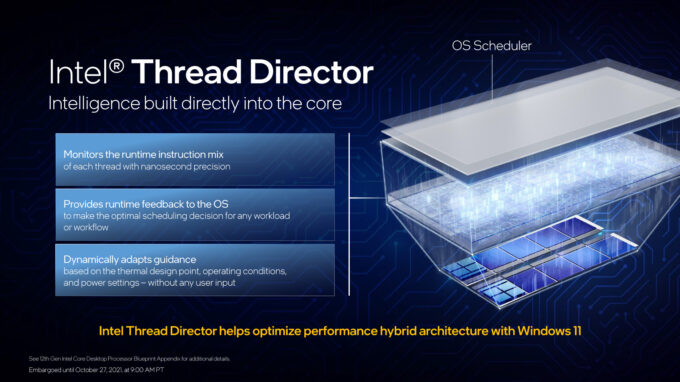 Whereas the previous-gen Core i9-11900K featured eight cores and sixteen threads, the successor Core i9-12900K has the same, but an additional eight power-efficient cores that lack HyperThreading. That means that in all, this particular model will feature a total of 24 threads.
According to Intel, the "P" cores, as the company calls it, sees up to a 19% performance lift over the previous generation, which in itself is impressive. When software is able to divert simpler workloads to the lower-power "E" cores, it means that full system power will decrease for those workloads. It also means that simpler tasks can be left to the E cores, while beefier workloads will be upgraded to first class with the P cores.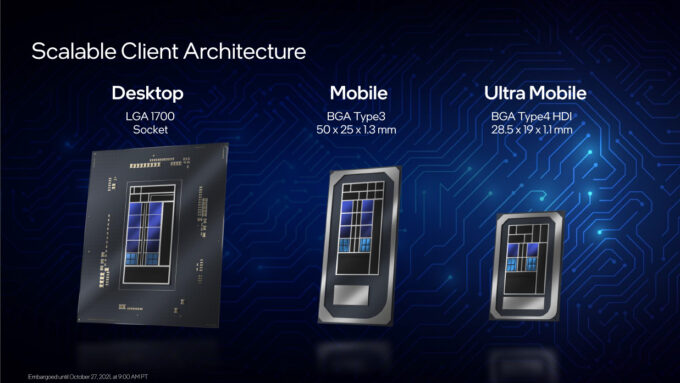 It's ultimately Intel's goal that this unique CPU design won't be obvious to anyone. With Windows 11, thread management is going to be optimal, and so anyone running into an issue should be rare. That said, there has been word floating about that certain software may be rough at the start, in particular anti-cheat software, although we wouldn't expect any niggles like that to take long to flesh out – at least hopefully.
As you can see from the shot above, Intel is already hitting the ground running with Alder Lake on various platforms, including mobile and "ultra mobile". On desktop, users wanting to upgrade to the new series will require a new motherboard equipped with an LGA 1700 socket. While in the past, it's at times seemed almost unnecessary for Intel to force upgrades to a new board and chipset, it goes without saying that this is one of the most justified times ever to require one.
Tying into that, Intel's 12th-gen series represents the first mainstream platform to utilize PCIe 5.0, as well as DDR5. If you want to try to save some money on your upgrade, you could opt for a motherboard that utilizes DDR4, although at this point, we're not entirely sure what the market for both will look like. Intel suggests opting for DDR5 if your goal is to eke as much performance out of the platform as possible, although it doesn't appear as though sticking to DDR4 is going to act as much of a detriment. Once even faster DDR5 kits trickle out, that could change.
The slide below represents the launch products for Intel's 12th-gen Core chips, which at the moment seems pretty modest compared to most launches. In all, there are effectively three base CPU models, each of which will also be offered in an IGP-less design. All of these CPUs support up to 128GB of memory, and those that include graphics are bundled with the upgraded UHD Graphics 770.
We'd normally craft our own specs table to present this data, but as you can see, there's a lot to chomp on here, and thanks to the fixed width of the site, we couldn't easily fit it all in. Intel notes base clock speeds for both its P and E cores, and interestingly, the lower-end you go with these select chips, the faster those clocks become. Ultimately, though, it's the top chips that end up delivering the fastest peak performance, with the top-end i9-12900K peaking at 5.2GHz for its P cores, and 3.9GHz for its E cores.
Intel always includes base processor power with its announcements, but this launch is interesting in that the company also includes maximum Turbo power. While the Core i9-12900K is spec'd at 125W TDP, its peak power will actually be 241W. Rumor has had it that peak power is actually higher than that in the real-world, so we're eager to get down to in-depth testing and see how things really play out.
As you can also see, all of these launch CPUs support DDR4-3200 as the previous generation did, but we have a new entrant here thanks to DDR5, with launch support for that going up to DDR5-4800. We're not entirely sure how difficult it will be to get even faster memory working on Alder Lake, but multiple companies have already announced DDR5-5200 designs, and G.SKILL have announced its Trident Z5 DDR5-6800 kits. Ultimately, latency might possibly suffer a bit when compared to DDR4, but the overall bandwidth is going to see a huge jump.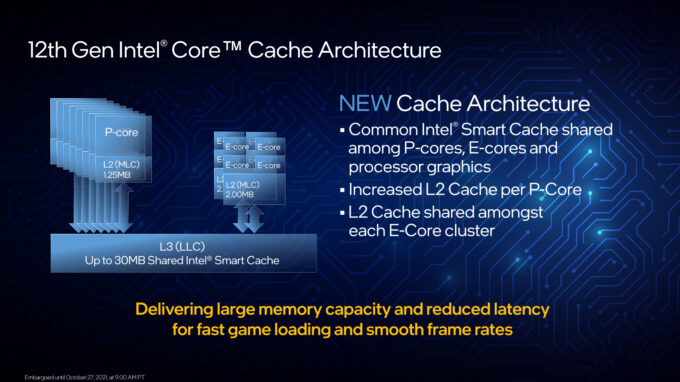 It's also worth pointing out that these new chips include a bit more cache than the previous versions, partially helped by the fact that the eight new P cores have their own dedicated cache. With the new Intel Z690 chipset, we'll also see another modest jump to available PCIe 4.0 lanes, leaving 5.0 duties entirely to the CPU.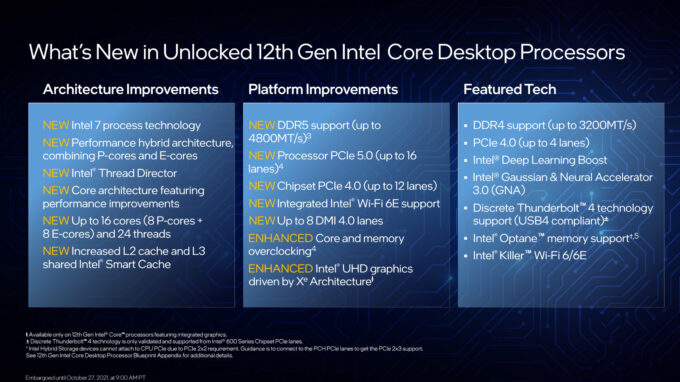 Despite its unique design, Intel claims that these 12th-gen chips still cater to overclockers. The company helped prove this by having its resident overclocker on the press and analyst briefing, so we're hopeful we'll see some impressive records being set in the near-future. Similarly, gaming is also a key focus, with Intel insisting this will become the world's best gaming processor.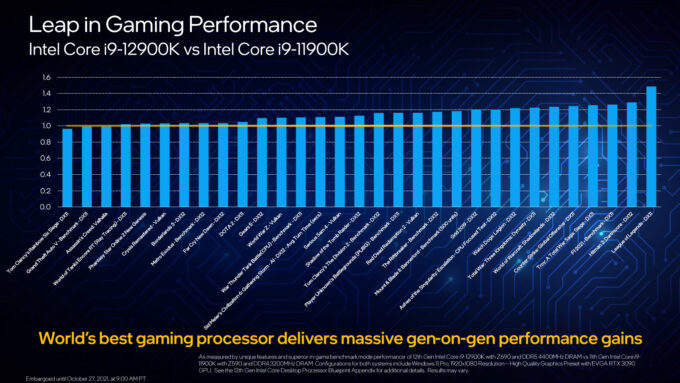 While Intel is only launching six desktop models of its 12th-gen chips on November 4, the company notes that it has 60 in store, and so far, they are currently planned for release in over 500 designs from the myriad vendors around the world.
With this launch, Intel seems to be going all-out with the information it shares around the product ahead of launch, although some of that, we can't reveal until later. The company provided more performance numbers than usual, giving us a good feeling as to the real potential of the new series. That said, the fact that Windows 11 is effectively going to be required might strike some as a bit of a downside, but with such a drastic redesign, it's easier to understand than it normally would be.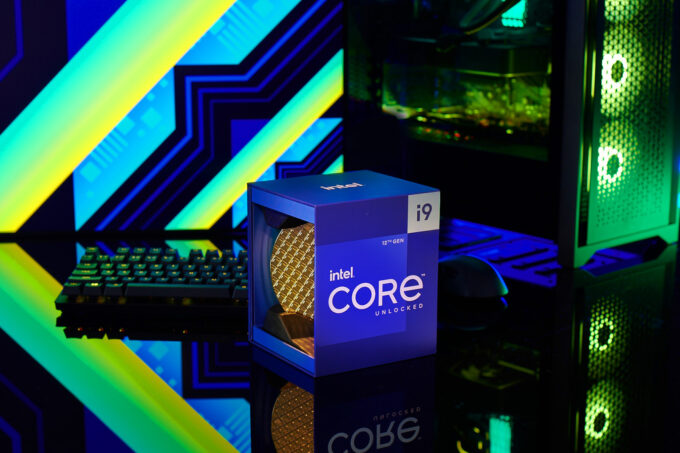 As mentioned before, Intel is going to be launching its 12th-gen Core series on November 4, which for those not paying too much attention to the calendar is just eight days away. As usual, we'll be hitting the new chips with our usual assortment of gaming and workstation workloads, and we'll cover a bit more ground about the platform itself in the same review. Stay tuned!
Copyright © 2005-2021 Techgage Networks Inc. - All Rights Reserved.