Intel's SSD 510 Offers Blazing-Fast Sequentials (G3, this is Not)

Date: March 3, 2011
Author(s): Robert Tanner

Given the history of Intel's SSD line-ups, we're generally aware of what a new launch is going to bring to the table, but the company side-swiped us with the announcement of its SSD 510 series. Rather than feature Intel's G3 controller, the company opted for a Marvell offering to help deliver some incredible sequential performance.
---
Introduction
In what is quickly shaping up to be the year of the SSD, Intel has surprised everyone with the announcement of the new SSD 510 series. New SSD launches are not usually such a surprise, but I'm not sure anyone saw this one coming. What makes this so unexpected is that astute readers may recall Intel leaking the specifications of its "G3" SSDs last October, and the specifications couldn't have been more different. But first, let's properly introduce the new SSD on the block!
The Intel SSD 510 Series offers a peak of 500MB/s sequential read and 315MB/s sequential write speeds, which is a substantial improvement over the average 260MB/s reads and 80MB/s write speed offered by Intel's current 80GB "G2" Postville SSD.
Intel has indicated that this new series is optimized specifically for sequential reads and writes. Given these numbers it should come as no surprise that these SSDs feature SATA 6Gbps, as judging by the announced performance numbers it will make good use of the additional bandwidth.
Instead of the SSD 510 series utilizing the expected "G3" third generation Intel controller, we have learned that these drives come packing an eight-channel Marvell 88SS9174 controller onboard, complete with Intel customized firmware. The closest brother to this controller can be found powering the Crucial/Micron C300 SSD which was the first SATA 6Gbps SSD to reach market last year. That's where the similarities start to end though, as the C300 tops out at 355MB/s reads and 215MB/s writes. Intel's new 510 series takes those numbers and increases them by roughly 40% each by comparison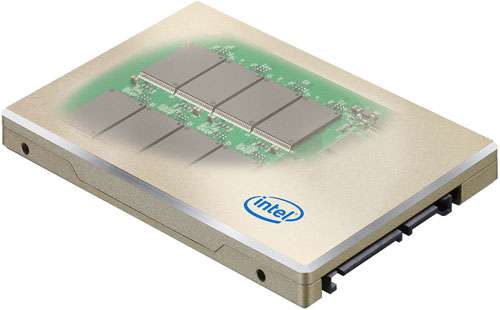 We mentioned the SSD 510 series is optimized for sequential file operations for an important reason. While the SSD 510 is faster with pure reads and writes, because of this choice in optimizations it actually offers lower IOPs than the Crucial RealSSD C300 drive. Where the SSD 510 series offers random 4KB reads of 20,000 IOPS and random 4KB writes of 8,000 IOPs, the Crucial C300 is rated for random 60,000 read and random 45,000 write IOPS. That old adage "Can't have your cake and eat it too" applies to SSD optimizations, and Intel appears to have taken a completely different tact with the SSD 510 series drives by optimizating for sequential file operations.
Also, unlike the leaked "G3" info, Intel's SSD 510 series will not in fact utilize 25nm NAND, and will instead stick to 34nm NAND flash thanks to their higher longevity with write/erase cycles. This may be why Intel is confident enough in its drives to claim within the product datasheet that the SSD 510 series has a minimum endurance of five years if writing 20GB of data per day to the drive. The company doesn't mention which size drive this applies to, however, which brings us to the last of the info. The SSD 510 Series will launch in 120GB and 240GB models and will feature a three year warranty from Intel.
Interestingly, despite the lack of an Intel controller, Intel also announced that it has updated its SSD Toolbox application to work fully with this drive. In addition to its SSD Optimizer, the Toolbox will provide diagnostic tools for troubleshooting and status information about the SSD's current health.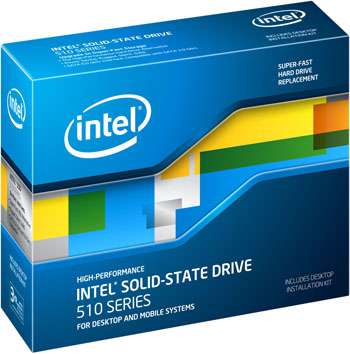 It is clearly evident this is not the leaked "G3" third-generation Postville refresh information that Intel stated would launch in Q1 of this year. The G3 drive was due to use SATA 3Gbps with 25nm IMFT NAND flash and receive a moderate bump in write performance to stay competitive. The SSD 510 series has none of that and for that matter doesn't even use Intel's in-house controller. At first we are left to wonder about what happened to the expected "G3" drives, but after looking over the performance numbers we are going to guess the answer is "nothing".
The Intel SSD 510 series is a completely different SSD that targets a different part of the market compared to the leaked "G3" information. Where the SSD 510 series focuses exclusively on sequential performance, one hallmark of Intel's own past SSD controllers were their random read & write performance. For the majority of consumers, random file operations are more important to have in an SSD, as very few will frequently be writing massively huge files in one fell swoop. Those that do will know who they are. As these drives target different market segments we are left to surmise Intel's "G3" Postville Refresh is still on the table and will probably be arriving within the next several months.
For even more information on the Intel SSD 510 series, you can refer to the company's press release, where there's a couple of videos and other datasheets provided.
Discuss this article in our forums!
Have a comment you wish to make on this article? Recommendations? Criticism? Feel free to head over to our related thread and put your words to our virtual paper! There is no requirement to register in order to respond to these threads, but it sure doesn't hurt!
Copyright © 2005-2019 Techgage Networks Inc. - All Rights Reserved.