iolo System Mechanic Pro 6

Date: November 4, 2005
Author(s): Matthew Harris

Do you feel that your computer could run faster? Is it being held back by the endless junk piles lying around your hard drive? iolo is back once again, with their latest System Mechanic incarnation, which improves on the tried and trusted tools in the previous versions. Let's see how it stands up today.
---
Introduction
Today I'm taking a quick look at iolo Technologies System Mechanic 6 PRO.
The first thing you'll notice if you've used System Mechanic 5 or read my review of it which can be found here is the new startup interface complete with system analysis. When you fire up Sys Mech 6 it will perform an analysis of your system and indicate which areas need to be addressed and their relative fitness along with your systems overall relative fitness and security.
Upon looking at this example of the state of my system you'll note that while The speed of my system is good it appears that I have some serious troubles. Let's take a peek at the worst of those shall we?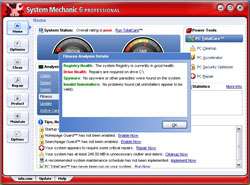 First we'll look at clutter. As you'll notice It's complaining about the fact that I have saved my internet files, cookies and some windows temp files. Generally the internet files are desirable if you want to have the best surfing experience possible since your browser pre-caches files from sites that are seldom updated so that upon logging onto a site all your browser needs (to display the site fully) is the new content.
As to the cookies, those are loaded into your system by sites that have passwords associated with them along with sites that track your sessions on them so that they can tailor your use to your needs. Unfortunately there are sites that use cookies maliciously to track your browsing habits, passwords and also your personal info so if you've accidentally been to a site that you're less than sure about being shed of your cookies isn't a bad idea.
Conversely, the same can be said of saved internet files so that's why Sys. Mech. sees them as more hindrance than help. Temp files on the other hand are generally files generated by Windows Installer during software setup and are nothing more than clutter pure and simple.
Harddrive Scanning & Anti-Virus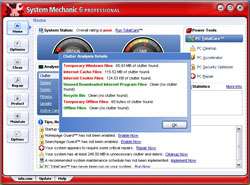 The next example is of the fitness of my system. Looking at it you'd think that my drive had bad sectors or other issues but be assured, it doesn't. Sys. Mech. wants to look at a log of Scandisk to be assured of my drives health but since there isn't a current one it assumes that the drive has issues and tells me there are. How do I know that my drive is good? Well, this is a fresh install of windows after a full format and I have checked the disk with Scandisk during boot-time defrags via Diskeeper and there were zero bad sectors.
If you're a power user you won't bother with the analyzer anyways but a normal user will find things like I've outlined above to be rather distressing because it paints an overall negative portrait of your systems health.
Personally I'd like to see the system fitness tied into the internet cache and cookies, so that if there are spyware files then they can be flushed along with having the spyware removed and see them removed from the clutter test. So that these generally benign files can be removed as a source of alarm and when the clutter IS addressed by the user they won't be unknowingly dumping all their cached web content and cookies, making it necessary to re-enter all their site info in password protected sites such as forums, image hosts and others plus generally slowing their surfing.
I'd also like to see the Scandisk issue resolved since because it can't run a disk scan on system disks in use it assumes they have errors and creates an alert where none exists.
The one main difference with the Pro version of System Mechanic 6 versus the basic version is the inclusion of Kaspersky's very nice Personal Anti-Virus and Firewall which is a nice touch for a home user but for an enterprise user they are slightly lacking in configuration options which begs the question, are they to be classed as "Pro"?
That small niggle aside they are definitely worth the added $20 over the basic version. Kaspersky is one of the few A-V makers I've seen that updates their definitions several times per day, every day.
The Firewall offers very full protection and the "Low" setting that I've got chosen allows you to run your PC on the assumption that all your programs are trusted (mine are) and allow (almost) all outbound traffic while keeping out inbound threats and I've run 3 different scans from various security related sites and I've had all three scans blocked by the firewall along with a popup from the firewall alerting me to the threat plus they were logged.
Conclusion
On the downside of the firewall, upon firing up Counter-Strike Source and performing an online server lookup the firewall saw it as a D.O.S. (denial of service) attack and locked my PC down from the 'net for an hour. I'd like to say that an over-reaction is better than no reaction but the sad fact is that when I run C.S. Source I have to disable the firewall if I'm performing a web lookup.
As to the more detailed manual settings for System Mechanic 6 they are essentially the same as System Mechanic 5 so I won't waste the space going over them again as you can get a better look here as the major changes are in the automated functions and those are either a series of wizards or one overall wizard called PC Total Care which allows you to perform all the wizard functions in one shot.
Overall if you are a PC beginner and you have System Mechanic 5 I would have no problem endorsing an upgrade to 6, if you're a power user and know the ins and outs of what's going on with your PC and you have System Mechanic 5 I'd stay stick with it unless you're looking to move up to Pro from basic then you'll have to go with 6 since it's the current version.
As to Pro versus Basic, if you have an anti-virus product you already have money invested in but no firewall and are thinking about Pro for it's firewall be forewarned: you'll either have to remove your existing A-V software or forego the firewall since the a-v engine and the firewall engine are one and the same. You cannot install the firewall on a system with another brand of a-v software on it.
I merely point this out since if you've spent good money recently on a-v software you'll be throwing that money away to use the Kaspersky product and if all you're after is a software firewall in addition to System Mechanic 6 you can obtain a very functional firewall for free with a little searching and save some time and headaches.
Overall for what it is I award System Mechanic 6 Pro an 8/10 knocking 1 point for the alarmist analysis and 1 point for the fact that you cannot implement the firewall without the a-v software. While I know that iolo doesn't make the a-v/firewall software they do include it with their offering and thereby are responsible to make certain that these sort of issues don't happen since they are benefiting monetarily from the inclusion of said software.
Personally I'm very happy with my experience once I got past the installation troubles.
Want to discuss this review? Feel free to hit up our forums. You do not have to register in order to post in our article related threads!

Copyright © 2005-2020 Techgage Networks Inc. - All Rights Reserved.